finally the search is over!
Nov 12 2019 16:44 PM GTM
Category: Motovlogs
Class: Sport Touring
55
0
So, another addition to the blog and to the attempt at getting my first bike back towards original, and good, trustworthy (I use this term loosely) order.
Upon buying the bike looked as fine to the untrained excitable eye as possible. After being let down by some more bike savvy minded friends I took the plunge to go and look at the bike myself.
Upon viewing the bike started, no smells, no leaks, no chugging and for a suzuki a surprisingly quiet, 'non cammy' (touch wood), engine.
When getting the bike home fast forward two weeks of excitedly getting to know my new steed and I found issues.. These I was aware of possibly occurring due to buying a second hand bike and getting the 25k miles, suzuki gsx 600f for £900.
So after fuel tap change, fuel filter, air filter, spark plugs, carb repair, the bike has a bit of a funny choke that seems to only open properly when you rev the bike to encourage it, the bike was sorted of a service for about £200 all in, including parts, so I'm standing now at the asking price of £1100 which the guy wanted. Bikes in decent nick only one major mark on the left front but no big deal.
Its turned up with a venom by motad exhaust, now I'm 34 I'm more worried about the bike getting from A to B and having fun than it sounding like a boeing 747.
Discovered the exhaust has no baffle and that this is poss upsetting the bike with no back pressure I went in pursuit of a baffle. Measured the exhaust and could I find one guaranteed to fit? Nope! 😂
So I thought plan A is to get the original exhaust this has taken me three weeks! Seems the 2003 gsx to the untrained new biker is like trying to mine for gold. This exhaust is discontinued in spare parts online at suzuki so second hand breakers... None of them neat me have one, then the Holy grail turned up on ebay.. I quickly messaged the guy to get the part number and it should fit!
HALLELUJAH!
There is a god....
So now I am waiting on the exhaust being delivered hopefully by the weekend and then I can get the original on and sell this venom exhaust to recoop some of my money back.
I'm sure it's of use to someone with a track bike or wanting to modify.
Turn my bike on tonight and there's blowing coming from the middle of the exhaust where the aftermarket is attached to the downpipes (I think that's right naming)
I'll attach a picture...
So I am hopeing when the new comes I can stop the blowing, have the bike back to original and then be back out on it...
Oh and now I need paddock stands to adjust my chain!.... Does this ever end? 😂
Ride safe all...
If you made it this far I owe you a coffee!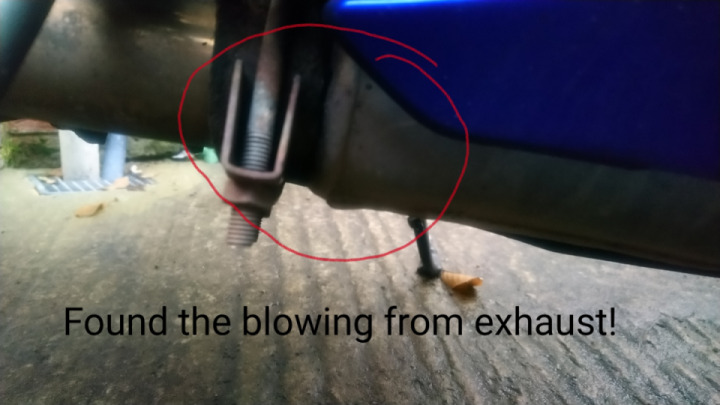 Price: 0.00$