In 2024, the Bullet 350 receives a significant overhaul, from its engine to its features, breathing new life into this iconic motorcycle.
The number 91 holds significance in various contexts. $91 can cover a week's worth of groceries, 91 MPG reflects impressive fuel efficiency, 91mph might earn you a speeding ticket, and 91 years is an age many never reach to celebrate with birthday cakes. But what's the buzz about this number? It signifies the remarkable milestone of continuous production for the Royal Enfield Bullet, making it the world's oldest motorcycle in uninterrupted manufacturing. It's a commendable achievement, and to mark this occasion, the Indian motorcycle manufacturer has enhanced the retro cruiser. Let's explore the exciting updates the new Bullet 350 brings to the table.
The New Royal Enfield Bullet 350 Exudes Vintage Charm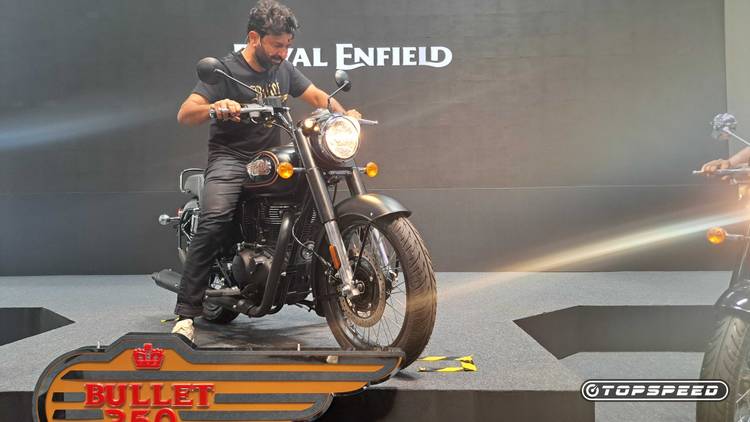 The Bullet's retro allure has been its hallmark for decades, and the latest iteration carries this legacy forward. Its timeless design remains instantly recognizable, featuring classic elements such as the curvaceous fuel tank, elongated fenders, and robust fork covers. However, the design now exudes more premium vibes, thanks to Royal Enfield's introduction of new lighting elements all around, including pilot lamps, headlight, turn signals, and tail lamp. Notably, these are not LED lights, a choice made to preserve the motorcycle's old-school aesthetic.
Additionally, the new Bullet 350 offers an array of captivating color options, a trademark of Royal Enfield. Riders can choose from Military Red, Military Black, Maroon, Black, and Black Gold, with these choices spread across three variants: top, mid, and base. Each variant showcases distinct aesthetic differences.
The New Royal Enfield Bullet 350 Features an Updated Cockpit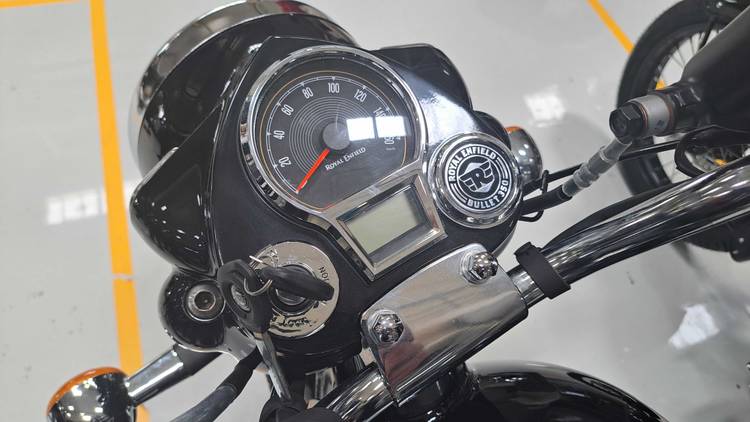 Once you swing your leg over the saddle, the Bullet 350 continues to impress with a fresh and modern feel. The credit goes to the new instrument cluster, which combines an analog speed dial with an LCD display for other essential information. Notably, this marks a significant first in the Bullet's 91-year history. The instrumentation borrows from the Classic 350 and offers features such as a service reminder, fuel gauge, three trip meters (1, 2, F), and an 'Eco' indicator. The motorcycle also comes equipped with Royal Enfield's signature rotary switchgear, a USB charger, and hazard lights. Dual-channel ABS is available on the top and mid variants, while the base variant features a single-channel setup.
The riding triangle remains consistent, featuring a single-piece saddle, mid-mounted footrests, and an upright handlebar. While Royal Enfield claims the seat is wider and longer than before, thorough assessments will require real-world riding experience.
The New Bullet 350 Boasts Royal Enfield's J-Series Engine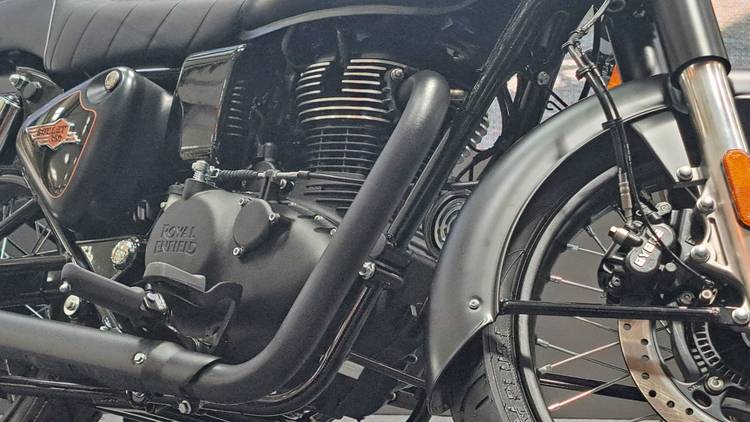 One of the most significant updates is the introduction of the 349cc single-cylinder J-series engine, which is shared with models like the Classic, Hunter, and Meteor 350. This powerplant produces 20.2 horsepower at 6,100 RPM and 19.9 pound-feet of torque at 4,000 RPM, all transmitted through a five-speed gearbox. Our recent experience with this engine in the Hunter 350 left a favorable impression, promising an enhanced riding experience for Bullet enthusiasts. However, it's essential to note that this motorcycle may not be suitable for long-distance freeway touring.
The engine resides within an updated double-cradle chassis, identical to the Classic 350. It boasts 41 mm telescopic forks and dual shock absorbers, complemented by 19/18-inch spoke wheels with 100/120-section rubber (front/rear). These wheels and forks represent an upgrade from the outgoing model's 90/110-section rubber and 37 mm units, respectively. Additionally, the front disc brake has been enlarged to 300 mm (from 280 mm), providing enhanced stopping power. These improvements collectively translate to improved stability, safety, and riding pleasure.
The New Royal Enfield Bullet 350 is Set to Debut in the United States Soon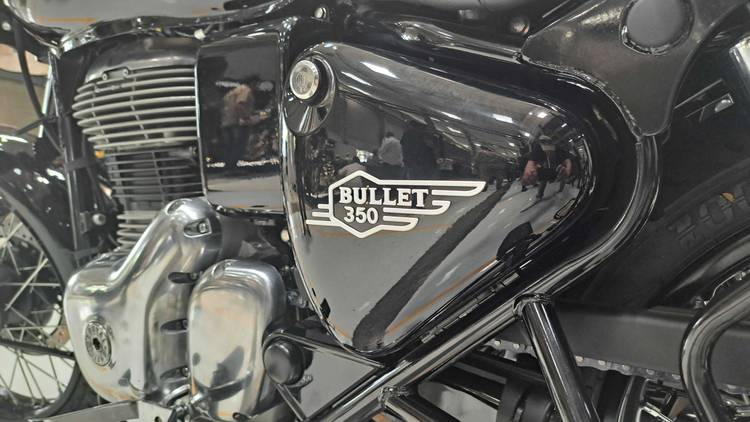 The excitement surrounding the updates to this retro motorcycle is palpable, and the good news is that the wait won't be long. Royal Enfield has already commenced production at its Indian facility, with plans to launch the cruiser in European markets by November or December 2023. American riders can anticipate the arrival of the 2024 model soon after.

#RoyalEnfield #Bullet #Bullet350