VanTech motorcycles how they started
Well like all good stories, this one starts with a passion for motorcycle riding. In the summer of 1949, Bill VanTichelt entered his first motorcycle race at age 14. It was an AMA English Trials held at Lakeland Park in El Monte, California. Bill won first place on his 1948 Harley 125 and was hooked. In 1950, Bill bought his second bike, a 1950 Jawa 350 Twin from Eddie Kretz, Jr. at his pop's shop in Monterey Park. (Eddie and his father, Ed Kretz, Sr. are both AMA Hall of Famers).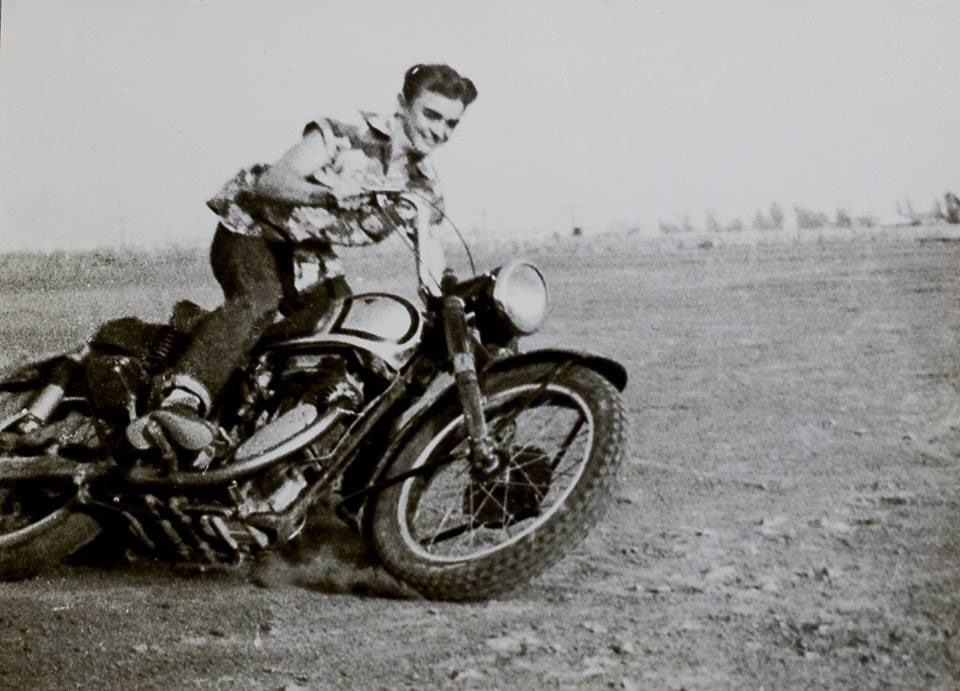 In 1951 while a senior at South Pasadena High School, Bill bought a 500cc AJS single from Lammy Lamoureaux's motorcycle shop in Glendale, California (Lammy is also an AMA Hall of Famer http://www.motorcyclemuseum.org). The day he bought the bike he met Vic Marshall who invited him to a meeting for the 20 Nite Owls (an off road motorcycle club). Through the Nite Owls, Bill met Barney Reagan who later offered him an evening job in a machine shop where Barney was foreman and thus, laid the ground work for Bill's interest in fabrication. The 20 Nite Owls leased 160 acres off the I5 near Castaic Junction known as the "Owl's Roost" for $100.00 a year. The club held monthly field meets such as TT races, motocross, dirt drags, slow rides, trials events and some AMA sponsored motocross races. Bill also raced in the AMA Hare & Hound runs in the Palmdale area. Alas, Bill headed off to college and could not afford to keep the "Ajay" repaired, so he traded it to Barney Reagan for a 1950 350cc Velocette MAC Single. Bill continued to race this bike which also led to his first customization, and a precursor of things to come. Bill cut off the rigid rear end of the bike and built a custom swing arm rear suspension. Bill then sold the Velo and bought a 200cc British Excelsior two stroke for $12.00 bucks (that's right twelve bucks). Bill also raced this bike at club events. Eventually, in 1956, Bill graduated from Cal Poly San Luis Obispo with a B.S. in Mechanical Engineering. Bill put his racing days essentially behind him and got a real job; the R&D Department of Frebank, Co., in Glendale, California. While there, Bill led the design and development of a snap action mechanism for a pressure switch that was utilized by NASA in the production of the Saturn V launch vehicle.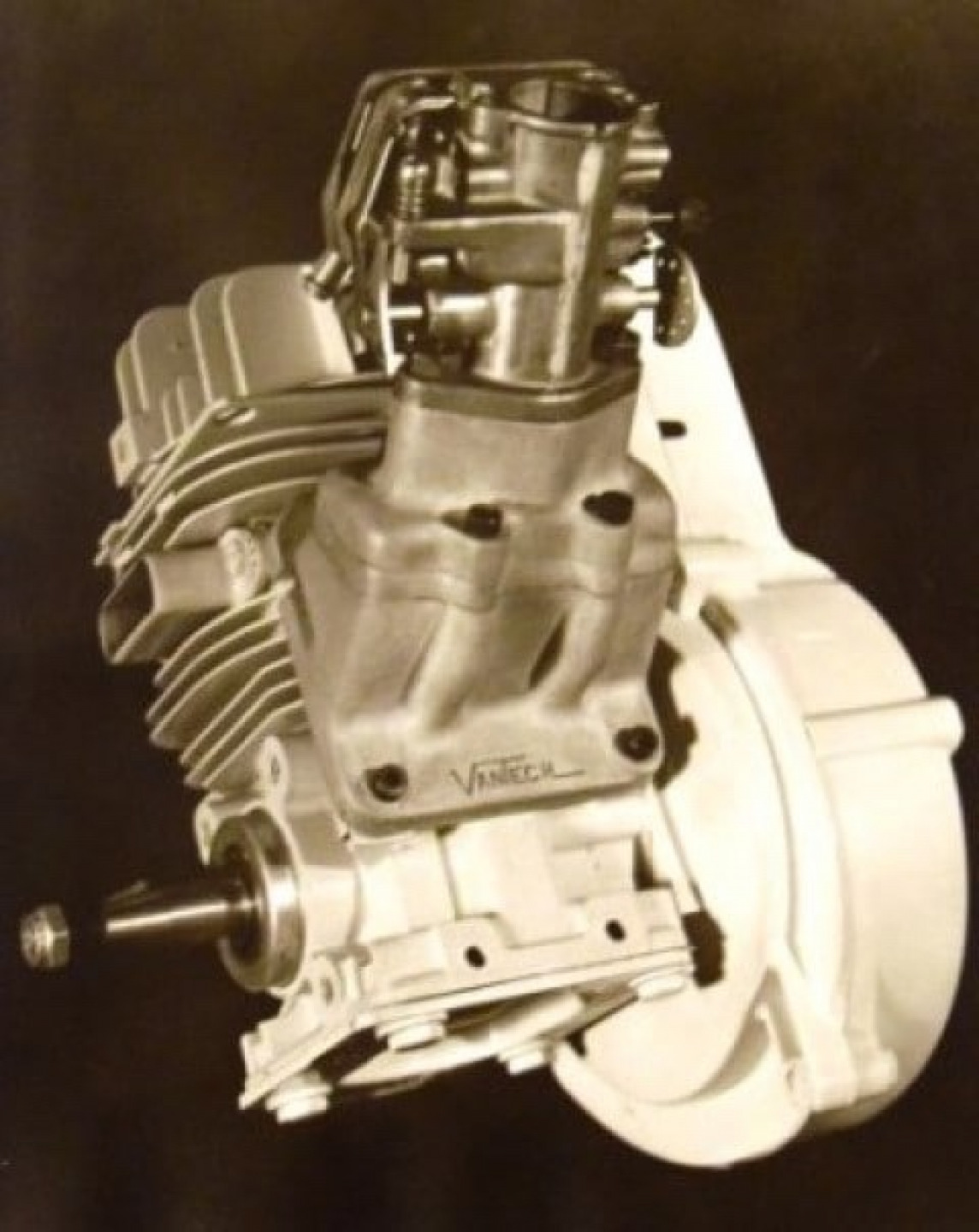 In 1960, Bill along with his father, Bill VanTichelt, Sr., formed VanTech Engineering, located in Visalia, California. VanTech initially began as a design and production shop of specialized hardware for the missile industry. However, in the early sixties, Bill became interested in karting and began applying his engineering background to build a faster kart. Bill developed muffler and a reed valve intake manifold for the McCulloch kart engines in 1961 which dramatically increased the speed and performance of the engines.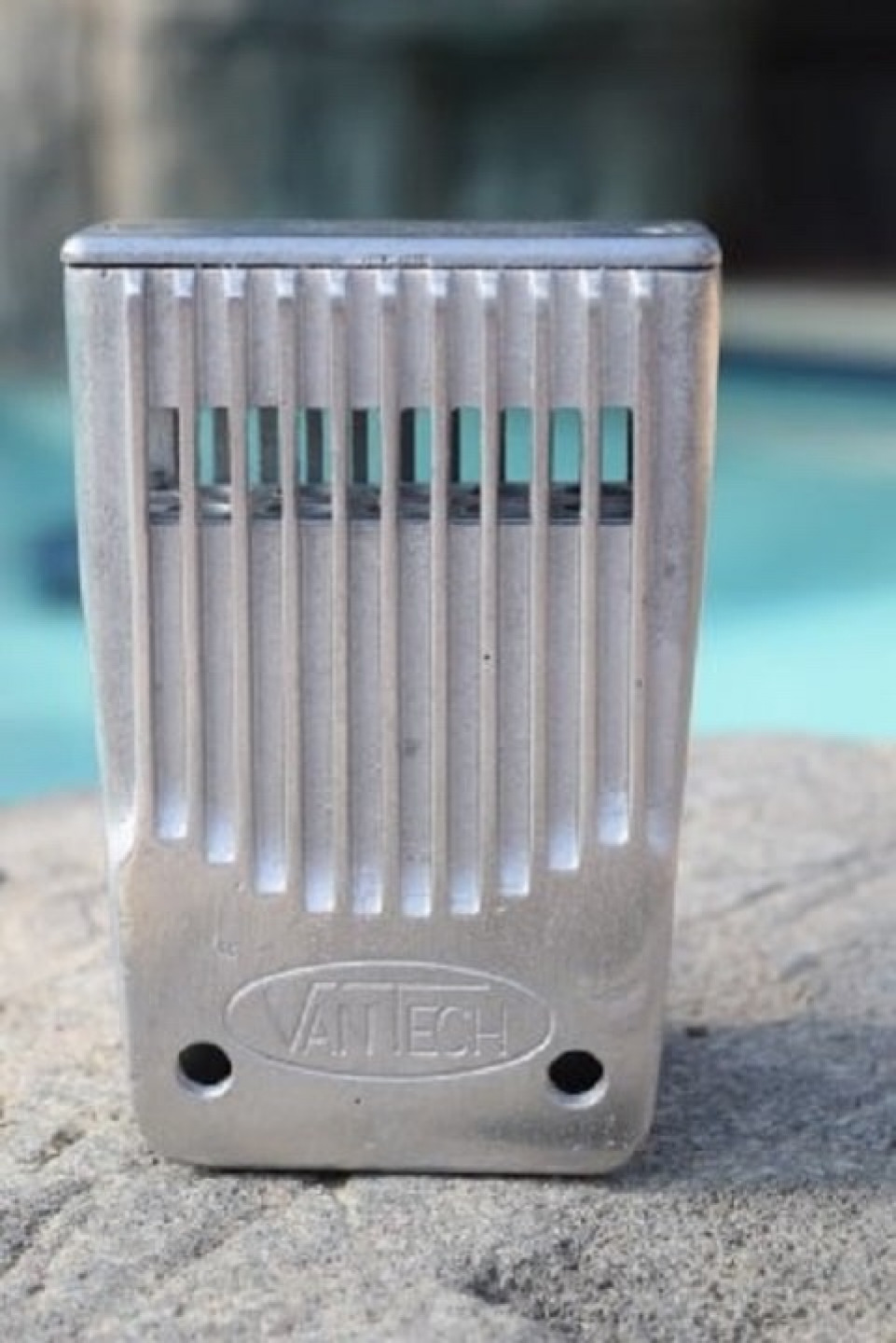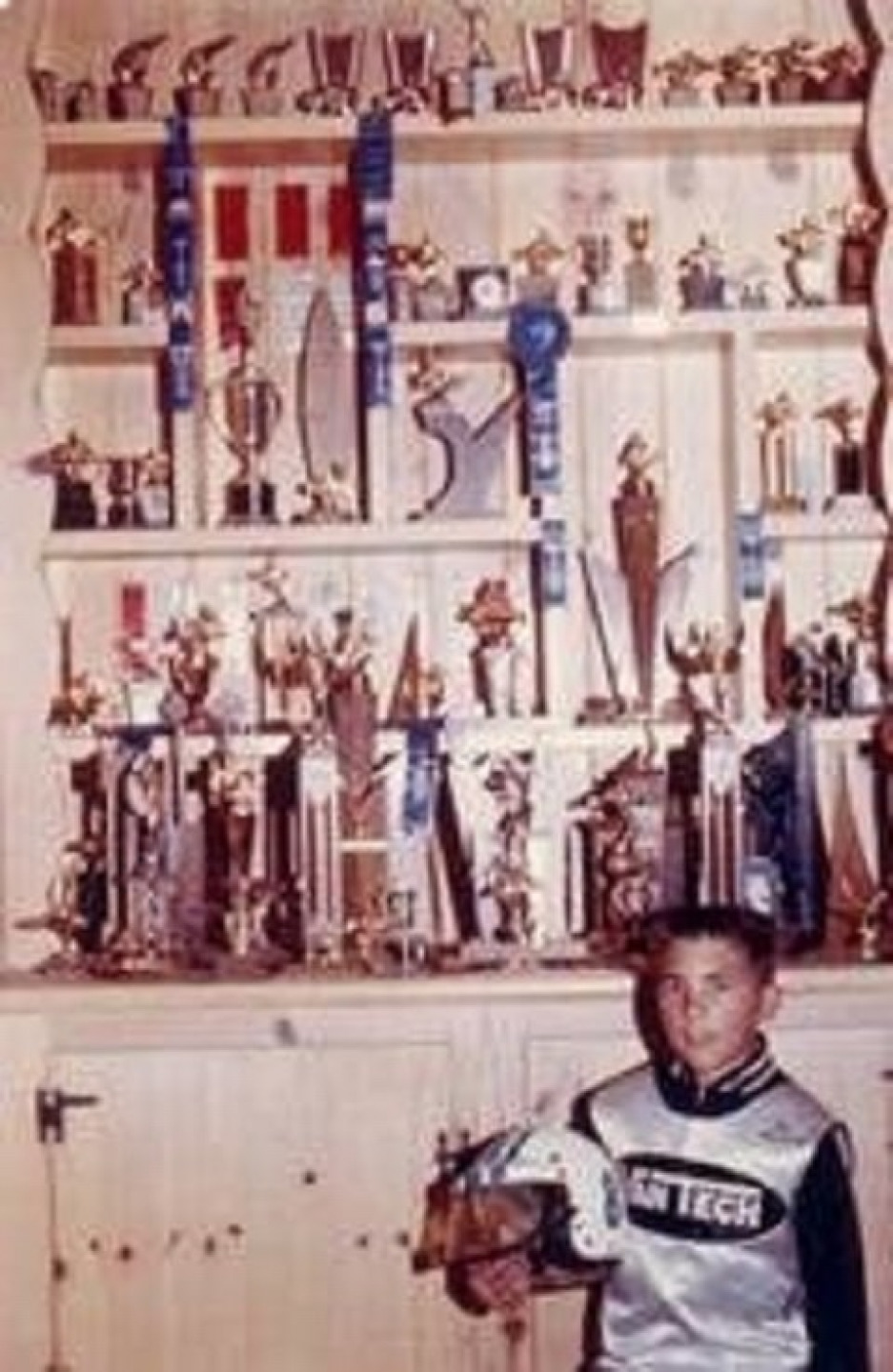 In 1962, Bill and his dad on a whim decided to build a small pseudo-dirt bike for Steve Pound one of their kart racers. Their self-designed VanTech frame was paired with bicycle wheels and one of the McCulloch kart engines with the souped-up VanTech manifold. This little prototype however, was the start of bigger things. In early 1963, Ray Hook, the creator of Blendzall Racing Oil, hired VanTech to create a special bike for one of Blendzall's sponsored riders "Red" which bike went on to win every 100cc race it was entered into. This led Bill to create a second VanTech prototype which was sold to Frank Cancilla and raced by his son, Phil Cancilla in the Bay area.
The First VanTech Production Motorcycle: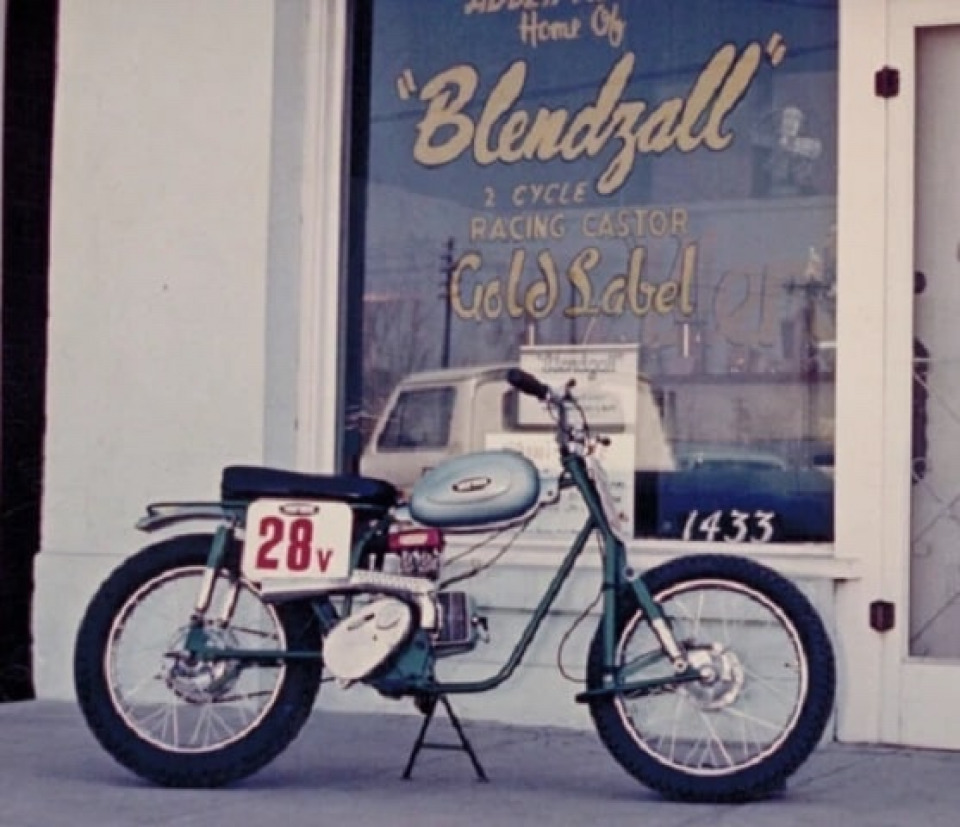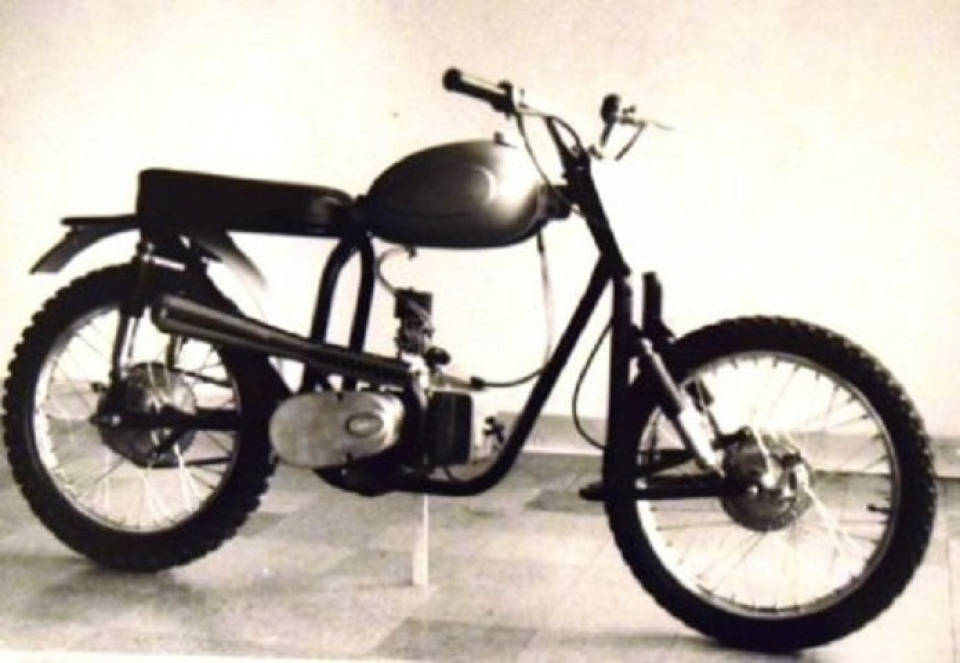 Bill went on to design, fabricate and build two VanTech production bikes: "The Scrambler," an out-and-out racing machine powered by a McCulloch MAC9 kart engine (99cc to 125cc models fit the VanTech mounts) and the "Trials 80". This bike was identical to the Scrambler but was powered by a Yamaguchi (now known as Hodaka) motorcycle engine (originally 80cc). The Scrambler and the Trials 80 gained VanTech a reputation as a builder of sturdy, light and well-machined frames. Bill was a stickler for detail - all of the frames were hand-crafted and jig-built, for precise alignment, and the joints where the tubes meet were all milled to fit. The rear suspension was a conventional swing arm set-up and the front was leading link designed by Bill and inspired by Greeves. (Please see the 1964 Cycle World article available in the free literature "shop page" for more details).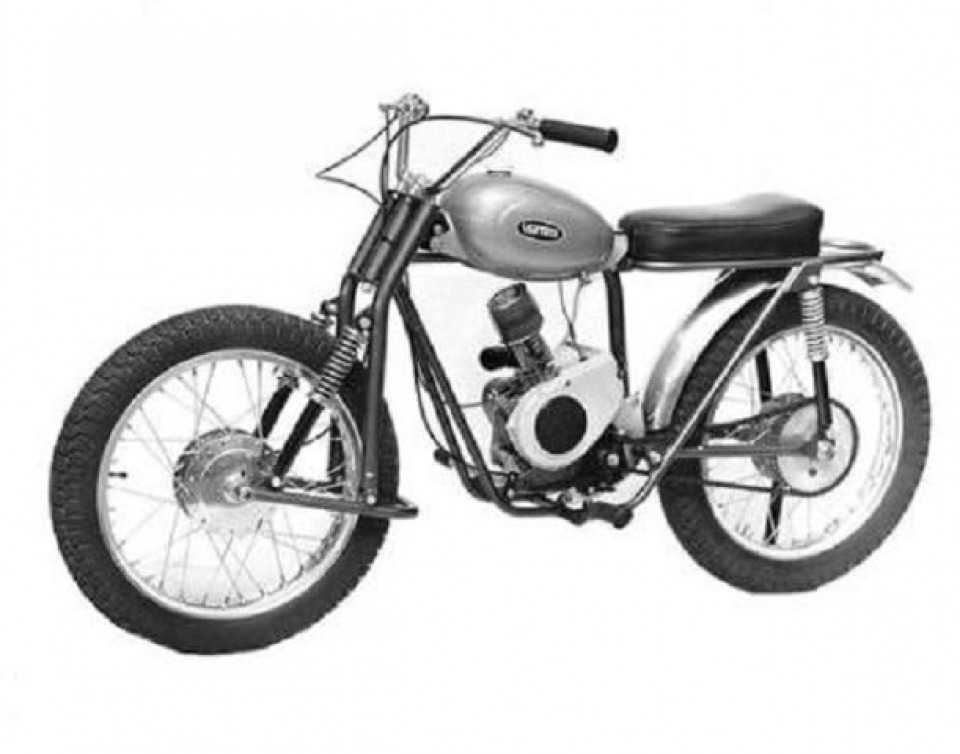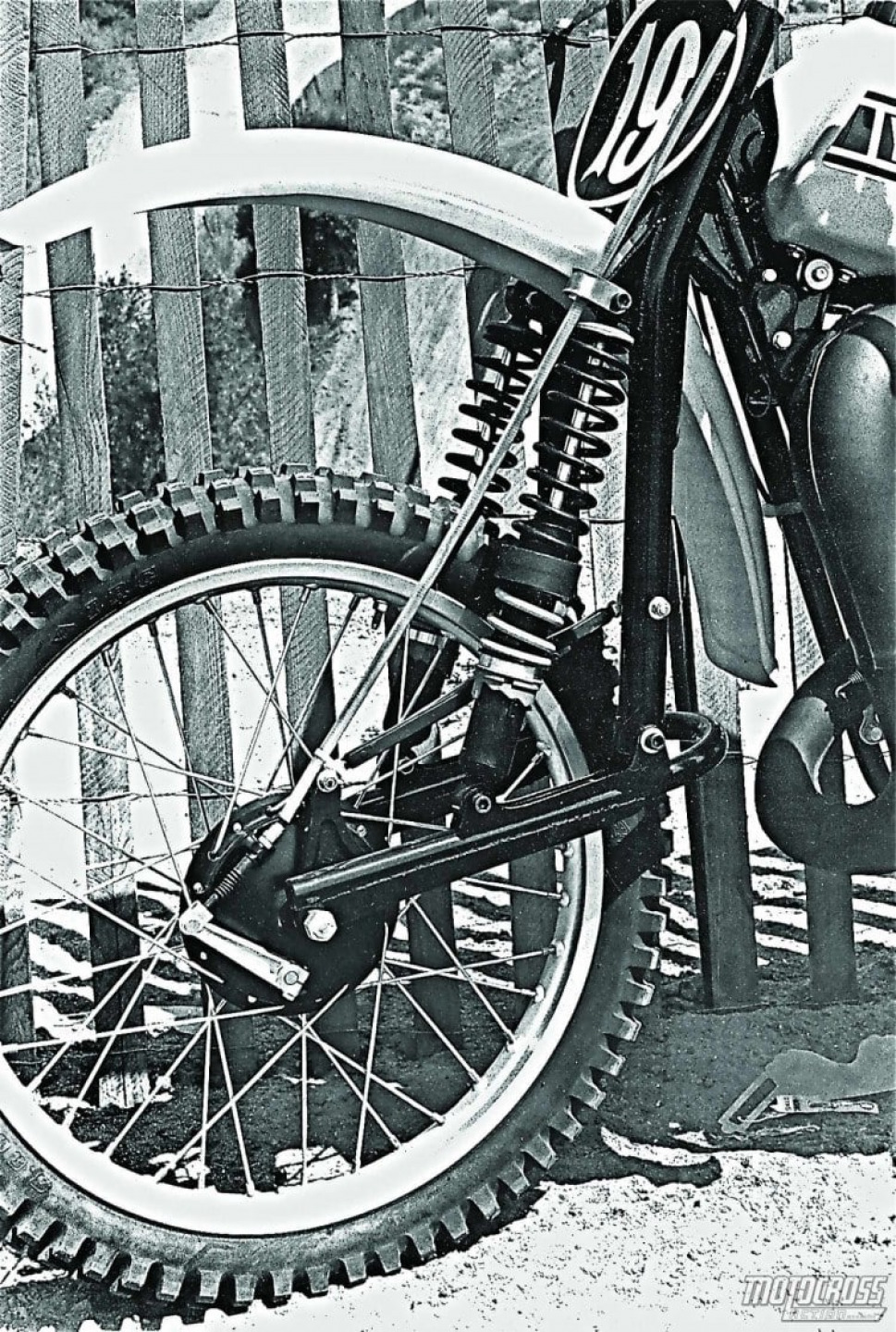 During this time, Bill went on to construct eight 250cc VanTech motorcycles each one different - T.T., flat tracker, desert, and drag bikes using Yamaha, Ducati, Villiers, McCulloch and Montessa engines. Meanwhile, VanTech's first factory sponsored rider, Joey Petz, went on to win practically every 100cc race he entered on the VanTech Scrambler. VanTech produced 200 of the first-series VanTech Scrambler motorcycles.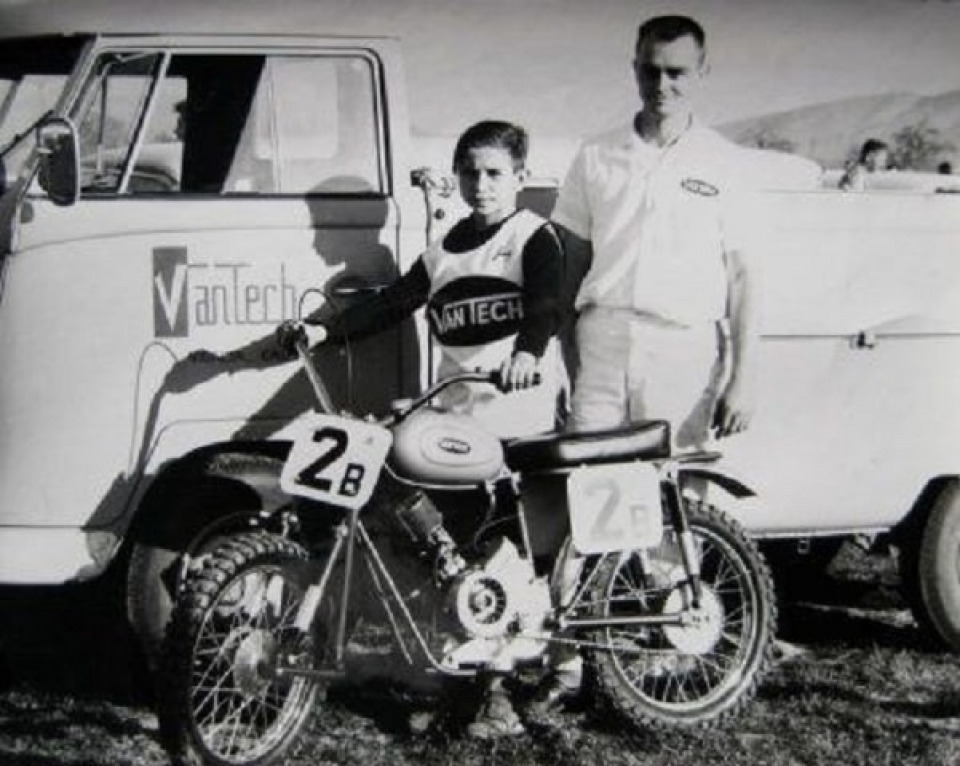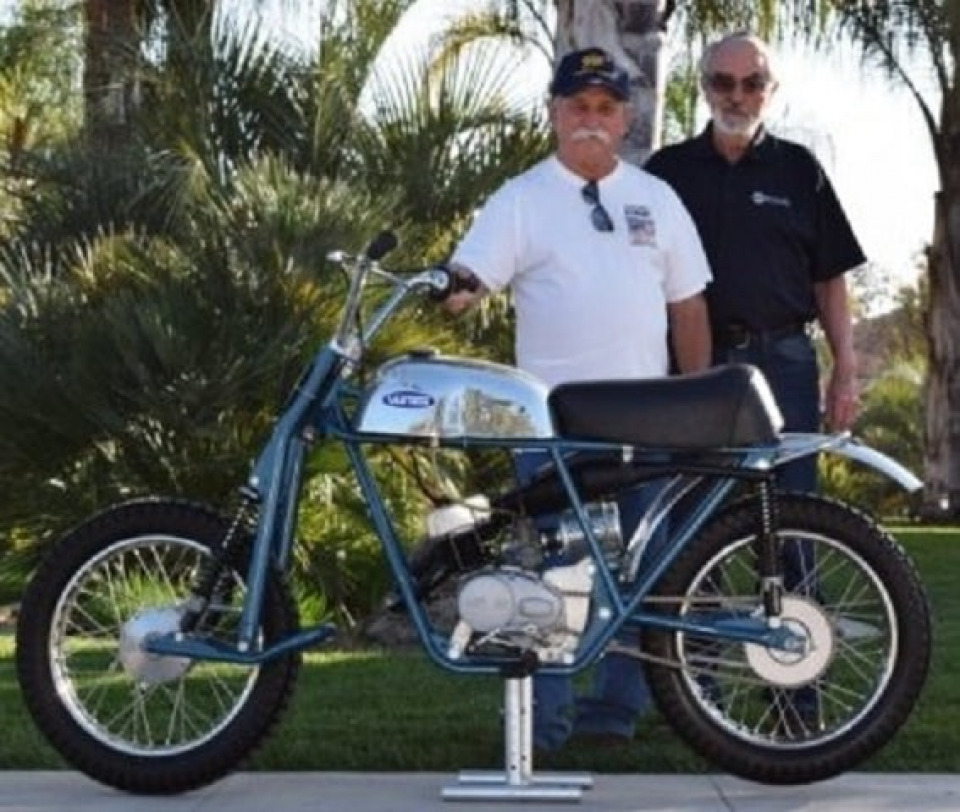 At the time,VanTech was the only other American manufacturer of motorcycles aside from Harley Davidson. The bikes were considered well-made, fast and quite exciting to ride given their small-displacement engines.Ths was also the beginning of the VanTech Leading Link Fork which gave 6+ inches of travel and was about four pounds lighter than any telescopic fork then available.
1965-1966 The Grant-VanTech Conversion Kits: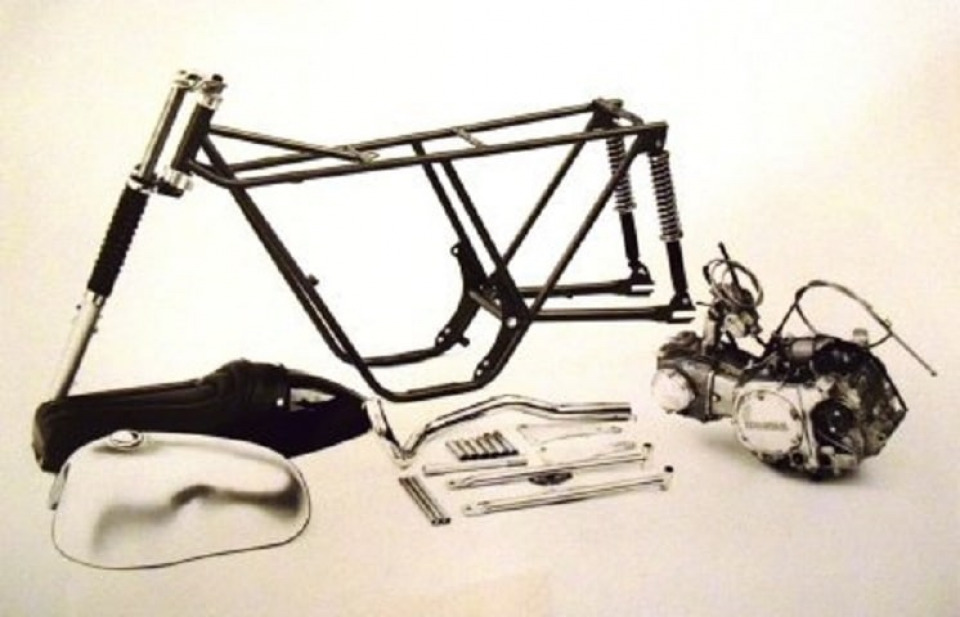 Although Keith Kruser won the 100cc Amateur National Championship in 1965 on a VanTech Yamaha, the McCulloch engine (without a gearbox) was gradually losing its edge. In the fall of 1966, Bill developed the first VanTech conversion kit; a Universal Duplex 100cc frame. Dick MacCoon of Grant Industries (known for its famous Grant piston rings and steering wheels) contacted Bill to discuss joining forces to create what is now known as the "Grant-VanTech Kits". The first of its kind, the kits gave the rider the opportunity to convert their motorcycle to a scrambler, tt special, road racer or flat tracker using their own engine, wheels and forks. Bill also built another bike for Ray Hook of Blendzall Oil at this time, who was looking for a twin engine bike which became known as the VanTech "Widowmaker."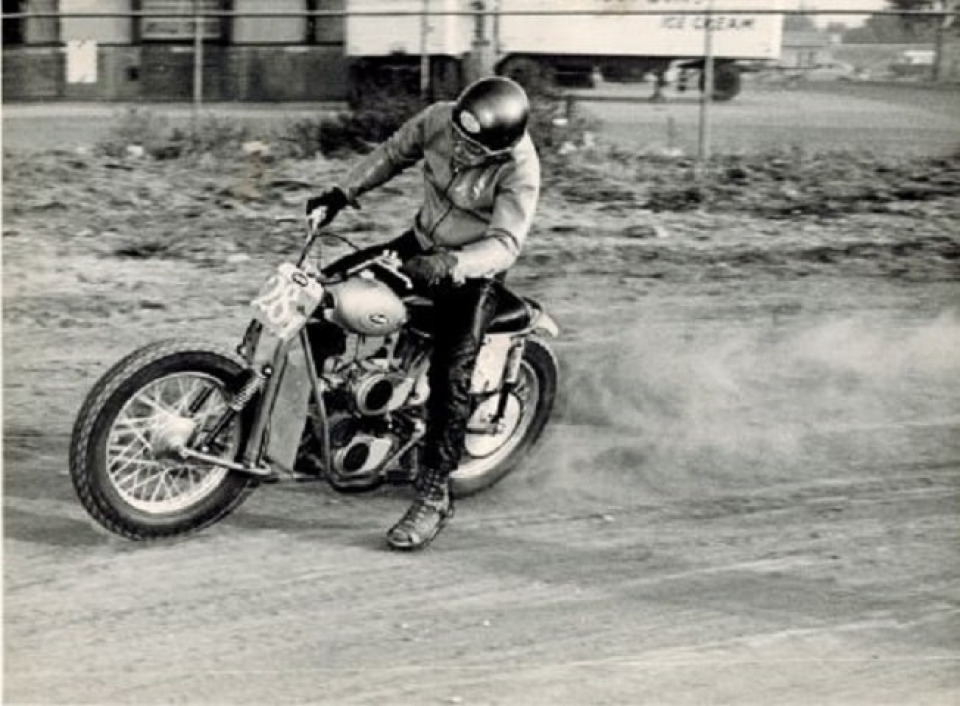 The Helmets:
Shortly after the Van Tech Motorcycle kit program was merged into Grant Industries' operation in Los Angeles, California, Grant Industries decided that motorcycle helmets would be a compatible addition to their increasing product line. Given Bill's mechanical engineering background, he was given responsibility for Grant's engineering activities. At the time, General Electric Corporation ("GE") was in the early stages of producing polycarbonate, an extremely strong and uniquely ductile thermoplastic material. The PR value created by the fact that the Apollo Astronauts were using Lexan helmets was also a benefit.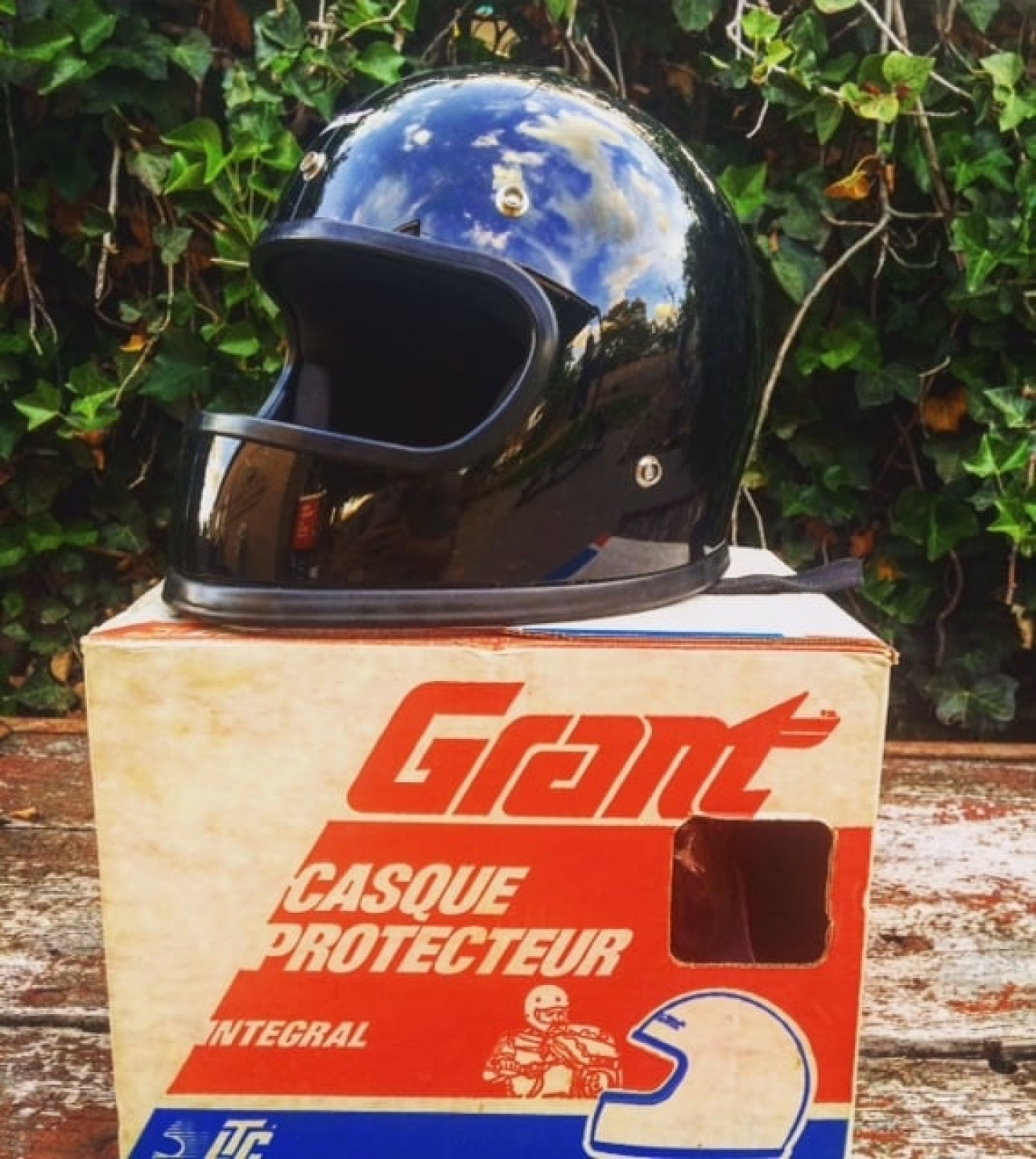 With GE's help, Bill established tooling and molding sources and ordered their first injection mold, dimensionally identical to the pilot fiberglass shells. Bill then set up the pilot finishing systems and equipment recommended by GE, to be ready as soon as the mold was completed and tested, and there were shells to work with. As Bill recalls, all went according to plan at first. Bill set up their own environmental / destructive testing helmet lab, to meet the then applicable Z-90 Federal Helmet Specification. In fact, Bill joined the Z-90 Committee which was continuing to develop helmet design and quality control specs.
Nevertheless, soon after release of the first polycarbonate helmets, Grant got a few reports of structural problems in the field. Fortunately, Bill was essentially able to reverse engineer the polycarbonate helmet to determine what was contributing to the failure of the Lexan shells. Bill discovered that established Z-90 helmet testing specs which at the time called for "gravity powered" impact and penetration tests with various shaped and weighted projectiles dropped from about 8 feet never produced an impact velocity over about 8 miles per hour. Shockingly, the velocity factor was apparently overlooked from the outset of polycarbonate development, and the amazing strength and ductility that characterized Lexan was not assured at higher impact velocities.
It was at this point that Bill's genius in deducting the problem, led way to creating a solution. Bill decided to design and build his own velocity testing equipment. Bill and his dad developed a pneumatically propelled "cannon" which fired test projectiles at up to 100 mph. In fact, after that unit was tested and put into everyday use, GE ordered four more of Bill's testing machines, for their development lab and quality control departments. The VanTichelt "cannon" became the GE Lexan quality control standard.
Bill then worked directly with GE and took the lead in further exposing and correcting these problems in the production and quality control systems. Bill was flown to the GE Massachusetts Lexan headquarters to work with their engineers, as well as to the Indiana Lexan production plant. Bill worked with GE to find a substitute red dye that didn't attack the Lexan or hurt the cosmetics of the helmet. GE then established these new variations in their Lexan line, specifically for the helmet industry, as a whole. After solving these shell failures, Bill was able to put his lab back to work on improving the helmet's basic purpose; that of absorbing impact energy in an accident. Grant Industries rapid growth helped with improving safety as well. When the increased production volume allowed, they were able to design shell molds for specific size ranges, which produced safer helmets for large head sizes and lighter helmets for kids to reduce the likelihood of neck injuries.
Bill's problem-solving, along with his design and development work helped Grant Industries to become at the time, the largest helmet manufacturer in the world. Grant's helmet production reached a high point of just over 4000 units per day. In essence, the VanTichelt "cannon" together with Bill's ingenuity, assured the structural integrity of over a million of helmets during those formative years.
VanTech Roehr Bros.:
In 1968, the Grant-VanTech Kits were acquired by the Roehr Brothers (Duane, Gary and Ken Roehr and became known as the "VanTech-Roehr" line of frames, chassis kits and accessories. The VanTech conversion kits continued to be popular both on and off the raceway. In 1969, Terry Clark riding a VanTech Kawaski garnered a 1st place at the So. Cal. 3rd Annual Barstow to Vegas desert race and Mark Wilson earned a 1st Place Amatuer rider on his VanTech Hodaka by Roehr. In March of 1969, at the Trojan Speedway (see photo below), in the 100cc Experts class, four VanTechs entered and placed, first through fourth (Carl Byers,Wayne Hosaka, John Brown and Ray Vanderpool respectively). Eventually however, in July of 1973, after an amazing journey wherein VanTech left its indelible mark on the history of motocross racing, Roehr Bros. shut its doors for good. To this day, VanTech motorcycles remain highly collectible vintage American made bikes.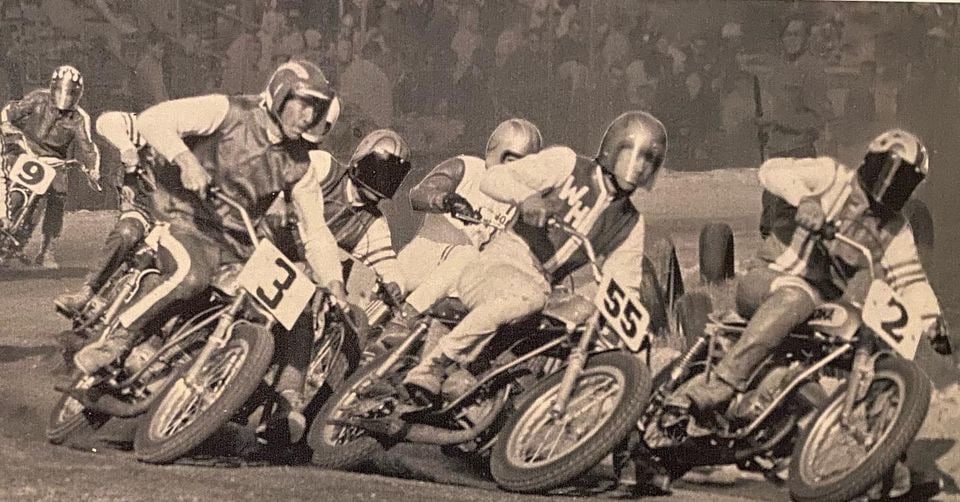 #vantech #vintage #americanbikes
Credit: https://vantechmotorcycles.com/
0


Follow
2.4K