𝐓𝐡𝐞 𝐃𝐚𝐫𝐤 𝐒𝐢𝐝𝐞 𝐨𝐟 𝐌𝐨𝐭𝐨𝐫𝐜𝐲𝐜𝐥𝐞 𝐑𝐢𝐝𝐢𝐧𝐠: 𝐓𝐡𝐞 𝐄𝐆𝐎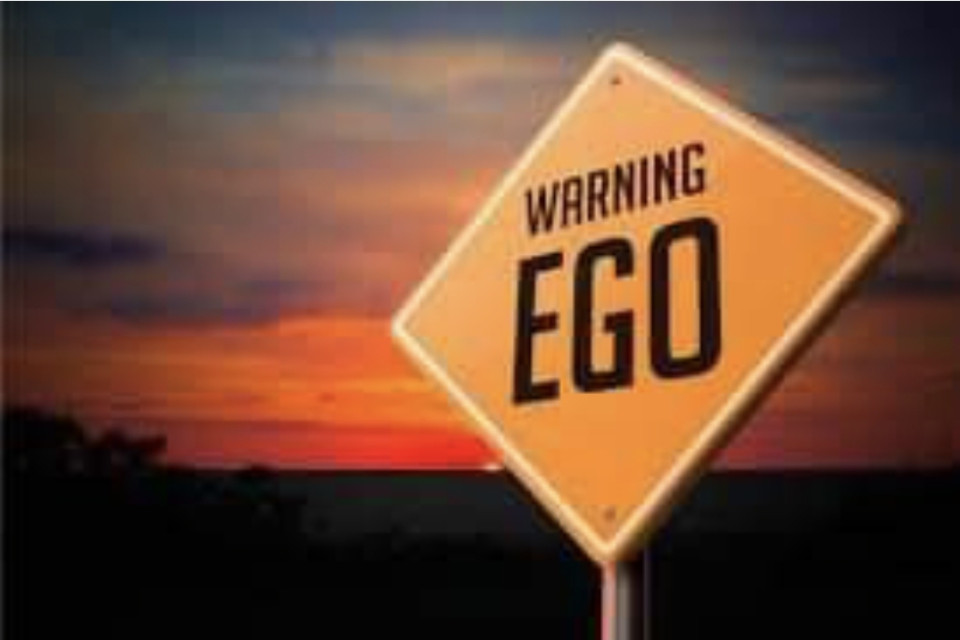 "Ego", literally translated (from Latin), means "I." The Ego has several hats (such as #egotism, #egocentrism, #superego), but for the sake of simplification, lets focus on #egoic; "pertaining to I." Egoic thoughts, emotions, motives and behaviors which are focused on the self - in a self-absorbed way.
Being self-aware (an extremely important factor when riding), is a far cry from being self-absorbed, and a quality worth cultivating. Self-awareness is consciousness of the self and having an understanding of how our actions and behaviors impact (or not) the world around us. Keeping the #ego in check requires self-awareness. "How am I behaving in the world?", versus "How the world should behave towards me."
So often when riding the body fires up. Adrenaline is pumping and the focus is addicting. It feels like every nerve ending is alive and tingling. The problem is if/when we forget about the world around us. Riding through towns/villages and such, without dialing it down. Forgetting there are people living at a slower pace and children who might be playing close by, or animals sleeping on the road or meandering about. Being #considerate and aware should always be a part of a riders skill set.
I confess to at times enjoying the ego boost of realising I am riding better/faster/more skilled than some riders around me, but then there is always some flip side of having someone being better/faster/more skilled than me too. When evaluating the situation, the ego boost is sometimes worth a small thrill but at other times it's not worth the potential hazard. Using logic and calculating risk is another important addition to a riders skill set.
So, with it being the Season of "goodwill to all" and a New Year about to begin, make it a self-aware one and leave the ego in the bin. Ride safe. Take care of yourself. ..and show consideration to others. ❤️🎄🙏☺
(..𝘰𝘩, 𝘢𝘯𝘥 𝘐 𝘴𝘵𝘪𝘭𝘭 𝘩𝘢𝘷𝘦𝘯'𝘵 𝘳𝘦𝘢𝘥 "#𝘡𝘦𝘯𝘢𝘯𝘥𝘛𝘩𝘦𝘈𝘳𝘵o𝘧𝘔𝘰𝘵𝘰𝘳𝘤𝘺𝘤𝘭𝘦Maintenance", 𝘣𝘶𝘵 𝘪𝘵 𝘪𝘴 𝘰𝘯 𝘵𝘩𝘦 𝘵𝘰-𝘥𝘰 𝘭𝘪𝘴𝘵. #𝘗𝘴𝘺𝘤𝘩𝘰𝘭𝘰𝘨𝘺 𝘸𝘢𝘴 𝘢𝘯 𝘦𝘭𝘦𝘤𝘵𝘪𝘷𝘦 𝘪𝘯 𝘮𝘺 𝘥𝘦𝘨𝘳𝘦𝘦 𝘤𝘰𝘶𝘳𝘴𝘦 𝘢𝘯𝘥 𝘴𝘰𝘮𝘦𝘵𝘩𝘪𝘯𝘨 𝘰𝘧 𝘢𝘯 𝘪𝘯𝘵𝘦𝘳𝘦𝘴𝘵 𝘧𝘰𝘳 𝘮𝘦. 𝘐𝘵 𝘪𝘴 𝘦𝘢𝘴𝘺 𝘵𝘰 𝘴𝘦𝘦 𝘸𝘩𝘺 𝘴𝘰𝘮𝘦𝘰𝘯𝘦 𝘸𝘰𝘶𝘭𝘥 𝘸𝘪𝘴𝘩 𝘵𝘰 𝘸𝘳𝘪𝘵𝘦 𝘢𝘣𝘰𝘶𝘵 𝘵𝘩𝘦 𝘱𝘴𝘺𝘤𝘩𝘰𝘭𝘰𝘨𝘪𝘤𝘢𝘭 𝘢𝘴𝘱𝘦𝘤𝘵𝘴 𝘰𝘧 𝘳𝘪𝘥𝘪𝘯𝘨 𝘢 #𝘮𝘰𝘵𝘰𝘳𝘤𝘺𝘤𝘭𝘦.)
7


Follow
831