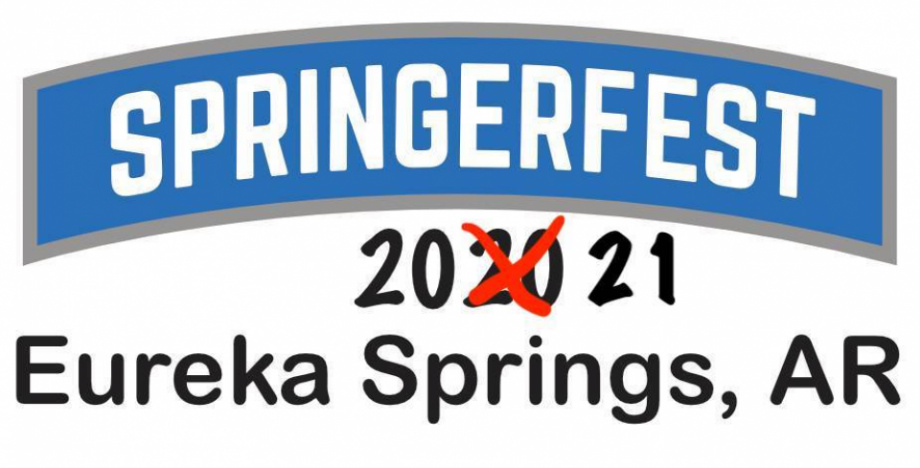 May 19, 16:00, Wed - May 23, 06:00
United States, AR, Eureka Springs
207 W Van Buren, Eureka Springs, AR 72632, USA
Description
Springerfest is an annual gathering for the owners and riders of motorcycles with OEM or custom frontend Springer suspensions. We gather to have fun, embrace our kinship for the passion and appreciation we share for these functioning pieces of art.
*IMPORTANT* - PLEASE READ EVERYTHING BELOW
THE EVENT DATES ARE:
5/19/2021 - Travel Day/Check In
5/20, 5/21, 5/22 - Springerfest 2021
5/23/2021 - Travel Day/Check Out
Host Hotel Info:
Best Western Inn of the Ozarks
100 Rooms Available
King and Queen Beds
Tel: (479) 253-9768
$109.00 FOR A STANDARD DOUBLE QUEEN OR ONE KING BED
$119.00 FOR A DOUBLE QUEEN OR KING BALCONY ROOM
$129.00 FOR A KING LEISURE OR JUNIOR SUITE
$139.00 FOR A JACUZZI SUITE
$169.00 FOR A 2-ROOM DOUBLE QUEEN OR KING SUITE
EACH INDIVIDUAL PERSON MUST CALL INTO THE HOTEL RESERVATIONS DESK AND RESERVE THEIR OWN ROOM OUT OF THE BLOCK SET ASIDE FOR SPRINGERFEST ATTENDEES
ROOMS THAT ARE NOT RESERVED BY April; 1, 2021 WILL BE RELEASE FOR RESALE
To make reservations -
**DO NOT USE THEIR WEBSITE TO BOOK YOUR ROOM**
YOU MUST CALL: (479) 253-9768 Mention Springerfest 2021!
Check out the Hotel and the logistics - https://www.innoftheozarks.com/suites
**** SPRINGERFEST 2021 - IMPORTANT HEADS UP ***
* Plenty of parking - for bikes AND trailers!
* New Meet-n-Greet Banquet Night - BBQ Buffet($$)
Events Planned:
A. Meet m Greet
B. Banquet - BBQ Buffet*
C. Rides - Lots of rides - ride maps
D. Gorgeous Scenery
E. Fun and Friends
Agenda:
5/20 - Meet-n-Greet/Group Photo/Banquet
5/21 - Rides
5/22 - Rides
*************************************************************
Springerfest Goodies:
1. T-shirts
2. Patches
3. Pins
4. Old Koozies and Patches from 2018/2019
5. Surprise goodies
6. Banquet
ORDER GOODIES AND REGISTER ON THE SPRINGERFEST WEBSITE www.springerfest.com
*************************************************************
Also looking for volunteers to help with Springerfest stuff-n-junk, if you are interested in helping out, please let us know!
IMPORTANT - Make sure to click and select the FB attendance selector if you are going, or if you are interested in the event - commenting on the post will not give us the count we need, thank you!
Any questions or suggestions, let us know.
Thank you, and we look forward to Springing it with ya in Eureka Springs, AR!
Who's checked in
Going: 0, Interested: 6
See All
Event by
Web Site:
www.springerfest.com