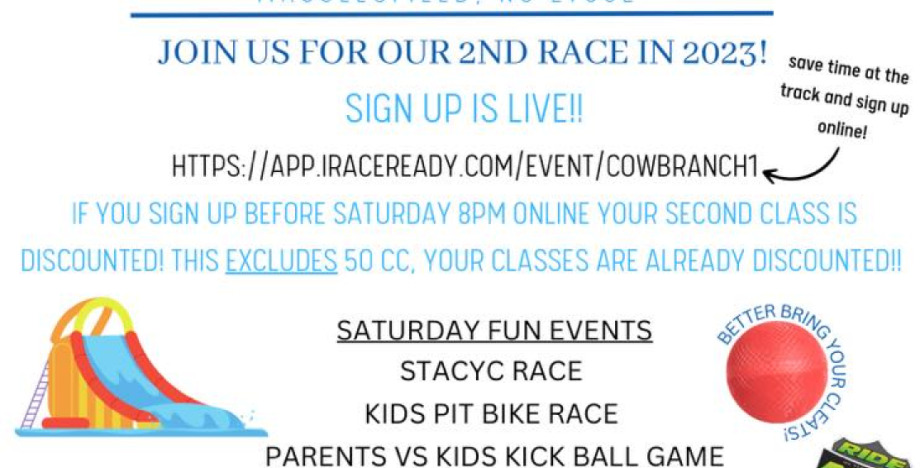 Family Fun Summer Kick Off Race
Jun 02, 12:00, Fri - Jun 04, 17:00
United States, NC, Macclesfield
1286 Stallings Rd, Macclesfield, NC 27852, USA
Description
WE ARE READY TO HAVE SOME FUN AT COW BRANCH!!
There will be events going on all day Saturday, something for everyone! Practice starting at 9 am and ending at 3 on, training with 784 Mx school, Stacyc races, kids pit bike races, kick ball fun, and a WATER SLIDE!!
We have some super fun events planned for Saturday! Our STACYC RACE will be held on Saturday, as well as the KIDS PIT BIKE RACE , PARENTS VS KIDS KICK BALL, and a WATER SLIDE courtesy of @rideinthelightmx !!!
JUNE 3-4 - Practice on Saturday - Racing on Sunday
Online sign up is live : https://app.iraceready.com/event/cowbranch1 - Online sign up will close Saturday June 3rd at 8:00 pm.
Sign up online to get your second class discounted!! This does exclude 50cc, your classes are already discounted.
Training will be available on June 3 with Josh Edwards @784mxschools . Make sure to take advantage of this opportunity for your rider!
As always, message us with any questions! Can't wait to see everyone there!
Event by
Web Site:
https://www.facebook.com/events/262805032949074/