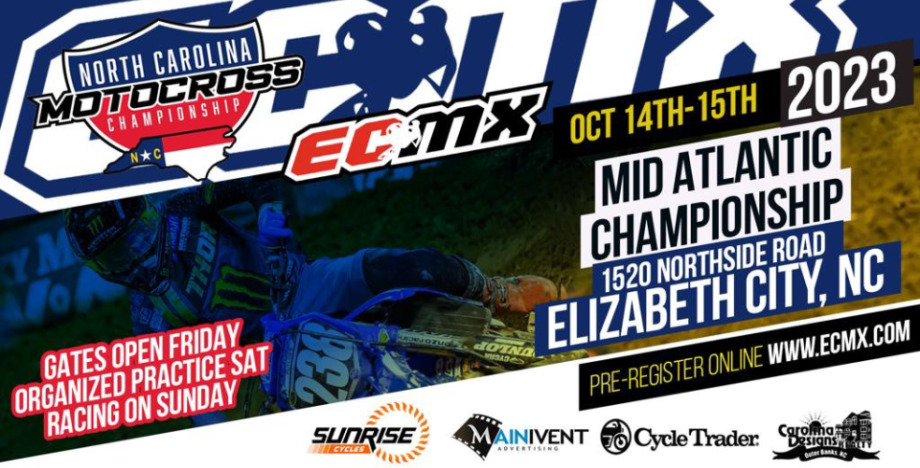 MID ATLANTIC MX CHAMPIONSHIP/NCMX RD16
Oct 14, 06:00, Sat - Oct 15, 19:00
United States, NC, South Mills
CM6F+4P South Mills, NC, USA
Description
MidAtlantic Championship/R16 2023 NCMX Series
??????, ??? 133pm: Gates open for early arrival6pm: Registration opens7pm: S'mores Social at the front gate9pm: Registration closes for the night
????????, ??? 146:30am: Registration opens8am-4pm: Organized practice
HALLOWEEN FESTIVITIESCostumes, trunk or treat for the kiddos, Kinfolk Axe and Williams Ice Cream! We will kick off around 5pm and encourage the kiddos to dress in costumes as they walk the campground trick or treating with their friends! Please bring candy to pass out and decorate your trunks or campers if you are feeling festive! Big Boss Burrito will be slinging the best food this weekend as well!
??? ??Sunday, Oct 156:30am Registration Opens8am: Race Practice9:45am: ???? ????
We have plenty of dry camping available so bring your camper and come stay the weekend with us!
Fees: Friday Adults $25, Kids 5-12 $20Saturday Adults $20, Kids 5-12 $15Sunday Adults $15, Kids 5-12 $10**Kids 5 and under are free.**
Event by
Web Site:
https://www.facebook.com/events/2698557493654133/
Location