It's winter now and not everyone has a chance to ride 365 days a year. So we decided to check the Instagram and find the most popular motorcycle girls. I was pleasantly surprised to find a lot of wonderful ladies on motorcycles. Unfortunately, there is no possibility to publish all of them, as it will take forever. So I suggest you enjoy the top fifteen most popular Instagram moto girls...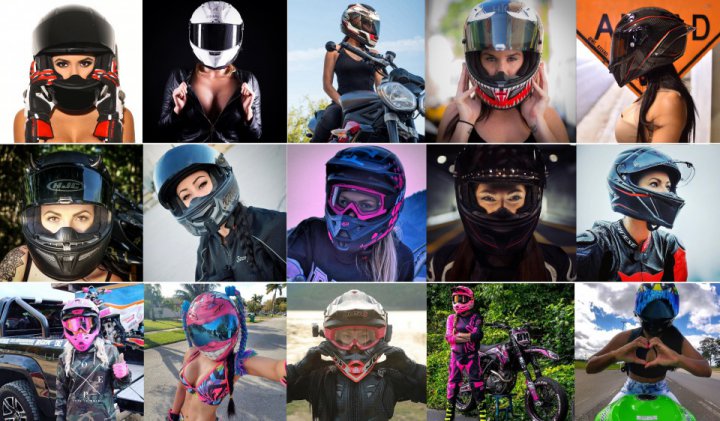 #15. Amber Grace and 111к followers
We start our list with a gorgeous female rider from NY. Meet Amber Grace. She has been riding for almost four years and during her motorcycle experience she tried different bikes (Kawasaki Ninja 250cc, Honda CBR 600RR, Ducati 848 evo). And finally she upgraded to KTM 1290 RC8R. I believe, this girl is worth following. Press that "Follow" button and you won't be sorry!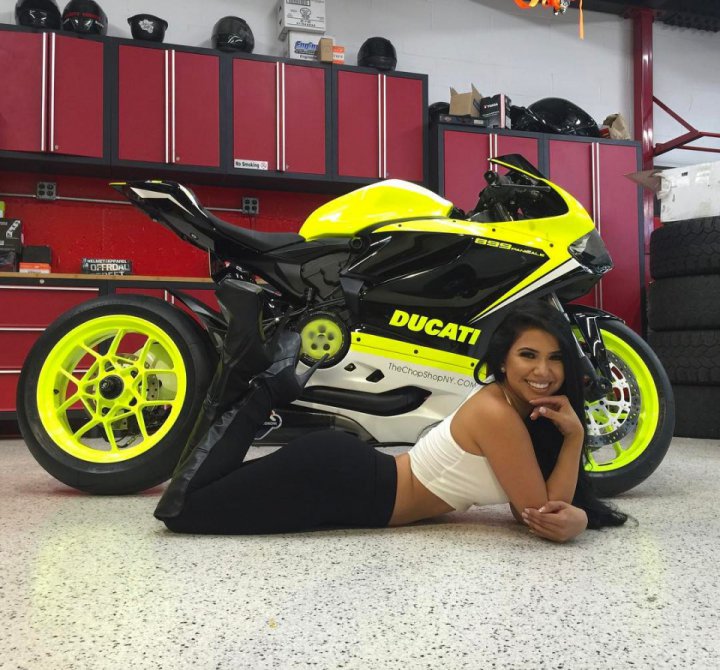 #14. BikeBoobs and 117к followers
Next up we have another decently pretty brunette rider from Sweden Brownie. Besides her extensive Instagram feed, Brownie also runs a Vlog series on her YouTube channel. Unfortunately, we don't know much about this Sweden two-wheeled biker, but as always, a little bit of mystery is good indeed.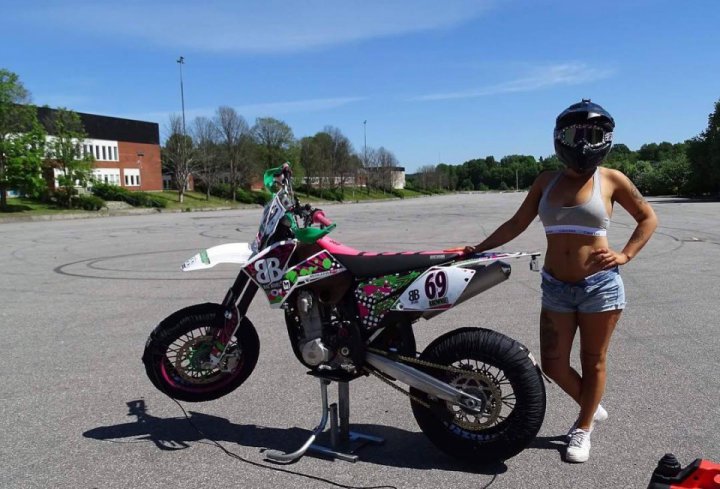 #13. Taninja and 123к followers
For our next entry, we cross the Atlantic away from the European continent into South America to find this dark-haired Brazilian beauty. Taninja has started riding since she was 19 years old, and her first bike was a sweet-looking Honda biz (125cc). Several years have passed, and now a BMW 1000RR rider, Taninja spends most of her time riding and hanging out with her motorcycle friends. This Brazilian chick biker also confessed, that she thinks about her parents every time she rides. Isn't sweet??? As a life motto, this girl chose the following expression: "It's a world full of good things if you know how to use your motorcycle." If you agree, that Taninja is someone worth following indeed, hit that "Follow" button!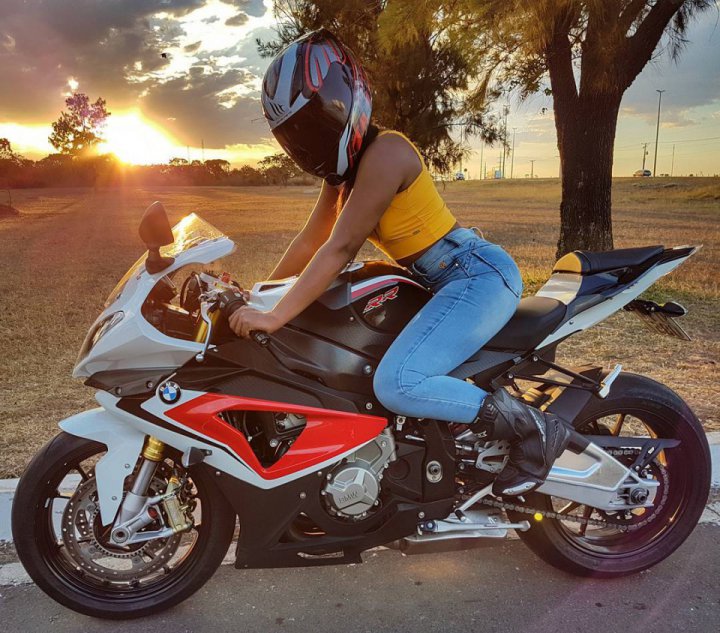 Next comes this lovely looking California bombshell by the name of Annette Carrion. From what we can gather, she had a Kawasaki Ninja 300 before and now she is a proud rider and owner of a gorgeous 2015 Triumph Street Triple R. Among her hobbies, Annette named fitness and of course motorcycles! Besides, this California beauty has a serious riding experience – more than 8 years! Not bad, do you agree?) Oh, you'd be glad to know that she's also a MotoGP and racing fan in general, and her IG feed suggests that she's a familiar face in the MotoAmerica grid as a model/grid girl too.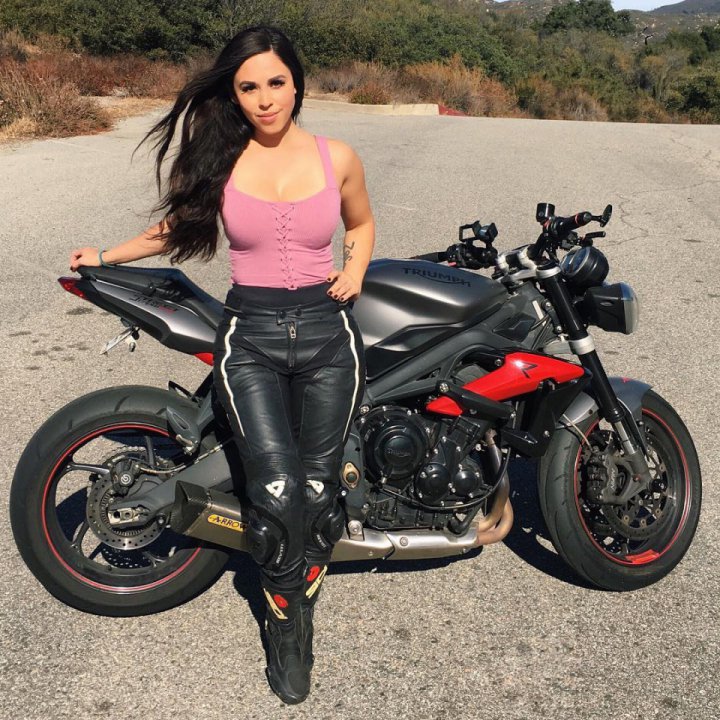 Next comes this mysterious blonde rider from Sweden. Again!) As her profile information suggests, Jennie works as a welder/teacher. Curious!!! @thebikergirl is heavily involved in two wheels as a racer, stunt rider, and just a beautiful lady! Her profile likely suggests that she spends most of her time riding her pride and joy – a KTM SXF350 – when not teaching of course. You can also watch a video about this Sweden beauty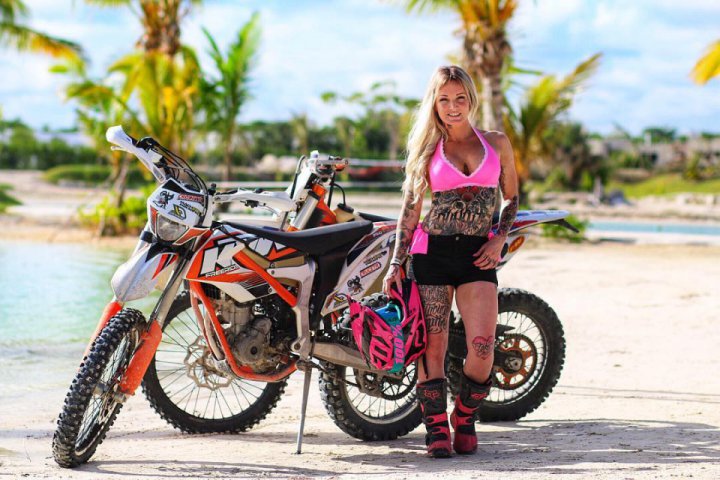 Next up we have another California biker from Santa Clara. Meet Robyn Diamond, a pretty dark-haired rider who seems to know her way around in taming her two favorite bikes - a 2006 Kawasaki 636 and a 2003 Kawasaki 636. She loves hanging out with her boyfriend, riding motorcycles and hiking. Riding since 2011, Robyn also loves inspiring others to get out and ride. Besides, this beauty is one of the few who patiently gave answers to our questions and was grateful for the opportunity to become a part of this article. So, Robyn is really someone worth following indeed.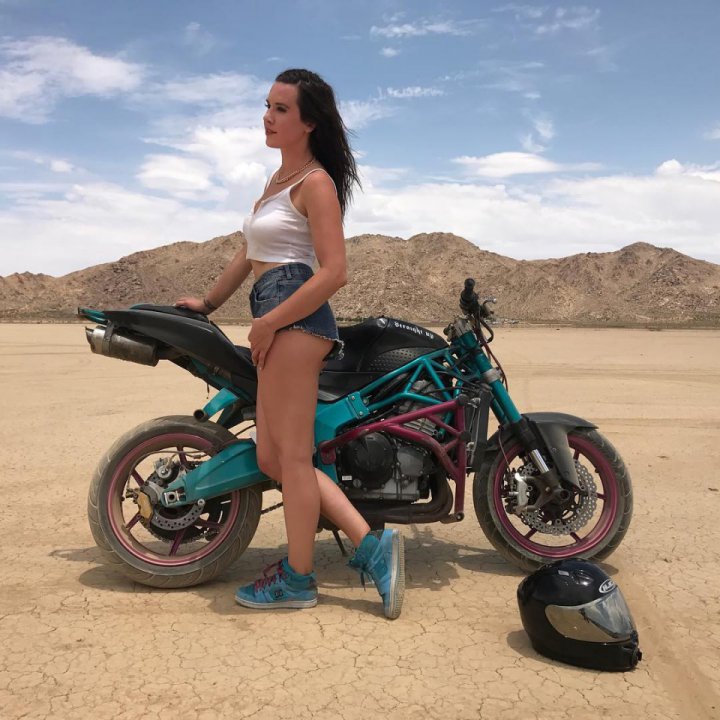 #9. ms_keerati and 187к followers
Next we make a pitstop in Сalifornia, again. Known by her IG user name @ ms_keerati, this amazing girl isn't a fan of a particular motorcycle brand as she has 3(!!!!) bikes, 2014 Ducati 899, 2008 Yamaha R6 and 2003 Kawasaki KX65. Wow! Do you want more? So get it! @ ms_keerati has a B.S. in Finance & Marketing and works as a senior accountant. Besides, this California beauty works as a model (for sure!) and has a great riding experience (has been riding street since 2009 and track since 2012). Also she started racing mini Moto last year and, as plans for future, she's going to be riding R6 this year. Among other hobbies @ ms_keerati named working out, eating, a little bit of free run/parkour, singing. I can just say WOW!!! As far as we are concerned, we are big fans.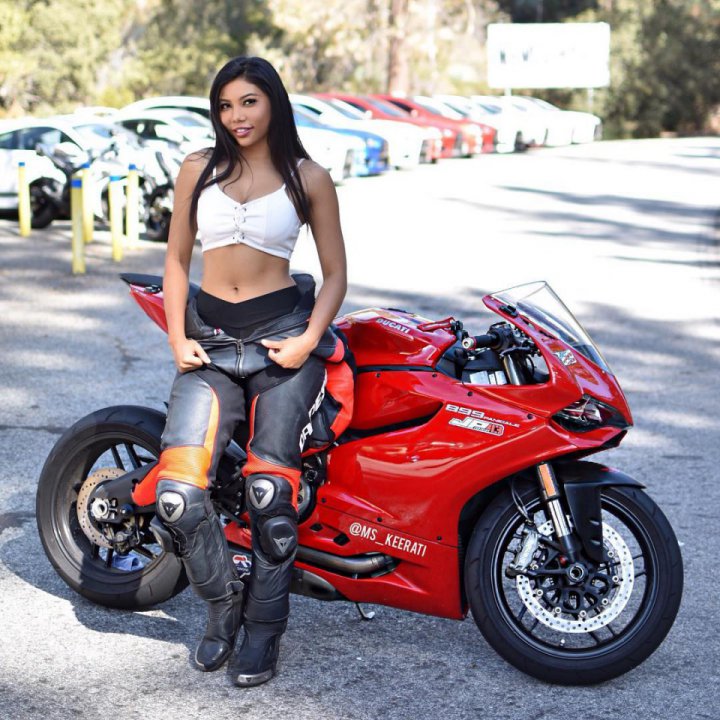 Sarah Lezito, a famous French rider, is considered to be the best stunt woman in the world and as such is constantly on the hunt for new challenges. Do you remember Scarlett Johansson and her perfect riding in The Avengers 2? So Sarah was her double in the motorcycle scenes. Riding the G 310R, she left countless guys behind her in the Stunt Grand Prix. We can say, that her second name is the winner, and Sarah constantly proves it. Sexy looks, pretty smile and rides a BMW? Sign us up!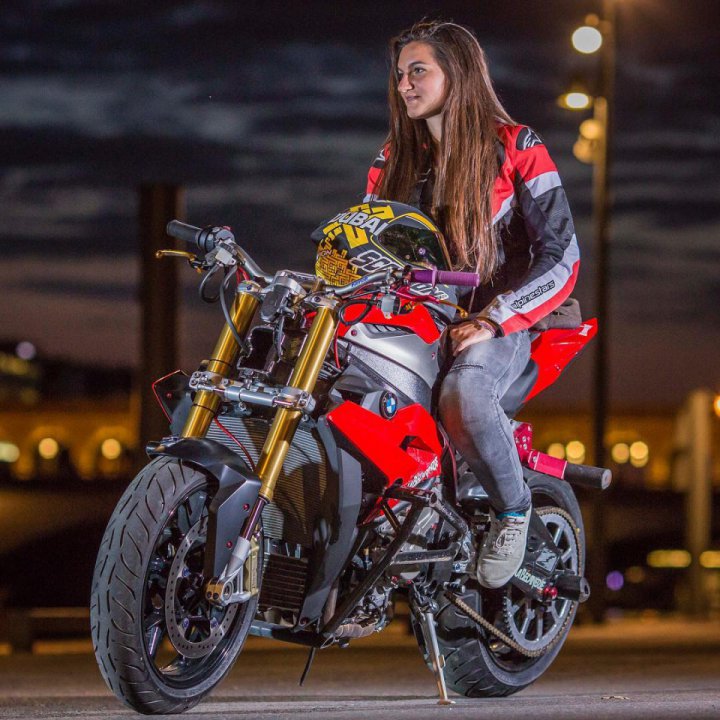 #7. Redspade and 196к followers
A Anna Rigby two-wheeled lady, the real beauty and a bike addict rider. She started riding in 2012 and since that time she had numerous motorcycles (a 2011 CBR 250R, a 2008 CBR 600RR, another 2008 CBR 600RR but fully tracked out). @redspade currently owns also 2 z125 minibikes. Among her hobbies, @redspade named photography (which spurred her interest in riding) and illustration. Also she enjoys traveling and acquiring experiences with friends and family. This nice girl had serious problems with her health (nerve issues in legs). So for @redspade it's not just riding a bike. It's a way to get a life back, or rather obtain a new life. It is a way to get out and about and meet people and push yourself out of comfort zones. You can also watch @redspade's video named "Why We Ride 2017". Are you interested? So check it out!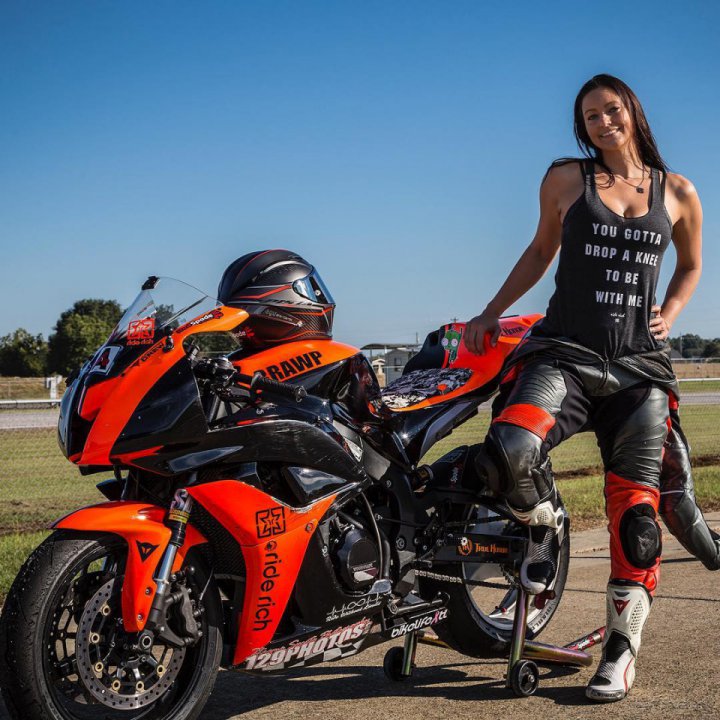 Next comes a totally gorgeous American biker who we know simply as @smashstunts. She is professional motorcycle stunt rider(!!) has owned a Ninja 250, Triumph Daytone 675, and a Honda F4i. Currently she owns a 2004 Kawasaki 636 and a Harley Davidson Sportster 1200. A great choice, do you agree??) She started riding in 2012 and began Stunt Riding in 2014. @smashstunts spends her free time hiking, doing yoga, playing video games, spending time with her dog, and studying for school. Besides her extensive life, @smashstunts also runs a Vlog series on her YouTube channel called Smash Stunts (as you can guess). Check it out and don't forget to sign it up!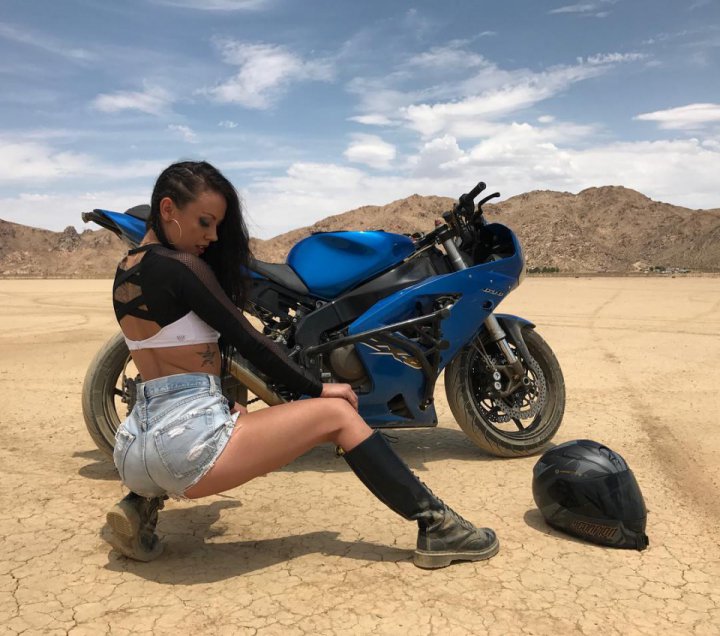 Another mysterious lady from Switzerland. Her recent IG posts likely suggests that she spends most of her time riding her Kawasaki, when not modeling or getting another sexy tattoo.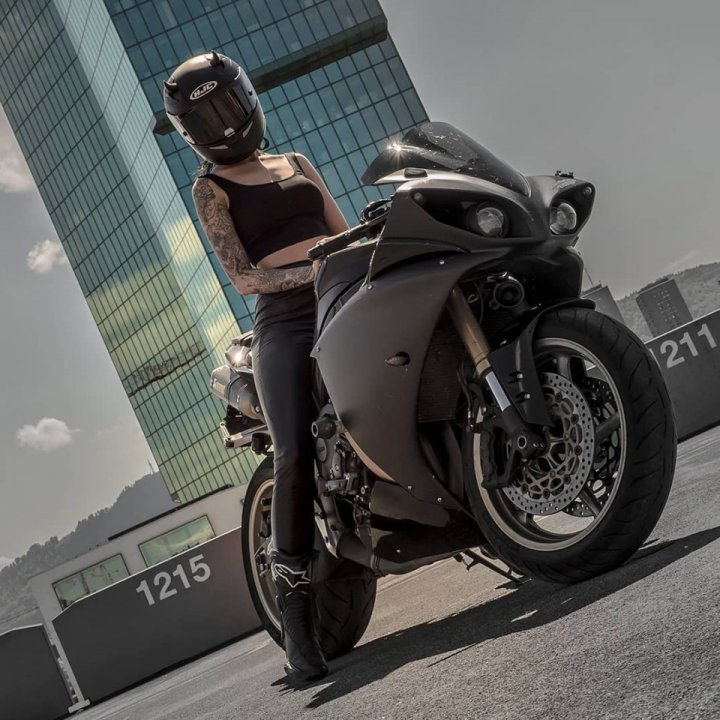 Next we make a stop in Thailand. Not just a great holiday and riding destination, Thailand has also seen a rise in its female biker community, as proven by Annie Prisana. From what we have found out, she constantly takes part in different track challenges, riding a KTM. Unfortunately, we know rather little about this Thai model/biker, but as always, a little bit of mystery is good indeed.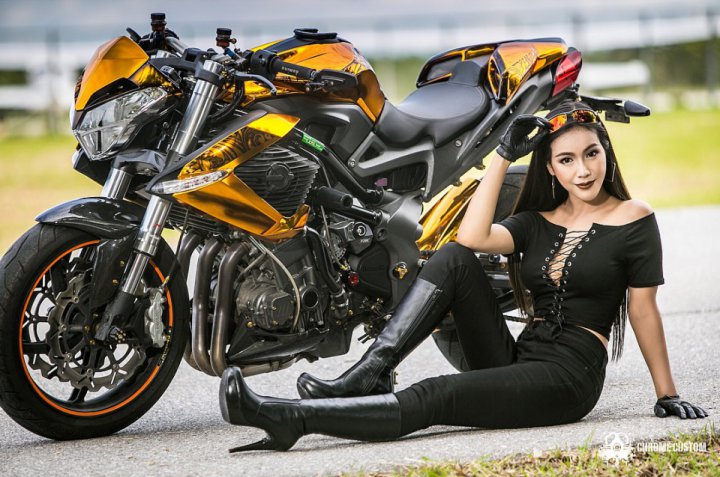 #3. Sara and 258к followers
It's the third Sweden lady listed here and the third one by popularity! This gorgeous biker from Stockholm is a fan of Supermoto and as evidence are dirt bikes she owns, Kawasaki KX250F and KX450F. Among her interests Sara named 2 wheels and high heels. Nice combination! Lol!)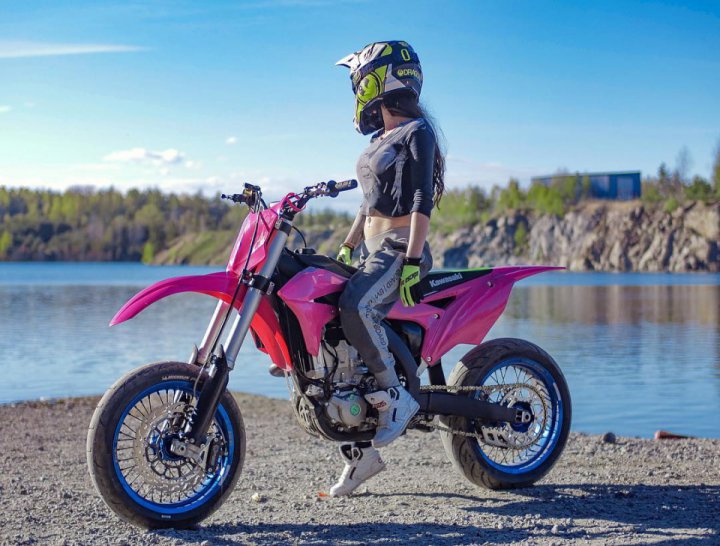 #2. Pauliane and 271к followers
Next up we have a nice blonde French lady Pauliane. From what we can gather, she rides something truly hardcore – a KTM 450 EXC 2018. Gorgeous looks, rides a dirt bike, and loves racing? What are you waiting for! Hit that 'Follow' button!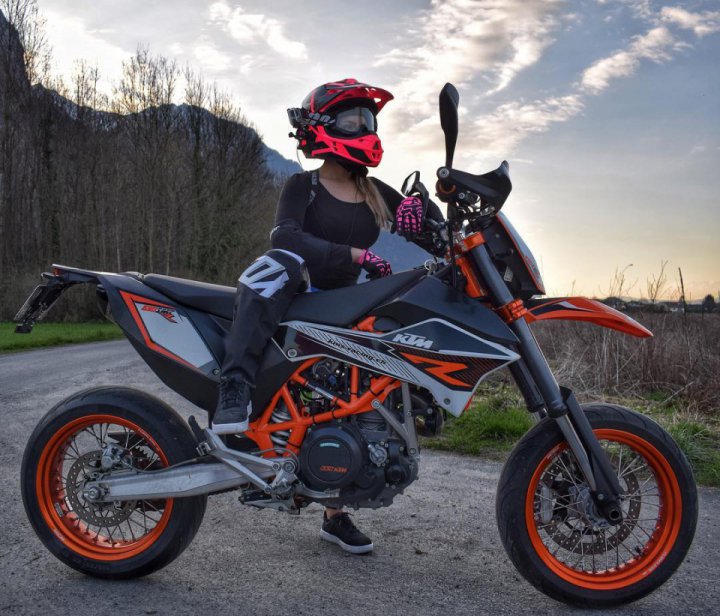 Finally we got to the first place of our list of the top 15 biker ladies. Meet the most popular of Instagram two-wheeled female riders, Venezuelan pretty girl Marianny Garcia, a proud owner of Aprilia RSV4RR 2016. According to her profile information, she is a big fan of extreme sports, speed and adrenaline. Besides the fact that she is a demanded model, Marianny also runs a Vlog series on her YouTube channel. Check it out and you'll find this girl truly worth following!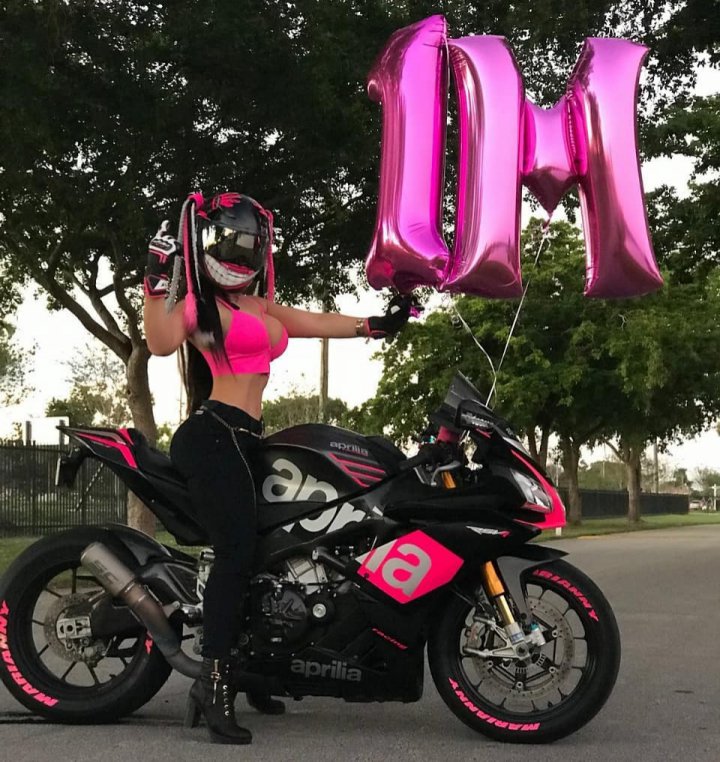 If you know someone else, I mean gorgeous female riders, invite them to the social network Motoridersuniverse.com. Together we can make the largest network for motorcyclists.
Join the community of motorcycles and people
Moto Riders Universe app is the best way to stay informed about what's going on in the moto community — whether it's finding a good news, planning a local event, or sharing safety tips. There are so many ways our moto-buddies can help you, just use this easy way to connect with them.