Ducati boss Claudio Domenicali has told about the plans of the Bologna manufacturer, which is developing the whole line of new models based on their new Panigale V4 engine.
"We will release 29 new bikes in five years," Domenicali told MCN. "We will continue to develop current products but will also be entering new segments for us. As part of new products, we will exploit the V4 engine."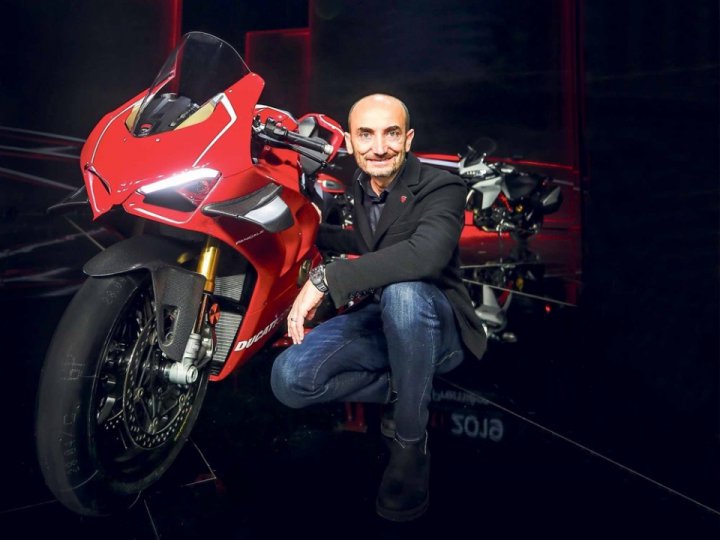 Claudio does not reveal all the ideas and does not say what the next bike with their compact 1103cc V4 Stradale engine, which develops 211bhp in Panigale tune, will be like. Most likely, they are planning a streetfighter or touring model. Domenicali also admitted the V4 engine's 998cc homologation version of the Panigale V4 R, which debuts in 2019, caused a few surprises.
"We were positively surprised with the V4 R," he said. "It was a difficult exercise already with the reduced capacity to keep the same horsepower but the engine then responded quite strongly to the improvements we made. In many ways it is the most advanced bike we have ever developed. The racing version of the V4 R has some better suspension and electronics – better than a MotoGP bike. A lot of riders lose the front in MotoGP but with our system there would not be a single crash.




Electric bikes are fascinating but the technology is what it is; you cannot cheat chemicals. Right now, you remove 15kg of petrol but replace it with 150kg of battery. If there is a regulation to make electric bikes in five years, we will make it, but it will be a worse bike than we can make now."