If you decide to travel from Alaska to Argentina on a bike, you wouldn't choose a Honda Grom, I guess. But not Doug, a 23-years-old guy from a small University town in Oklahoma.
After reading a book about international motorcycle travels, One More Day Everywhere: Crossing 50 Borders on the Road to Global Understanding, by Glen Heggstad, Doug, instead of getting a job, decided to sell all his belongings and take off around the world on a motorcycle. For this purpose, he's chosen not a typical ADV motorcycle – his Honda Grom.
Doug is going to ride 30,000 miles in total to Alaska and then all the way down to Argentina. He won't be alone, but with his friend on an R3.
That's Doug's mod list for this really ambitious trip:
Custom steel luggage racks
Custom steel crash bars and skid plate
Seat Concepts comfort seat (he says raises the height and also allows him to sit further back)
Coleman seat cover
YSS rear shock w/ adjustable preload&
30wt fork oil
ProTaper Honda mini bars
Rox 2 inch var risers
Michelin Power Pure tires (not mounted)
DH Motoring ECU reflash
Cat delete
Intake rad hose mod
LED bulbs in everything
Fiamm Freeway Blaster horn
Dual charging ports
Amazon windscreen
Amazon "handguards"
Rotopax 1.5 gallon aux tank
Amazon/Seeu tank bag
DeWalt tool bag
Ortlieb 89L waterproof duffel
Seahorse hard case (camera gear).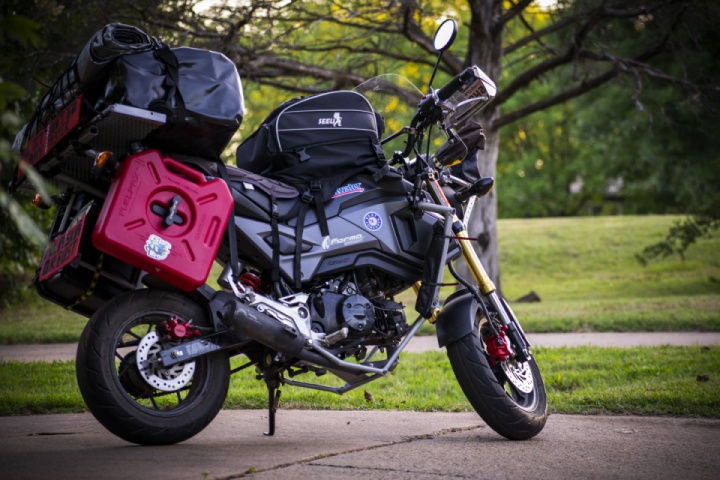 What about the reasons of this "Grom Way Round"? Well, as a resident of the same small town for his entire life, Doug decided it was about time to go see and experience the rest of the world for himself. The main idea is not to get more likes, followers and subscribers. As most people won't be able or willing to change their lives and go on a trip around the world on a motorcycle, Doug wants to provide the audience with that experience, and he wants that experience to be as close to reality as possible - no pretending or fake smiles. He just wants to see the world and show other people its beauty.
Sources: Grom Way 'Round, r/motorcycles,rideapart.com
Join the community of motorcycles and people
Moto Riders Universe app is the best way to stay informed about what's going on in the moto community — whether it's finding a good news, planning a local event, or sharing safety tips. There are so many ways our moto-buddies can help you, just use this easy way to connect with them.