Ducati North America has issued a recall on the 2021 Ducati Streetfighter V4 and the Ducati Streetfighter V4s which includes 156 potentially involved units that might be affected by the recall. The recall is due to a potential issue involving the raw material used on the Flywheel (Generator Rotor) and as a consequence, the Flywheel may break damaging the generator cover and causing an oil leak.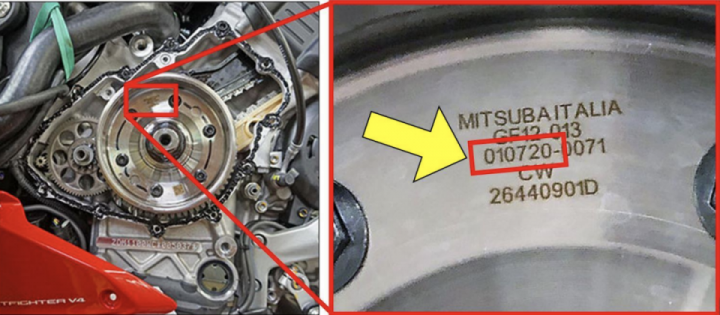 On July 30, 2020, Mitsuba (generator rotor supplier) notified to Ducati Motor Holding a non-conformity communication of the Generator rotor (flywheel). The component manufacturer was able to identify the non-conformity batches and delivery dates to Ducati production. The batches of flywheels recognised as non-compliant are 280620, 290620, 300620, 010720, 020720, and 030720.
The steel bars (the raw material) may have cracks that after the forging process are still present on the final component and there is a remote possibility that the generator rotor can break. The estimated percentage with this defect is 1%. It is also important to note that no incidents have been reported at Ducati North America, nor from the global network, or internally at the Ducati factory, of this potential defect causing any customer complaints, injuries or crashes.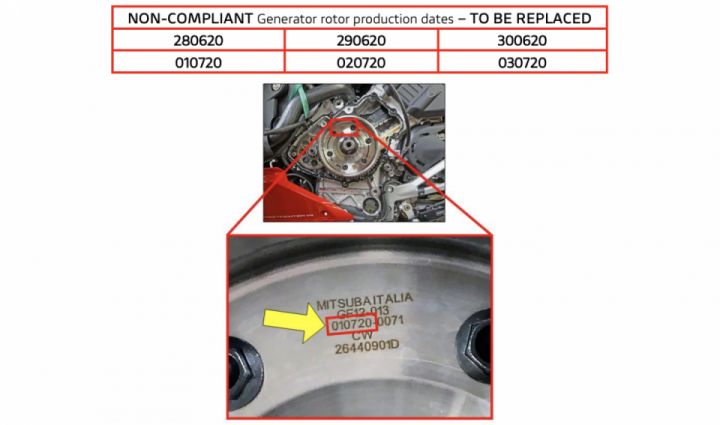 However, the breakage of the generator rotor and the leaking of engine oil due to the component malfunctioning increases the risk of a crash and/or injury. Therefore, Ducati on the affected motorcycles will check the production date flywheel and if the component has one of the production dates relating to potentially defective batches, the brand will replace the faulty component.
The brand has also announced that the complete lot with the faulty part is still with the Ducati network and no bikes in North America have been delivered to customers. The brand has also segregated and rectified the fault at the assembly and all generator rotors related to the affected batches were identified and isolated.