Salespeople at motorcycle dealerships aren't always bad, but they can be an unfortunately necessary part of the purchase process. ( High Altitude Productions./)
Nearly every woman I know has faced this struggle upon walking into a motorcycle dealership. I know a lot of women who ride, so I'm not talking about three or four ladies who have had issues—more like hundreds.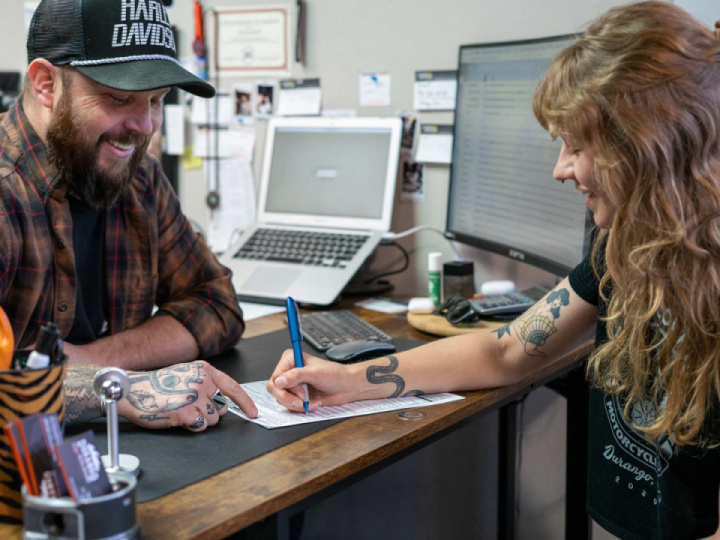 It's 2022. You wouldn't think that the fastest growing segment of motorcycle riders would get snubbed, right? The Motorcycle Industry Council says we're at about 19–20 percent of female motorcycle ownership. We're well into the era of women doing anything they want, and yet still, when we walk into a motorcycle shop, we are often just blatantly ignored or talked down to.
The stories are all very similar, from the "I was totally ignored by the salesperson," to being on the receiving end of actual insults from staff like: "Are you sure you can handle a big bike like this, little lady?" "You don't need anything bigger than an 883." "Ma'am have you ever considered a moped?"
Yes, those last two are real quotes of a salesman.
And quite often, the woman in question had cash burning a hole in their pocket. They were hoping to ride home their new motorcycle that very day. In the case of one friend, she was a trained service technician at another powersports dealership. I have been snubbed too, despite years of experience in the industry working for a large, well-known aftermarket parts manufacturer, and my years working in marketing and for publications—not to mention the bikes I have owned and built.
Even worse? I have heard multiple stories of dealership employees being outright scary. One story includes a salesperson who showed up at a female customer's workplace to hit on her, and asked if it was OK to call her since he "already had her number from her file." Talk about blatantly crossing boundaries.
Don't let the salesperson tell you what you want. Do your research and show up equipped with the knowledge you need to make the right purchase. (Savannah Rose/)
Now I'm here to help you out. Resist the urge to slap the insulting salesperson directly across the face, because… Well, let's be real, they're not going to cut any numbers off that MSRP if you do and you're still trying to get a bike…probably. Instead, we're going to look at some ways to creatively combat the sexism and misogyny that is too often found in the motorcycle world.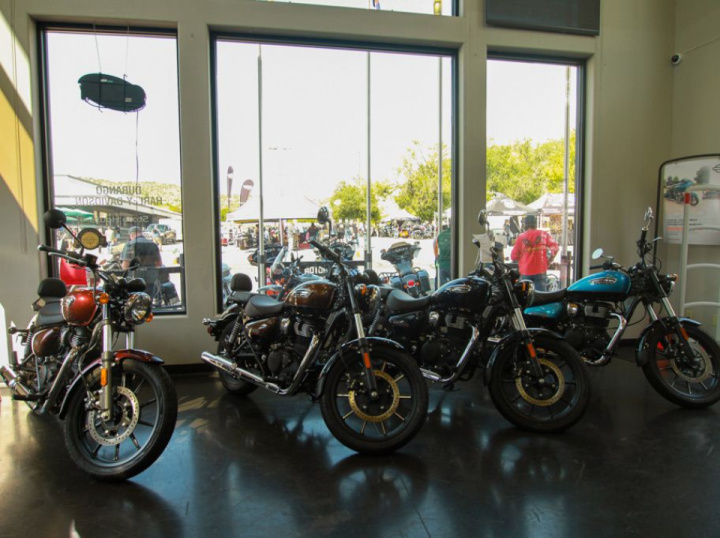 Aside from scary situations like the one mentioned above, women are often worried that if they stand up for themselves, it might negatively affect pricing. Or if they do decide to leave, the next situation might be exactly the same.
I must also say that I have been in numerous motorcycle dealerships, repair shops, and establishments that were wonderful, but unfortunately, the moments most often remembered are those that are unfavorable.
How do we combat this blatant sexism? Well, the same way we combat it out in the world. You've got a few options, and we'll go over some of them here.
Research!
The first thing I can say is, before you head out your door, do your research! The internet is a treasure trove of information. The best defense is a good offense, and if you walk in with a fair amount of knowledge, you will absolutely set yourself up for success. Also, the look on someone's face when you can spit out facts or call out a falsity is incredibly satisfying.
If you're in the market for a new motorcycle, spend some time researching the latest models. Get the specs. If you're aware that one model has a lower seat than the other, and perhaps you're of short stature, that will likely help you in deciding which bikes you'd like to look at in person. See what options are available, what trim levels, and the average going price (they vary from MSRP) for each bike so you can come to the table armed with information. Ask your knowledgeable friends too; most people who love riding motorcycles also love talking about motorcycles!
While some dealership staff can be condescending or misogynistic, many are helpful and friendly. (Savannah Rose/)
Research your local dealerships. Google them, check out their social media pages, Yelp reviews, all of it! Find one with great reviews. I have a few favorite dealerships I have dealt with and I'll drive many more miles to work with people I can trust.
Events are great places to check out bikes. Anything from local dealerships to huge rallies will host events and have demo rides, so you can hop on a variety of bikes and see which ones you really like. Large events like Sturgis and Daytona have a variety of demo options, as do touring shows like IMS. There are lots of opportunities if you're looking and willing to drive a little way.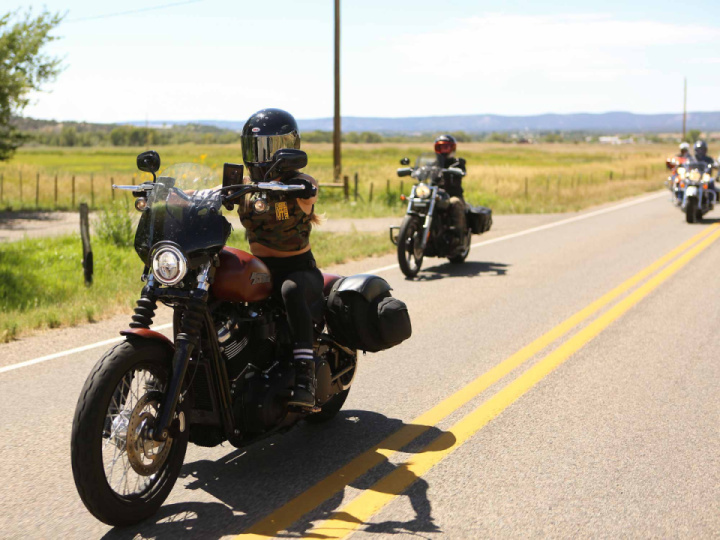 Confidence
Confidence goes a long way. If you walk in timid with your head down and unsure of yourself, you might be ignored or, worse, attract predatory salespeople. Although the majority of moto folks are great people, we all know the trope of a shady used-car salesman, and they are out there. Walk in confidently, and let someone know you would like to speak to a manager about purchasing a motorcycle. If you know the specific model you're after, tell them.
If your salesperson decides to aim you in a different direction, speak up! The "You don't need anything bigger than an 883″ comment from earlier comes to mind here. Who is this salesperson to say what you need? Confidently tell them you know what you are looking for and you would like to see (insert model of bike you want here!).
Keep your chin up, know what you want, and demand that you get it!
And for those of you who naturally lack confidence… "Fake it till you make it" works wonders. Put on some clothes that make you feel awesome and channel your favorite bad girl. Pretend. They won't know the difference!
Have Some Witty Comebacks
This one is my favorite. I am admittedly a little on the snarky side and often use humor instead of getting irritated. Let me tell you, it doesn't always work, but if you use your wit, the recipient may remember your comeback and hopefully be less likely to be rude to another woman later on down the line.
"Are you sure you can handle this big of a bike?" "Oh well yeah, if my little lady brain can handle it!"
"Is this for your husband?" "No, he rides a moped, actually."
"Do you know how to ride?" "Nope, no clue, I'm just buying this to get Instagram followers."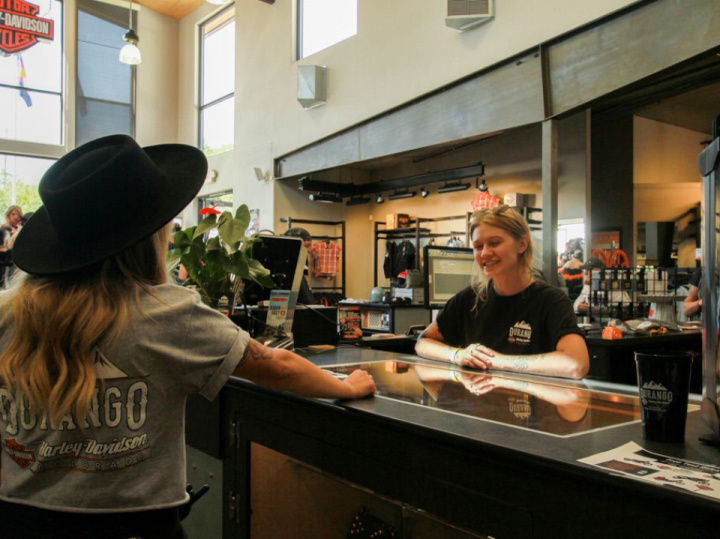 Bring a Friend
Now, this one is hard for me to actually write out, because it sounds like defeat. It's not. There are multiple reasons to bring someone along, especially if you're looking at a used bike, parts, or just don't have in-depth knowledge of motorcycles.
Perhaps you bring your mechanic friend, your significant other, or just some arm-candy. After all, if you plan on riding that bike home the same day, you would need a ride to get there, right? Bringing someone with knowledge is a great idea for anyone, not just for a woman. They can help you through the decision process, the purchase process, and more.
If you're looking at a used bike, a second set of eyes on this new machine is worth its weight in gold. I generally bring another knowledgeable friend along, even with my decent knowledge of mechanics, because plain and simple, sometimes I get excited and miss things. This shiny new bike looks so cool that I didn't notice the oil seeping from a side cover, or the random missing parts, and that extra person looking over it is likely to catch what you didn't, as they're being more objective than you are.
The other reason it is really fun to bring a guy along? So he can sit there, shut up, and point at me and go, "I dunno man, talk to her, it's gonna be her bike!" Oftentimes, salespeople are so used to speaking directly to the man, that the look of surprise on their faces is incredibly satisfying.
But even better? Bring along another female. Especially one who knows her stuff when it comes to motorcycles.
Don't give up! At the end of the day, it's about the bike and the ride, which are undoubtedly worth the hassle of the purchase process. (Savannah Rose/)
Know Your Must-Haves
Know the things you cannot live without. Whether it's as simple as "I want a red paint job, not black!" or "I must have antilock brakes" you should know what your requirements are.
Don't let a salesperson talk you into something you don't want. Never be afraid to say no. Again, that confidence is key!
Avoid the Upsells (unless you want them!)
One of the things your salesperson will ask you is what else you need. Now, this is where you need to be prepared. Do you need a helmet, jacket, and boots? And if you do, do you want, and need, the OEM-branded gear? Or would you be just as happy, or happier, with different gear?
Do you need a set of luggage? Do you need extra accessories like heated grips? How about a cushier seat? It's really easy to tack on a few extra thousand in small upsells. Know what you want before you get that far. If you know you'll be riding long-distance and want that matching branded luggage set, go for it! If you don't think you need it right now, you can always come back at a later date! Or wait for that holiday sale. We all love a deal, right?
And a tip—I suggest putting some miles on your new bike before upgrading it. See how you like it, live with it for a minute, and take some time to learn what you love, and what you would like to replace. Sometimes, you might think something is perfect, especially when it comes to seats and handlebars, and after 100 miles on the bike, you realize they just aren't right, or they hurt, and you can better decide what you really want.
Know Your Finances
It's important to know your finances when you head out to buy something as expensive as a motorcycle. Know what you can afford, the payments you can swing, and what you're willing to spend. Financing a motorcycle works differently than, say, a car, as it's often considered a "luxury item."
Check with your bank, ask friends about how they went about it. Keep in mind, it's not just the purchase, but you'll need insurance too. Most financed vehicles require full coverage insurance, and you'll most likely want uninsured and even underinsured coverage.
Don't Buy That Day
Now, in today's market, this is a little easier said than done. Many dealerships don't have much inventory on the floor. But something to be considered is the want of the salesperson to sell you a motorcycle. If you don't find your dream bike that day, that's OK! That salesperson wants to sell you a bike; after all, that's how they get paid. The chances of them reaching out to you with a better deal increase, and you just might knock a couple dollars off that price. And if you're looking to buy used, salespeople can look around, contact other dealerships, and possibly find you just what you're looking for.
Compare!
If you're headed to the dealer with a specific model in mind, check out the competition. See what other prices are out there. If you know that you're looking at the latest model that's going for $16K, and another dealership an hour away has a special going for less, tell them!
Don't let them rush you. Don't let them intimidate you. Knowledge is power.
Walk Away From a Bad Deal
If you aren't feeling it, walk out. Trust your gut here. It's much easier to walk away than it is to return or resell your motorcycle.
If you were ignored, someone was rude, or you feel like you're being taken advantage of, leave. Do you really want to reward a rude salesman with a commission check? Nah. Chances are, you can find a dealership that values you as a customer, and you can leave the transaction feeling satisfied. After all, buying yourself a motorcycle should be fun, rewarding, and leave you with happy memories as you roll down the road!
Remember, you'll be coming back to the dealer for services and warranty issues, and you'll want it to be a pleasant experience.
The Parts Department
Ah, yes, the parts counter. This one is an enemy of many women, even those of us who work in the motorcycle world. Parts counters often have a gruff, grumbly worker who thinks his customers are stupid. Some of them definitely are, but don't let this guy faze you.
Again, the most important thing is research. If you're looking to get a replacement part for your motorcycle, know what you need. You'll need the information on your particular bike, year, make, model, and any pertinent information, i.e., "I have a 2000 Harley-Davidson Sportster 1200, it has an S&S Super E carburetor and Teardrop Air Cleaner," so they can be sure to get you the correct parts.
I have actually had parts-counter employees argue with me over just what my custom bike was and what parts I needed. It can be frustrating. However, the parts counter is the perfect place to use that witty comeback you've been saving…
Dealerships can be intimidating, and even overwhelming. There are so many different bikes, options; there's financing and numbers and money talk. Don't let it get to you, take a deep breath, and know that at the end of the day, you'll have the pure joy of a new motorcycle to ride home on!
Sourse: motorcyclecruiser
#Moto #Bike #Cruiser