Yamaha's Niken might not be a common sight on the road, but as a large-capacity, tilting three-wheeler that rides like a motorcycle rather than a scooter, it's a unique proposition. But maybe not unique for long as Piaggio is working on a similar machine that may see production under the Aprilia name.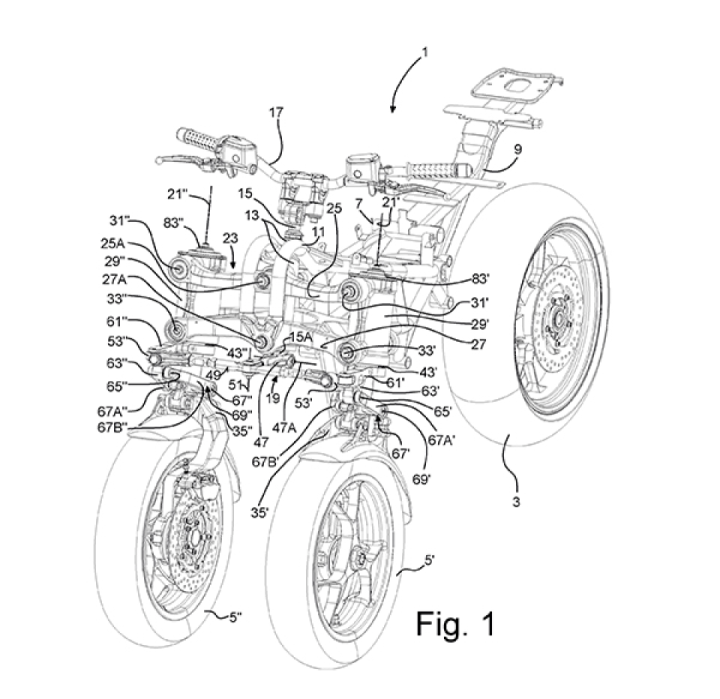 Piaggio has been filing patents for variations of the design since 2020, initially basing the machine on the rear section of the now discontinued Aprilia Mana, complete with its 850 cc V-twin engine and CVT transmission, but it has now evolved into a different proposition that might be well suited to its new 660 cc parallel twin.
The latest iteration of the design features a much simplified front suspension layout. Originally, the Piaggio patents featured two vertical front struts, attached to a parallelogram-style tilting linkage, similar to that of the MP3 scooter at the top, but with miniaturised car-style, double-wishbone suspension for each front wheel.
The latest version is quite different, with each front wheel suspended on a single sliding strut similar to the design used on the radical Gilera CX 125 of the early 90s.
There are actually two designs in the latest patent. On the first, a scissor-style, two-part linkage connects the upper and lower parts of the strut to keep them in line and provide a connection to a fairly conventional steering stem connected to the bars.
The second version has a single link between the upper and lower sections and a ball joint at the top of each front strut, and so that the suspension compresses, there's up to three degrees of movement, effectively making the rake steeper as the suspension compresses. This is intended to be a pro-dive system, making for a more familiar feel to riders used to conventional two-wheeled bikes. The front wheels themselves are smaller than a normal motorcycle's, appearing to be around 15 inches in diameter, while the single rear wheel is a conventional 17-incher.
While the latest patent doesn't show an engine, Aprilia's 660 cc parallel twin - derived from the company's V4 superbike engine - would seem a good fit in terms of performance. With at least two years' worth of development already invested in the project and multiple design changes during that time, it appears that Piaggio is as dedicated to the three-wheeled tilting idea as it was when the MP3 was first launched more than 15 years ago. A large-capacity machine, potentially able to be ridden in Europe using a car licence rather than a motorcycle permit, could open up an untapped market for higher-performance trikes.