Review piaggio super hexagon GTX 125cc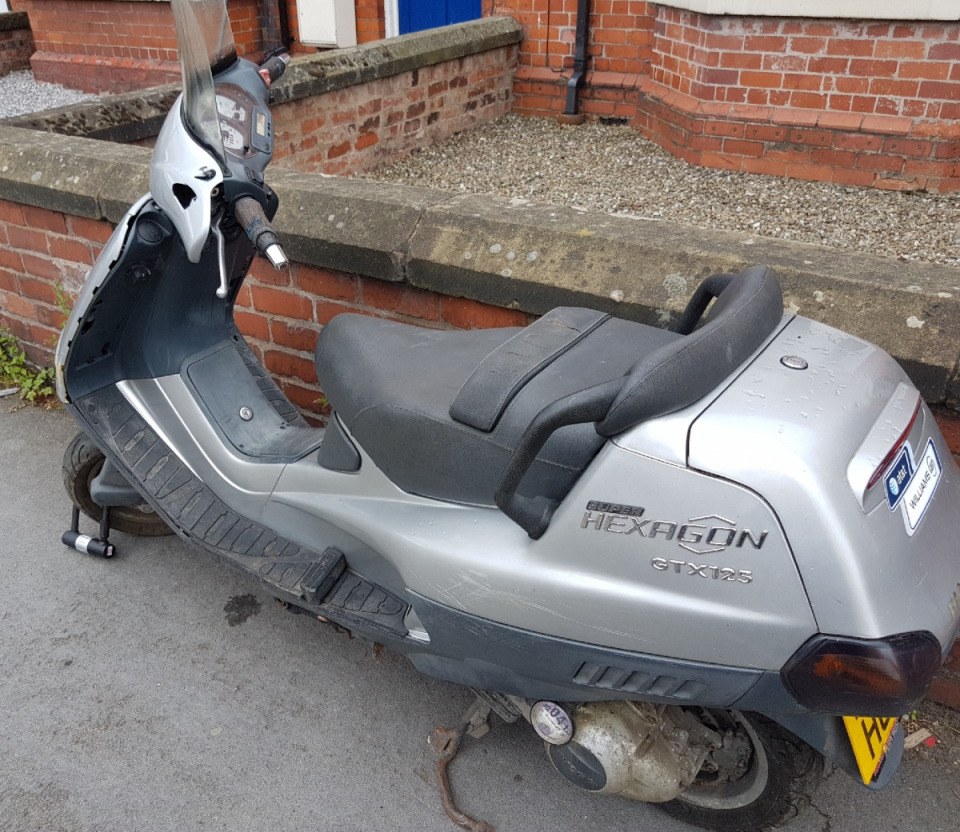 All I needed was a scooter that could get me from home to work daily and would be better than the train, £450 later and the cost of a CBT and basic insurance I was finally sorted. This maxi scooter from 2001 is what piaggio later turned in to it's X range like the X7, X9 X10 and Xevo. mine had been used and abuse for almost ten years before been left to rot. thankfully I came across it by chance and took a chance on this little go getter. with a small boot on the back which had the space for a full size large helmet and some waterproof trousers it was ideal for packing my work gear in to and hitting the road. it could also take a few bits from the shops which was ideal (this normally turned in to a takeaway) The ride was so comfortable and with leg room to stretch out it was almost like riding a chopper, the back rest came in very handy and turned this ride in to an armchair (happy times) heated hand grips and a windscreen helped keep the weather at bay. As for speed it went from 0 to 40mph in no time and happily went to 70mph in a matter of seconds (not a huge 0 to 60 leap but not too shabby) I took this in to the back roads of North wales many time with a pack lunch and enjoyed the views. sadly with age came a high mileage and although I enjoyed many miles on this bike it had to go before it became a huge money burner and after a few years and a failed MOT it was replaced by it's counterpart the piaggio xevo.
summary - fantastic commuter bike with built-in storage (lockable) back rest and leg room it could hold it's on 70mph roads and was quick in the urban world too. not that you'll see many around now this was a great money save, a full tank (10ish litres) would cost £10ish to fill and did me about 200 miles before needing a refill (depending on how much full throttle I did) any motorbike ride would find it hard not to love this bike just on the comfort level alone.
wish it was copied by other scooter makers.
0


Follow
5K