Monuments & Memorials Dedicated to motorcyclists, part 2
My previous post was liked by a couple of people) so I did not delay with the continuation and here is the next part....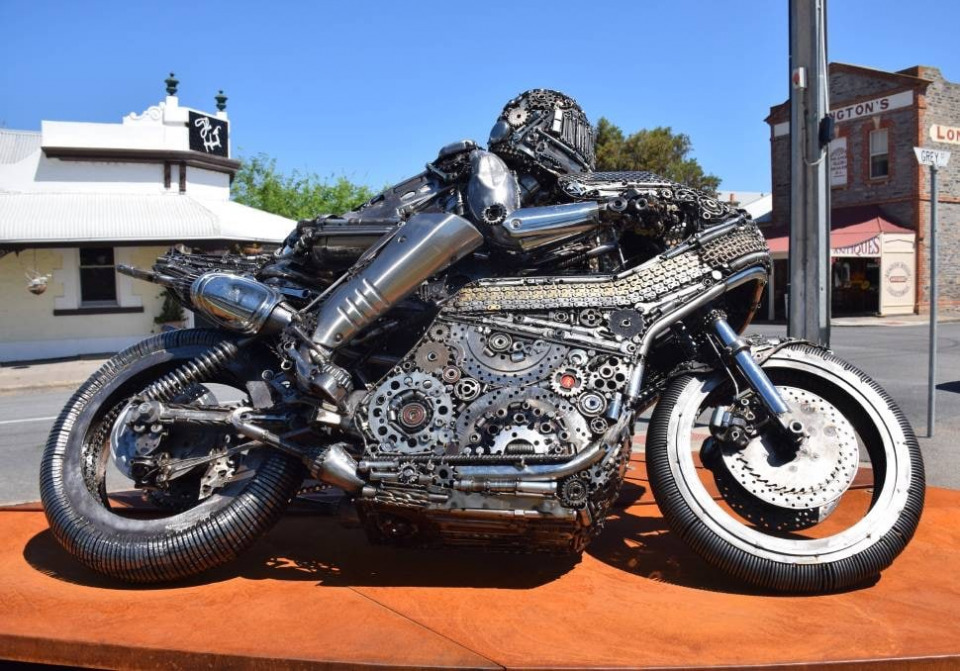 Motorcycle racer Kenny Blake, who grew up in Strathalbyn, has been honoured in a sculpture created by James Stewart. Photo: Dani Brown.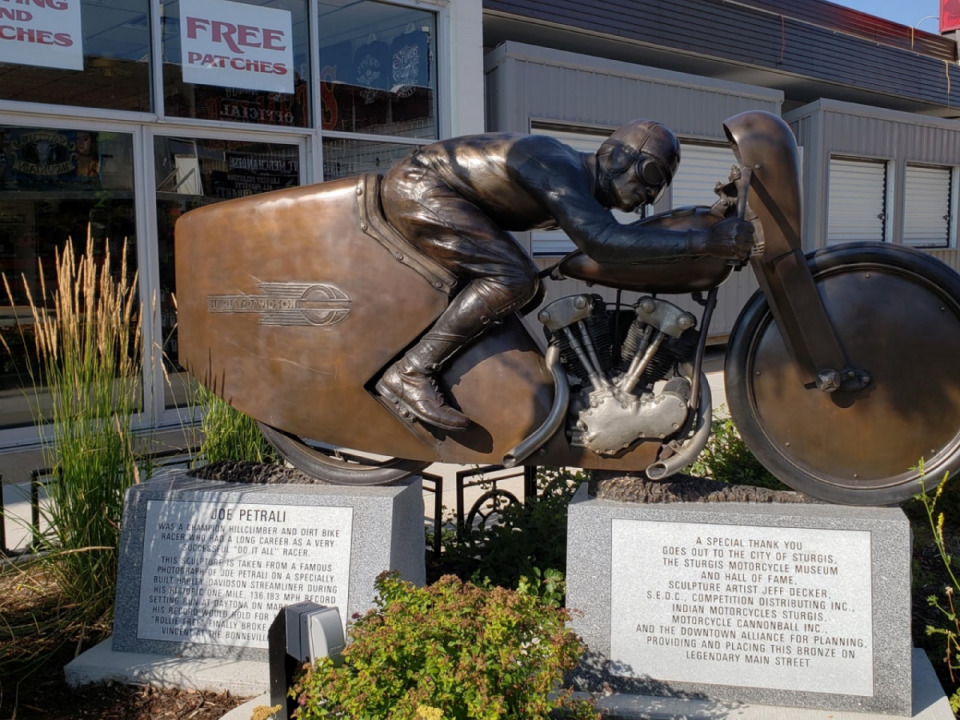 The first permanent statue on Main Street in Sturgis, home of the annual Sturgis Motorcycle Rally, is of course a statue of someone on a motorcycle. Not just any motorcycle. It's an experimental Harley-Davidson "Streamliner," and the rider is famous motorcycle racer "Smokin' Joe" Petrali.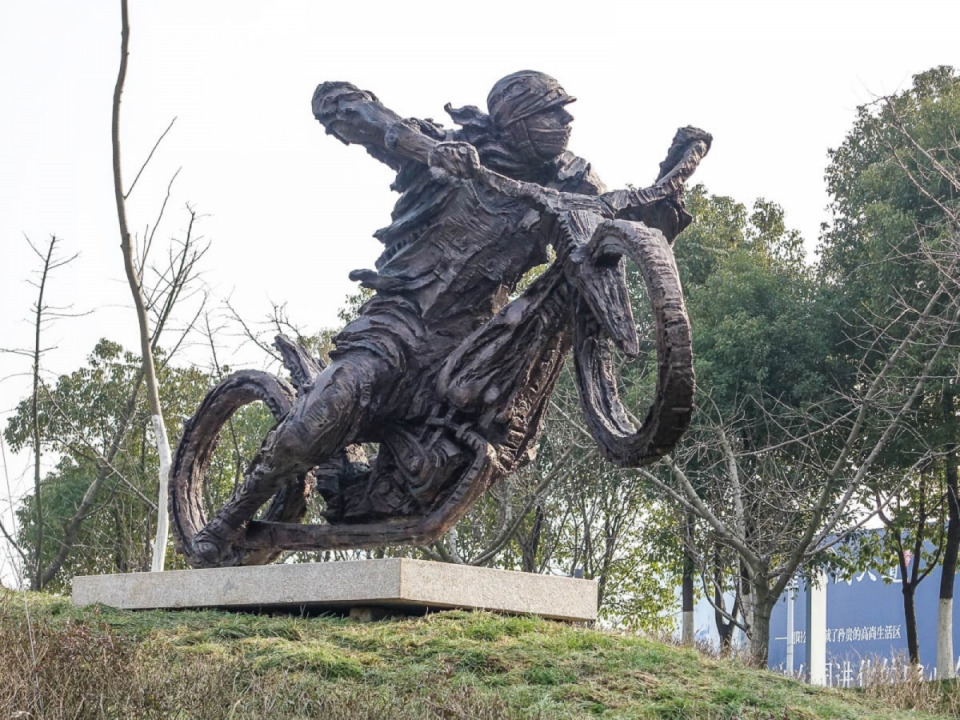 The sculpture portrays the moment when the speedway driver is racing out of the first curve, the fraction of a second when he straightens up the front wheel and at full throttle roars forward. The only values are ahead and future.
Ove Fundin 2012 Tranås, 2016 Wuhu China.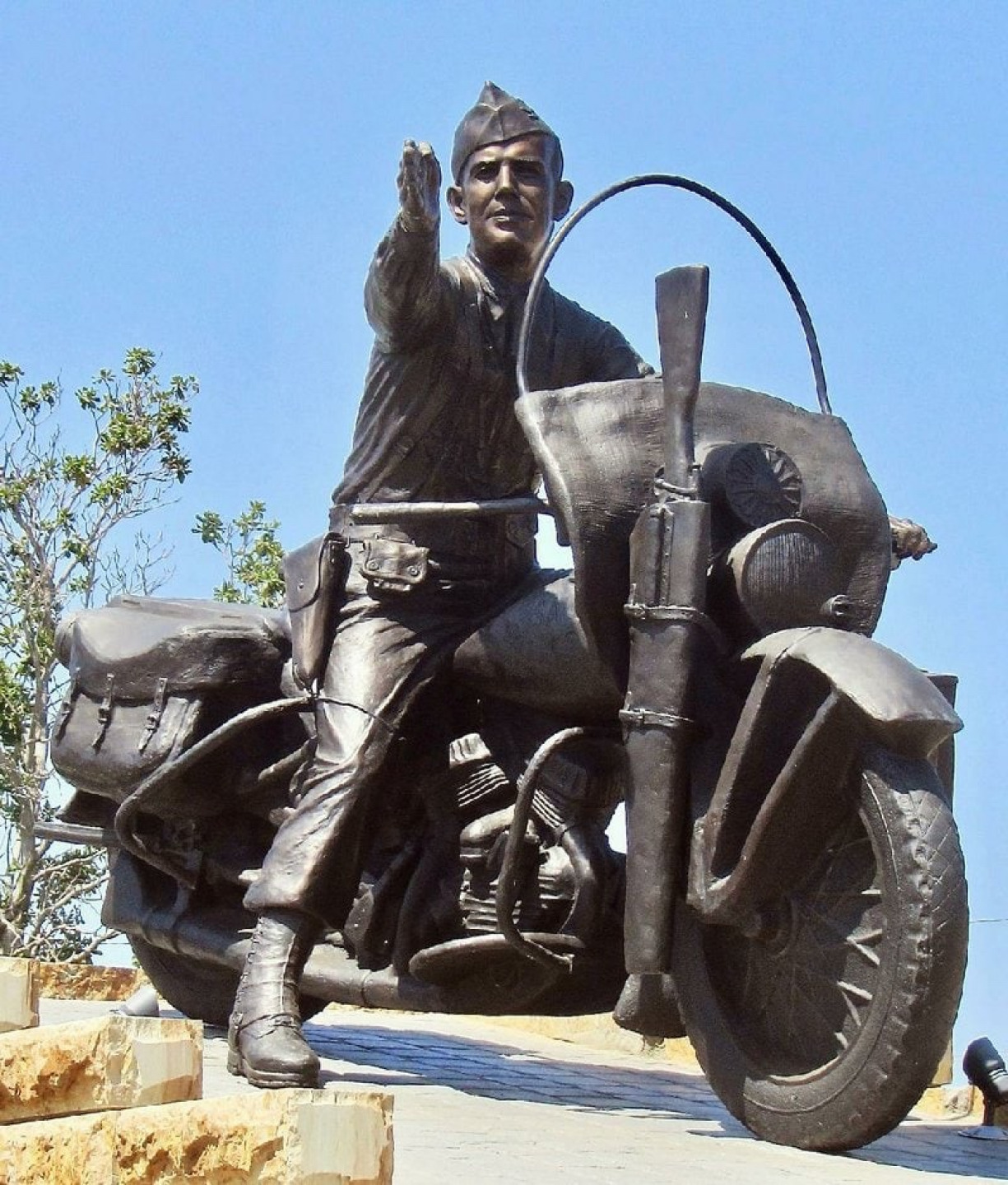 A statue of Fort Smith native Gen. William O. Darby on a Harley-Davidson motorcycle designed for military use adorns Cisterna Plaza in downtown Fort Smith.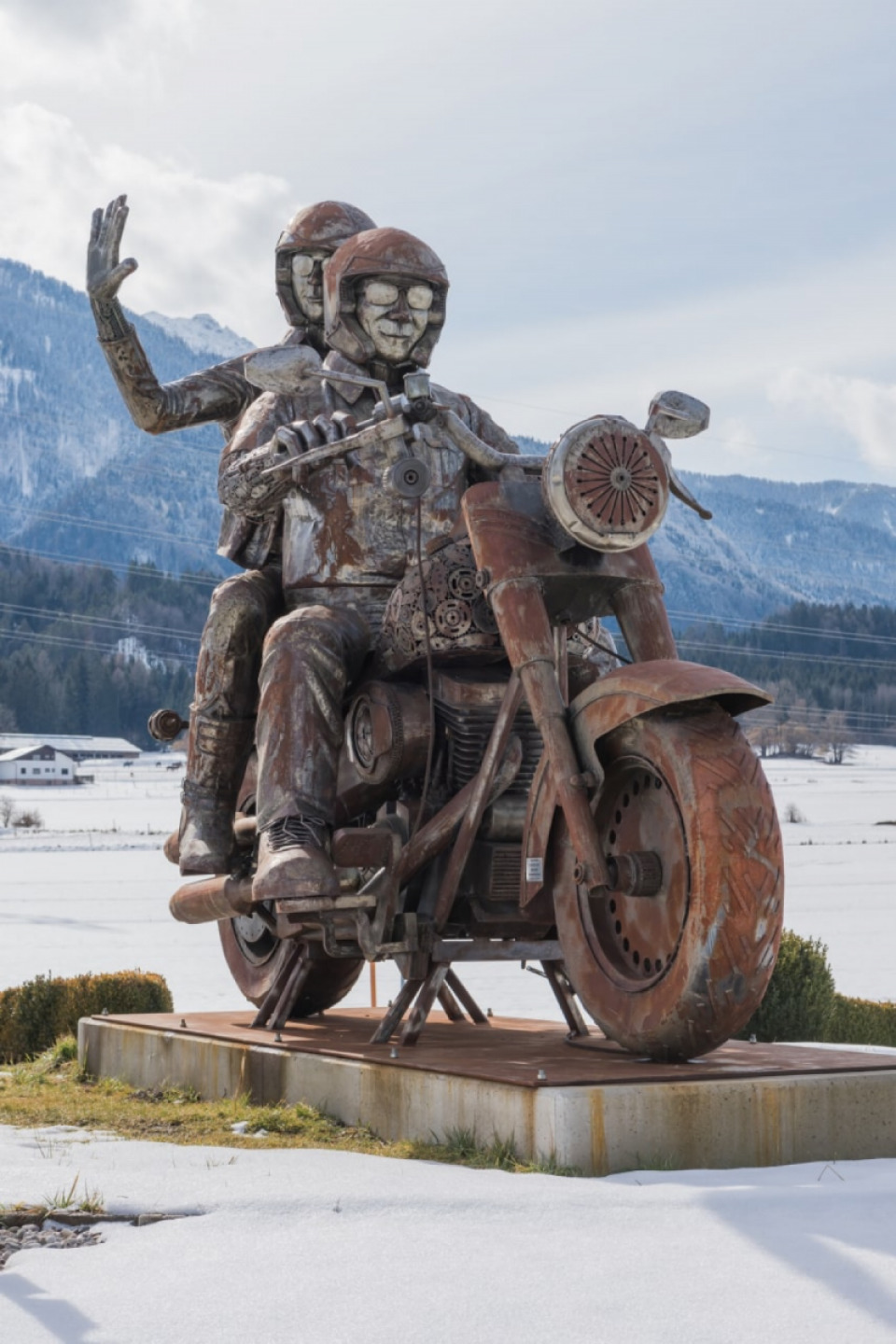 Steel monument of a biking couple on a Harley-Davidson Fat Bob at a roundabout on Rosental Strasse in Faak am See, market town Finkenstein on the Lake Faak, district Villach Land, Carinthia, Austria, EU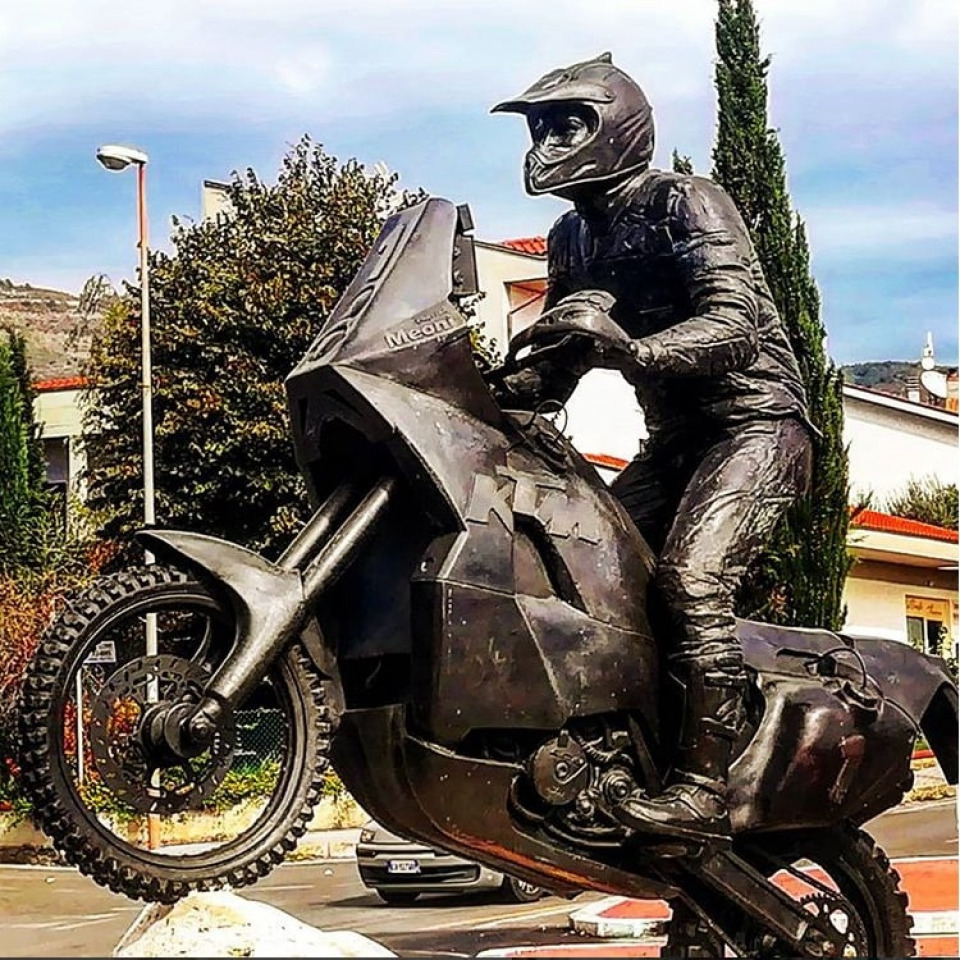 A sculpture dedicated to the Italian motorcyclist tragically disappeared in the Dakar of 2005 and in whose name three schools have been realized in Senegal. Castiglion Fiorentino, Italy.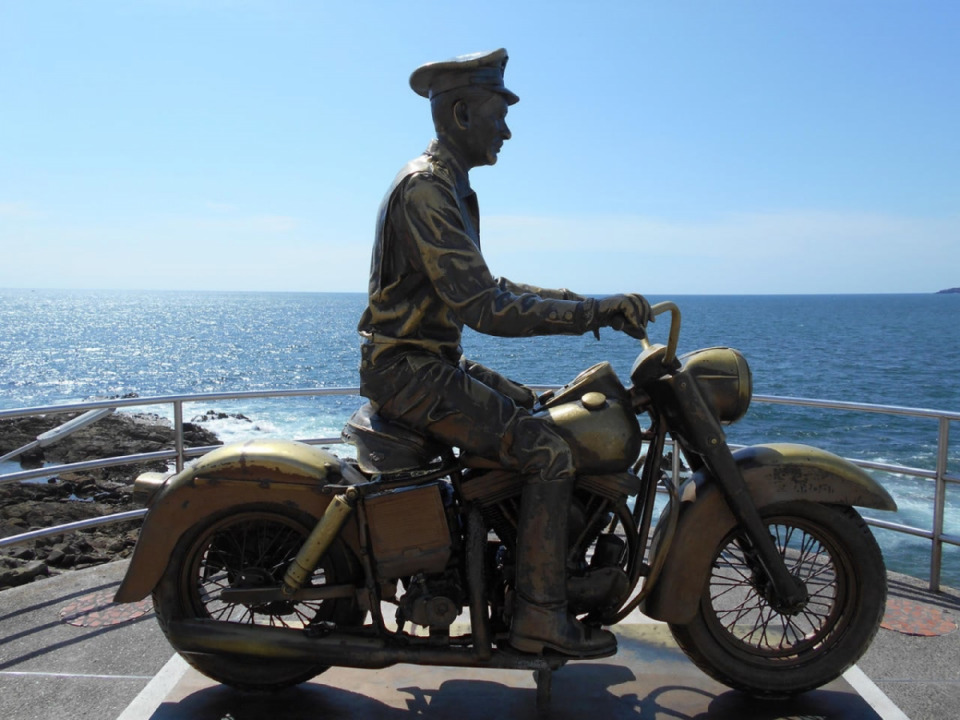 A statue in honor to Pedro Infante , a very popular singer in 40 s in México .
the statue its in Mazatlán México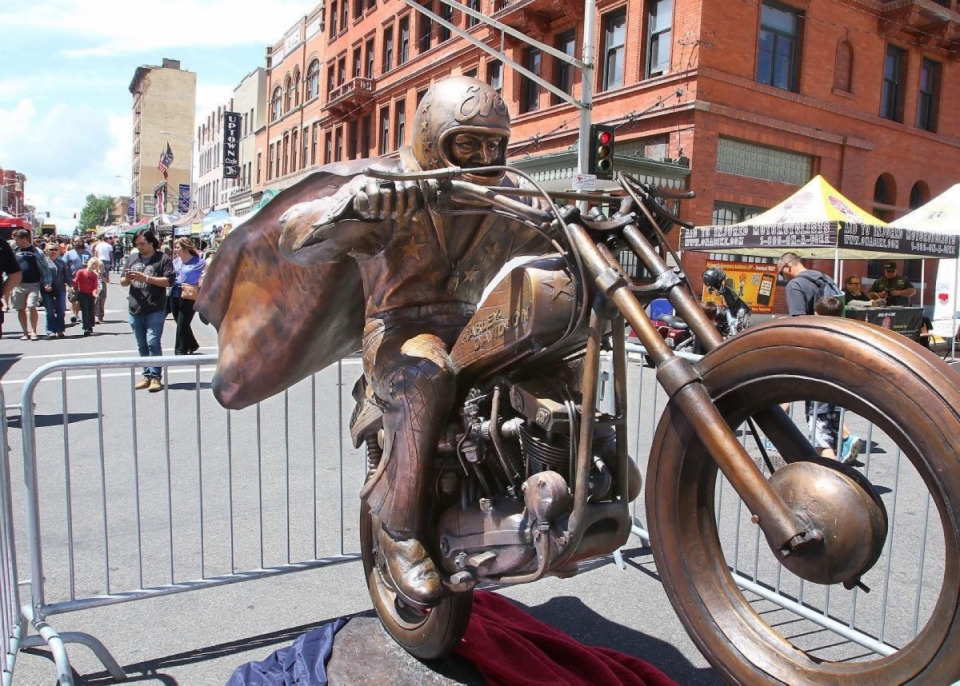 A larger-than-life Evel Knievel bronze sculpture by artist Rick Rowley is unveiled at Broadway and Wyoming for the first time in Butte Thursday during the opening of Evel Knievel Days in Uptown Butte. The sculpture portrays the cape-clad daredevil decked out in his signature stars-and-stripes outfit while popping a wheelie on his CR750 Harley-Davidson motorcycle.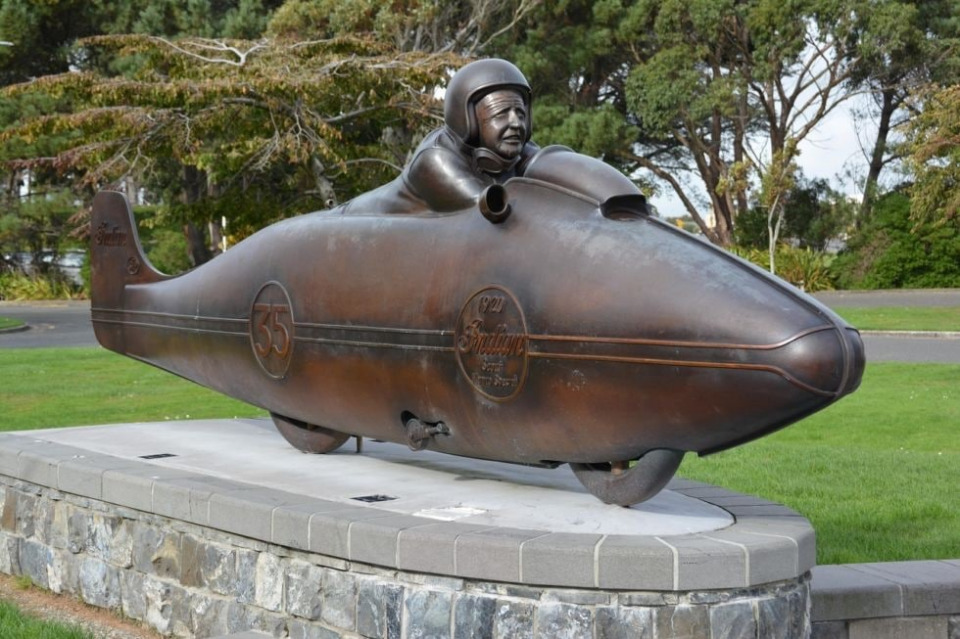 The sculpture featuring Burt Munro crouching down in his 1920 Indian motorcyle was unveiled November 19, 2011 in conjunction with the 2011 Burt Munro Challenge. The bronze sculpture is slightly larger than lifesized (7% larger) and measures 4.5 meters long. It was created by sculptor Roddy McMillan and took two years of work. It is located at the Gala Street entrance to Queens Park in Invercargill, New Zealand.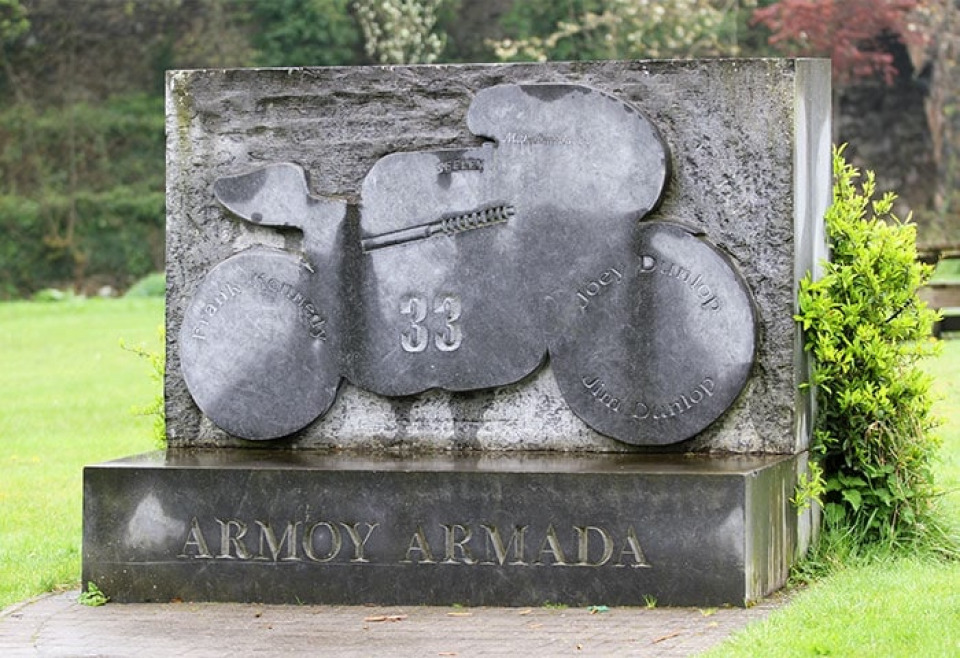 The Armoy Armada was established in 1977. The Armada consisted of Mervyn Robinson, Frank Kennedy and brothers Joey & Jim Dunlop. The Armoy Armada quartet covered 3 seasons of racing from 1977 to 1979 and through their exploits they became the inspiration to many of todays road racers. During their time these men demonstrated acts of commitment, dedication, camaraderie and talent proving that the Armoy Armada are the Original legends in the sport of Road Racing.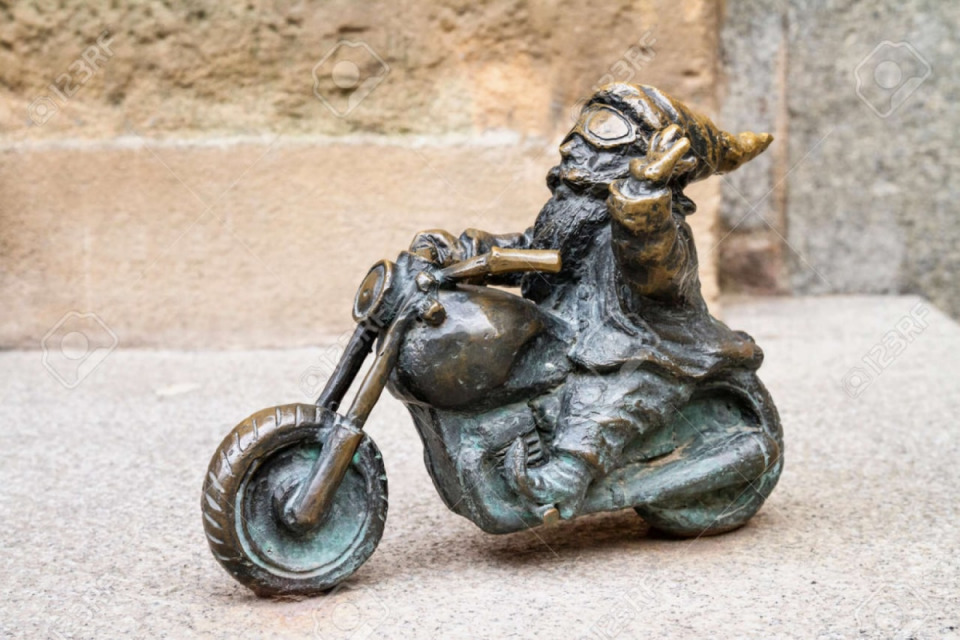 The small bronze statue gnome by name - Wentyl. More than 250 figures are set on the streets of Wroclaw and is a symbol of the city.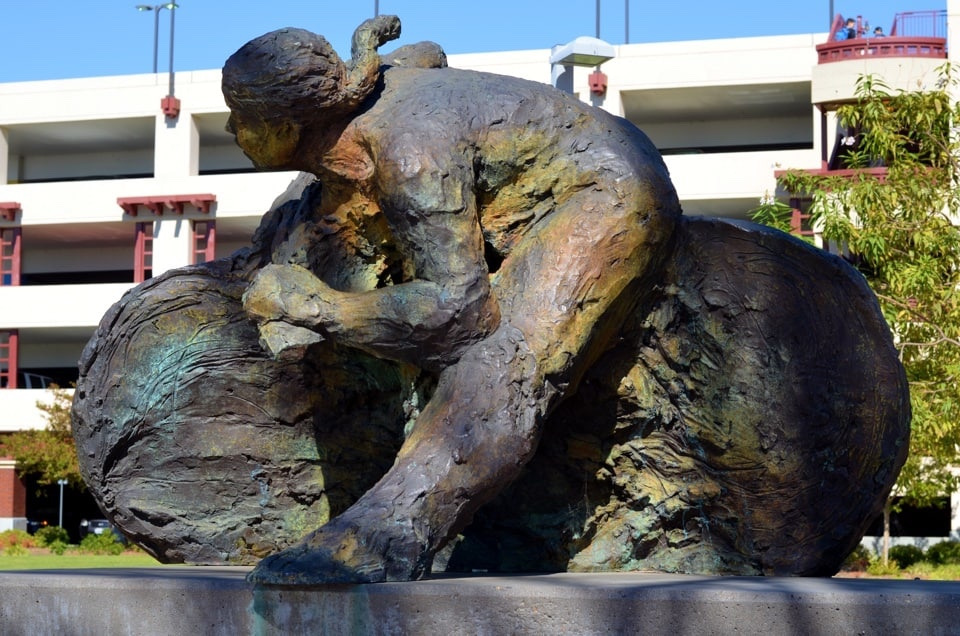 Eun Lee Cho was inspired to create the artwork after observing students using a popular mode of transportation as they passed through the campus. The life-size, semi-abstract figure on a bicycle is rendered in a loose, expressive style, reflecting the energy and dynamism of bicycle riders. Its exaggerated curves and gesture give an overall impression of speed, exhilaration and determination–thus the title of the artwork . City College Station. Sacramento City College, Sacramento, CA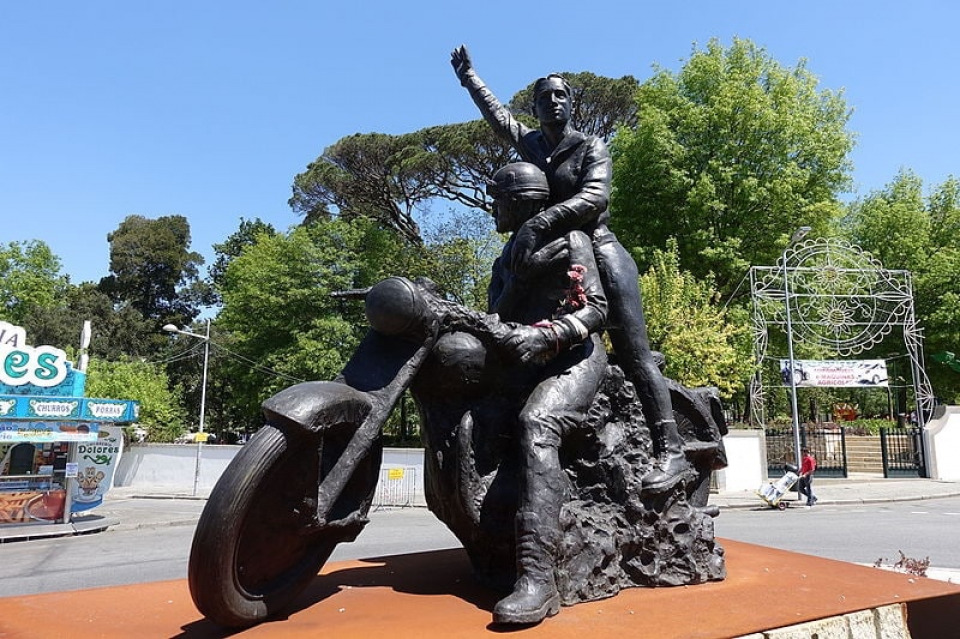 Statue of motorcycle in Barcelos, Portugal.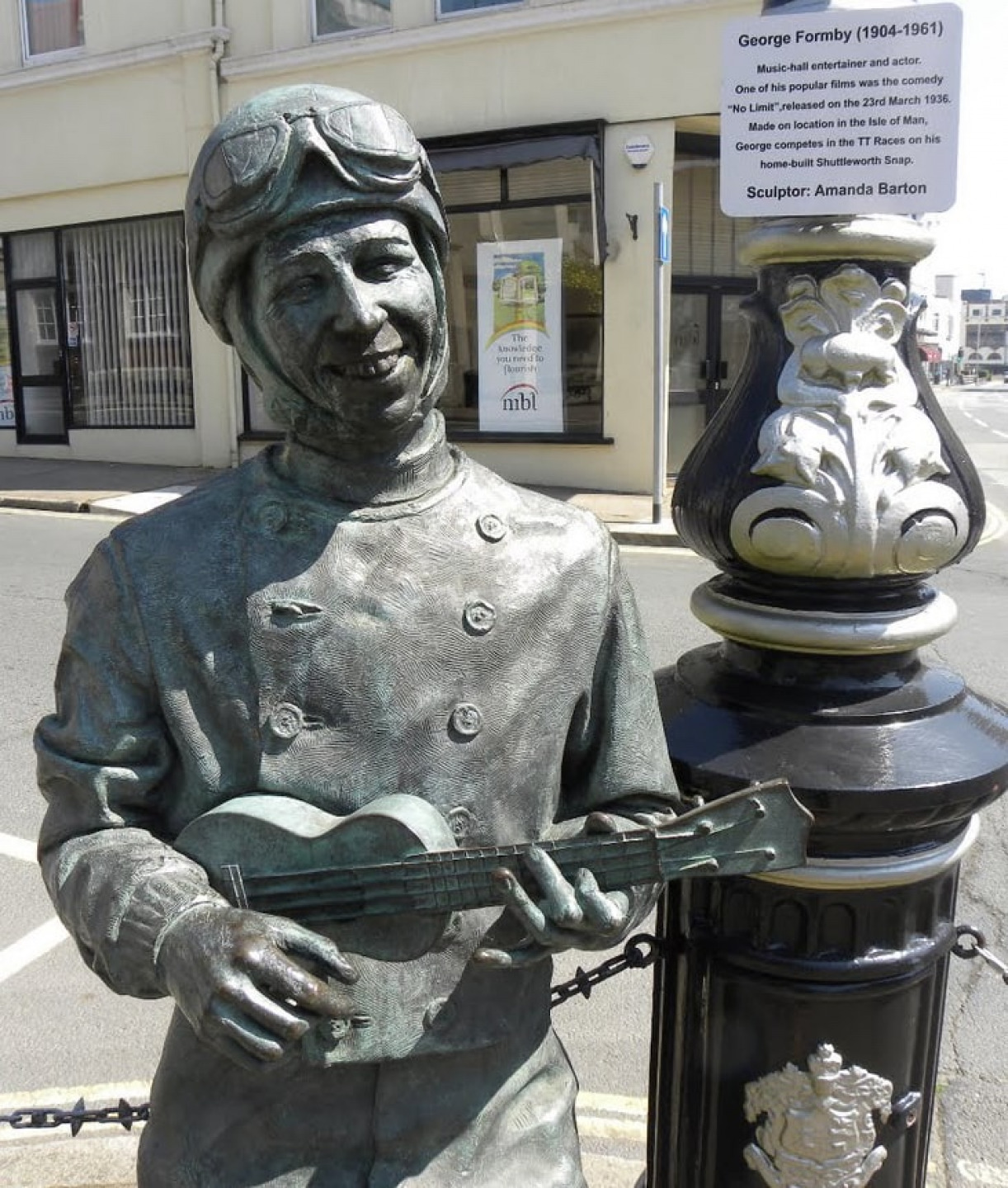 On the corner of Ridgeway Street in Douglas in the Isle of Man stands a statue of a little man wearing a TT racers outfit, playing a Ukulele; typically he looks like he is "leaning on a lamppost at the corner of the street" presumably in case a certain little lady walks by! The statue was created by a Manx artist, Amanda Barton it is a statue of the famous, George Formby from Wigan, Lancashire.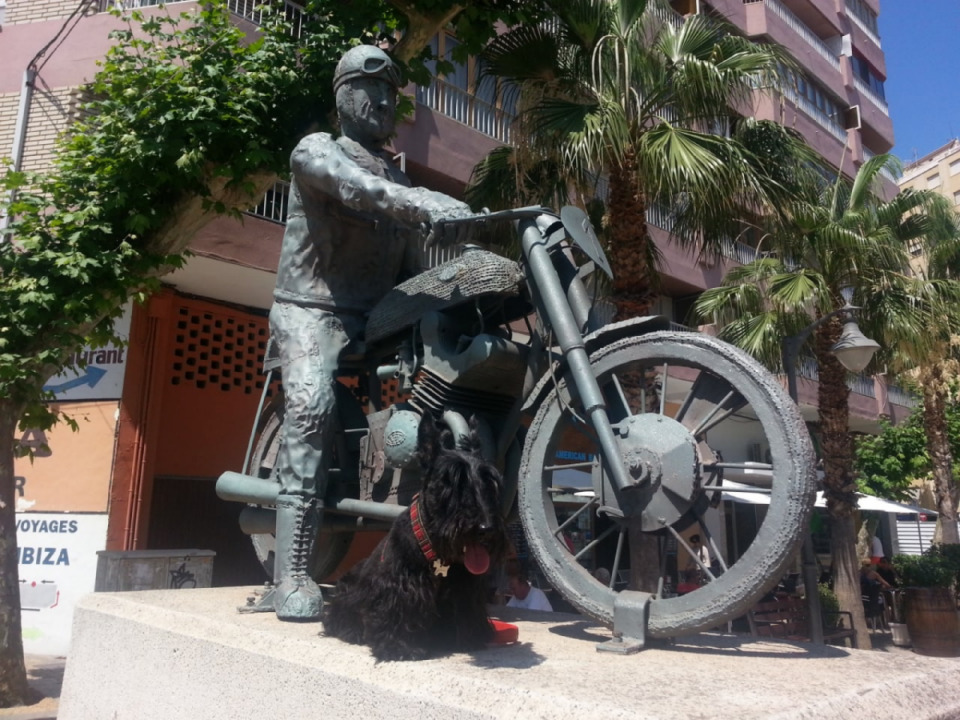 Sculpture by Umberto Masetti, moto club, Denia, Valencia.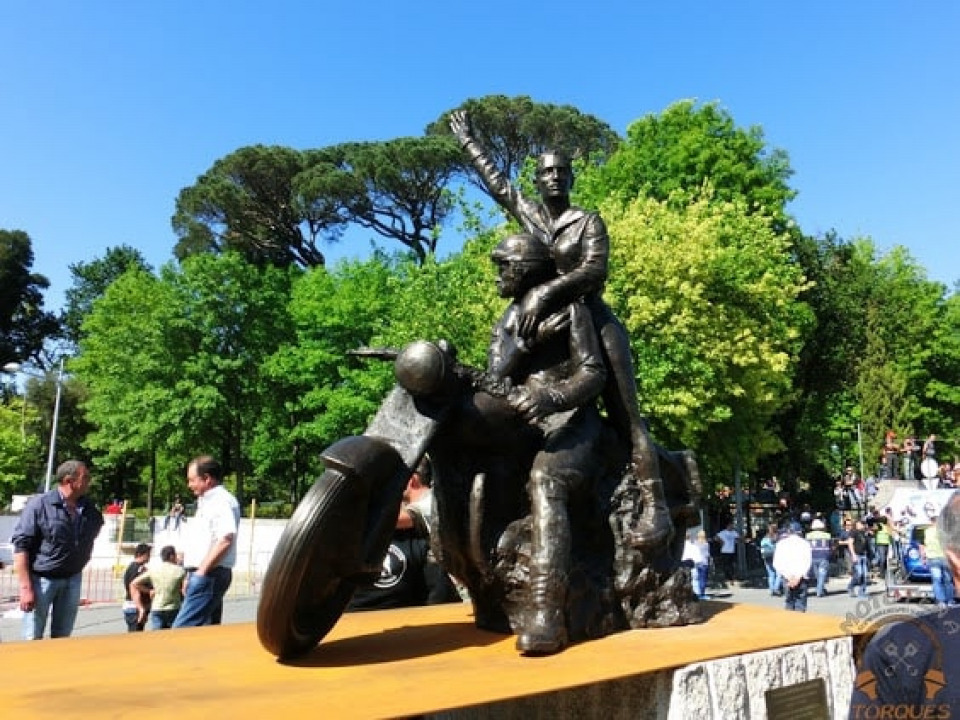 Biker Monument, a beautiful work of art to all the bikers, Barcelos.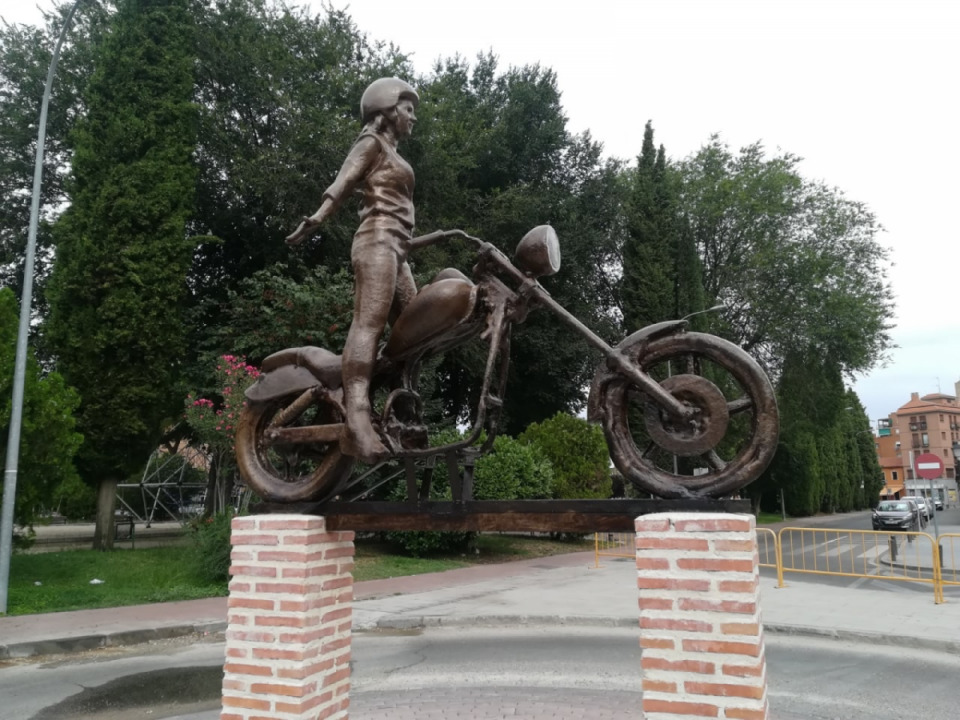 A sculpture in the new roundabout called precisely "a la mujer motera" already looks in the historic center of Alcalá. It has been installed very close to the Puerta de Madrid and the mythical bar "La Dulce Harley", meeting place of many" bikers" in Alcalá.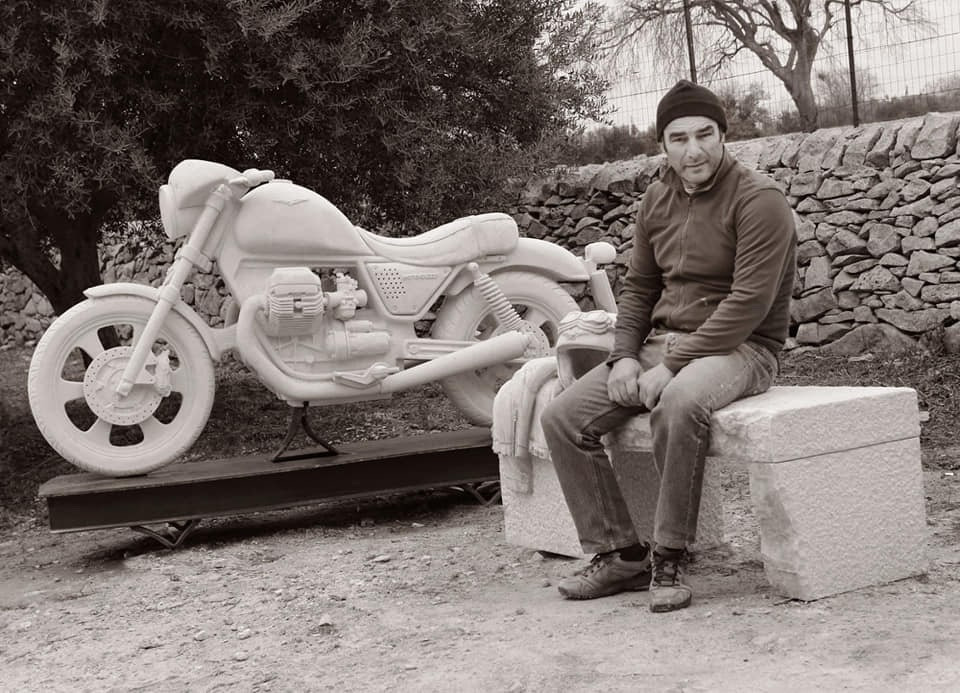 Monument Moto Guzzi Modica, Sicily
To be continued...
0


Follow
346