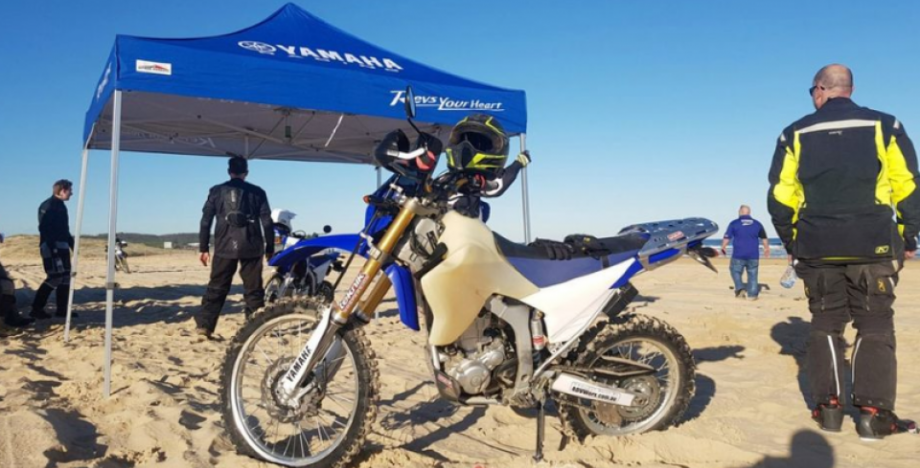 RideADV's introduction to adv riding, sand riding 101 28/29 Nov
2020, Sat, Nov 28, 07:00 - Nov 29, 16:30
Australia, State of New South Wales, Dural
4/915 Old Northern Rd, Dural NSW 2158, Australia
Description
Sand Riding 101
The team at RideADV has years of experience in all areas of motorcycling but specialise in adventure riding. It's time we shared that knowledge and grow our sport. With this in mind and the continued on-going support of Yamaha Australia and other our other sponsors we are proud to present the 3rd in our newest concept to adventure riding, the "Introduction to Adventure Riding Series"
The rides are suitable for all adventure bikes, all brands, all models and all rider skill levels. The rides are designed for those that are new to adventure riding and are wanting to learn the right way to do it safely or those wanting to brush up on their skills and knowledge.
Lead rider for these events will be RideADV's own Greg "TB" Yager with Brett "Chicken" Gattera looking after sweep duties with his experienced sweep crew.
TB has been riding for over 45 years and has a wealth of knowledge, practical experience and bike setup to share when it comes to off-road riding. TB's younger years were spent on a farm riding before racing motocross, enduros, rally events and organising adventure rides for friends all over.
The RideADV crew are all safe, knowledgeable, experienced and consistent riders looking to pass on any knowledge they have from years of riding.
During these rides we will be sharing all aspects of adventure riding including;
Pre ride bike inspection
Bike setup
SAND RIDING
Ergonomics , riding position, comfortable and safe
Adventure bike tyres, different tyre styles, tubes, tubeless and more
Personal tracking, safety, Spot tracker, PLB, Garmin In-Reach
Suspension set-up
Riding tips
Luggage, packing tips and tricks
GPS, how do understand and use
Riding gear, jackets, safety gear
How to change a tyre track side
Tools, what to carry
Tents, swags
Saturday evening question and answer sessions
Plus much more
The ride will be a mixture of cornerman and GPS navigation, a GPS isn't a requirement at this stage. If you have a GPS, we will load it and you can use it. It is a two-day ride with the overnight stay on this ride at Stockton.
The RideADV sweep crew and support vehicles as always will be there supporting the event. We can also take a backpack size bag for every person should you require it.
Camp, motel, pub it's your ride, your adventure!
This ride starts and finishes at RideADV headquarters 4/915 Old Northern Road, Dural NSW.
Day 1, Saturday 28th Nov
Sign on at RideADV starts at 7am to 7.45am. Ride away will be at 8am to our overnight stop for this event at Stockton.
The ride will include stops for tuition and ride tips during the day oh yes and the chance at some sand practice. There is a lunch stop and fuel along the route.
Minimum fuel distance for these rides is 150kms. If you can't do 150kms between stops please contact us so we can organise something in advance.
After dinner and the briefing Brett "Chicken" Gattera RideADV sweep legend and TB will talk about sand riding, tyre pressures, ergonomics, riding position, comfort and safety.
The crew will be camping at Stockton van park and you are welcome to join us. You don't have to camp if you don't want to, there is accommodation close by.
Recommended accommodation is
Camping or cabins: Birubi Beach Holiday Park, 37 James Paterson St, Anna Bay NSW 2316
Day 2 Sunday 29th Nov
8 am departure. We will take another route back to RideADV headquarters which will include a coffee stop, lunch stop, great tracks and stops for tips and tricks we will be sharing. Fuel distances will be the same as day 1.
Please note places will be limited so we can guarantee as personalised experience as possible.
For any further details for this ride please contact
TB on 0499 089715 or email at greg@rideadv.com.au
Final details to be released after the pre-run.
Event by

Organizer:
Ride ADV.com.au
Web Site:
https://www.rideadv.com.au/event/rideadv-and-yamaha-australia-are-proud-to-present-the-4th-event-in-our-introduction-to-adventure-riding-series-event-28th-29th-november-2020/?fbclid=IwAR3EUYn_FmdHB73NTZ2W-5CZ7dccY930HxmRZbJrZ4HqbLEPWQwoPQJEb6I
Email:
greg@rideadv.com.au