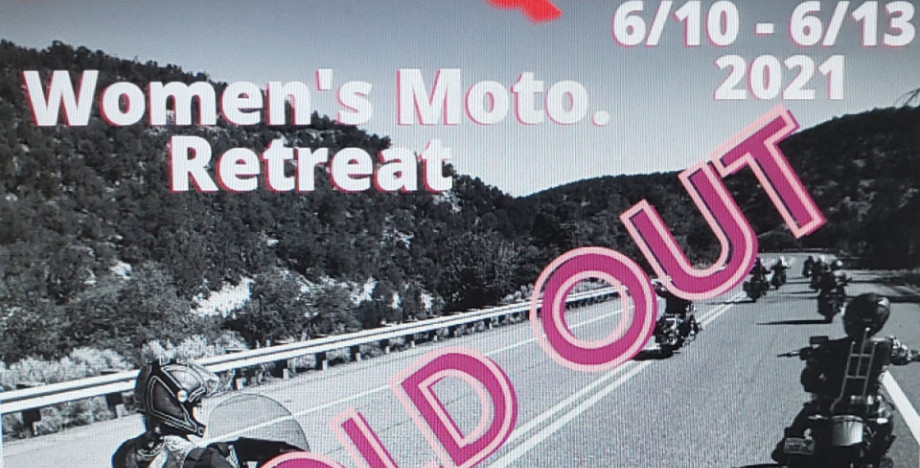 Southwest Quest 2 ~A Women's Only Motorcycle Camping Get Away~
Jun 10, 15:00, Thu - Jun 13, 10:00
United States, CO, Durango
Description
Are you ready to ride with the most amazing and supportive collective of women?
WE HOPE YOU ARE!
The SWQ2 will fill Echo Basin Resort and the surrounding towns with the rumble of motorcycles and the laughter of BAD ASS WOMEN supporting BAD ASS WOMEN while having a great time. The area is close to several scenic rides, such as the Million Dollar Highway and on top of that the event will host an abundance of activities that will keep you busy all weekend. The Mancos / Durango area of Colorado will turn into "Southwest Quest 2, 2021" the second week of June.
The city of Mancos is near the Four Corners, at the base of Mesa Verde National Park, and holds the trademark for "Gateway to Mesa Verde". Surrounded by rangeland and mountains, Mancos offers a variety of outdoor recreational activities. Durango is known for many things — massive mountains with lots of twists and turns, unbeatable breweries and a historic narrow-gauge railroad to name a few. But there's so much more to this former mining town. Do not forget the Million Dollar Highway.
RIDE ALL DAY - PARTY ALL NIGHT!
TICKETS:
General Admission Single Ticket $90
Every ticket purchase includes:
Welcome BBQ, General admission to the event (DOES NOT include cabin or RV sites), Free tent camping
Bath house with hot showers, flush toilets, sinks and electricity!
Onsite swimming pool, Custom SWQ Event Patch, T-Shirt, Two door prize entry raffle tickets
# Photo Booth, Onsite Bar and Grill (Accepts Cash and Card)
Nightly Bonfire in community area, Free Beer until it runs out
Moto Fuel Up (1- Breakfast), Sunrise Yoga, DIY Activities
Bike shows, Scavenger Hunts – Onsite and offsite, Lots of Ride Opportunities - Area maps included
Contests - too many to list!
Decorate your Camp site Contest (you do not want to miss this!)
Wild Warrior Games, Bike Games, Party and Activities at Durango Harley
Demo Rides, Vendor Row, Guest Speakers, Live music, 24-hour security.
Accommodations
BYOT (Bring your own tent)
We will provide you with a spot to put your tent (first come, first serve locations), you will be responsible for bringing your own belongings.
Don't like to camp? That's a bummer, but luckily Echo Cabin Ranch has accommodations for all.
Cabin Rentals
RV Site Rentals
Cabin rentals and RV sites are available on a first come first serve basis through Echo Basin - Tom @ http://www.echobasin.com/ or 970-533-7000 - Please call them directly
HOTEL:
Check out Wyndham Hotel.. Baymont, CO.
17 miles from EchoBasin. Call and speak with anyone at the front desk..
970-565-3400
Room rates are $79.99
Double Occupancy or King.
LOCATION INFORMATION
43747 Co Rd M, Mancos, CO 81328
Don't Have a Bike?
No problem. We've got you covered. In~Cahoots Moto. Co has teamed up with EagleRider/Durango Harley Davidson. Contact Mary @970-259-0778
All Ticket sales are Final & NON- REFUNDABLE!
All attendees must have a GENERAL ADMISSION TICKET!
COVID-19 PANDEMIC CLAUSE:
FORCE MAJEURE. Neither Party will be liable for any failure or delay in performing an obligation under this Agreement that is due to any of the following causes, to the extent beyond its reasonable control: acts of God, accident, riots, war, terrorist act, epidemic, pandemic, quarantine, civil commotion, breakdown of communication facilities, breakdown of web host, breakdown of internet service provider, natural catastrophes, governmental acts or omissions, changes in laws or regulations, national strikes, fire, explosion, generalized lack of availability of raw materials or energy and ZOMBIE APOCALYPSE!
IF the event is postponed, all tickets will be transferred to the next event year. Attendees will have the option to transfer tickets between the 2022 thru 2024 event.
Please be sure to read all the information below before purchasing tickets.
TICKET INFORMATION:
https://www.tickettailor.com/events/swq2/456916
Gates open on Thursday June 10, 2021 at 3:00 P.M. – You will NOT be permitted to enter any sooner. Feel free to explore Durango early!
All must be packed up and KSU by 10:00 am on Sunday June 13, 2021 (please see exact times based on sites Tent / RV / Cabins)