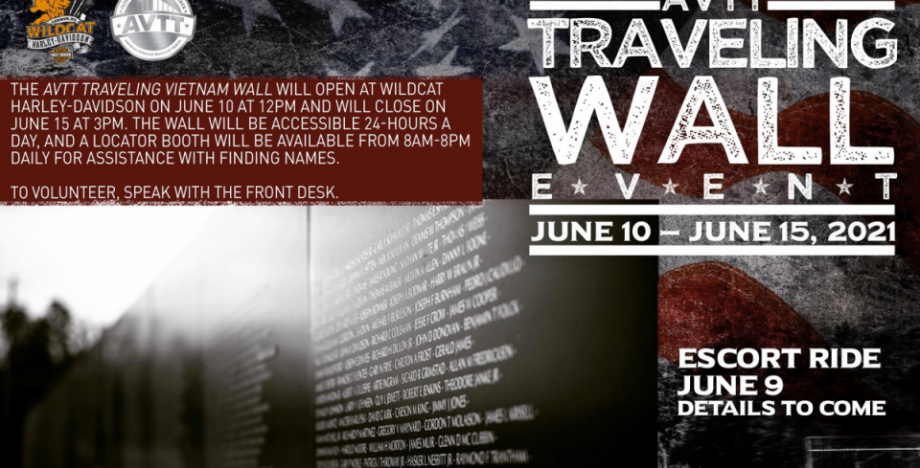 The AVTT Traveling Vietnam Wall
Jun 10, 12:00, Thu - Jun 15, 15:00
United States, KY, London
65 KY-80, London, KY 40741, USA
Description
The AVTT Traveling Wall will open at Wildcat Harley-Davidson on June 10 at 12pm, and will close on June 15 at 3pm. The Wall will be accessible 24-hours a day, and a locator booth will be available from 8am-8pm daily for assistance with finding names.
There will be an escort ride on June 9. More details to come.
To volunteer, or for additional information, call 606-862-5656.
The AVTT Traveling Wall is an 80% scale of the Vietnam Memorial in Washington, D.C. It stands 8' tall at the center and covers almost 360' from end to end. This traveling memorial stands as a reminder of the great sacrifices made during the Vietnam War. It was made for the purpose of helping heal and rekindle friendships and to allow the opportunity to visit loved ones in their hometown to people who otherwise may not be able to make the trip to Washington.
To sign up online, go here:
https://www.supersaas.com/.../Wildcat.../Volunteer_Shifts
Event by
Organizer:
Wildcat Harley-Davidson
Web Site:
http://www.wildcatharley.com/