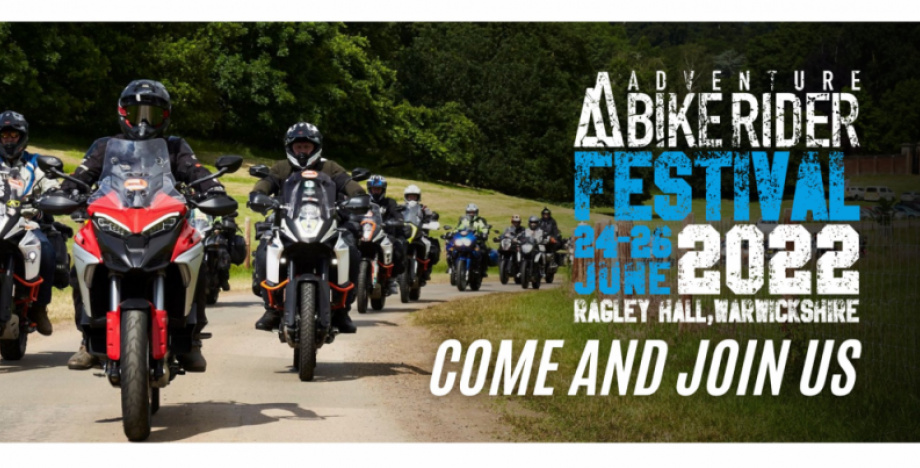 Adventure Bike Rider Festival 2022
Jun 24, 09:00, Fri - Jun 26, 17:00
United Kingdom, England, Alcester
Arrow Lodge, 24 Henley St, Alcester B49 5QY, UK
Description
Come and join us for a celebration of adventure bikes and riders at the magnificent Ragley Hall and Estate in Warwickshire.
There'll be loads to do including:
- The largest range of manufacturer test rides of any festival in the UK. All the major manufacturers are attending and bringing along extensive test ride fleets.
- Road ride outs.
- Multiple on-site off road courses for all levels of experience.
- Free world class expert tuition.
- Guided green lane ride outs.
- Have a go at Trials Riding - free tuition provided.
- Have a go at enduro - free tuition provided.
- Tasty and extensive range of street food on-site.
- Excellent drink selection at the bar.
- Extensive range of trade stands.
- Celebrity speakers.
- Activities on the lake.
- Top class live music.
- Plenty of well maintained and regularly cleaned toilets and showers. First class on site camping facilities.
- On-site glamping options.
And all in a grade A venue, the spectacular Ragley Hall and Estate.
In 2022 we'll be adding more experiences and facilities to the ABR Festival. There'll be plenty for you to do including a few new surprises which we've got lined up. Alternatively just turn up, park up, kick back and have a chilled out weekend with like minded company in beautiful surroundings.
The ABR Team are committed to hosting a motorcycling festival with the friendliest atmosphere, the most extensive attractions and the best facilities in Europe.
We don't want to skimp where you are concerned we want you to feel respected and appreciated and part of something special so come and join us in June 2022 at the magnificent Ragley Hall, you'll be in fine and friendly company.
All bikes and riders welcome no matter what you ride or your experience, all are made welcome at an Adventure Bike Rider Festival.
Who's checked in
Going: 1, Interested: 0
See All
Event by
Organizer:
Adventure Bike Rider
Web Site:
http://www.ragley.co.uk/