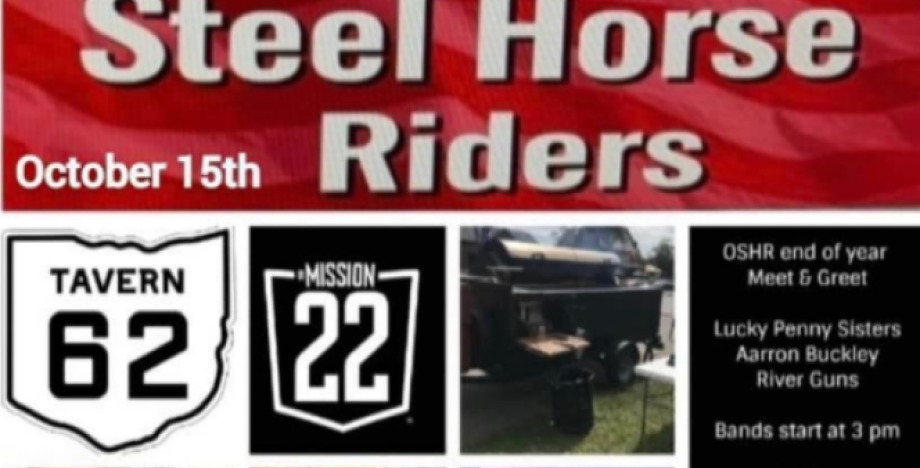 Ohio Steel Horse Riders Group Meet & Greet
United States, ОН, Orient
United States, ОН, Pickaway County, Orient, Harrisburg Pike, 9250
Description
Come celebrate the end of another great riding season with us! ??️
*️⃣We are gonna mix it up a little this time. Meeting at 1️⃣2️⃣pm for Yummy Bloody Mary's?(Buffett) at Shakers Public House located at 385 Georgesville Rd. Columbus, Oh 43228. (Come with an empty belly…. See pics within event).
2pm, we will saddle up & ride ?️ over to Tavern 62 & kick off an afternoon filled with live music ? ?? (Doug & Scott has 3 bands lined up‼️ *Lucky Penny Sisters, *Aaron Buckley, & *River Guns); drink ? specials (TITO's - they are donating a portion of proceeds \ a drink to Mission 22 ?? thru-out the month of Oct.), yummy food, (Doobies Chicken ? will be set up & selling chicken dinners for $20\ plate. $5 from each, will be donated to Mission 22 ??). We will also have 50/50 raffles, auctions, give aways, etc. ? (All proceeds goes to Mission 22). We will have the Mission 22/ Bike Night t-shirts on sale for $10 each. If you've not got yours yet… this would be the time to get them.
? ? The Beautiful Ronnie Hunter with 99.7 the Blitz ? will be joining us as well as Sherri Young bringing her Biker Jewelry, Kelly Cossin with Kels High Shine Wash & Detailing fir Motorcycles, Flickinger Legal Group; Nance Dewalt with Lick'em Stick'em Biker Tack Shop, along with Kristi Lynch-Ott with Kristi's Headbands, just to name a few.
See details with the event for links to Shakers, Tavern 62, Flickinger Legal Group, Etc.
Let's make this a huge end of season blow out‼️???️??
Who's checked in
Going: 1, Interested: 0
See All