One of the maddest motorcycles ever made was auctioned by Bonhams. It's the Madman Widowmaker 7 with a huge Chevrolet V8 engine.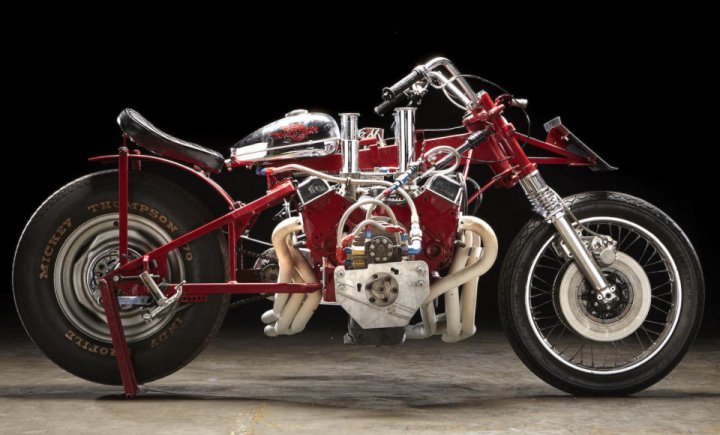 It was built by Ej Potter in 1960, who made his dream come true. For many years this irrepressible enthusiast designed, built and raced in drag strips in the USA, Canada, England and Australia. In his early days of competing he was paid $1 for each mile per hour over 100mph achieved on a run. The first Chevrolet engine, which he installed into a motorcycle, was a 4,6Lt V8 with a carburetor and a direct chain drive.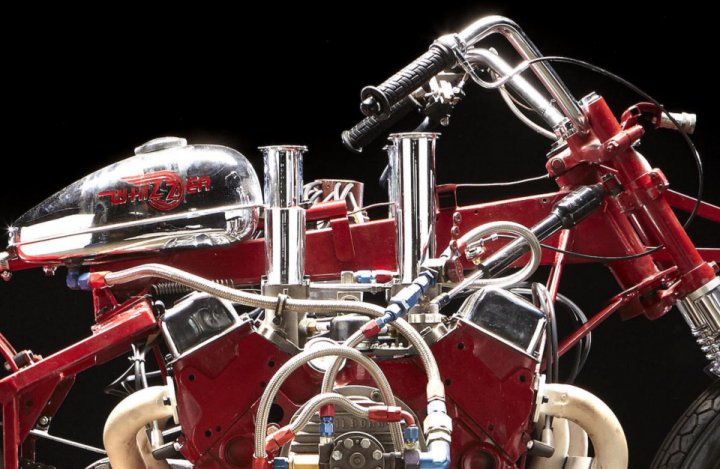 As to Widowmaker 7, this motorcycle is fitted with the beast 5,7Lt V8 with injectors and enhanced pistons. There is a video, where Potter shows the result of a 10.3 second run at 142 mph & for a quarter of a mile. The rear wheel was completely destroyed.
In 1973 he set the Guinness World Record for his run of 8.68 seconds at 172 mph for a quarter of a mile. Certainly, this record was broken later, but it was unimaginable fast for 1973.