The constant taking care of your motorcycle will help to keep it in a great condition and prevent its premature ageing.
A clean motorcycle is the rider's face, so its washing is practically the main point of taking care of the bike.
There are several ways to clean it: you can go to a car wash, where professionals will offer you a contactless washing, or you can always do it yourself. Everything is clear in the case of the car wash, where the whole work is done by others. But how can you manage with the washing yourself? It'll be perfect, if you have a high-pressure cleaner. Pressure cleaners will do a good job of cleaning a mud, dust and even birds' surprises, so the whole process will be really pleasant. The huge advantage of such technique is the possibility to clean all hard-to-get-to areas, for example, under the fenders.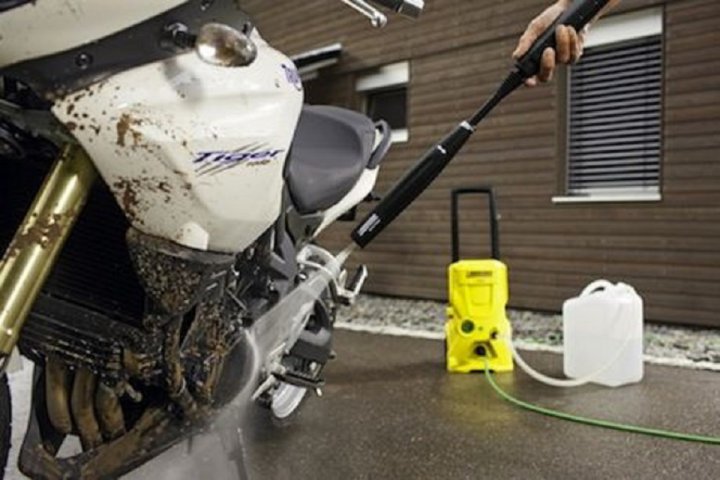 Many riders believe, that it's much easier to wash a motorcycle than a car. And they are mistaken, despite its smaller size, the washing of a motorbike is harder due to its construction features.
There are two main reasons, what we need to wash our bikes for. Firstly, frequent washing will alert you early if there is something wrong with its technical condition and it also reduces the damage risk. Secondly, a clean bike looks great! Washing of a motorcycle takes much time and effort, but you can save a lot of time, if you do this regularly, in time and, what is more important, in a right way.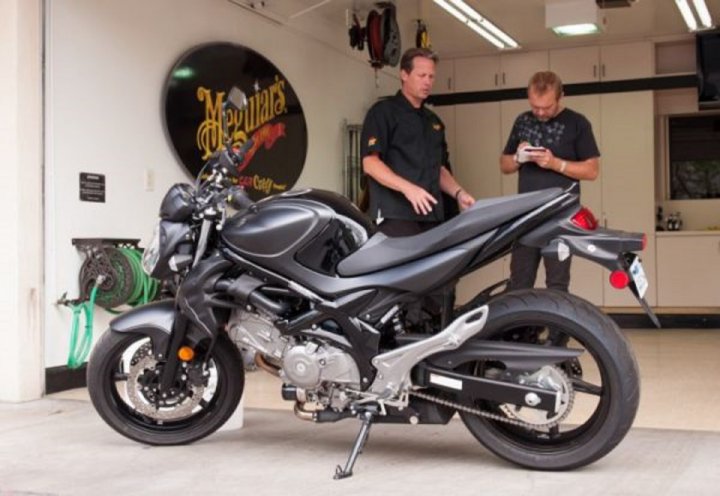 "There are some fundamentally right tips to clean a motorcycle and you would hardly know some of them", explains Mike Pennington, Meguiar's Director of Technical Training. There's a huge amount of different washes, compounds, waxes and even tools you can choose from. Understandably, that it can be a little confusing. You might not know where to begin. &
So, if you decide to wash your bike yourself, before starting it, you should find out right tips to clean it and the points you have to pay attention to.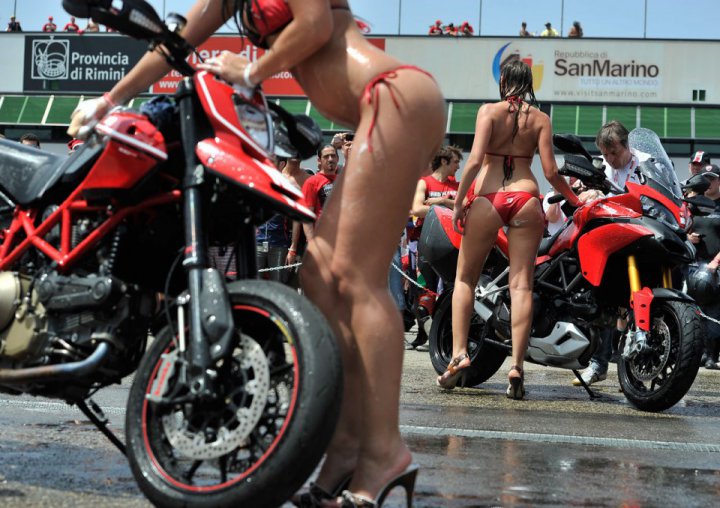 The first questions are: how much time do you realistically have available to clean your motorcycle. How much do you know about cleaning bikes and what tools do you have on hand? As you know, most people just want to make the job as efficient and as short as possible, with good results.
Another important thing to consider is the age and condition of the motorcycle. This will determine your method and tools.
You also need to understand what materials are used in your bike's construction. Is there anodized aluminum, bare aluminum or chrome? Each requires a unique cleaner. Get the wrong method or cleaner and it could permanently damage the surface.
What sort of paint do you have, matte or gloss? If your bike is new, obviously it has a layer of clear coat over the actual paint. Or, maybe it's old. In this case, it doesn't have a layer of clear coat and a number of the actual paint layers are significantly fewer.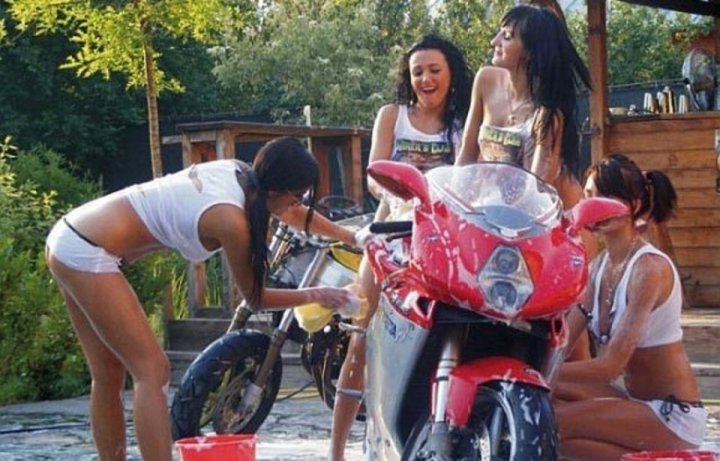 Mike Pennington suggests a three step method:
Estimate the situation: what condition is your bike in and how much time do you really have.
Choose the right products.
Use the right cleaning techniques.
In contrast to cars, motorcycles have a huge amount of exposed materials and components that all need regular cleaning.
Always clean a bike in the shade and if it's cool enough, as dirt mixing with water becomes much more aggressive when a motorcycle is warm, so that's the reason, why there should be no sunlight and a hot bike.
Let's go to the practice. Are you ready to get it started?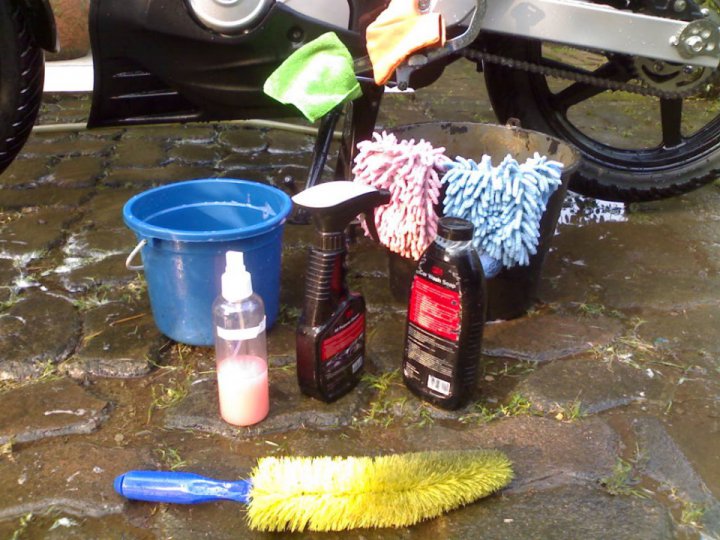 You'll need the next tools and cleaners:
a bucket for a soap water;
soap or liquid detergent (it can be for cars);
water proof gloves;
tar remover;
degreaser or engine cleaner;
a toothbrush;
WD40;
a chain lube;
a brush for wheel cleaning;
tyre cleaner;
at least two micro fibre rags or 100% cotton sponges;
a variety of soft cotton towels or rags;
a chamois rag for drying;
water (preferably warm).
Remove tank bags, panniers and any accessories you don't want to get wet. You can clean them separately, if you want to.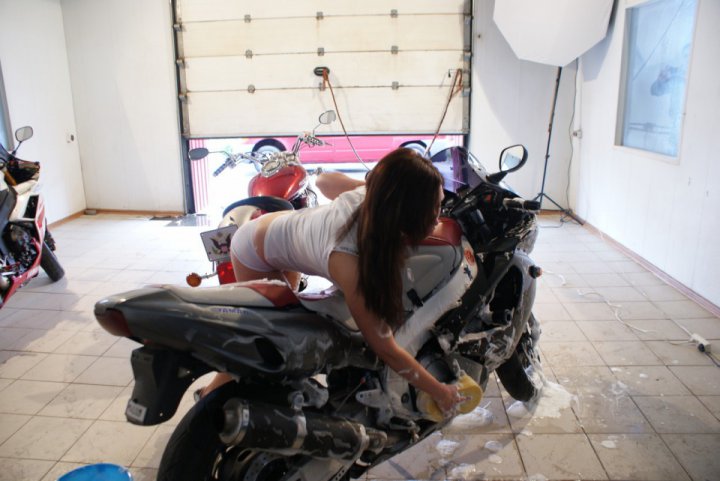 I. Pour some warm water, mixing it with a detergent (about one bottlecap for 5 Lt of water). Have several sponges around you, but not on the ground (they can pick up sand or abrasive elements, which can damage the paint). Use only 100% cotton and micro fibre sponges, other materials may lead to paint defects. Wash the bike down from top to bottom. Stuck bug and dirt are the curse of every rider, but you can easily remove it, using right tools. Bug and tar removers work surprisingly well. Don't rub the cleaner into the paint hard, and have separate cleaning sponges for different areas.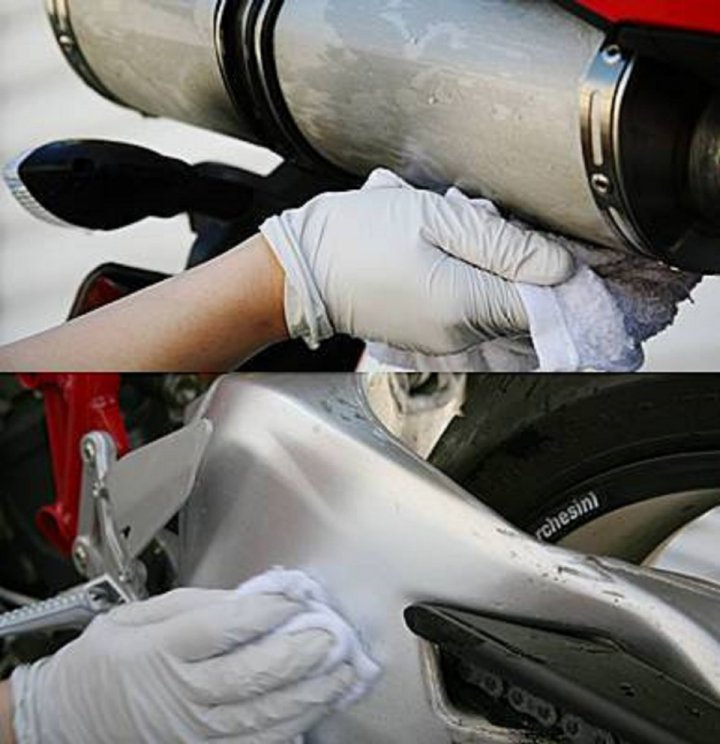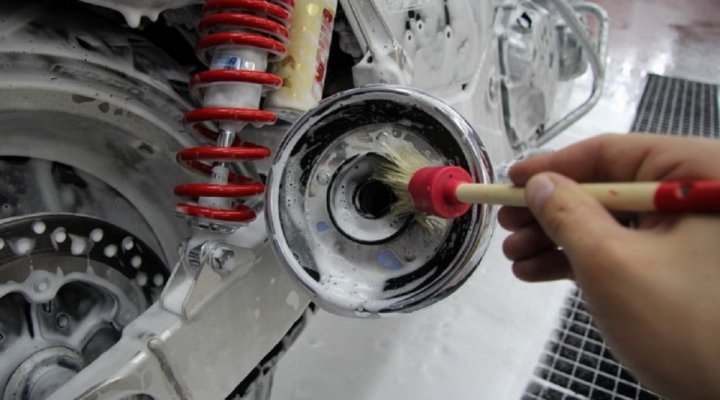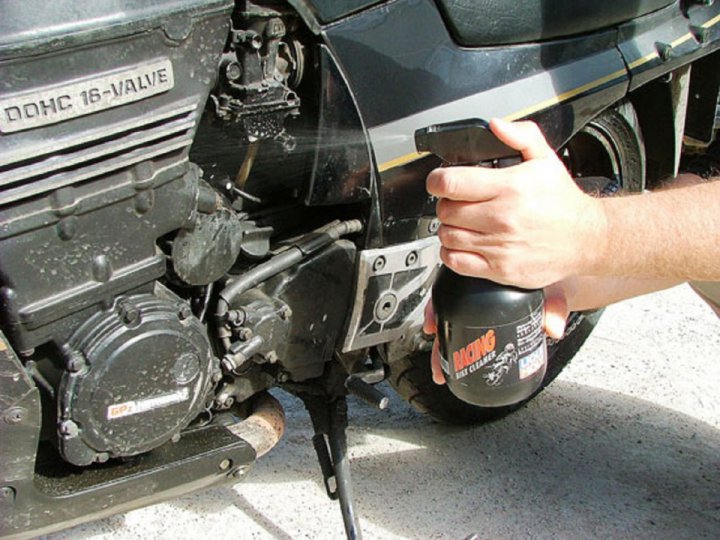 II. Such details as a swingarm and matte exhaust pipes need another method in comparison with more delicate areas (a paint or chrome). Using degreasers, rub them hard, thoroughly and separately, making sure, that degreasers don't get on the areas listed above. Don't use micro fibre materials here, a rough rag will be perfect. Don't forget about all the motorcycle's nooks and crannies, while washing. A detail brush will help you get inside all hard-to-reach places of uncoated engine areas. You'll see, a mud and grease will be washed out thanks to degreasers.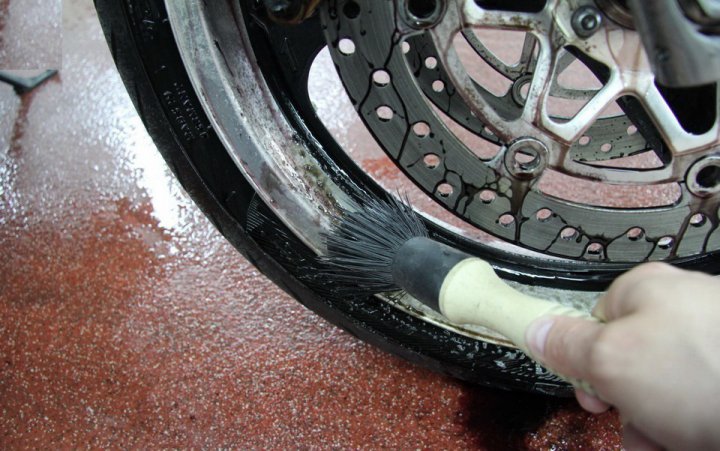 III. Special attention also needs to be paid to the wheels, and a brush with a long grip will take brake dust and road grime off. Use a little amount of a cleaner and wait for a couple of minutes. You may take powerful effective dishwashing cleaners to wash the wheels. And chrome wheels require special cleaners, so you have to find out the type of coating before getting started. Don't use tire cleaners, it can damage a glossy surface of the wheels.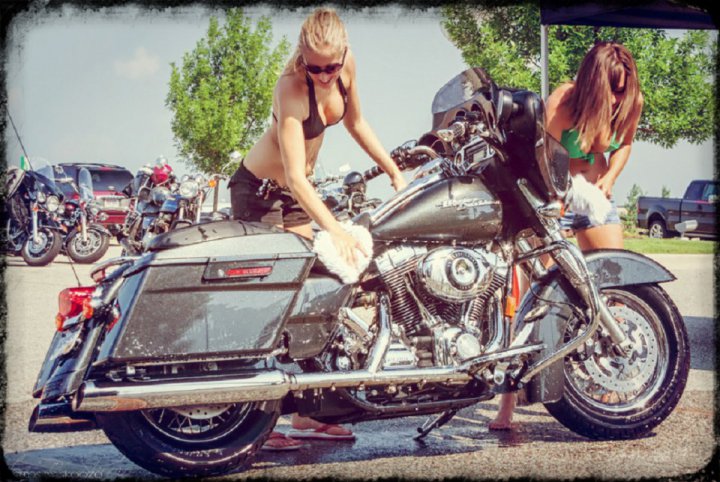 IV. After you washed the bodywork, you need to rinse it briefly and just then dry it with a chamois rag. It'll prevent paint damage.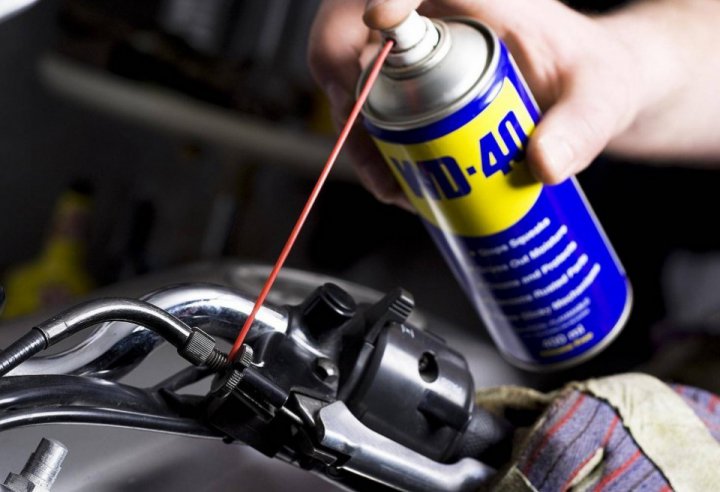 V. WD40 is great for getting rid of excess water as well as gently removing built-up grease, and also for the second grease of the cables, hinges and levers. Don't forget to coat the chain.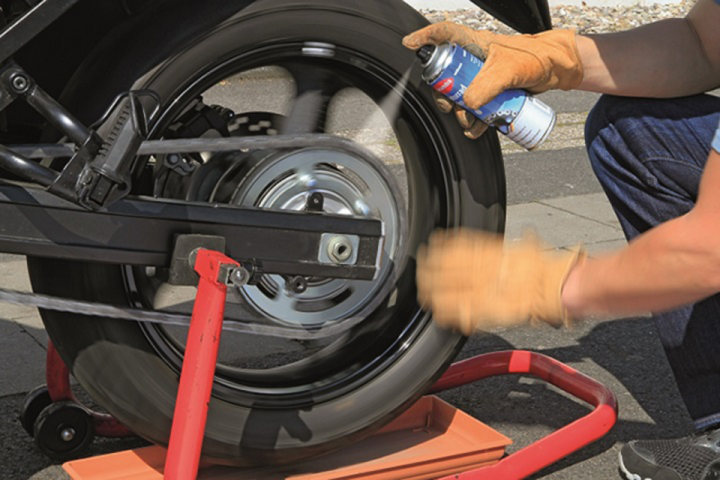 VI. When dry, add a wax layer to make the bodywork shine and protect your paint.
VII. When you're finished drying your bike, ride it slowly around the block, squeezing the brakes to pump out excess water. Then go for a longer and faster ride on a highway to blow water out of deep nooks and crannies. Because, if water stays there, it can cause corrosion.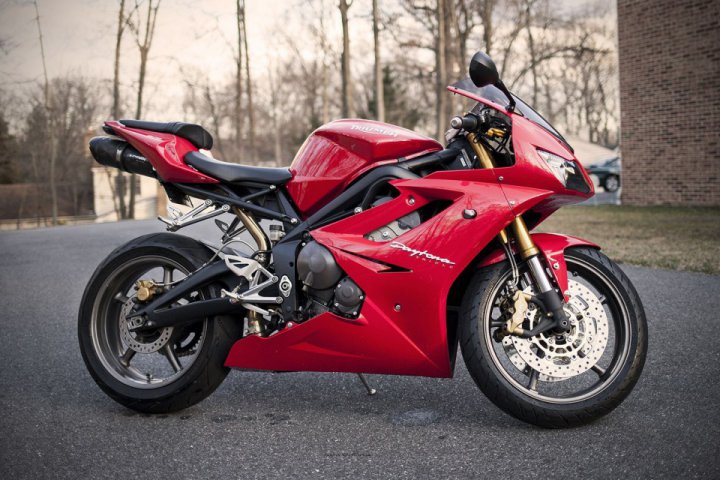 If you follow all these steps, your bike will always be clean and pretty.
Join the community of motorcycles and people
Moto Riders Universe app is the best way to stay informed about what's going on in the moto community — whether it's finding a good news, planning a local event, or sharing safety tips. There are so many ways our moto-buddies can help you, just use this easy way to connect with them.