Discover the Most Efficient and Dependable Daily Ride Options of 2023.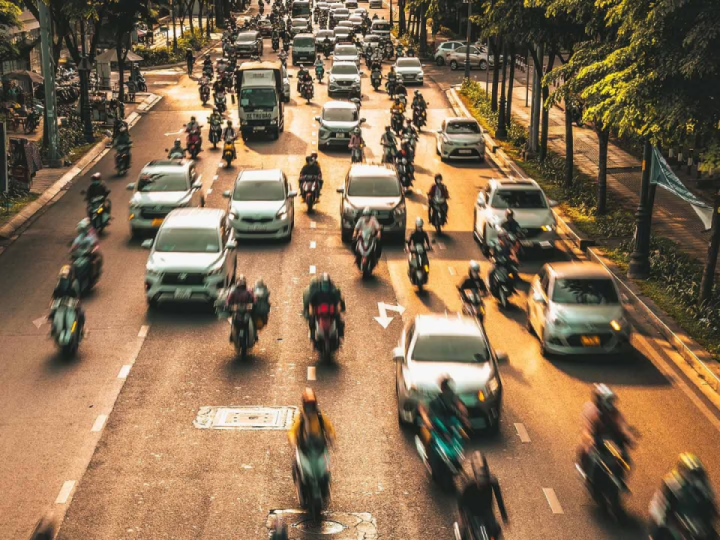 While it's a common belief that any motorcycle can serve as a suitable commuter, some bikes are undeniably better suited to handle the demands of daily commuting. Ideal choices for everyday riders possess compact dimensions, nimble maneuverability for navigating through congested streets, and impressive fuel efficiency. However, the specific requirements may vary based on your commute's length and location. For longer journeys, you might prioritize features such as enhanced seat comfort, panniers for storage, and windshields for added protection, whereas urban-centric motorcycles adhere to the timeless principle of simplicity and minimalism.
In cases where applicable, we provide not only our own tested mileage figures but also data sourced from community-driven platforms, which compile information from numerous riders.
Our carefully curated selection of motorcycles demonstrates that commuting excellence can be achieved without straining your budget, all while considering factors like weight, maneuvering capability, and rider comfort.
2024 Suzuki V-Strom 650 | 57 mpg (claimed) | $9,199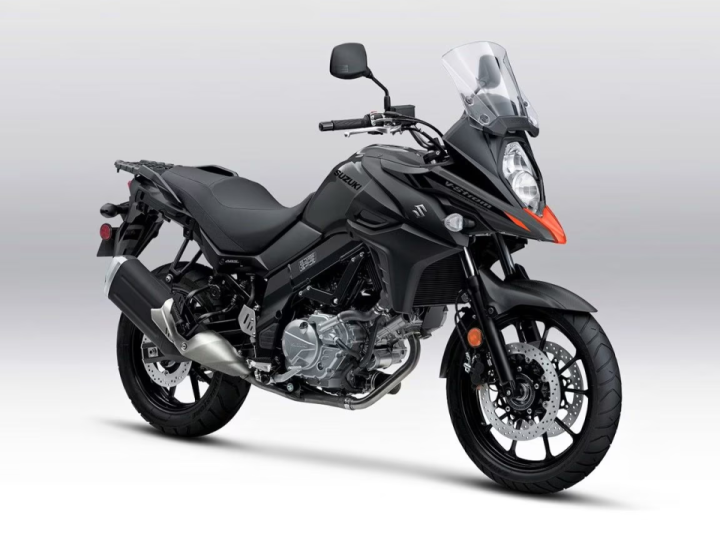 Suzuki offers a range of trim options for the V-Strom, but we believe the 650 base model strikes a perfect balance between affordability and capability, catering well to commuting needs. It's equipped with the trusted 645cc liquid-cooled 90-degree V-twin engine derived from the SV650, which ensures a reliable, efficient, and comfortable riding experience. Plus, the sub-$10K price tag is hard to argue with.
This well-behaved V-twin engine receives high praise for its smooth power delivery, delivering a claimed 70 hp (65.2 hp according to our dyno tests). The Strom 650's slender frame and relatively light weight of 470 pounds make it easy to handle at low speeds and in adverse conditions. While the standard V-Strom 650 may not be packed with an abundance of high-tech gadgets, it does come with desirable features such as dual disc front brakes, ABS, traction control, and ride-by-wire throttle. The bike is fitted with 19/17-inch street-oriented wheels and boasts a generous 5.3-gallon fuel tank. Owners have reported impressive fuel efficiency, averaging between 50 and 60 mpg, resulting in a respectable 260-mile range between fuel stops—a significant advantage for both commuting and touring.
Although a new model with a parallel-twin engine is on the horizon, the "V" in V-Strom may not be present for much longer. However, for the time being, it remains a motorcycle that ticks all the right boxes.
2023 Honda NC750X | 53 mpg (tested) | $9,399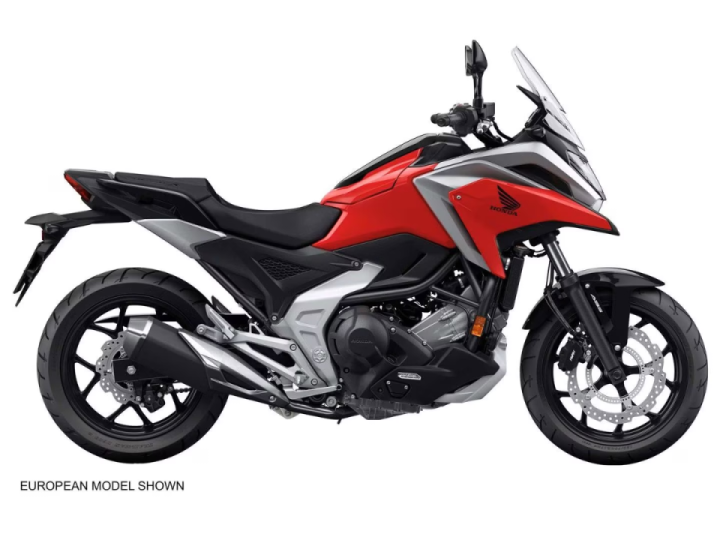 Honda's not-exactly-exciting but incredibly capable NC750X regularly makes top commuter bike lists, and on paper, it's hard to argue with the specs. There's a hella smooth, fuel-sipping 745cc parallel-twin engine good for a claimed 67 mpg, throttle-by-wire, a slipper clutch, ABS, traction control, and an automatic DCT transmission with three riding modes—and the NC still rings in at under $10,000.
Another feature that makes the Honda supremely suited to urban stints is a handy, lockable "frunk," aka a 23-liter compartment big enough to conveniently swallow a full-face helmet and assorted groceries.
That eight-valve parallel-twin engine provides tractorlike off-idle acceleration that easily chugs through the midrange, and while power delivery isn't exactly sporty, it is smooth. In top gear the NC spins at around 4,500 rpm, which partly explains that superb fuel economy; we recorded an average of 53 mpg during our testing, while Fuelly.com users reportedly averaged over 60 mpg from the 3.8-gallon underseat fuel tank.
Although the 750X clocks in at a 493 pounds wet, we still think the simplicity of the automatic transmission and the practicality of its creature comforts make it one of motorcycling's better all-rounders.
2023 Triumph Tiger Sport 660 | 52.2 mpg (claimed) | $9,695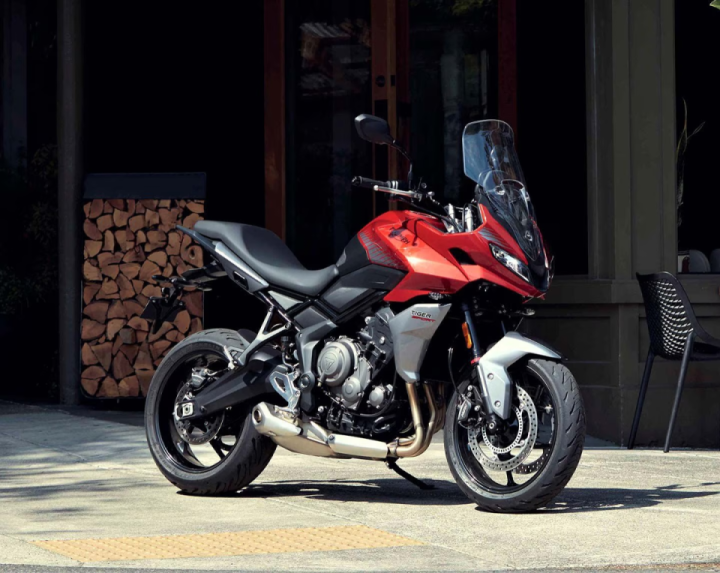 For commuters in search of more sporting performance in the same price range, the Triumph Tiger Sport 660 is definitely worth a closer look. In addition to being easy on the eyes, the Trumpet's sporty three-cylinder 80-hp engine is sure to get your blood pumping with a nice balance of low-down torque and a rush of top-end power along with a seductive soundtrack.
With its exposed tubular steel frame, stubby tailsection, comfortable seat, and tall bars, the Tiger should provide plenty of all-around entertaining performance, and its upright ergos position your sight lines well above traffic while providing good leverage. Triumph claims 52 mpg, but riders have reported an average of 60 mpg from the 4.5-gallon tank, which should result in a respectable 270-mile range as well. Those numbers plus the adjustable screen and comfortable two-up saddle make the Tiger a good candidate for daily in-town stints as well as longer commutes with a passenger. The Tiger's host of safety features and electronics are impressive too, with standard ABS, a slipper-type clutch, a multifunction TFT instrument panel, two ride modes (Road and Rain), and on/off traction control. And the Tiger's 455-pound wet weight is the lightest here.
2023 Kawasaki Versys 650 LT | 42.5 mpg (tested) | $10,099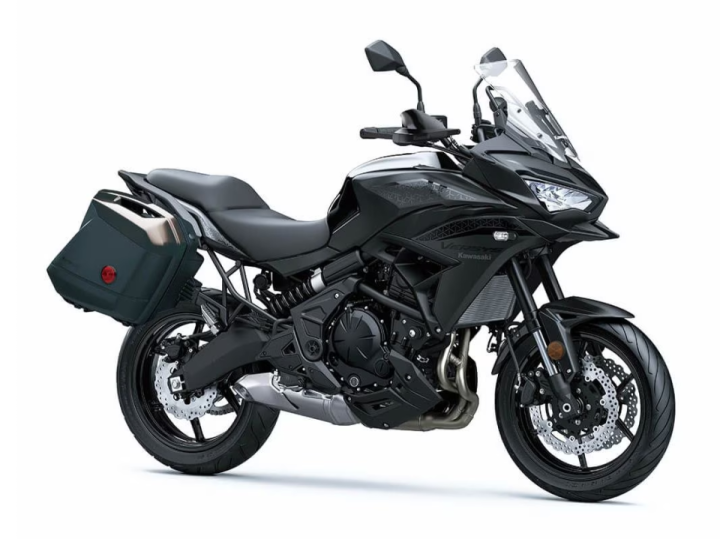 The Kawasaki Versys 650 offers a delightful blend of power, stable handling, and ergonomic comfort. Even with saddlebags included in the LT trim, it remains impressively affordable. While following a road-oriented approach similar to the V-Strom 650, the Versys 650 stands out as the sole bike in this lineup equipped with luggage and approaching a price point of $10,000.
Under the hood, the Versys boasts a tried-and-true 649cc liquid-cooled parallel-twin engine known for its approachable and engaging power delivery. On our in-house Motorcyclist dyno, the 650 LT recorded 59.3 hp at 8,300 rpm and 41.5 lb.-ft. of torque at 7,100 rpm. These figures may appear modest, but the real-world experience of a linear power delivery and a consistent torque curve sets it apart. This translates into remarkably versatile power and maneuverability on the streets, amplified by the rider's confident posture on the Versys. Standard features include dual front discs with ABS both front and rear, along with switchable traction control. The LT model goes a step further with wind-protecting wraparound hand guards and spacious 28-liter side panniers.
The 650 Versys LT also impresses with its substantial 5.5-gallon fuel tank, the largest among its peers, and a manageable weight of 500 pounds. This combination makes it a well-constructed, comfortable, and enjoyable motorcycle suitable for various commuting scenarios.
2023 Zero S | 477 mpg (claimed equivalent) | $12,995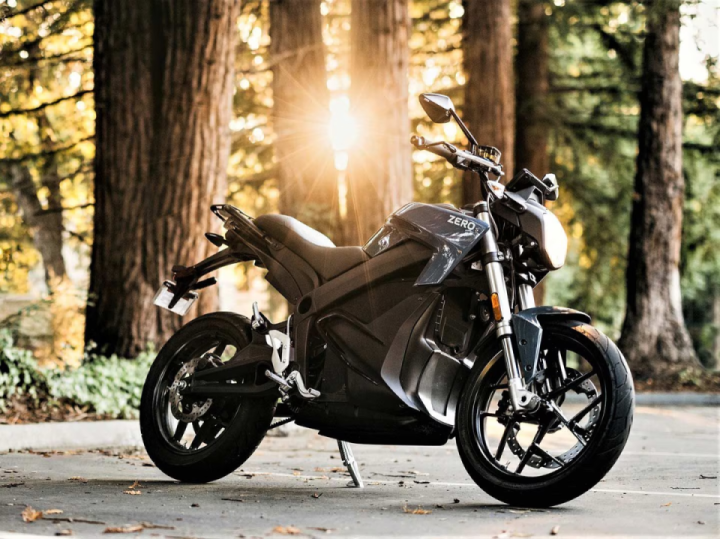 While both Zero's SR and its more modestly-equipped sibling, the S, are designed for urban street riding and daily commuting, our preference leans towards the more economical and lightweight S model, which is among Zero's simpler and more affordable offerings.
Let's delve into the reasons why: The S is equipped with Zero's Z-Force 75-5 permanent magnet motor, drawing power from a 7.2 kWh lithium-ion battery. According to Zero's claims, this setup provides an impressive 89-mile range in city conditions, which should easily cover the typical American daily commute of no more than 20 miles each way.
The S also boasts an upright rider geometry, with comfortable footpeg placements that reduce fatigue during daily rides. Like most electric motorcycles, the S delivers exceptional throttle response and instant torque, while its direct drive eliminates the need for clutch engagement or shifting in fast-paced urban settings. Furthermore, the S's minimalist design means there's less bodywork to worry about in the urban environment, and its featherweight of 313 pounds ensures effortless handling.
Zero estimates that charging the battery to 95 percent will take approximately 5.2 hours using a standard household outlet, and beyond that, maintenance requirements are minimal. Coupled with its (relatively) affordable price tag of $12,995 MSRP, the Zero S is a compelling choice for urban riders and earns its place on our list.
#Sportbike #ZeroS #Kawasaki #KawaVersys #TigerSport #NC750X #VStrom