Smart technologies mean that a device is improved by connectivity to other devices. In an era of smartphones, many designers and companies are trying to expand the potential of a standard helmet, which, in fact, can be much more than just protecting the head. We considered some projects of clever motorcycle helmets, but most of them did not even survive to the production stage.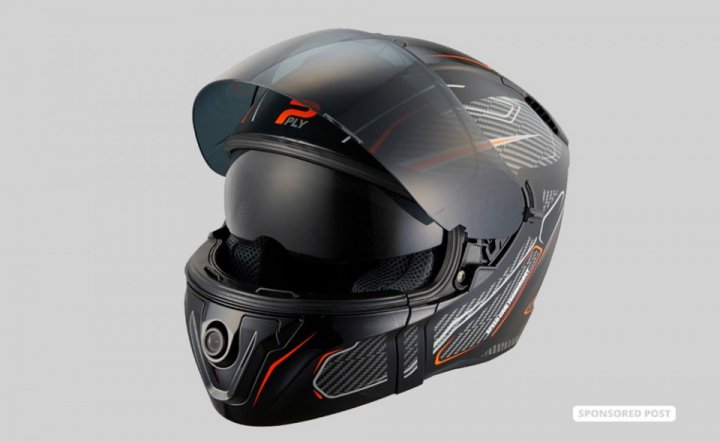 South Korea's eCell Electronics has developed a clever PLY helmet and organized a campaign on Indiegogo.
eCell PLY is a ready-made solution for integrating the camera and audio system into the helmet. The company plans to start shipping at the end of August. The helmet is equipped with a 720p, 30 FPS HD camera. A long-life 2,700 mAh battery provides power for up to 15 hours for the audio system alone, and 5.5 hours of video recording time.
The most exciting feature of the helmet is its weight. It weighs only 1550 grams, it means, the PLY is about the weight of other high-end helmets without the integrated electronics. A GoPro and Sena headset combined can easily add another 250+ grams, which makes it not only heavier, but sometimes can throw off the balance of your helmet. With the PLY, the camera is neatly packed into the chinbar, and the removable battery is in the back, promising a well-balanced package.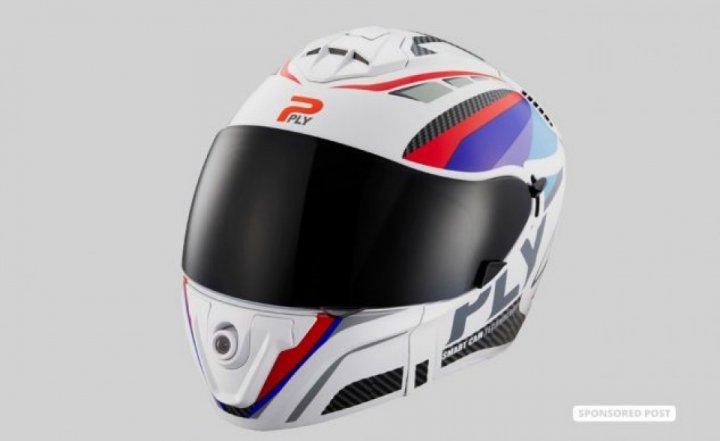 The PLY helmet passes both the DOT and ECE safety standards. The helmet also boasts an emergency removal system that allows you to quickly remove the helmet from the injured motorcyclist and looks a lot like the one on an HJC RPHA 70.
eCell is known for dashcams, so it didn't seek the quality of the GoPro video resolution. The main goal is to record daily driving, not to generate lush videos. The video automatically records on a micro SD card up to 64 GB (20 hours of recording time approximately). Image stabilization and a wide-angle lens adjustable for your riding position (cruiser, standard or sportbike) allow you to capture every moment of the ride.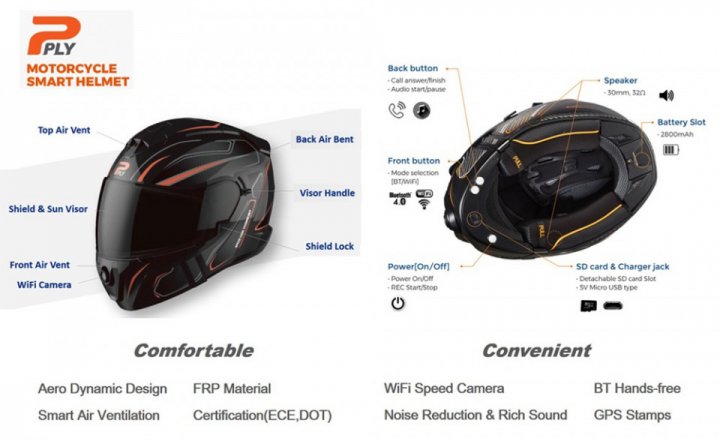 A handlebar-mounted controller is installed to operate the system in gloves.
GPS stamps the video with your speed and location. Bluetooth has all the standard headset features. A smartphone app lets the rider download or view videos and track progress on a map. Also the helmet can be recharged while operating, and it's water resistant to the IP-64 standard.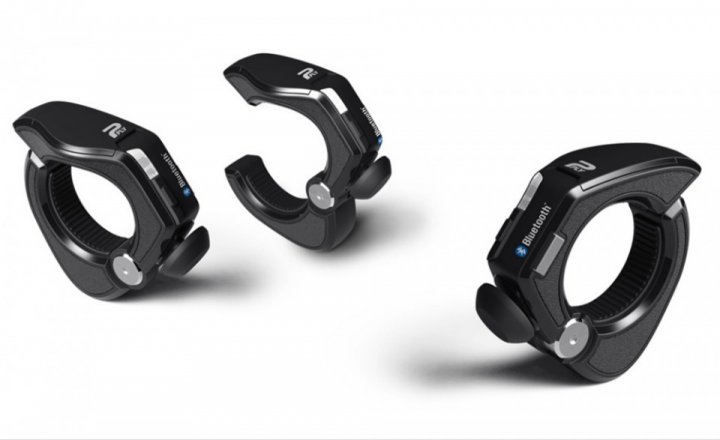 Helmet features:
- anti-fog faceshield;
- drop-down internal sun visor;
- adjustable top;
- two shell sizes;
- XS-XXL sizes;
- white, black, black with decals or white with decals;
- priced at $499.
Project on Indiegogo: www.indiegogo.com/projects/ply-motorcycle-smart-helmet-bluetooth#/
Official website