They missed the big race-rep stroker phase, but if Kawasaki ever built one, it might just look like this.
Yamaha had the RD series with the popular 350 and 500YPVS, Suzuki thrilled us with their RG250 and 500 Gammas, and Honda were late to the party with the NS400R; late, but at least they arrived – Kawasaki's water-cooled strokers were the KR1-S 250 and before that the tandem twin KR250.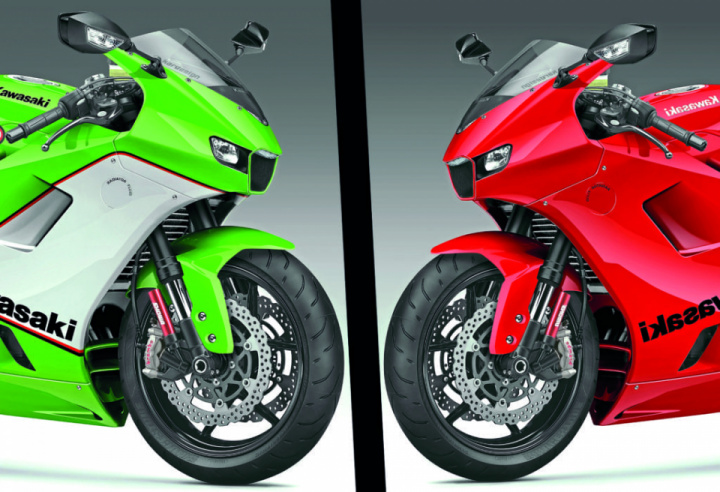 Based loosely on the late 70s GP racebikes piloted to success by Kork Ballington, the tandem twin configuration reduced engine width which was useful in the bigger 1980 KR500 racer. Featuring a square-four motor much like Suzuki's RG500, the Kawasaki also boasted a monocoque chassis. Unfortunately, it failed to replicate the championship success of the 250 and 1982 saw Kawasaki leave the championship altogether. Now if they'd stayed in, we could've seen a road-going KR500, which would've been something. Somewhere in an alternate universe, our virtual KR500 exists.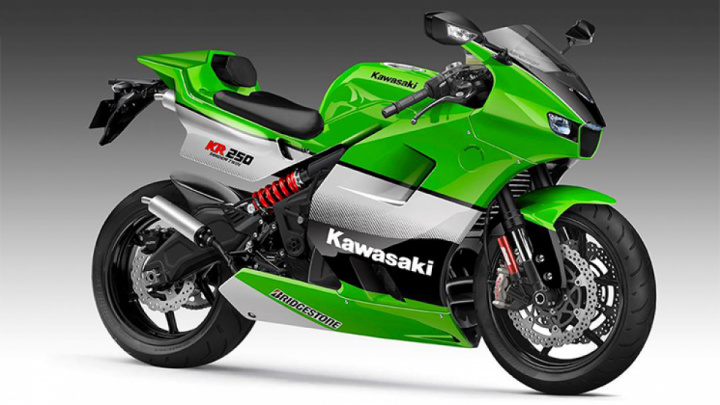 Chassis
The KR500 used a monocoque frame (as did the ZX-12R) so we've incorporated it here as well. The monocoque doubles as the fuel tank but unlike the race bike doesn't have a secondary fuel tank which according to Kork Ballington just adds unnecessary weight. There's no mechanical anti-dive as seen on the racer, but we've used the Big Piston Forks from the latest ZX-10R and the rear shock layout of the ER-6. Our massive swingarm helps control the power and the rearsets are fully adjustable.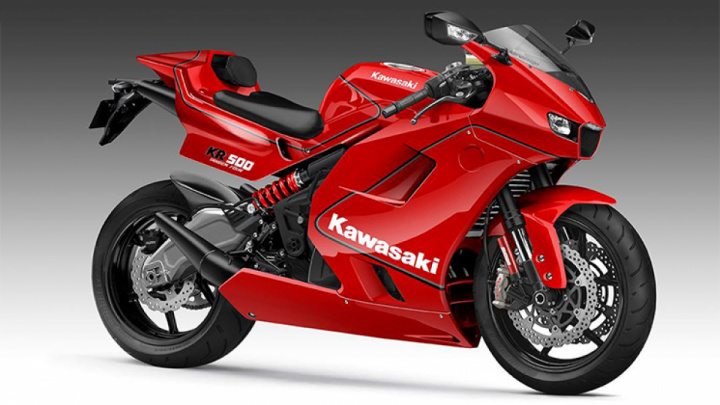 Engine
A modern day square four-cylinder two-stroke would make an easy and reliable 145bhp, which on paper doesn't sound outrageous but when coupled with a lightweight 145kg, the KR would fly. With fuel-injection feeding the disc-valves, ram-air, fuel-mapping, traction and launch control, 65lb-ft of torque is just a twist of the wrist away: when the Suter Racing 500 makes a claimed 195bhp punting it to 190mph-plus, our numbers are more than realistic.
Bodywork
The KR250 was more of a half-faired bike in the 250 Gamma mould but we need as much wind protection as possible, hence the full fairing and large bellypan that helps streamline the expansion chambers. Headlights are small, but powerful projector beam units to keep weight low. The trademark radiator flap looks just right in its familiar position on the upper cowl, don't you think?
Original Source [classicmechanics]