After moving the last of its mass production to Thailand a couple of years ago, the British factory has now announced that it's going to be building more bikes at its Hinkleybased factory. The plan at the time was for Triumph's UK HQ to focus on research and development, in addition to producing prototype, bespoke and top-end models, reducing its output from around 7000 bikes to 4500. Subsequently, that meant laying off some staff, too. Last we heard they were in consultation with close to 50 UK-based employees, but as a result of the chaos caused by the pandemic, sadly it had to lose a few more.

Triumph announced 400 job losses globally, 240 of which happened at the UK factory. Thankfully, things are starting to look up, with strong sales (helped by the success of its Trident 660) and an expansion into new markets (namely China, South Korea and the Phillipines) meaning that Triumph needs to hire some staff and pick up production. Speaking about the news, Chief Commercial Officer Paul Stroud said: "Sales were just over 81,500 motorcycles in 2021, 29 per cent growth on the previous year.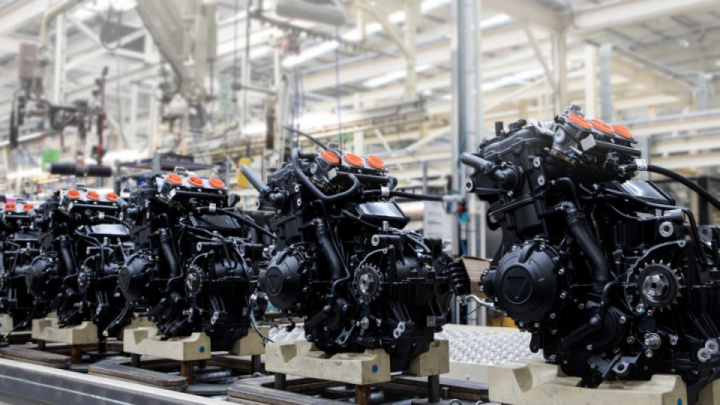 We'll have the Centre of Design Excellence, and an expanded production capability as well. It will start progressively, at a rate of 15,000 a year, then we'll go up very quickly to beyond 20,000." Stroud added: "The thing that was basically the trigger was the growing demand of our sales in Europe. We'll still be producing Tiger 1200s and 900s over in Thailand, but also producing more locally to sell to the local markets." He went on to say that the factory is expected to be running at full capacity within nine months – and it'll be starting production with the Tiger 1200, followed by the Tiger 900, Speed Triple and Rocket 3 before the end of the year. It's great to have a bit of positive news for the British biking business, and with BSA and Norton recently beginning to ramp up production too, the future's looking brighter than it's done in a long time.