If you are new to riding motorcycles, one of the first things that you might have in mind is to find a suitable riding group that you could join to make new friends that are also passionate about riding and at the same time quickly learn new stuff about motorcycling.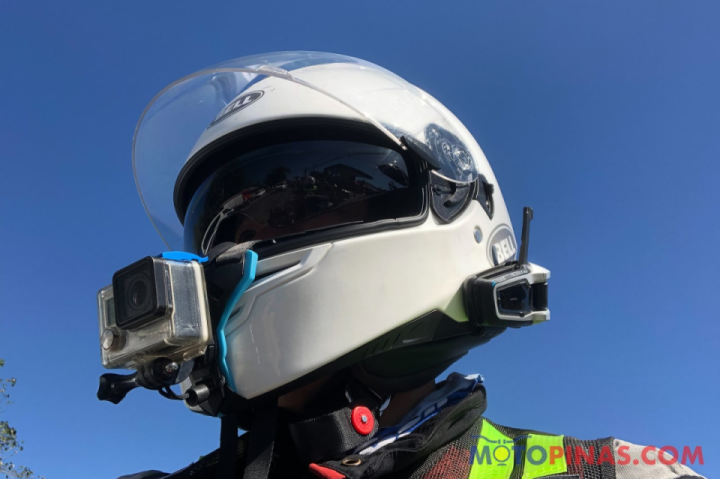 By the time you get to join this riding group, either through motorcycle brand or type affiliation – e.g.: all Yamaha, all Café Racer, etc. – they would require you to memorize the basic motorcycle hand signals.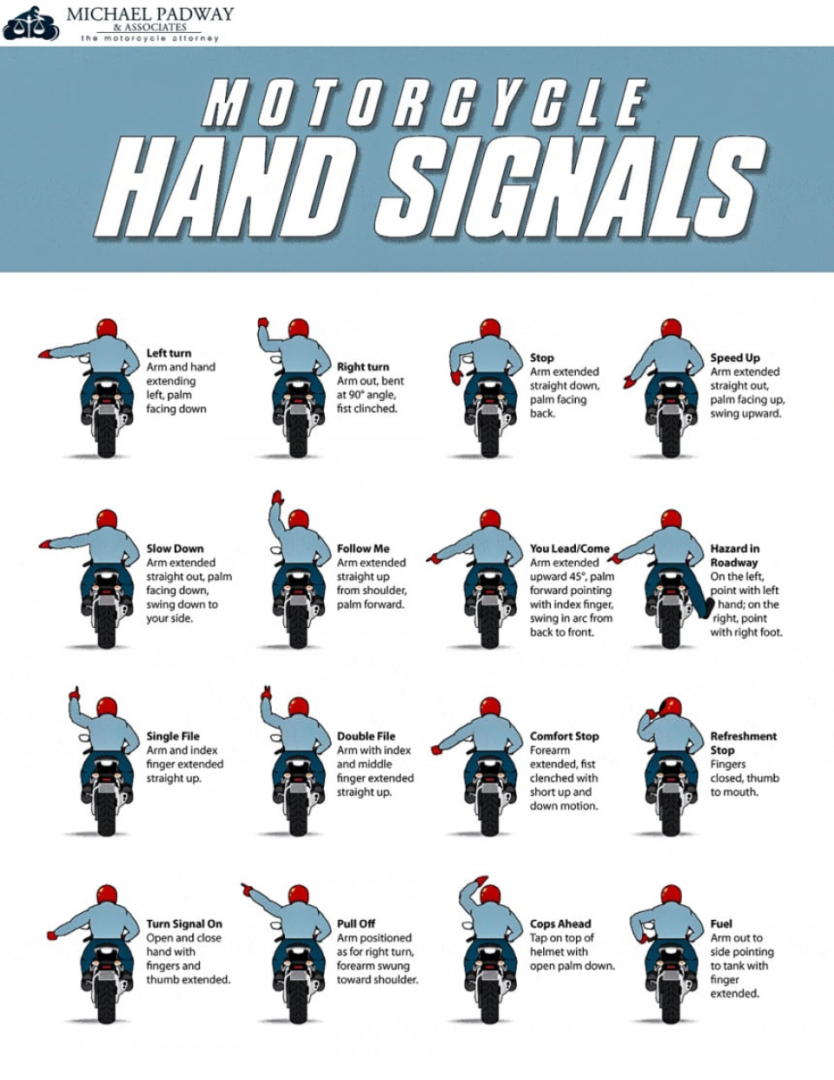 These hand signals are used to communicate with your co-riders in a group ride. For example, if the spearhead wants the pace to slow down, he would extend his arm with his palm facing down moving it slowly up and down. If he wants the group to have a stop at the gas station to fill up, he'll just signal with his finger pointing at the gas tank.
While these basic hand signals are essential to group riding, technology has advanced so much in the past 10 years and wireless communication devices that can be attached to your helmet have made these hand signals obsolete.
Cardo Packtalk
Cardo Packtalk is a small, Bluetooth-enabled motorcycle intercom system that is attached to a rider's helmet. It has a pair of speakers which is installed inside the helmet's inner liner and a microphone.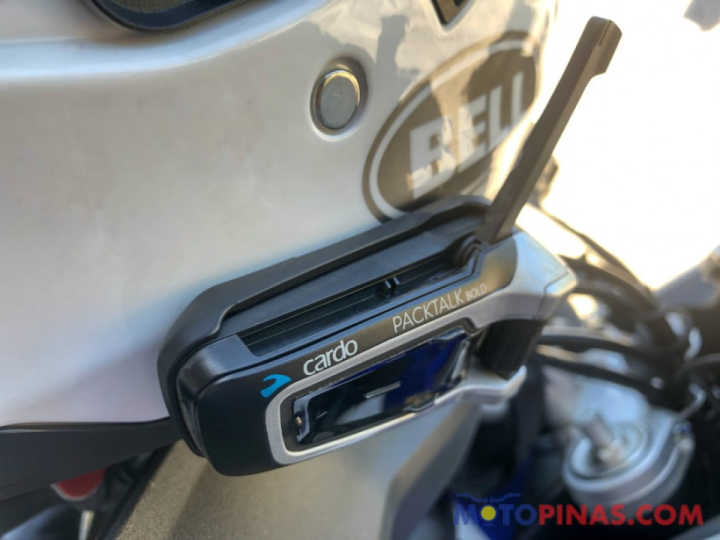 It can be connected to a smartphone via Bluetooth, and the rider can do voice commands to listen to music, make phone calls, and even send text messages through SIRI if you're using iPhone. Designed as a wireless communicator for motorcycle riding, the Cardo Packtalk can accommodate up to 15 riders at once and has a battery life of about 13 hours.&
How did Cardo Packtalk change the way we do group rides?
During the recent& BOSS Ironman Motorcycle Challenge, I was part of a group that ran under the Group of 10 category. As the word implies, those who will run under the Group of 10 category must take off as a group and arrive back at the finish line as a group without losing any of their members.
This is where the Cardo Packtalk shines. Our group was able to stay intact throughout the 1,211 kilometers of Ironman route thanks to the solid group communication provided by the Cardo Packtalk.
Never miss a turn
With the Cardo Packtalk, my group mates and I were all in constant communication with each other. And thanks to Cardo Packtalk's Dynamic Mesh Communication (DMC) mode, the intercom range is extended up to 1-kilometer per rider – meaning that the next closest rider can be up to 1-kilometer away but still have audible communications with you.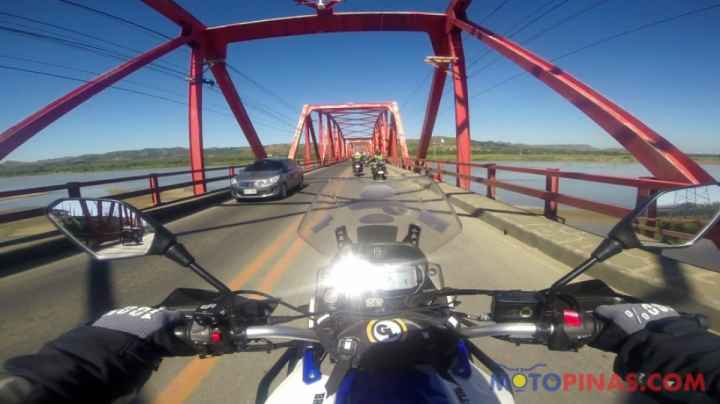 That said, some detours or turns around cities and small towns during the event can be easily missed by our group mates if we had a considerable gap. With the Cardo Packtalk, all we need to say, for example, was to "turn right after UniOil gas station" or "turn left after the hardware store on the right" and the others will not miss a turn.
Overtake safely and with utmost confidence
Sometimes, motorcycle riders will encounter a convoy of slow-moving vehicles such as trucks or other big vehicles along the way. Just as the same during our ride, our group encountered such and we have no choice but to ride past these slow-moving vehicles.
With the Cardo Packtalk, even us at the back of the group can overtake safely and with confidence once the spearhead declares that it was safe to do so with no oncoming vehicle on the other side of the road.
In the past without a Cardo Packtalk, this could be a bit challenging and at the same time dangerous.
No one gets left behind
In a group riding scenario, a traffic jam in cities like Tuguegarao can be a nightmare where some of the riders can get stuck and left behind. This is no longer the case with Cardo Packtalk.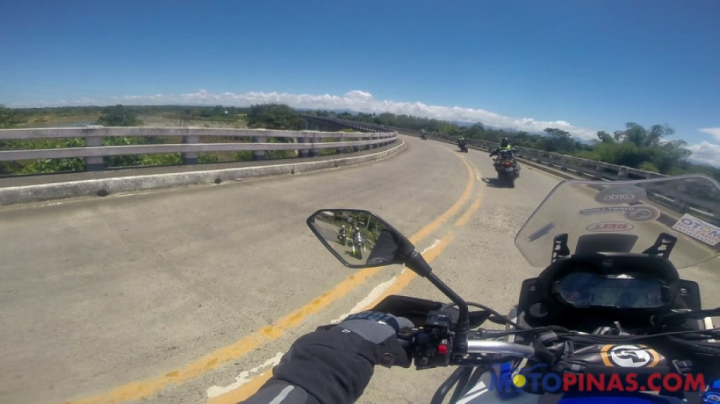 During the endurance ride, 4 of our group members got stuck on the busy streets of Tuguegarao with its sea of tricycles plying their national roads. Again, thanks to the Cardo Packtalk that we're using, they immediately informed our spearhead about their situation and that's why those who were in front were able to slow down and maintain a steady pace until the others caught up.
No more "antok"
Riding continuously for extended periods of time like in the BOSS Ironman can make a rider feel sleepy, especially if he or she has no one to talk to. With the Cardo Packtalk, there's always a constant chat among the group and it helps the riders stay awake all throughout.
Communication is really the key to safe group riding
As mentioned above, constant communication among riders in a group ride is the key to safe riding. The spearhead can warn the others of an oncoming road hazard such as construction works, slow-moving vehicles, or even crops that are being sun-dried at the side of the road.
We can even check each other's remaining fuel so we can efficiently manage our fuel stops. If one has a flat tire, the rider to his back can immediately warn him, and the group will then decide together the best course of action to take to quickly and efficiently manage the situation. If there's an incoming call, a rider simply needs to say "answer" as a voice command and he or she can talk without the need to stop or press any buttons while riding.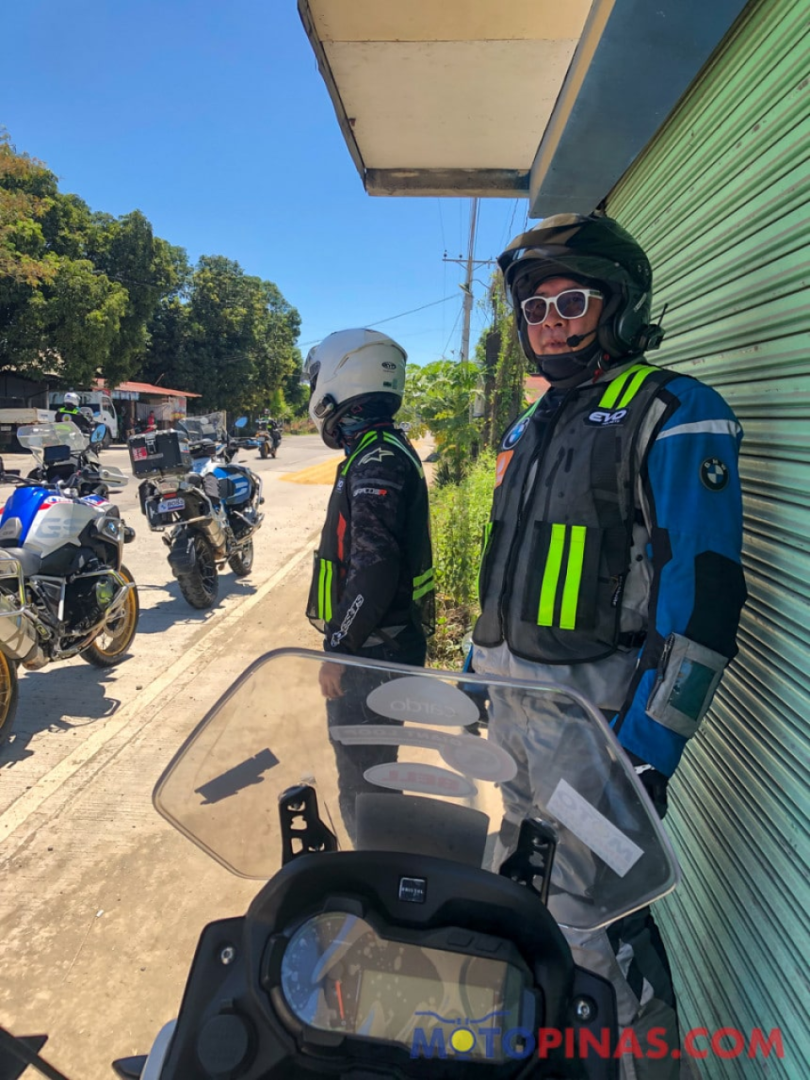 Cardo Packtalk is really a game-changer in the way we do group rides. With Cardo Packtalk, almost all of your communication tasks can be done with simple voice commands without the need to remove your hand from the handlebar to press buttons.
The Cardo Packtalk motorcycle communication system is available at Ride Manila Makati and Ride Manila Alabang. Visit their official social media page for more info.
#Cardo #Bike #Moto