Mad Max Trike
This bike started out as a 1976 Harley Ironhead that was found in an old barn. The old bike was in rough shape and needed lots of love and attention to bring it back to life. So, we loaded it on the trailer and took it to our shop. Once we got the bike back to the shop we rolled it up on the lift. I sat and stared at it for an hour or so, kicking around some ideas and designs in my head. It took me a while to figure out how I wanted the old bike to look. I knew from the beginning it had to be something different you don't see on the streets every day.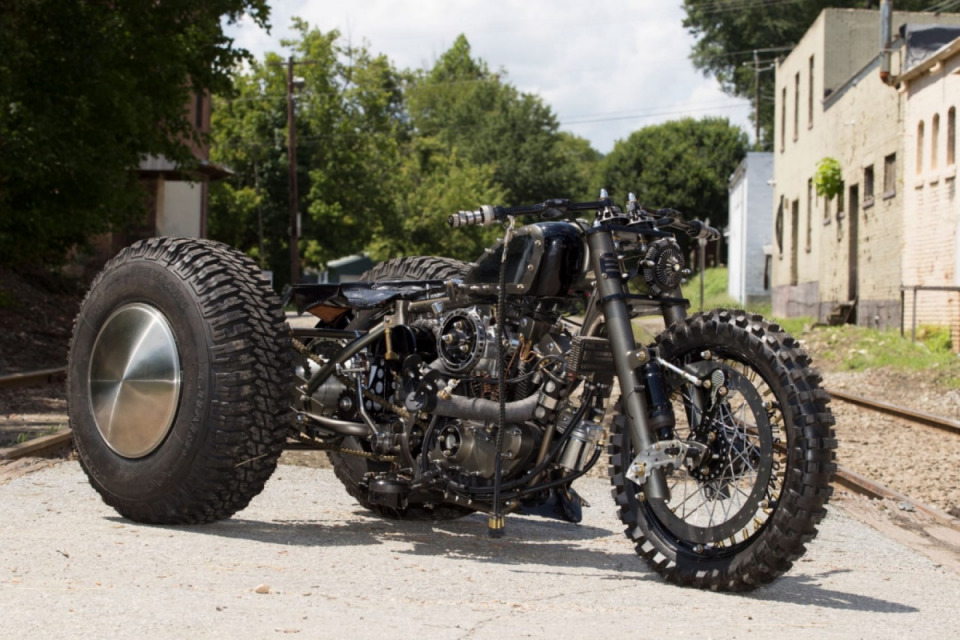 So, I thought it would be pretty cool to convert it to a trike. But not just a normal trike; it would be a "Mad Max" trike. After visiting several local mechanic shops to see what scrap metal parts they had laying around and digging through their scrap piles, I found some really cool car and hotrod parts. I knew I could customize and use quite a few on the trike. Now it was time to decide what parts would work where we needed them and how cool they would look.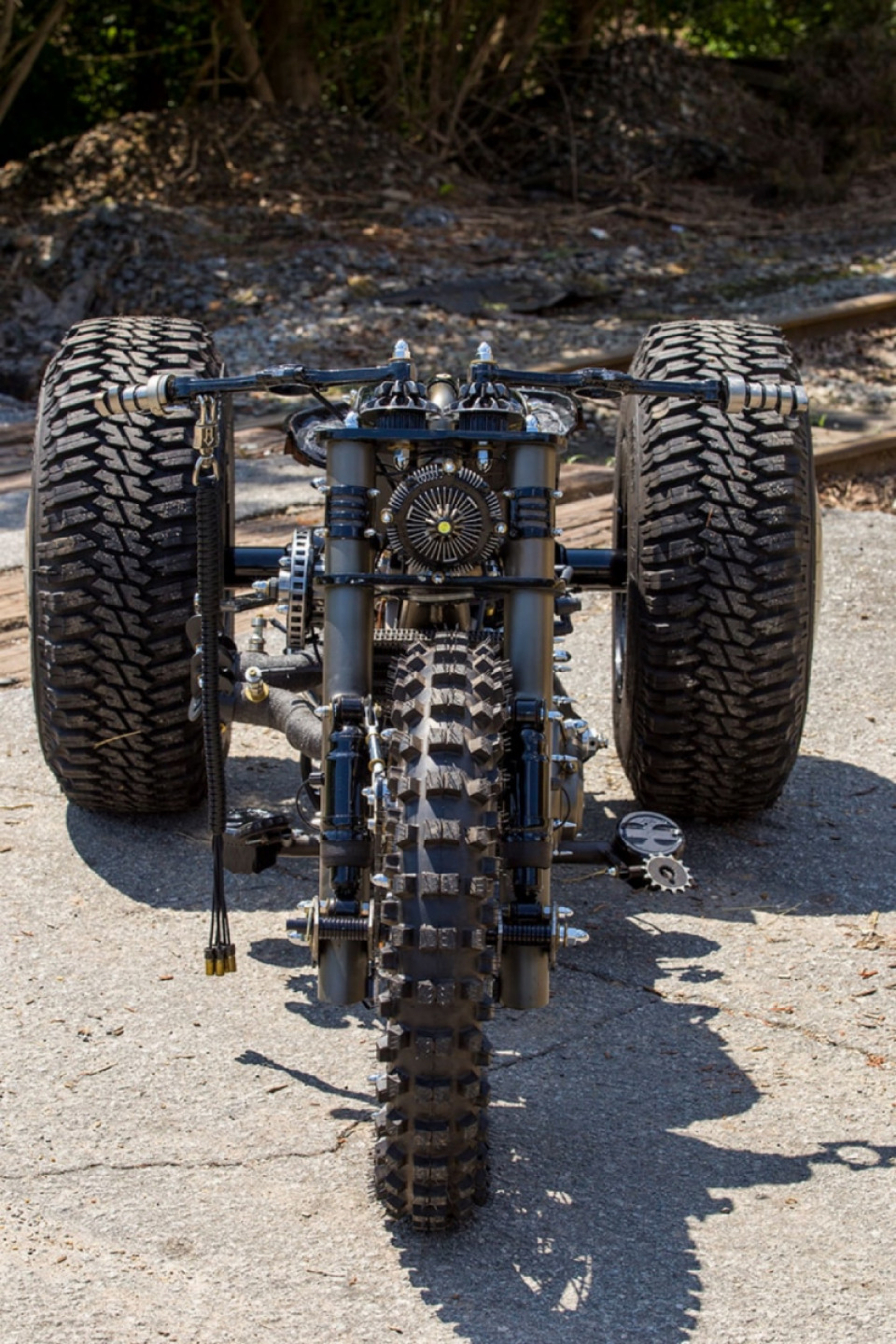 We started with the front end, so I had some triple trees cut out on the water jet table and the front end started coming together. We constructed pivot arms out of a motorcycle rotor, cut four ways to create the air shock suspension. After taking apart the stock Harley wheel and welding some threaded spacers around the outside of the wheel, a good friend cut out the perimeter brake rotor and created our Youngblood Kustomz logo on the outside of the rotor. After we assembled this, we mounted a rear dirt bike tire to give the front of the trike an aggressive look. Jay Brake hooked us up with some of their awesome brake calipers. Then we moved up to the headlight. I played around with several different designs and parts before deciding on the perfect one. An old car fan clutch was used as the headlight with a super bright Cree LED light for a perfect fit on the front of the bike.
An old junk V8 motor was disassembled to use the internal parts on the trike. I was thinking we could use several different parts on the project. The piston rods would be perfect for handlebars. We took the cams and cut them to create the handlebar grips and throttle. It was still needing something for risers to mount everything together. So we started digging through the pile of old junk parts and found some hotrod rear end spider gears. We put them up in front of the triple trees and mounted the handlebars. It was definitely made for this trike.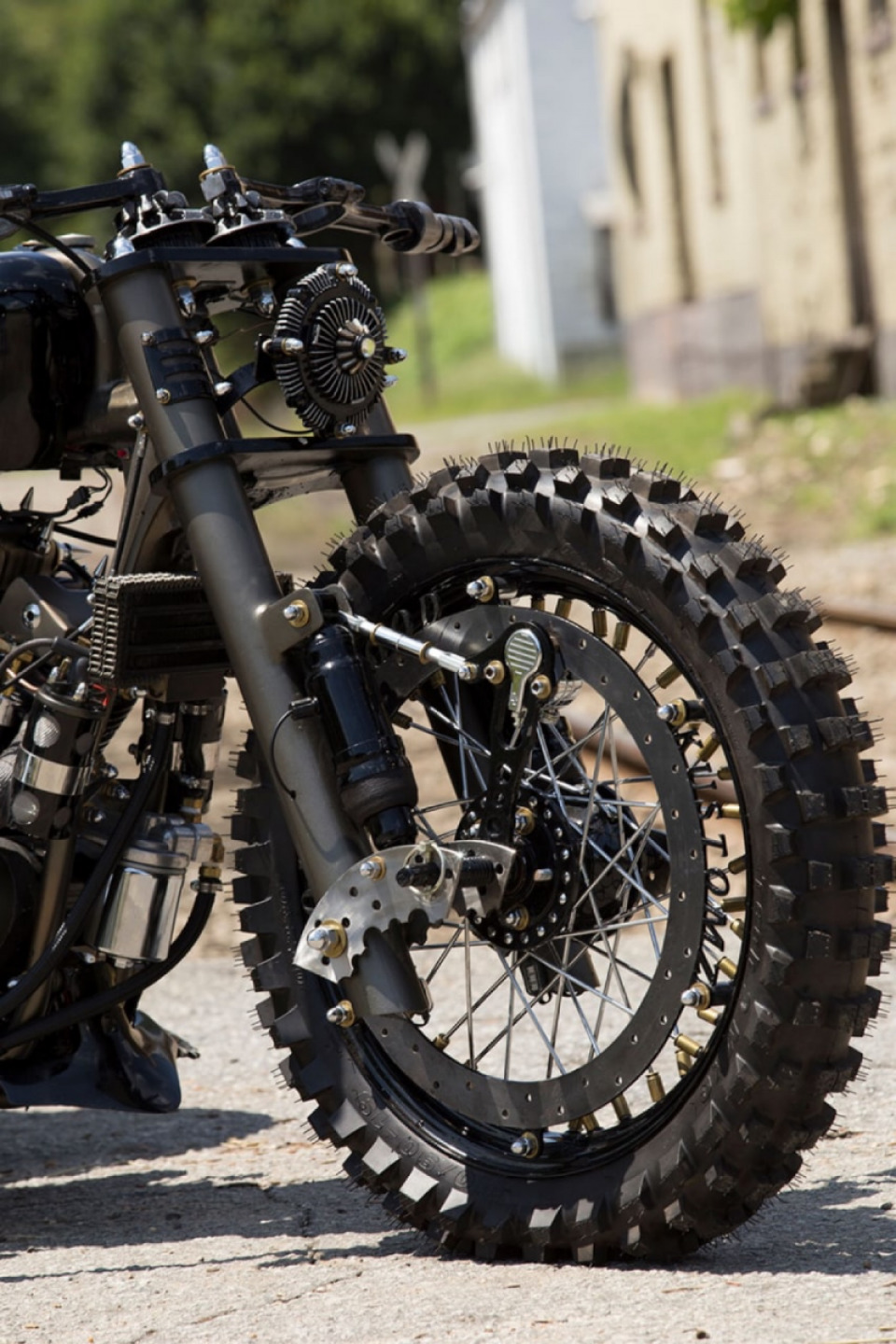 We bounced around a couple ideas about the gas tank; I split the gas tank into two parts. Then I molded them back together so I could mount them on the raised backbone of the frame. But that was not crazy enough! So I cut the sides off the tank and made some teardrop tank rings with clear glass inserts in the sides of the tanks so you can see the gas. I know with all this craziness I had to have some flame throwers on the bike.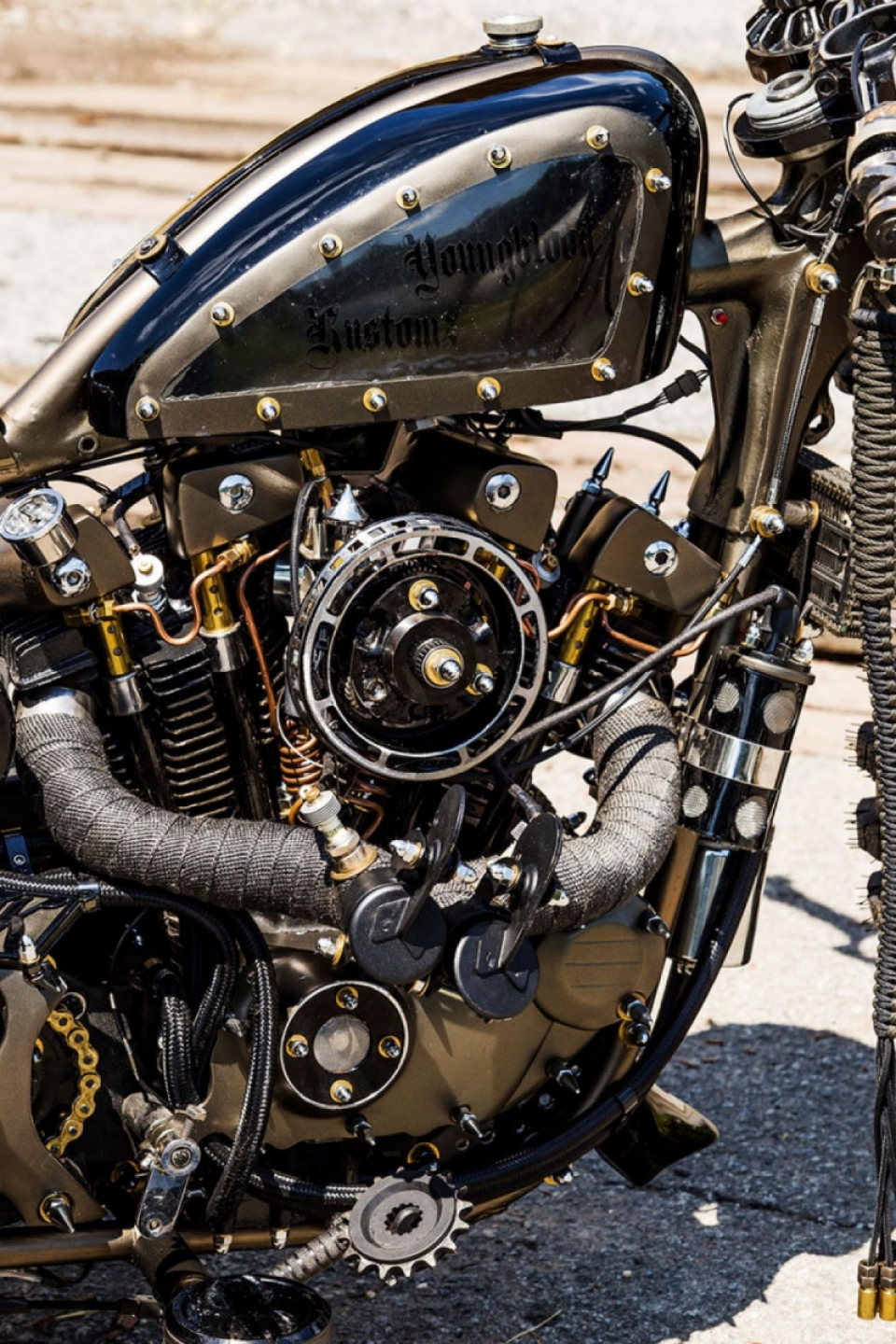 During all this, it was time to work on the motor. I split the top rocker boxes in half with external oil lines, took the top cylinder, drilled and taped another spark plug hole on the cylinder for a hotter spark/wow factor. I also took the cam case and shaved it down. Billet Proof Designs hooked us up with a hydraulic clutch and some other parts.
As you can see, I'm very big on detail, so I wanted the bolts, nuts and washers to all match. It took several trips to several different hardware stores to find what I was looking for. When I found the right ones, I bought pretty much all their chrome acorn nuts and brass washers so all the bolts and washers would match. Let me tell you, If I knew how much I was going to have to pay for nuts and washers I would have bought stock in their company. Wow!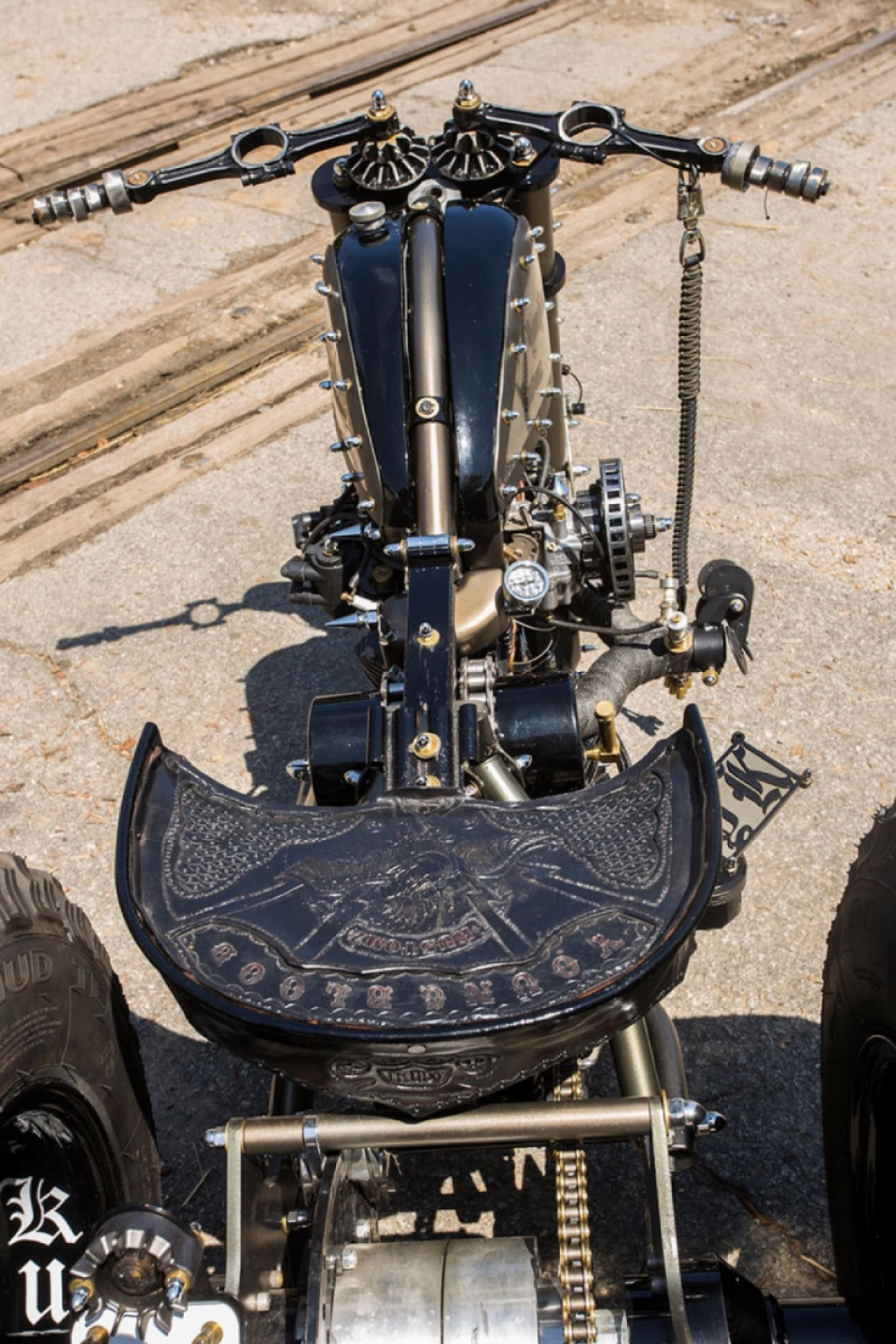 I knew I wanted just regular oil lines. So, I took some copper tubing and bent them around like an old moonshine still. And then I used nylon braided hoses for the others. I used an old conveyor belt chain to mount the oil tank to the frame. By this time, the bike was looking pretty rad. I made a trip to my uncle's place; he had some old car and tractor parts out in the woods behind his house. I came across some old leaf springs and an old tractor seat. Here was the perfect seat and suspension for my seat on the bike. Mean Kids Cycle created a custom cover for the tractor seat. What incredible work and detail!
The rear end was created by American Trike, and Tread Wright hooked us up with some 31/10.50/15 tires to complete that aggressive look. The taillight was created out of a Triumph exhaust flange.
There are tons of other parts and details on the 'Mad Max' trike.
It was a very fun build.
By Youngblood Kustomz
1


Follow
5.7K