Plymouth Monster and Bonneville in 1935: One Man's Dream for the World's Fastest Motorcycle
Thinking a good sized car engine in a motorcycle frame was the answer to a motorcycle land speed record, in 1933 Fred Luther set about building his dream, and hoping for a $30,000 payday if he succeeded. It was said that a 200 mph run would bring him $30,000 in prize money, a huge payday in 1935.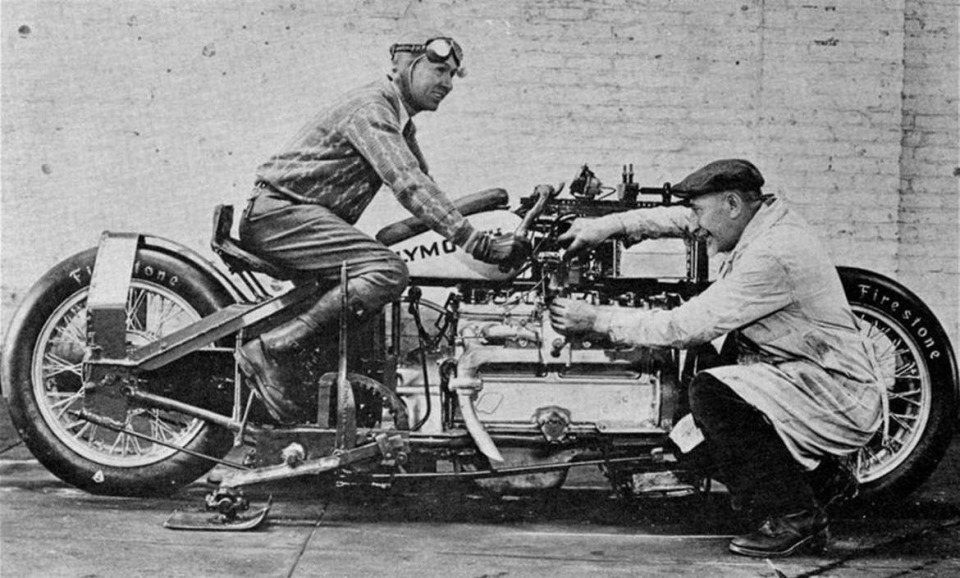 He earned a living motorcycle racing, according to a 1935 Popular Mechanics story on him. In 1929 after the War he opened a bike shop (Luther was also noted as a First World War hero). His dream became a AAA sanctioned land speed record effort at Bonneville Flats, Utah,and get contingency money should he win a record.
In 1934 Fred Luther put his build team together. Luther tapped Cyclone motorcycle engine designer Jimmy McNeil to rework the Chrysler-donated Plymouth flathead. At 77HP stock, McNeil upped the compression ratio, added more carburetion, constructed three radiators to keep the engine cool, kept the electric starting. The Henderson transmission was used feeding to an enclosed "silent chain" about 2.5 inches wide.
Adolf Thuillier adapted the Plymouth engine into a Henderson frame, but that involved a lot of stretching and reinforcing as the motor was wide and twice as long, likely three times the weight of the stock Henderson four. In the end the machine weighed about 1500 pounds and had a 105″ wheelbase; almost twice that of a Harley-Davidson dresser. With the rider seated behind the engine, it was such a reach to the reinforced Harley-Davidson forks used that steering was by a jackshaft of sorts, two sprockets connected by a roller chain! Skids at the rear could be deployed for low speed running and were used in the pits. Firestone helped Luther in his earlier days and built special 8 ply tires for the effort, 30″ x 5″ in size. Gilmore blended and donated what they called "80-Fast" fuel.
The Monster was "bench tested" in Luther's California shop. The "salt" conditions at Bonneville vary year to year. For the July 1935 run 13 miles were available, about as good as it gets. Luther had to wait his turn as Sir Malcolm Campbell's Bluebird was at Bonneville as well, broke the 300 miles per hour record for cars. Luther's first pass was about 140, but as the bike was running about 180 on the return pass, a rod broke, went through the crankcase ending the effort with a 160.33mph average.
Regardless, this is one extremely cool machine, so much so that it graced the pages of Popular Mechanics several times; 1935, 1950 and 1971. "MONSTER PLYMOUTH ROCK(ED) THE RECORD" was the cover sub-head in the 1950 edition.
0


Follow
2.3K