Bike Night Starting Wed. March 8,2023
California Motorcycle Community would Like to Invite you to The Hat in Rancho Cucamonga,Ca. Enjoy some old fashion Pastrami Sandwiches/Burgers or Huge amount of Chili Fries that can Feed Up to 3+ People and to Make New Friends to share awesome riding stories or share about upgrades you have done to your Bike! (Look for the Host that Puts this together he will Introduce you to people if you are New to this Event.) This is a Family Friendly Place, if your Bike is Down,come Cage it with your Loved ones or Kids they will have a kick out of it!) Please Share to Others!
Come Bring your Scooters,Cruisers,Dual Purpose,Sport Bike,Sport Tour, Dirt Bike,Trikes and others,No judging what people ride as long as we can share the road with each other. If your bike is out of service Bring your family with your car anyone is welcome to join.
Dates of Gatherings :
Wednesday, March 8,2023
Wednesday, March 22,2023
Wednesday, April 12,2023
Wednesday, April 26,2023
Location: The Hat
Address:
8030 Monet Ave, Rancho Cucamonga,CA 91739
Time: 7:00PM - 11:00PM
This Gathering is not Organized By The Hat in anyway!
SOME RULES TO FOLLOW TO KEEP THIS GATHERING GOING:
* When approaching this event please don't have your music bumping loud.
* Please Don't Rev your motorcycles, we don't need company to complain to the police to shut this down!
* Please Throw away any of your trash, If you see trash please just throw it away.
* Don't hog up a whole space for your bike please share we can put about 4-5 bikes in 1 Spot
* NO BURNOUTS
Follow this on Instagram:
@ca_motorcycle_community
Follow on Facebook:
https://www.facebook.com/groups/CaliforniaMotorcycleCommunity/
Event Group:
https://www.facebook.com/groups/CMCEventGroup/
Classified Group
https://www.facebook.com/groups/CMC.Classified/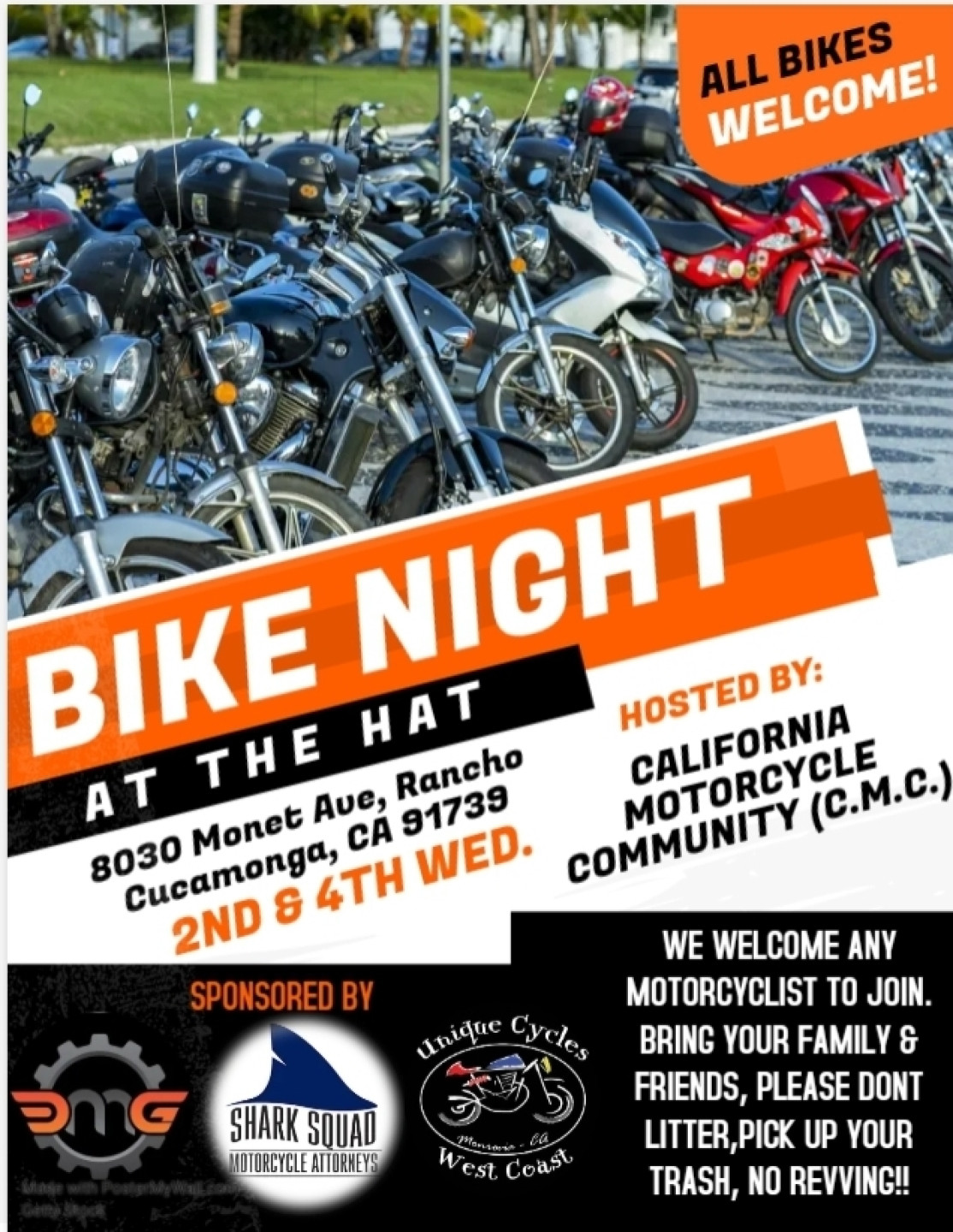 2


Follow
501