Estpania 2016 Tour, part 2
Let's continue talking about our short trip to Spain.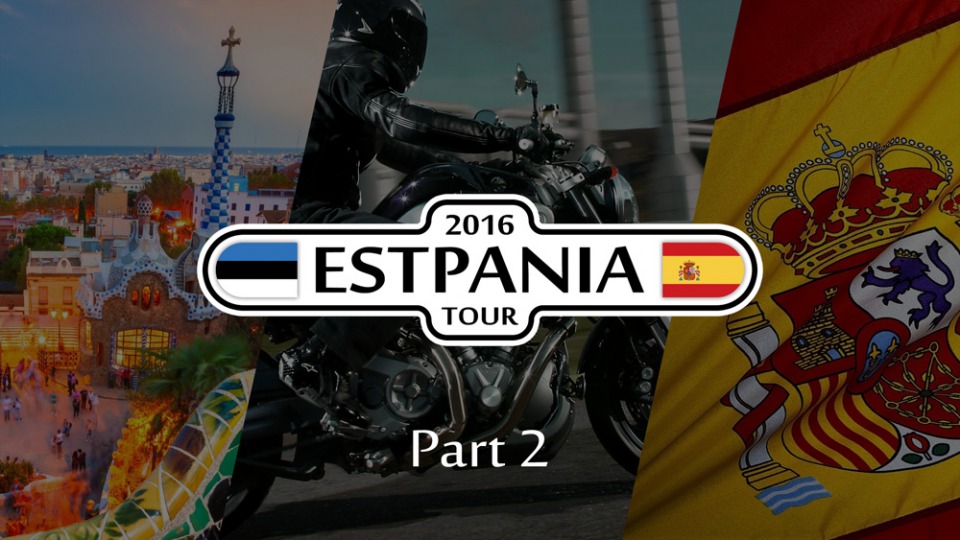 Day 5 (October 20th). Madrid - Zaragoza (320 km)
In the morning as always you need to eat. Breakfast for 5 euros, included in the price of the hotel, was really bad. So we went back to the room and chose another option.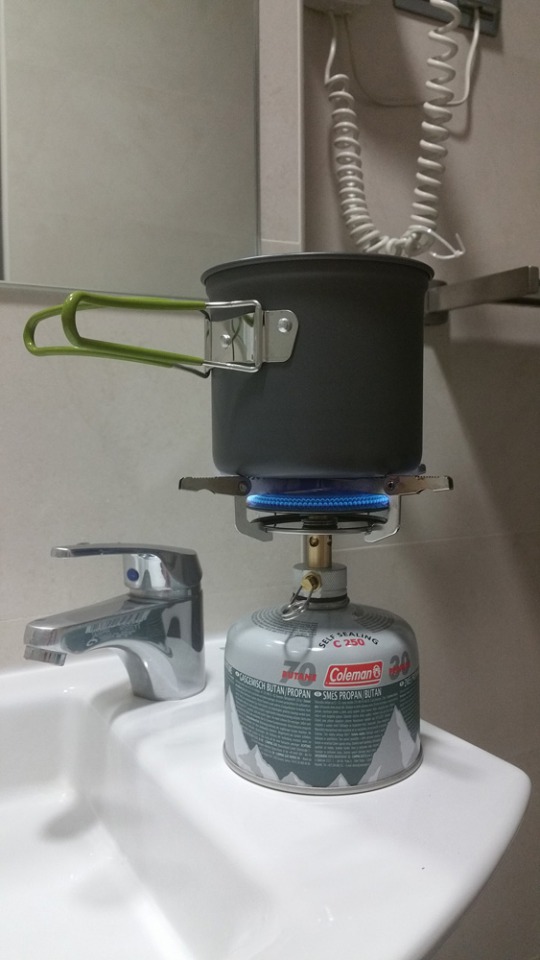 I took gas and a burner, instant coffee, tea, quick porridge and even a couple of packs of fast pasta. One of them was very good, with dry milk. Then we began packing things. We had nearby rooms, and we heard, that guys spent a lot of time, trying to dry wet things! We even had to borrow an extra hair dryer. So, ladies and gentlemen, always take raincoats on such trips))
The mood is good, the sun is shining, rain should not be expected. But it was pretty cool outside, 10 degrees, so I put on my underwear and even a raincoat.
There is a free A-2 road to Zaragoza, so other options have not even been considered. We rode about 100 km. First stop at the gas station. Desperate guys in the leather were frozen and warm tea would be very handy.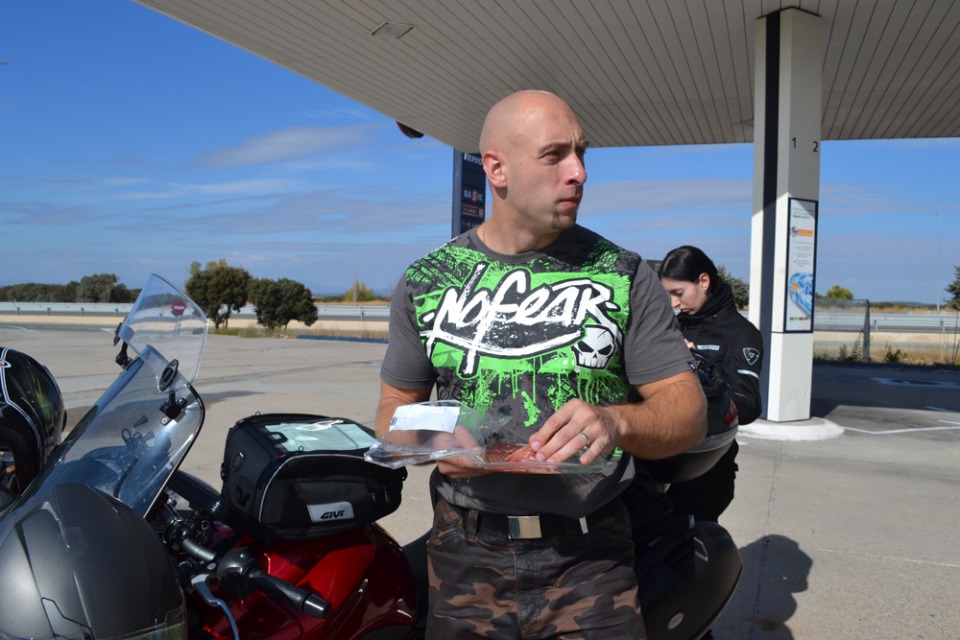 At this stop, we spent about an hour, but we weren't in a hurry. It was very close to Zaragoza and we knew that we would arrive quite early. The sun began to warm us slowly, the temperature rose to 14 degrees, but the wind was unpleasant sometimes. The perfect Spain views continued to please us. We did not even manage to drive 30 km, because had to stop to take photos.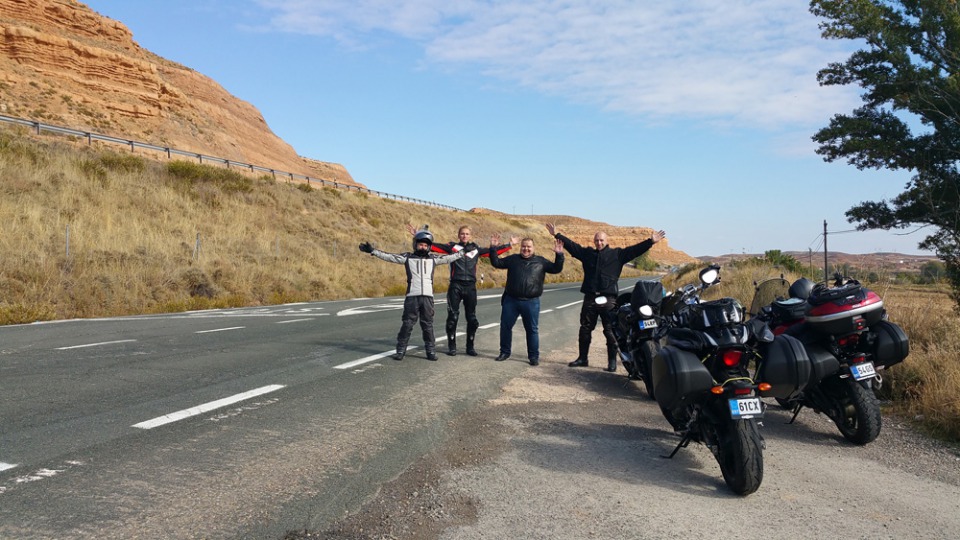 Then we got on the best road in our route, in our opinion. Two-three-lane highway, a few cars, perfect canvas, long turns, large bridges and tunnels. We had to go around 150 km/h, in order to at least slightly turn the bike in the corners. I did not want to go faster because of the trunks and the second number, sitting behind. It is really necessary to return again on this road. One of the best roads I've ever traveled on.
We chose a hotel in Zaragoza at one of the gas stations and set up a navigator on it. It took us about 16 hours to get to the town. It was the first time we arrived at the final destination before dark. To be honest, before I did not know the city like Zaragoza at all. And it turned out to be very beautiful, clean and pleasant. Everything was so culturally and civilized.
When we found the hotel, John went to check the situation and it turned out that the prices on the site and the real ones were not the same, so we had to look for another option. After 5 minutes we entered a new address in the navigator and found ourselves in the very center. This time everything was without surprises.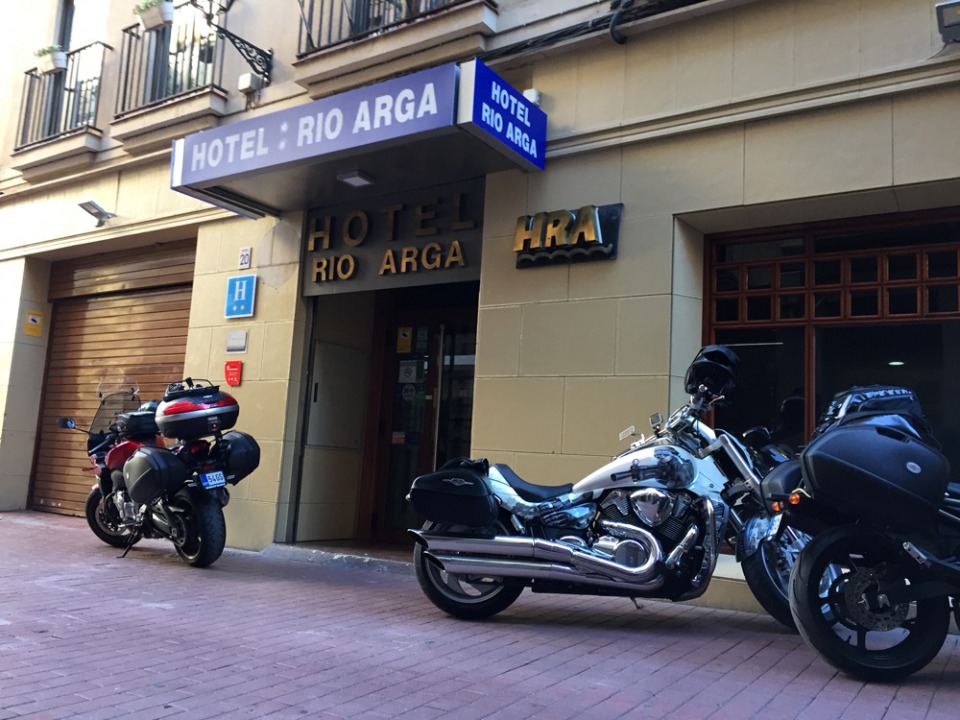 A good hotel had a closed parking in the basement. After a little rest, we went for a walk in the center, went into souvenir shops and had lunch at the restaurant of Asian cuisine.
This day, I, Kate and John went to bed earlier, and Paul and James tasted some local drinks.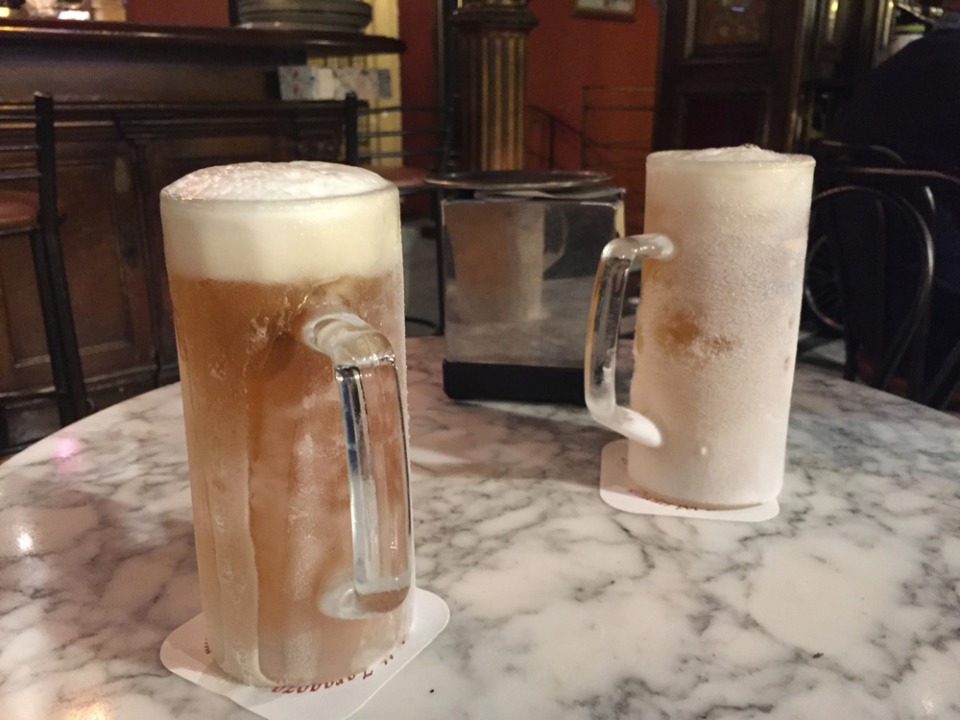 The room was pretty tight, but cozy. There were only 2 sockets in the room, and Kate's and my devices occupied them immediately. It will be a good idea to take a double adapter next time.
Day 6 (October 21th). Zaragoza - Blanes (380 km)
We got up at about 8 a.m., there was an excellent sunny morning, +16 degrees. We did not take breakfast at the hotel, consisting of buns and coffee. We decided to go for a walk and find a place where we could have breakfast. But after walking along the streets for some time, we understood, that all places open from 11 or 12.We found a small shop where we bought various croissants and water. I don't worry as I have my plan B, consisting of quick porridge and coffee.
We left Zaragoza at about 10 a.m.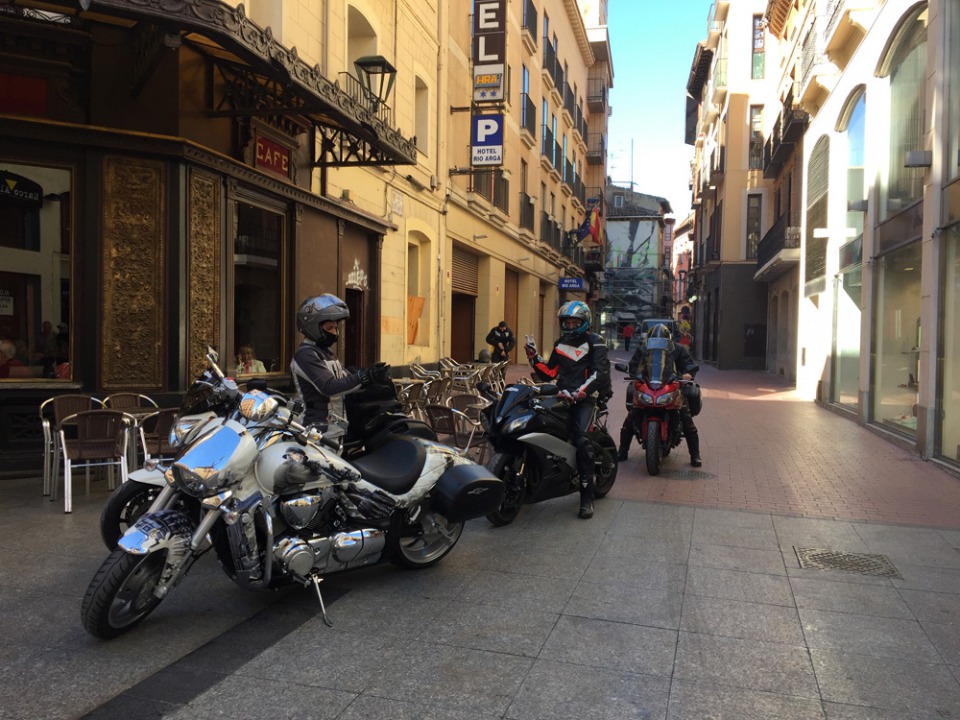 A toll road AP-2 leads to Blanes. We decided to ride on free N-II and C-25.
The first part of the trip was not particularly memorable, but the second one was pleased with the most beautiful landscapes. There were tunnels, bridges, mountains covered with vegetation and a very cool road. Somehow we got to the surroundings of Blanes really quickly, turned from the C-25 and accidentally got on the road leading from the mountain down to the town Arbúcies, which consisted of only steep turns - a paradise for a sportbike. We stopped at the gas station to share emotions about an impressive view.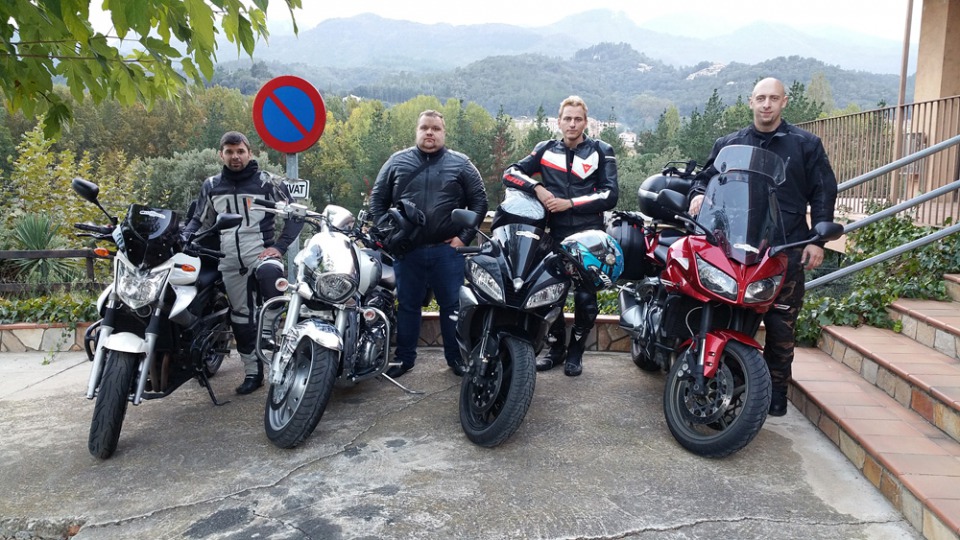 After a short pause, Paul and John threw off the trunks and drove along this road again. It's definitely worth it to come back.
When we came to Blanes, it started to get dark. We could move around the town without a navigator. We shot our arrival on the self-stick, went to the beach and congratulated each other with the end of the round trip. All our further movements will be carried out within a radius of 100 km from our apartments in Blanes.
Next, after we parked the motorcycles near the hotel, we went to a very nice restaurant to eat normal food after the road. There we shared our impressions, decided where we will ride for the next two days and planned a trip for the next year.
Day 7 (October 22th). Blanes, Lloret De Mar, Tossa De Mar, Gerona (125 km)
We woke up at around 10 a.m. For that day, there were no special plan, we just decided to go for a ride around the neighborhood. After breakfast we checked the forecast and chose the roads we will ride on. Despite the potential rain, our mood was excellent.
First we wanted to get to the place with beautiful view of Blanes. And we found it. We parked motorcycles at someone's villa with an extraordinary view and took photos: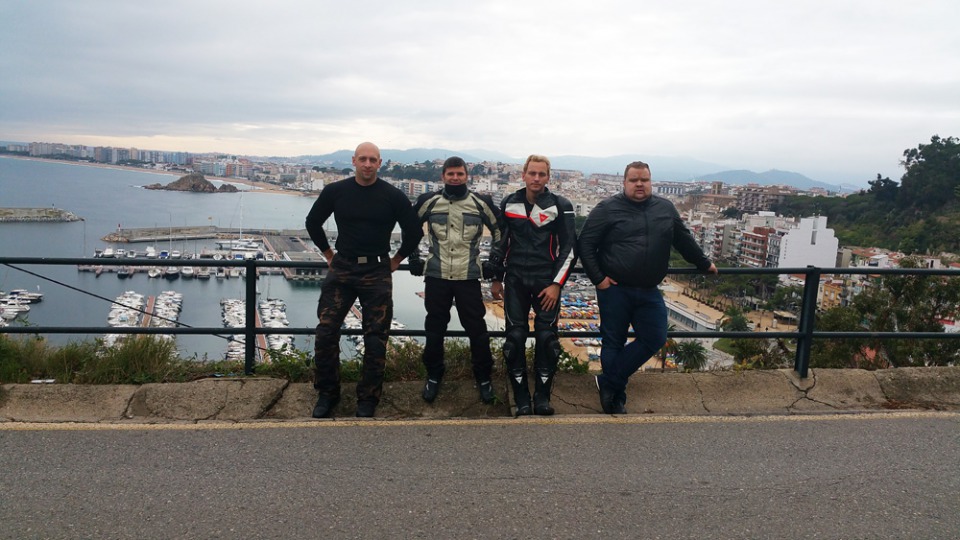 Next we searched for Lloret de Mar and Tossa de Mar in the navigator - the nearest towns, chose the most scenic route (we had such an option in the navigator). The road leads via serpentines to the final destination, often with a great view of the sea. A lot of beautiful houses were built around. I would like to meet old age in one of them.
Having reached Tossa de Mar, we were trying to find a road to the beach. John has already visited it earlier, so thanks to his memory, we got to the right place. A very beautiful place, a long beach, various restaurants across the road, with a castle right on the beach.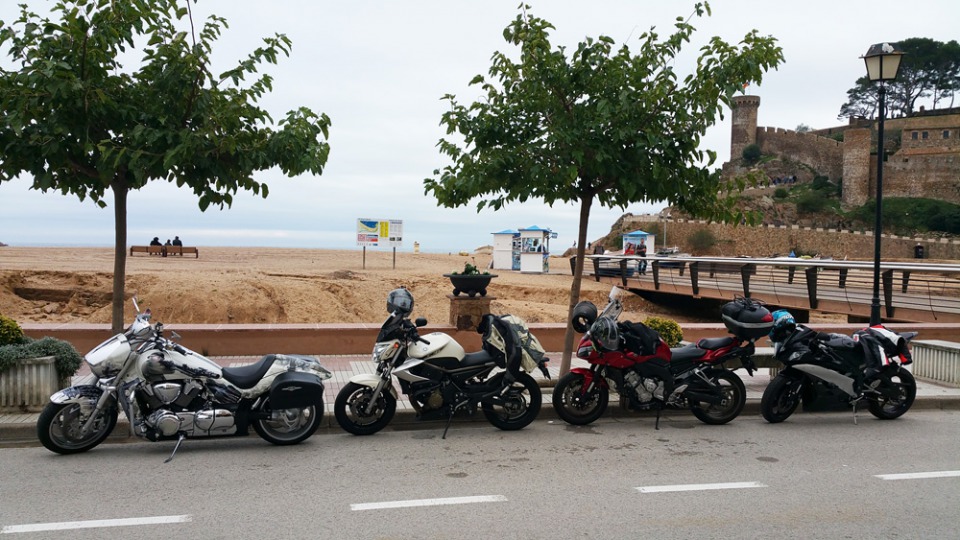 The restaurants were almost empty. We had a quick bite in one of them (by the way, not very delicious) and left for Girona.
The road pleased us with its quality and serpentines again. Despite the rain, it was still pleasant to ride. After 50 minutes we came to Girona and, frankly, did not even know what to do here. It began to get dark, so we did not plan to stay here for long. We went to the store, bought some food and sangria for the evening, made a "circle of honor" through the center and drove toward our apartments.
There was almost no light on the road, and on our bikes either. After being disoriented on the road junctions, we eventually got safely to Blanes.
Day 8 (October 23th). Barcelona (180 km)
We planned to spend this day in Barcelona, because we did not go there from Zaragoza. The city was very beautiful and we wanted to ride there. Kate, unfortunately, was tired during the last days and stayed at home to rest.
We left Blanes at around 9 a.m. At the nearest gas station, John and I changed our bikes for a while, I sat on his XJ6, and John on my FZ1 Fazer. The XJ6 was driven fairly well, but traction was not enough for me. And also it was not very comfortable to ride without a large windshield.
We wanted to get to Barcelona as quickly as possible, so we decided to use the toll road, like C-32. At the nearest payment point, we changed our motorcycles back. At the entrance to Barcelona, we started to enjoy the Spanish sun.
The first destination we had was Guell Park. We got there without any problems, parked at the entrance, also with no problems. The air heated up to 22 degrees and we gladly changed our outfit into a T-shirt, shorts and sneakers. After coffee in the nearest tavern we went for tickets. But all tickets were sold. As they said, come tomorrow. We could only take a couple of photos at the entrance :)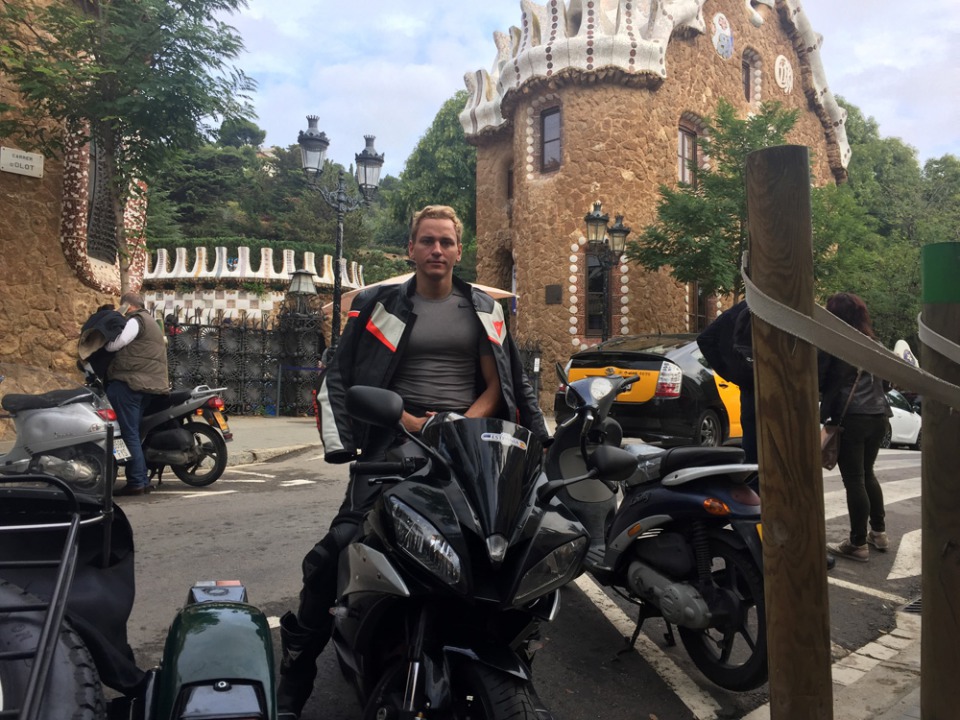 Where to go next? Of course, La Sagrada Família. It was very comfortable to ride in shorts and a shirt, exactly what was missing in Estonia, even in summer. You know, a motorcyclist needs just a little for happiness - + 25 degrees and the flat road. It was strange to see people riding in mopeds in jackets.
In a few minutes, we are there. We parked 4 motorcycles next to each other with no problem and went to see the grandiose construction.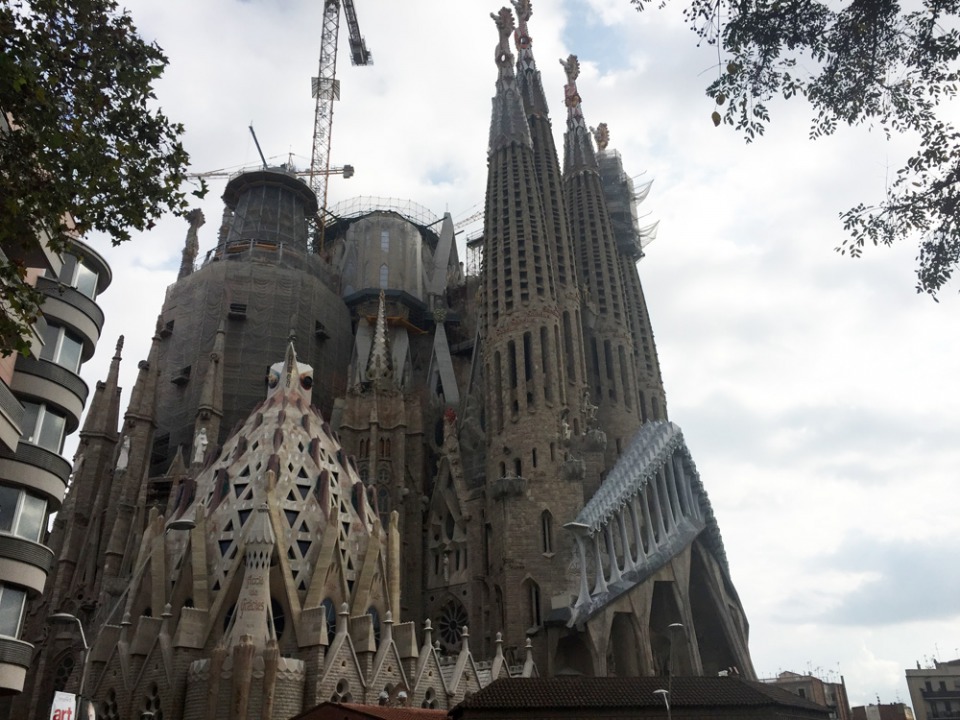 You would ask, and what about the tickets? Everything was sold too! We saw two-story buses and thought why not take a tour around the city. Time was limited, and there were so much places we wanted to look at - so a good option. We went to find out about the tickets and - guess what ... everything was sold out for the next few hours. Our conclusion - in Barselona there is always season!
Next we took a local map of attractions to see where to go further. We decided to get to Plaça de Catalunya.
I must say that it's really nice to ride in Barcelona. The city is really very beautiful, well-groomed, all buildings are designed in their own style. Everything is intuitively clear. It was Sunday, so there was not much transport.
So, we are on the square: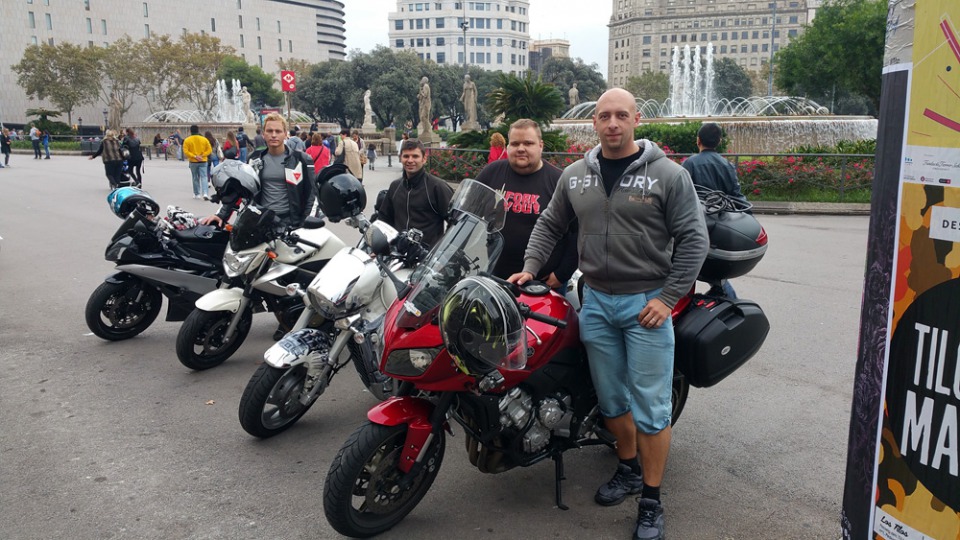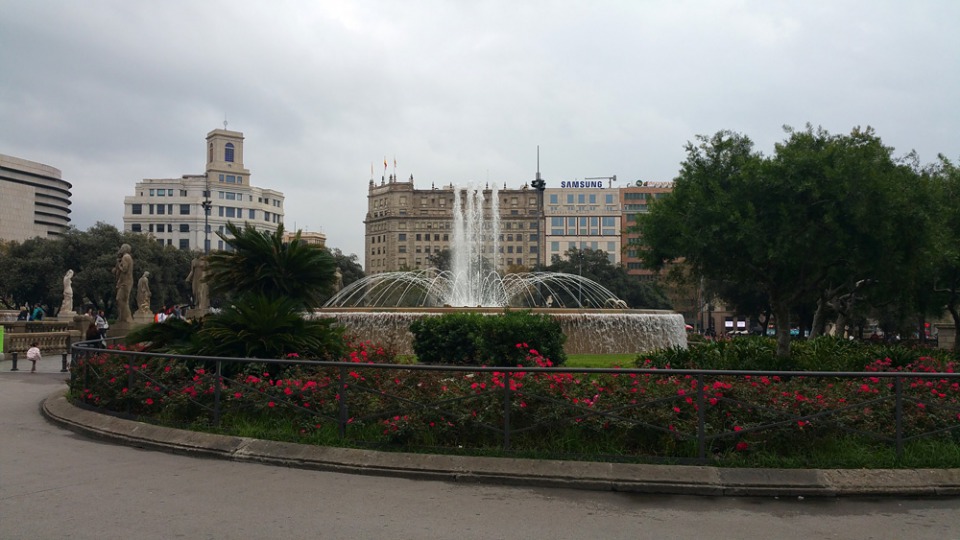 We took a few photos, shared our impressions. Didn't miss the opportunity to post a photo on FB. After a short snack with bananas, we decided to go to the sea. Passeig Maritim is a very beautiful street, along the beach line. It as like a heaven: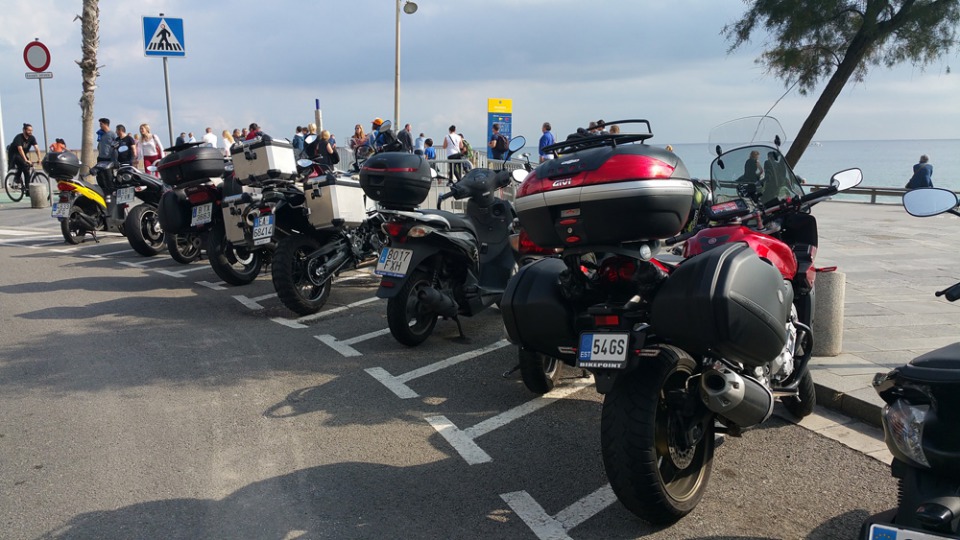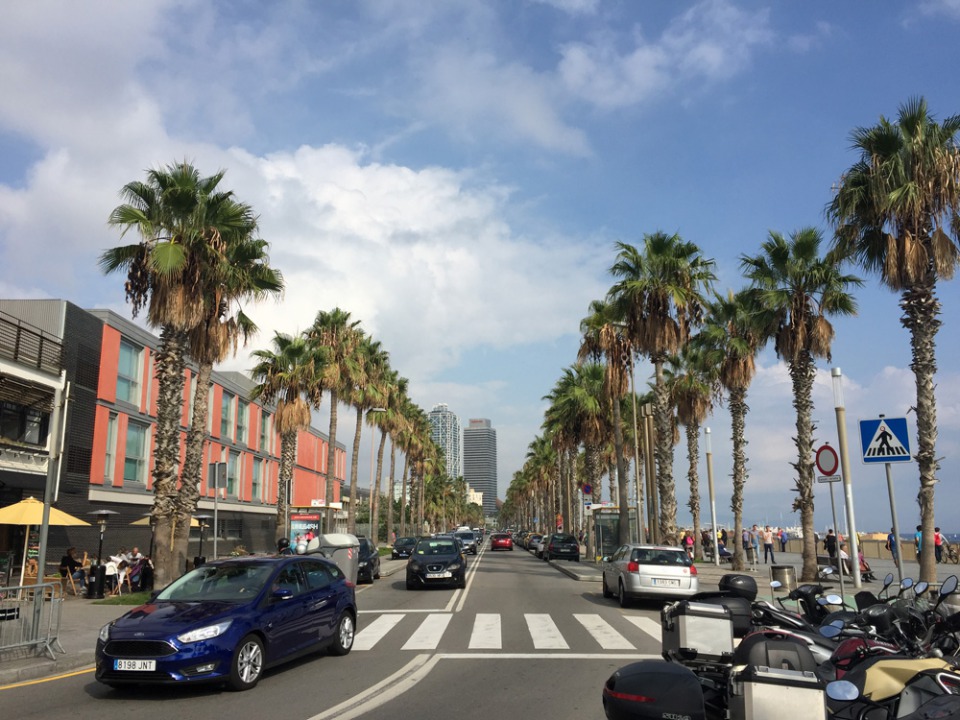 We decided to sit down in some place and have a snack. There were numerous restaurants, but they all weer crowded. We managed to find some barstools in one of the cafes and after 20 minutes get long-awaited burgers.
Very nice place, beautiful beach, and in general - a great day. It was time to go further. Further on the plan was to drive along one of the main streets of Barcelona - Prospect Diagonal (Avinguda Diagonal). We went to the western part of the city, from there we went to Diagonal and drove along it to the intersection with the street Carrer de la Marina. We reached the sea and made the last stop for today in Barcelona.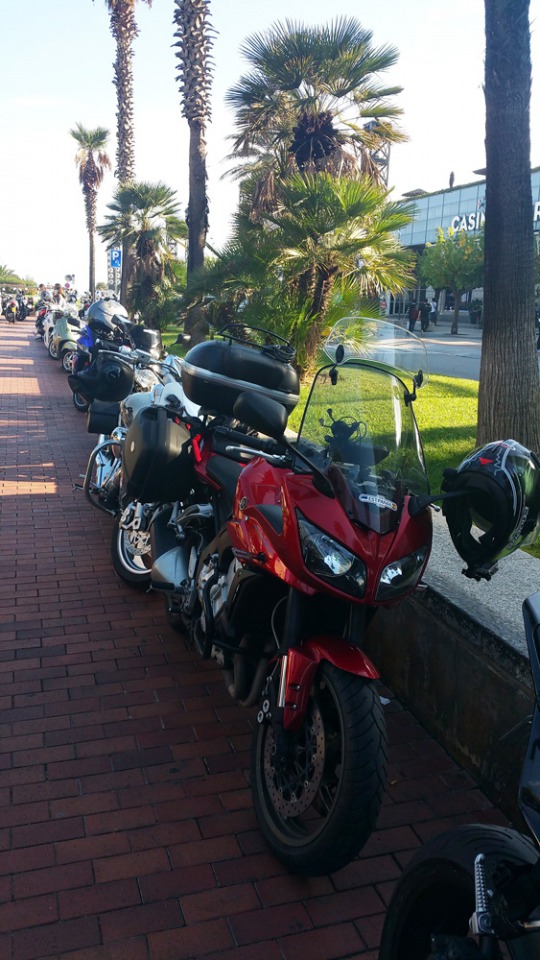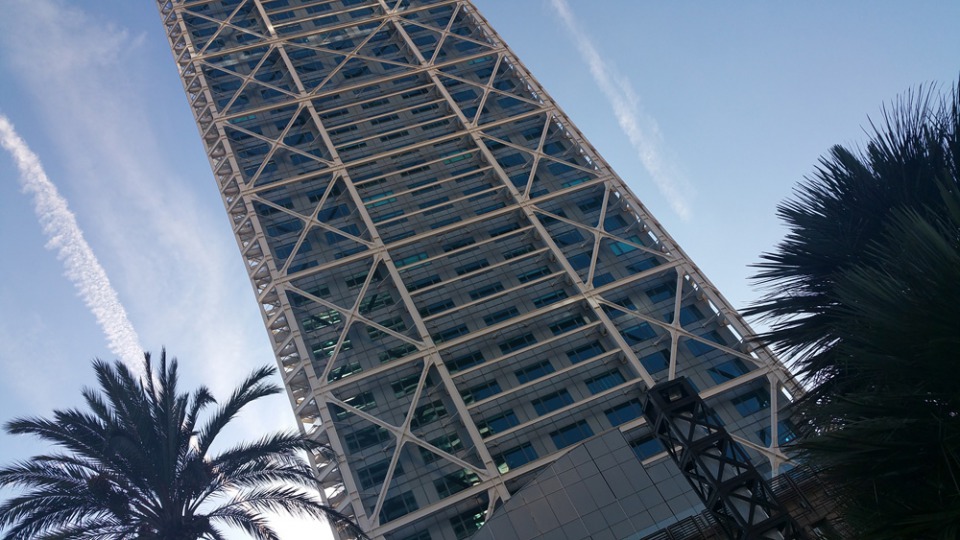 What can I say - it isn't enough to spend one day in Barcelona. Barcelona is one of the most beautiful cities in Europe. It combines a unique architecture with a bustling center, quiet parks, a beautiful coastal line. And, of course, wonderful roads, avenues and streets. Wherever you turn, the bold, bright and distinctive architecture of this wonderful city is visible everywhere. It was very pleasant to drive along the roads of Barcelona and feel its atmosphere. Barcelona left in each of us a piece of "itself" and we will definitely return here.
That day was one of the best days of our trip.
Day 9 (October 24th).
It was Monday and it was necessary to transport motorcycles for loading in Rubi. We also tried to save time and decided to go on a fast toll road. There was a feeling of sadness, because these were our last kilometers in Spain that year.
In an hour or so we got to the DSV warehouse, then we explained who we are and finally we got our frames and belts. It was very hot, about the same as it was yesterday. So we had to undress as far as possible and start packing.
I was the first to load my motorcycle, and the guys went to the nearest store, bought some wine, sangria, something else tasty, but not perishable. All this we sent along with motorcycles to Tallinn.
After 3 hours, the packaging was completed and our bikes were taken away to the warehouse by the loader. From that moment we were again ordinary pedestrians in Spain. We reached the center of Barcelona by metro, where we had coffee.
After 2 hours we came to Blanes, bought meat, cheese and wine for the evening. The prices were very encouraging.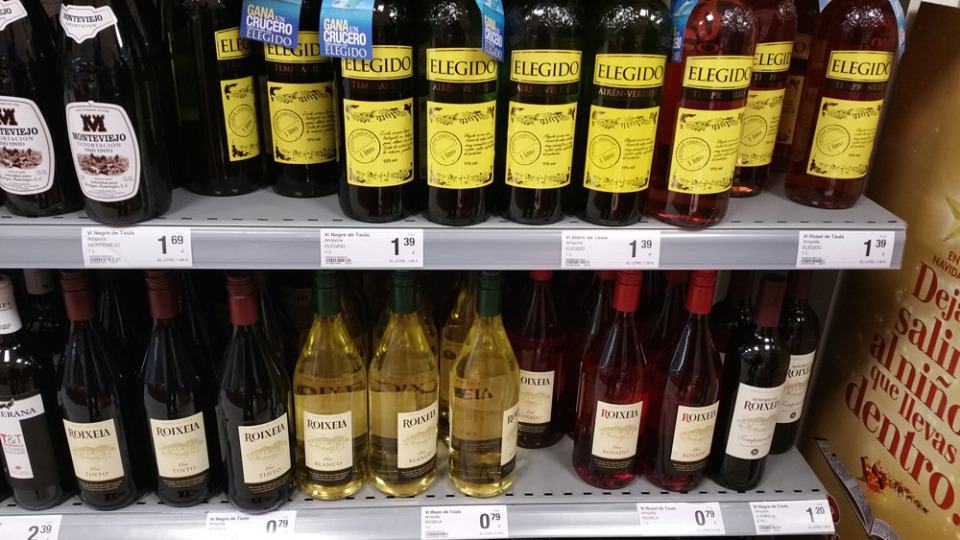 That evening we decided to have dinner in the room, with a lot of chatting, recording impressions on the camera on a cozy balcony. It was our last night in Spain.
Day 10 (October 25th).
It was rainy in the morning. But I must admit, the rain in Spain has never been as nasty as at home. It seems to be going, the temperature is not quite right hot, about 18-20 degrees, but it does not irritate you at all. About 2 p.m. we arrived at Girona Airport and our journey ended here.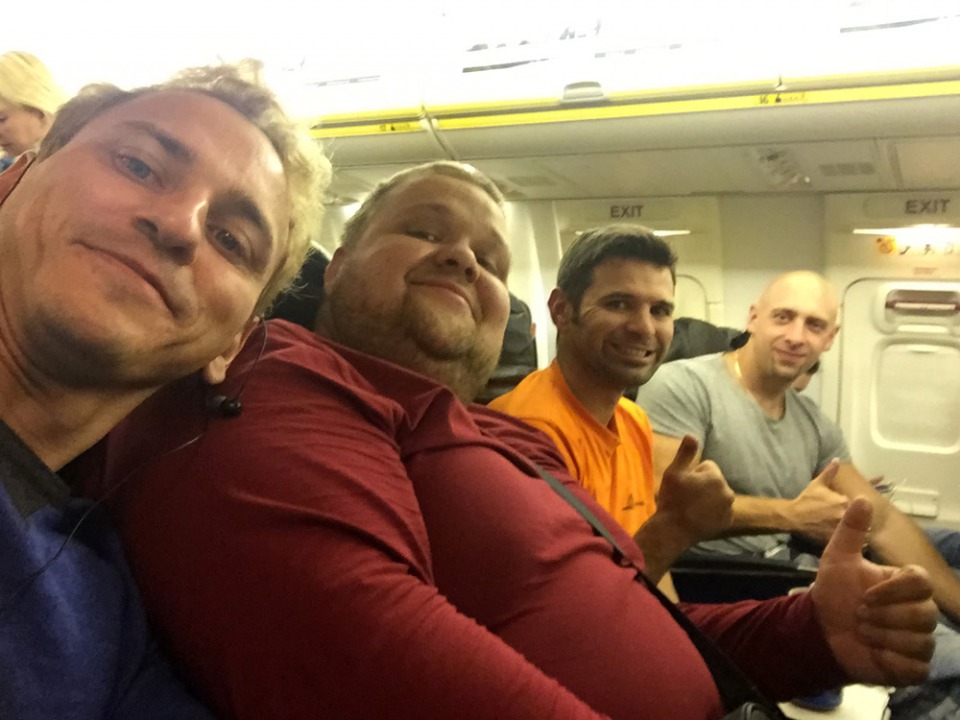 We did not want to leave. It was a carefree time, which we devoted to our favorite activity - riding a motorcycle in perfect Spanish conditions. All working and household moments were left out. Ironically, there were no calls on any issue for the entire trip! No problems, only true fellow travelers, Spain and the road ...
All these days of the trip we - very different people - were on the same wave, understood each other perfectly and became a good team, which will have many trips further. Our trip was short, but we got a lot of impressions and invaluable experience.
Thanks for your attention!
0


Follow
2.1K