Can a motorcycle engine be powered by bacon grease? It's a weird question, but it was asked by Hormel foods corporation, one of the biggest foodstuff producer in America. And they made a current example.
Hormel Foods, with the help of CS Engineering, created a café racer that runs off bio-diesel made from bacon grease. Exactly it became a motorcycle fuel, yes, you got me correctly and no, I'm not kidding…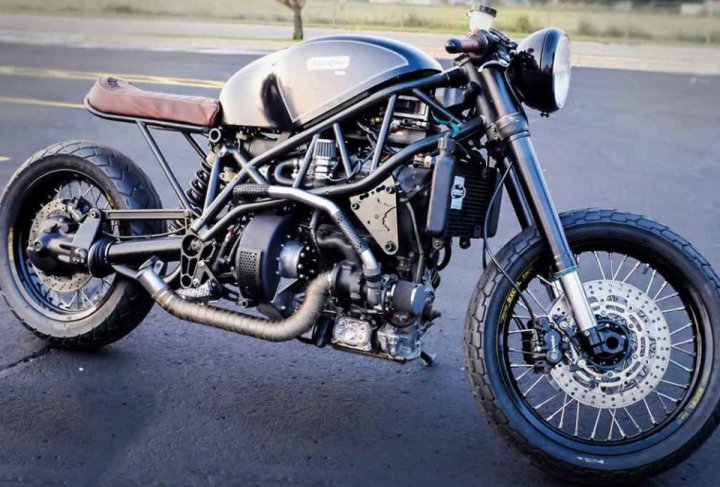 Somehow, a PR agency convinced the chiefs of Hormel that the best way to promote its Black Label bacon was to create a motorcycle that runs off of grease of such a delicious bacon piece and ride it from company HQ in Austin, Minnesota, to the second Annual International Bacon Film Festival in San Diego (there are such festivals in the USA).
The donor bike was a unique diesel touristic endure, Track T800CDI made by a Dutch company called Evaproducts — an unusual bike that's become the base of this crazy concept of a bacon bio-diesel. Its 799cc, three-cylinder Track T800CDI engine makes 45 hp and 100 rpm, and, rumor has it, used just 1,6Lt of diesel fuel.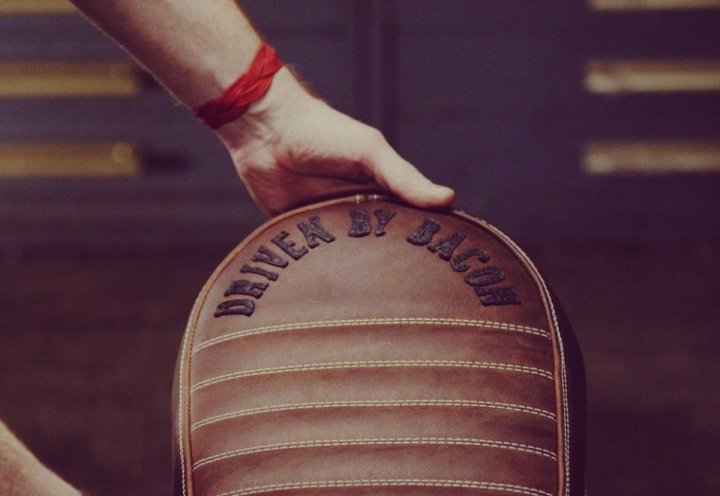 Fabrication work was handled by Charlie Smithson of CS Engineering, also known as some guy's garage in Minnesota. But it doesn't mean Charlie isn't qualified. His resume includes work for a number of F1 teams with names like BMW, Ferrari, and Red Bull, and his garage is unusual, it's more like a professional workshop. And here he creates his perfect cars.
The Track T800 needed a lot of hard work. Firstly, it was necessary to take it from its original BMW-framed stance, which was used in building of the Dutch motorcycle, to its classic café racer form. Charlie says it took him about a month, including all stages of calculation and work, sometimes till past midnight.
He made everything from the modified frame, to the tank made of carbon fibre and kevlar, to the pigskin seat himself (it seems they like pigs a lot).
The next issue was to find a bacon bio-diesel. It means a way to turn bacon grease into fuel.
For such an important task, they invited Bio-Blend Fuels' founder Dan Kaderabek (he deals with producing bio-diesel from various organic stuff).
Nobody decided to open the truth about fuel producing, but it's known, that Dan's team took 113kg of bacon grease and turned it into 909Lt of the B100 biodiesel fuel required by the bike.
The final fuel consumption is from 1,6 to 3Lt, and a fuel cost is about $3.50 per gallon. Inexpensively, efficient and its exhaust smells like bacon.
I think this is actually a fantastic-looking motorcycle, the total style is gorgeous, the idea of taking its base was smart, and a PR agency did their best in advertising. Each USA edition highlighted this event.
We are all looking forward other bio-diesel motorcycles.