Not all bikes get better with each successive model but Suzuki's final incarnation of the RGV 250, the 1996 VJ23, was not only the finest of the line but also one of the finest two-strokes ever built. Rather than just knocking out a last-of-the-line edition based on its predecessors, the VJ23 got a total redesign from the engine out. More is the pity, then, that they never made it to the UK as an official import.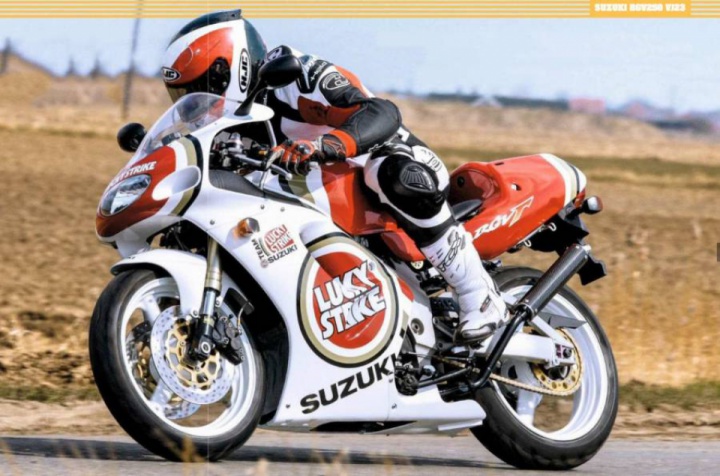 Indeed the last RGV250 to be brought into the UK through official channels was the VJ22 in 1994. Suzuki's reasoning was that there was little point, as the bike would have to retail at more or less the same price as a GSX-R600 and that the popularity of two-strokes was on the wane. That business reckoning is also what denied us the GSX-R400. Where previous RGV's were powered by a 90-degree two-stroke V-twin, the VJ23 got a 70-degree unit with a smaller bore and longer stroke giving it dimensions closer to square and more akin to the GP bikes than its greatly oversquare predecessor.
A close-ratio gearbox and dry clutch underlined the new model's Sports Production tag.A kit gearbox with taller first and yet closer ratios was available too. Where previous RGVs had been kickstart the 23 got an electric start although there was no overall weight penalty for this given the extensive redesign work elsewhere. Chassis-wise, the VJ23 is as exquisite. Fully adjustable suspension and GP-inspired frame and swingarm are topped off with uncompromising bodywork. Not all VJ23's were created equal and this is vital for a prospective buyer to know.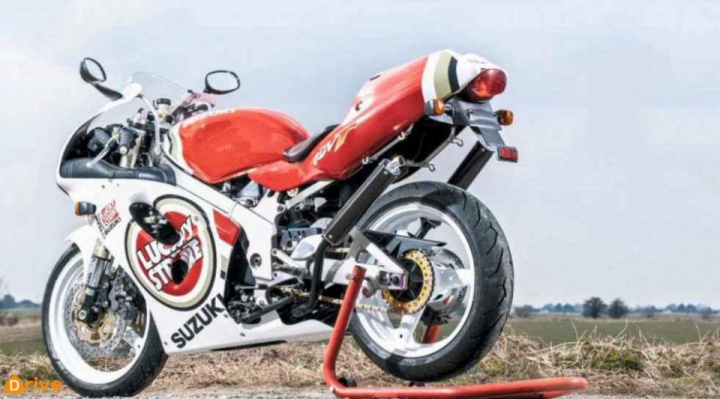 Production started some time prior to February 1996 with the first 50 bikes being built in this period; indeed the bike broke cover at the 1995 Tokyo Show. Bikes built up until late May 1996 were restricted to 40 bhp and known as the T model. All bar one, which was the prototype for the full-power 48 bhp V model, also known as the "export" model, ending in 1997.
In total just 2218 VJ23s were built with just 360 of those, plus the prototype, being the full-fat RGV 250V. A different CDI (go Zeeltronic rather than try to find a rare and expensive V box), a rejet and removal of the restrictor collars from the headers and airbox restrictor plate will get a T close to a V performance-wise. As with all great two-strokes, prices are still on the up. If you want one, best get a VJ23 now.
Specifications:
ENGINE
Type liquid-cooled, reed-valve, 70-degree,
V-twin two-stroke with SAPC
(Suzuki Advanced Power Controller)
Capacity 249cc
Bore x stroke 54 x 54.5mm
Carburation 2 x Mikuni TM32SS
Clutch/gearbox dry, multiplate/6-speed
CHASSIS
Frame aluminium twin spar
Front suspension 41mm telescopic forks,
Fully adjustable
Rear suspension monoshock, fully adjustable
Front brake 2 x 290mm disc, 4-piston calipers
Rear brake 1 x 210mm disc, 2-piston caliper
Tyres front, rear 110/70 17, 150/60 17
DIMENSIONS
Dry weight 134kg (295lb)
Wheelbase 1330mm (52.4in)
Fuel capacity 16 litres (3.52 gallons)
PERFORMANCE
Power 39bhp@9500rpm (T model)
Torque 25.3lb.ft@8000rpm (T model)
Top speed 112.5mph (T model)
#Suzuki #Sportbike #Classic #Moto #RGV250