The founder of the world-famous brand producing exhaust systems for motorcycles passed away. It is unlikely to be a great exaggeration to say that the Termignoni brand is known to almost every motorcyclist. She also became one of the pioneers in the production of exhaust systems for tuning serial motorcycles.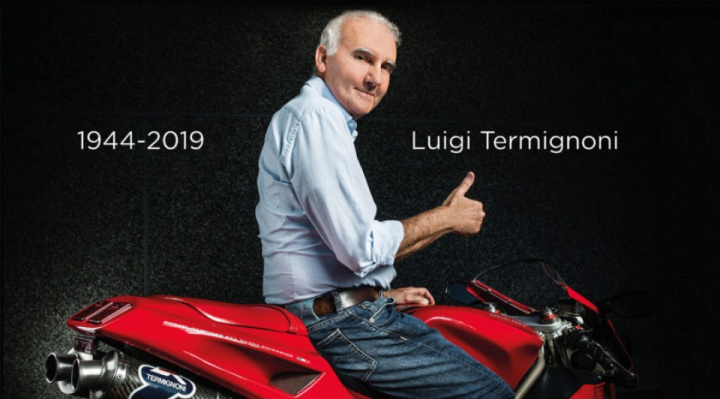 50 years ago, in 1969, Luigi Termignoni began to change the world of motorcycles, working in his hometown of Predosa, Alessandria, Italy. Nowadays, Termignoni exhaust systems are associated with Ducati performance and motorcycles, although the company produces solutions for motorcycles of various brands. Luigi Termignoni opened a workshop that specialized in Ducati, Kawasaki and Honda engines, but then the focus was on exhaust systems. Having opened its niche, Termignoni showed an innovative approach. Since then, he has been preparing motors for racing, as well as manufacturing parts for four-stroke engines.
In 1971, Luigi put everything on the exhaust systems and did not lose. His first system was made entirely by hand, and now the company produces high-tech products. Power gain, spectacular appearance, and great sound, all this is the merit of Luigi Termignoni.
Termignoni systems are used in many racing series. Throughout its history, the company has won 10 MotoGP titles, 16 WSBK titles, 2 championships Paris-Dakar, FIM Cross-Country Rally championships and many other titles. Motorcycles in MotoGP, Moto2, Moto3, WSBK, WSS, SSTK, MX, Enduro, Trials, Cross-Country are equipped with Termignoni components.
Luigi Termignoni remained president of the company until 2015. Anna, Luigi's daughter, told Radio Gold that her father had devoted his last years to horses and agriculture.
Luigi Termignoni died on the night of November 17-18. He was 75 years old. Great person.Our condolences to family, friends, and all Termignoni fans.