"The photo was taken at Hangtown in 1985, which was the second 500 National that year. The first National of the series was at Gainesville. I was coming off my 1984 500 season, and that '84 RC500 was one of my favorite bikes I ever had. It was super fast and handled great. Whatever I wanted to do on that bike it would do no problem. The only issue I had was that the pipe would burn my leg really badly. So in 1985 Honda tucked everything in really nice and made one of the radiators shorter. Honda tried to style it up a little bit. I thought the bike would be even better than my '84, but it wasn't. I struggled with it at Gainesville. Broc Glover and I were battling the first moto, but he gapped me pretty badly. I made it about 50 yards from the finish line and, at the bottom of the hill before the checkered flag, I gave up. I said to myself, 'Well, Broc beat me.' My mind was sort of spun because it was all I could do just to get second. I figured it was going to be a long year. All of that was going through my head, and meanwhile, I hit a funky rocky ledge at the bottom of the hill and wadded up badly. I screwed up my knee, and the crash stunned me because it slapped me down so hard. I could see the checkered flag, but I couldn't get up. I DNF'ed. In one moment I was in second place, which wasn't a bad way to start the series, and the next I was laying on the ground and unable to finish the moto.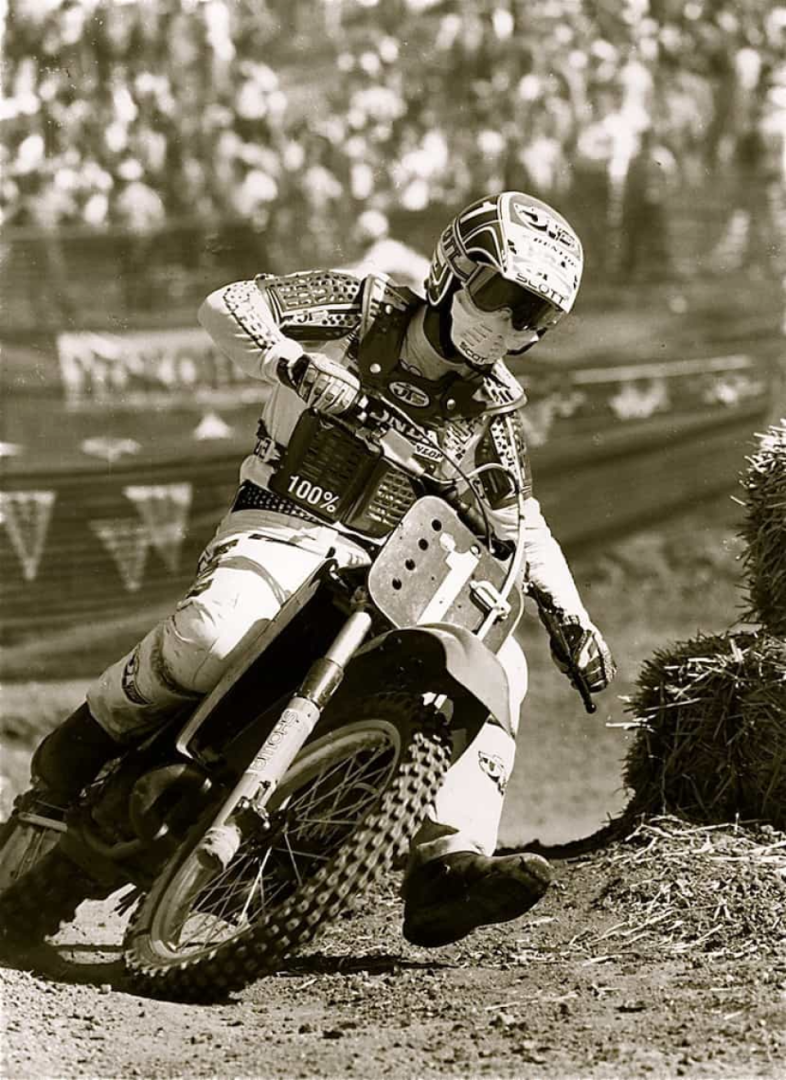 "I wasn't even going to ride the second moto. My knee was killing me. I got taped up at the last minute and started on the far outside of the gate. I don't even know if there was a gate there! I rode standing up for most of the moto, and bit by bit getting more and more comfortable. I wasn't riding Broc's speed, but I came through the pack and finished second. I knew I was down a moto in points and figured it was going to be a long season. That's everything that had gone on heading into the second round at Hangtown.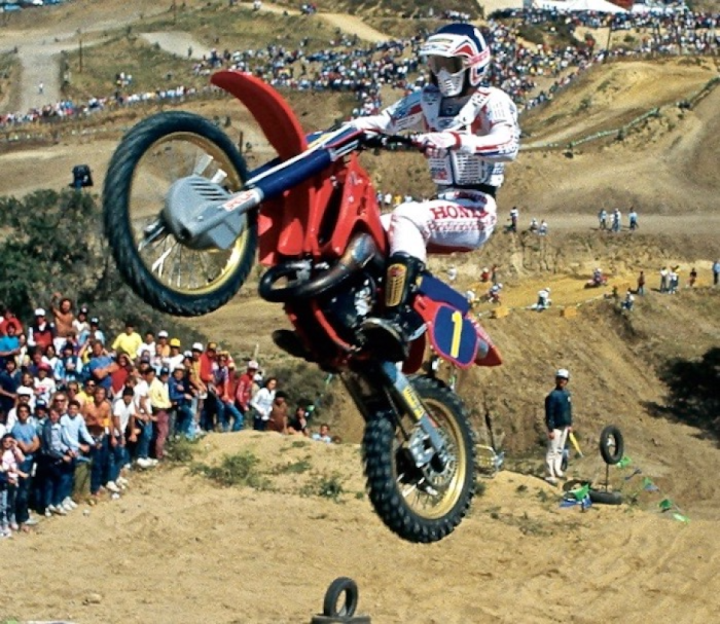 "I got the holeshot in the first moto at Hangtown. They always reconfigured the section after the start. We came into a right-hander, made a tight left, and went through a section of eight jumps. You could double through them, but it was really tight. So I got the start, made the right and went wide, screwed up the left, and couldn't jump the first double. I ended up rolling every jump, which was just painfully slow. The whole pack stuck behind me [laughter]. Broc was right behind me, and then we went into the next left off the throttle. I heard him say sarcastically, "That was real good." It was such a funny thing [laughter]. For him to have that comedic delivery and for me to think it at the same time was hilarious. Then he went by me and pulled out a huge lead. I think I got back by him and won the moto, but he won the second moto and got the overall. I looked at that day like, 'Okay, I won a moto and I'm feeling a bit better on the bike.' It was progress. I realized that while I had a long way to go to make up the points I lost at Gainesville, I was still in the championship hunt.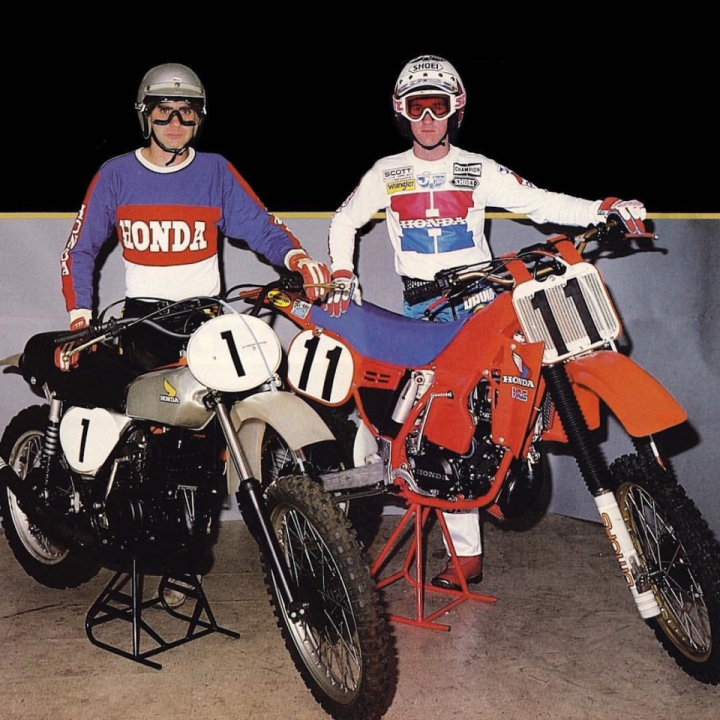 "In the photo above you'll notice that I'm wearing boot gaiters. Well, I had broken my feet and twisted my ankles a bunch of times throughout my career in JT Racing boots. They looked great and were comfortable, but I had bigger feet and caught them on the ground a lot. Boots back then weren't like they are now. I switched and wore Hi-Point hybrid Alpinestars, and of course, JT owner John Gregory wasn't stoked on that. I had to remove the front metal plate, and the boots were plain. That would be like dressing up for a wedding and your shoes are ridiculous [laughter]. I was bummed about the look of those boots, so I put gaiters over the boots so John would be a little happier. I felt like I was encroaching on Johnny O'Mara's deal, because boot gaiters were his thing, but I had to cover up the Hi-Point boots. Then I rode better.
"For the next three Nationals, I went on a winning streak. After Hangtown was Las Vegas. It was a gazillion degrees and I won both motos. I was good in the sand and heat. Then we went to High Point. Broc had me for the overall, but he wadded it up badly right behind the starting line on a downhill double before the uphill triple. He bent his handlebars so bad that I thought he wouldn't have been able to finish second. I could see how bad his bars were clear across the track. I think he even pulled into the pits to have Jon R [Glover's mechanic, Jon Rosenthal] bend the bars back. Anyway, he finished second in the moto and second overall on the day. After High Point was Six Flags in Atlanta, Georgia, and I won both motos there. I had closed up the points gap a bit, but then came Lakewood, Colorado, which was a disaster.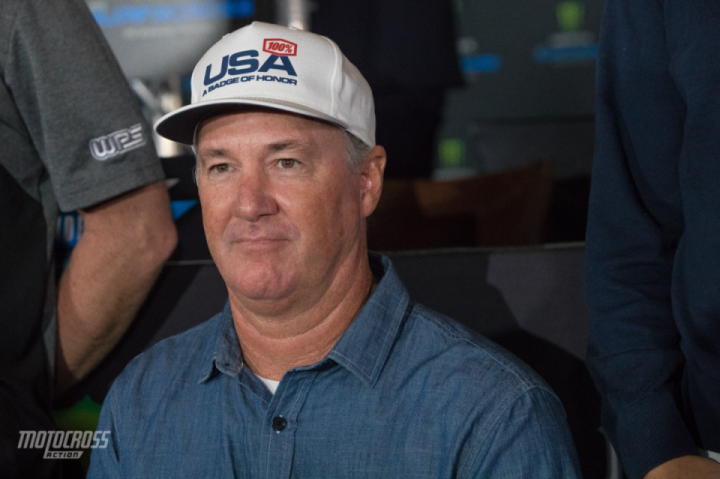 "I CAME INTO THE 1985 NATIONALS HAVING NOT DONE ENOUGH TESTING, AND I WAS COMPLACENT. I FIGURED I WAS GOING TO WIN THE TITLE AGAIN. BROC, ON THE OTHER HAND, WAS READY TO RACE. YAMAHA HAD DONE WORK TO HIS AIR-COOLED YZ490. IT MIGHT NOT HAVE LOOKED OR SOUNDED AS TRICK AS MY HONDA, BUT IT SEEMED TO WORK PRETTY WELL. HE WAS SUPER MOTIVATED, TOO. THE TABLES HAD TURNED."
"I came into the 1985 Nationals having not done enough testing, and I was complacent. I figured I was going to win the title again. Broc, on the other hand, was ready to race. Yamaha had done work to his air-cooled YZ490. It might not have looked or sounded as trick as my Honda, but it seemed to work pretty well. He was super motivated, too. The tables had turned. At Hangtown, I got things going and then won six motos in a row. I was only down by ten points or somewhere around there heading into Colorado. I got a flat tire early in the second moto after Broc beat me in the first. That's when I thought to myself, 'There goes the title.' Strangely enough, then Broc hurt his wrist, and I hurt my wrist, too. That year was a mess [laughter]. You know what, though? Broc took the title from me. He did to me that year what I thought he was going to do to me in 1984. I saw him in 1981 and again in 1983 on a 500, and he rode a 500 the way you were supposed to. He was smooth and precise, always choosing good lines. He was clearly the fastest guy on a 500, and I had a lot of respect for him. When I had to go up against him in 1984 I came in super prepared, and my bike was amazing. I won 18 out of 20 motos. In 1985 he took it back from me.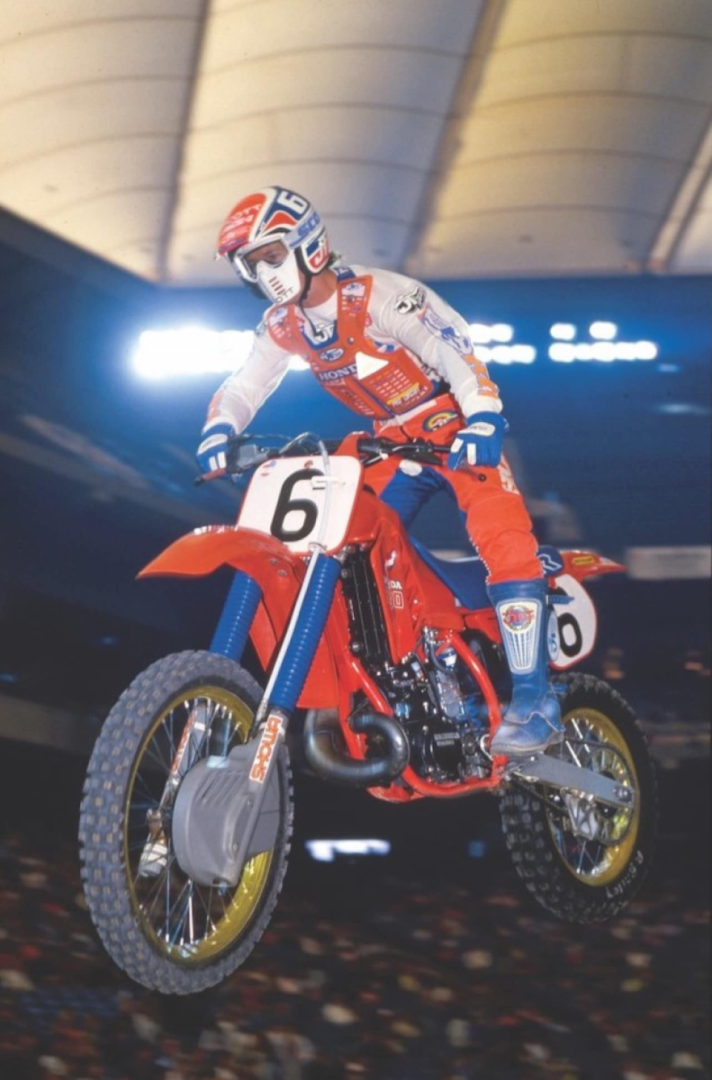 "As for the last 500 race of the 1985 season, Honda made me drop down to the 250 class at Washougal. I hated it. Even though Johnny O'Mara is my friend and I wanted to see him do well, it was a bit of a long shot for him to beat Jeff Ward for the 250 title that year. I always had this thing about never really wanting to step into the picture where I didn't belong and having an impact on the outcome. It didn't sit right with me, even though Honda asked me to step down and race. They also brought in Ron Lechien from the 125 class. I understood why Honda wanted me to do it, and they paid my salary, but I thought it was messed up. I did love that 250, though. I was having such a dismal year on the 500, too. Washougal is such a beautiful place, and the track was pretty nice that day in spots. Some sections were dusty, though. I had to ride a qualifier, because I hadn't been riding the 250 class that year. There wasn't any pressure, and I had a blast in that qualifier. It was one of the most fun races I had the whole year. Then in the first moto I had a really rotten start, because my head wasn't in it. It was really dusty, and I think I got in a pileup. It scared me, so I rode down the hill and pulled off. It was one of the only races I ever quit in my whole career.
"I said something to Wardy that day, and Johnny doesn't even know this. It was nothing against Johnny, because I wanted the best for him, but he needed to earn it. I wasn't necessarily a fan of Jeff Ward at that time. I had respect for him, though. I looked at him and said that he shouldn't worry about me, because I wasn't going to jack with him. The next year, in the 500 class, he was between me and Ricky Johnson in the first moto at Washougal in the last National of the year. Jeff went wide in a corner, looked over at me, and let me by. I thought it was so cool of him to do that. It made a big difference, because Rick and I were only seven points apart. Ward didn't want to interfere, so he returned the favor. I've never actually told that story before. I didn't always do things right, but I always tried to do the right thing. If you're going to be in the sport for a while you'll end up walking through the pits. You have to get along with everybody to some degree. I didn't want to do weird stuff that would bite me later.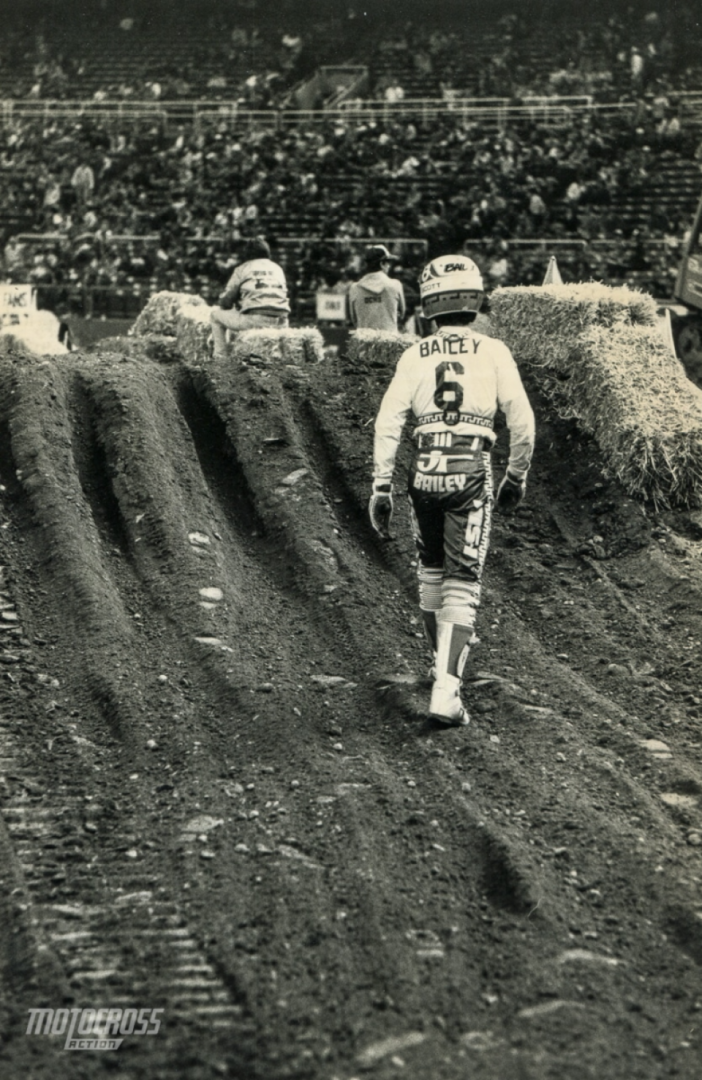 "Another thing, Honda put Jo Jo Keller on my 500 for the last race of the year in 1985. I had a gripe that my race bike wasn't as fast as my 1984 RC500. The bike sounded really good, so people didn't believe me when I told them it wasn't fast. The engine signed off early. It had solid bottom-end power, but it didn't have brute power like my '84 did. Well Jo Jo came up to me after practice at Washougal and, under his breath, asked if my bike was slow [laughter]. The funny thing is because of the mild power, I easily won both motos at the 1985 USGP at Carlsband. The track was an ice rink, and my 500 was easy to ride in those conditions. Meanwhile, Broc pushed it hard and went down a bunch of times. That mild power didn't work at a lot of the Nationals, but it was great at Carlsbad."
By David Bailey from motocrossactionmag