Although Ducati announced that they plan to make an appearance at EICMA 2022 this year, the Italian firm has opted to continue its virtual web series to introduce its 2023 models.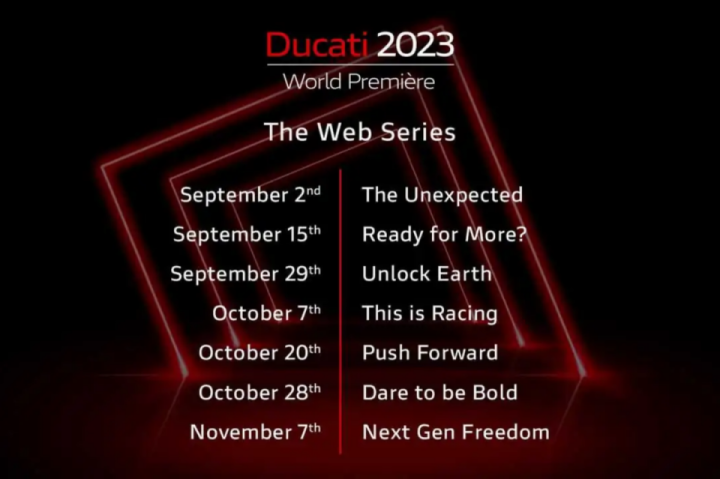 That said, Ducati has announced seven new episodes for DWP 2023, beginning with episode one on September 2, 2022, while the final episode will be aired on November 7, a day before the start of EICMA 2022 on November 8 in Milan.
As usual, Ducati is keeping mum about what's in store for us in 2023 but during the recently concluded World Ducati Week (WDW) 2022, what we know so far is that a new Scrambler made an appearance.
Previously, titles for each episode sometimes provide a glimpse of what the upcoming models could be, but this year's episode seems generic, and we have no clue what Ducati has for us. Take a look for yourself:
Episode 1—The Unexpected (September 2)
Episode 2—Ready for More? (September 15)
Episode 3—Unlock Earth (September 29)
Episode 4—This is Racing (October 7)
Episode 5—Push Forward (October 20)
Episode 6—Dare to be Bold (October 28)
Episode 7—Next Gen Freedom (November 7)
Now that's seven-episode in three months. Too long? Well, Ducati wants to keep us on the edge of our seats with this one, which tells us something significant is coming.
Nevertheless, a few of those titles are slightly suggestive, but we could be wrong. "This is Racing" most likely refers to a Panigale, while the 2023 finale, "Next Gen Freedom", could hint at a second-generation Multistrada V4.
However, something tells us that Ducati doesn't plan to stop at just seven episodes, as they could do a big unveiling at EICMA to mark the brand's return to the biggest motorcycle event in the world.
#Ducati #Race