After many, many months of waiting, including several weeks of delay, the BSA Gold Star is back—at least, it's almost back for British customers, with Indian release soon.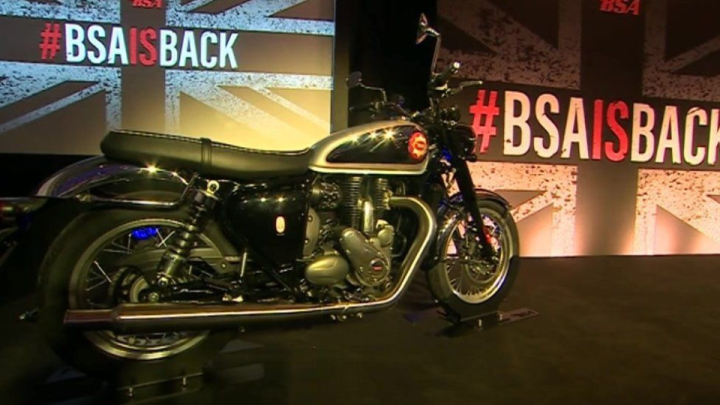 The new BSA Gold Star
What can we expect from the new machine? It's a classic-looking Brit twin, although it's not actually made in India. Here's how we described the bike last December:
"Like many of the great Brit bikes of old, it has a single-cylinder engine. Maybe big thumpers aren't dead after all? The 652 cc liquid-cooled single-cylinder has a five-speed gearbox and slipper clutch, and supposedly makes 45 hp at 6,000 rpm and 40.6 lb-ft of torque at 4,000 rpm. It has a four-valve head, and dual spark plugs (which should make for more efficient fuel burn, contributing to the Euro5 approval).
BSA says the new Gold Star has a single 320 mm disc brake up front, with two-piston floating caliper. There's a single-piston caliper in rear, with 255 mm disc. Brembo supplies the calipers, and ABS comes standard."
Of course, the new machine is made by Classic Legends, a sub-brand of Indian manufacturing mega-giant Mahindra. It's following the same pattern as Royal Enfield, using a famous British brand to sell a new machine that's in no way related, except for aesthetics.
Landing in the UK
Understandably, the reborn BSA plans to start by selling bikes to customers in the UK. They've selected a distributor (this question was a major hold-up), and with that solved, expect to be selling bikes in selected dealerships in coming weeks. Originally, the plan was for a spring release to dealers; now, it looks like a fall release is in the cards.
Pricing starts at £6,800 for a bike painted red, black and silver. The other option, a Silver Sheen Legacy Edition, is priced at £7,000. Those prices roughly equal $10,700 and $11,000 CAD.
That's a lot more than a Royal Enfield Interceptor 650, which is probably the closest equivalent, and if BSA comes to Canada, it seems likely we'd see much closer pricing. Often, Euro/Brit/American pricing is not just a straight conversion when it comes to Canada. Indeed, when comparing Canadian pricing to American, we Canucks are often getting a great deal.
After the UK, Classic Legends plans to sell BSA in India. From there, it will spread to other markets. However, considering the Indian market alone has millions of potential customers, it seems unlikely that Classic Legends will be in a hurry to expand to Canada. Look at Royal Enfield's efforts here—the dealer network is still small, several years after the Indian company went to in-house distribution. BSA hasn't been able to quickly figure out its UK market entrance smoothly, so don't expect it to quickly spread around the world.
But having said that—made-in-India machines are spreading very quickly, so these bikes might be here sooner than you realize.
#Bike #Moto