This is a love story that began with innocent intentions. It was a romance that, like Danny Zuko and Sandy Olsson's relationship in Grease, happened so fast. By no means did I plan to fall in love with a motorcycle, but it was simply meant to be. Life would never be the same after the day I threw a leg over the Kawasaki KX450F.
After several years of apprenticeship as a professional test rider?having been assigned to test, inspect, evaluate and learn about 250 four-strokes?I had earned my stripes in the eyes of my boss, Jody Weisel. Jody had imparted wisdom, advice, historical perspective and a checks-and-balances system to help me hone my skills. When he thought I was ready, he handed me a golden ticket of sorts?first pick of the MXA test fleet. I could choose any bike in the MXA stable and make it my own. I already had eyes for the 2007 Kawasaki KX450F; however, I was a naive young test rider at the time, not fully aware of the possibilities at my fingertips.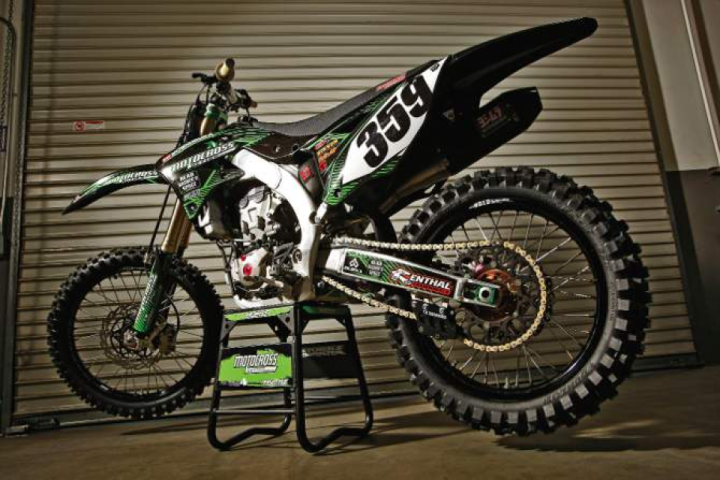 Those new to the sport don't understand the pitfalls of the early KX450F models. Kawasaki was late to the party when they released the 2006 KX450F. It was the last 450cc four-stroke of the "Big Five" to enter the market. Quite frankly, it wasn't worth the wait. A ho-hum engine, four-speed transmission, odd handling, weak brakes and suspect suspension hampered the 2006 KX450F. It was sorely lacking.
The following year, Kawasaki went to a five-speed gearbox. But instead of changing the gear ratios, they merely tacked on an extra gear for offroad riders. It was the wrong thing to do, yet I still couldn't help but feel an attraction to the bike. Since those early days, Kawasaki has made considerable advances with the KX450F?so much so that the MXA wrecking crew has rated it the top 450 four-stroke three out of the past five years.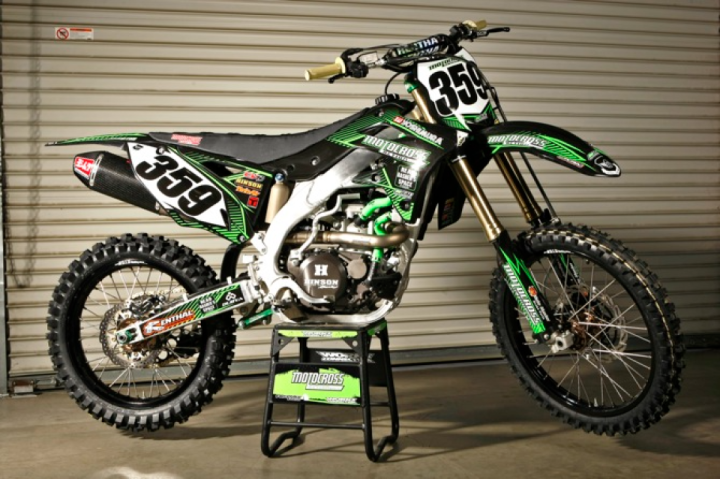 I've grown up with the KX450F?not necessarily in terms of age (although it would be impossible not to), but in terms of maturity as a test rider. In 2007, I didn't mind the shoddy gearbox or poor handling traits that bothered the rest of the MXA wrecking crew. With each passing season, however, I learned more about the bike and became more discerning. The KX450F and I have been through a lot. We've won races and suffered big crashes, but we still remain close friends. These days, I feel quite knowledgeable when it comes to rapping about the bike that I've saddled so many times.
At this point, I feel obligated to admit that after testing all of this year's 450 bikes, I didn't put the KX450F in the number one slot on my test forms. That honor went to the KTM 450SXF. Yet, when Jody gave me first pick of a 2013 bike to make my own for the 2013 racing season, the KX450F was my first choice. That probably doesn't make sense, but I'll try to explain. The KTM 450SXF is better suited to the average rider. It has an incredible engine, handling that is more Cadillac than Smart car, and phenomenal brakes. Not that the KX450F isn't a marvel. Pumping out over 55 horsepower, the Kawasaki has advanced electronic technology and new Kayaba PSF air forks. Unfortunately, it's also heavy, tall, lazy in corners, and has reliability issues and sissy brakes.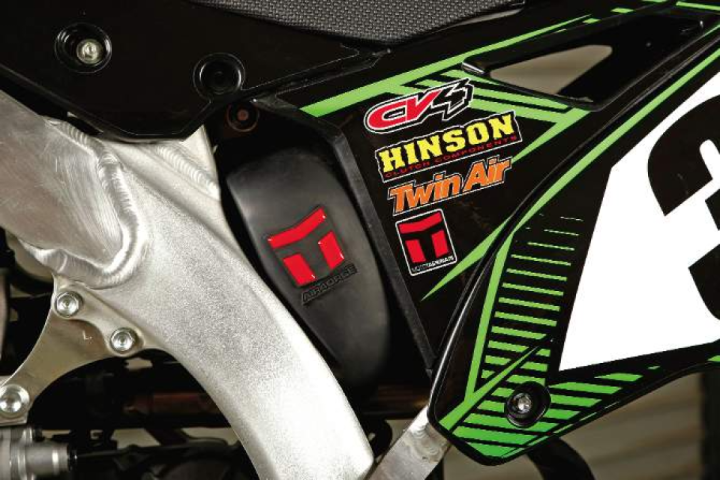 For years I have tried everything under the sun to improve the Kwacker: pipes, suspension, triple clamps, oversize brakes, clutches, air boots?and this list only scratches the surface. Through trial and error, I have reached some conclusions about how best to address the flaws of the Kawasaki KX450F. For 2013, I decided to focus on a project bike that would pool all my knowledge and demonstrate the value of what I have learned. Owners of older-model KX450Fs, take heart. Many of the recommended fixes will also work on previous generations of KX450Fs. Behold, a list of steps that will lead to bliss with the Kawasaki KX450F.
Step one: Although the 2013 KX450F produces the second-highest horsepower in its class, there is still room for improvement. Kawasaki changed the camshaft on the 2013 model, reverting to the 2011 cam, which isn't as aggressive as last year's profile. This was a step backwards. I requested Yoshimura's help in the horsepower department, giving them free rein to improve the engine at their discretion.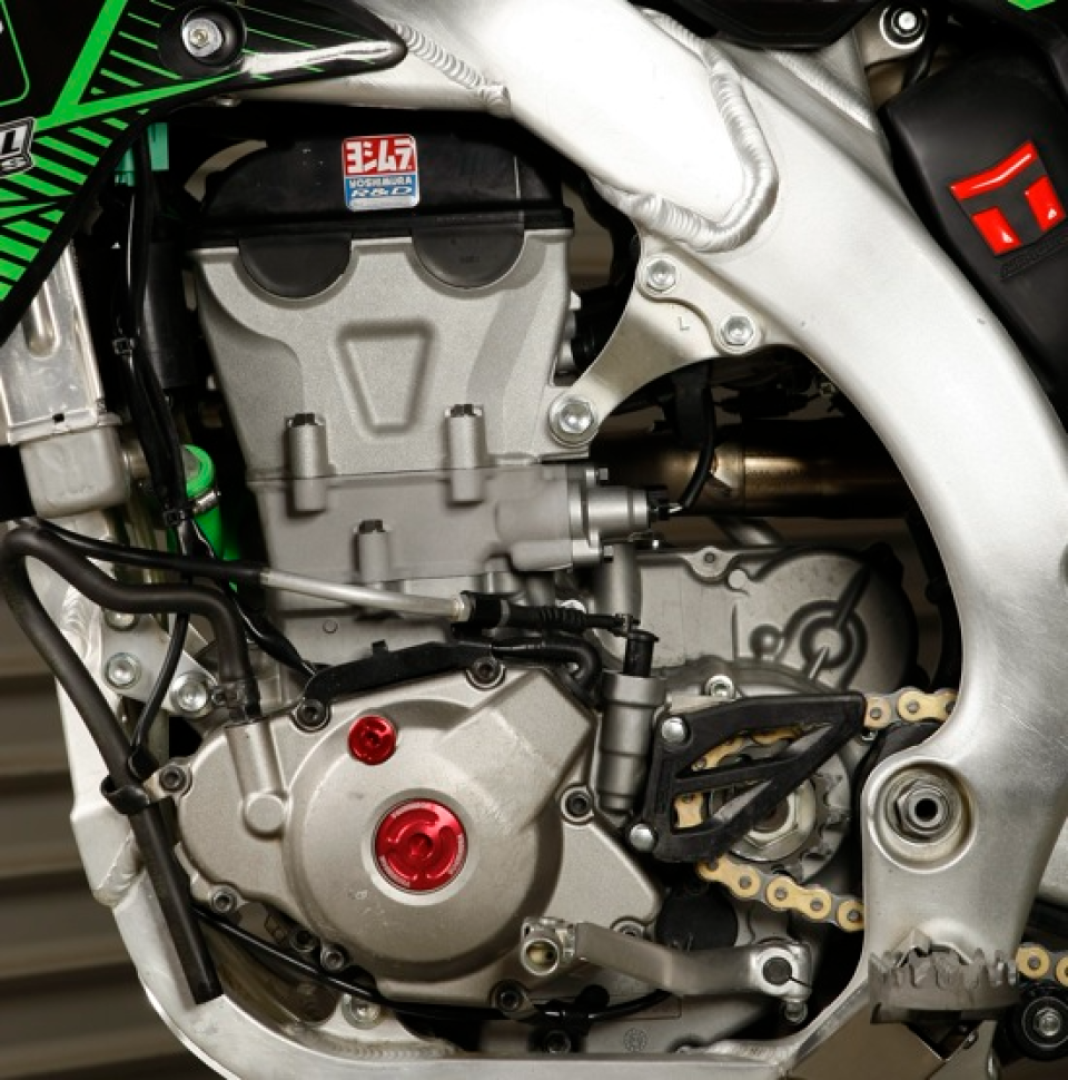 We put the KX450F on the dyno before we upgraded the engine to get a baseline number. Then the guys at Yoshimura installed their Stage 2 package. It includes a valve job, valve-seat refacing, intake and exhaust port and polish, de-carbonizing the combustion chamber, and checking valve-spring tension ($682.25 for the Stage 1 kit and $1004.73 for the Stage 2 kit). They milled the cylinder head, taking 1mm off the deck to increase compression, and used a CP piston with a 13.5:1 compression ratio. Once the powerplant was massaged, the bike went back on the dyno. The modifications were a definite improvement, as our test bike gained nearly 2 horsepower and 1/2 foot-pounds of torque. Gains were most evident from 8000 to 10,500 rpm.
Yoshimura included their in-house Isotropic Superfinishing Process (ISP) to reduce friction and drag on the transmission parts ($230). They also included an ultra-trick titanium/carbon RS-4 exhaust system ($995) and threw in red-anodized large and small engine plugs ($24.95 each) for good measure.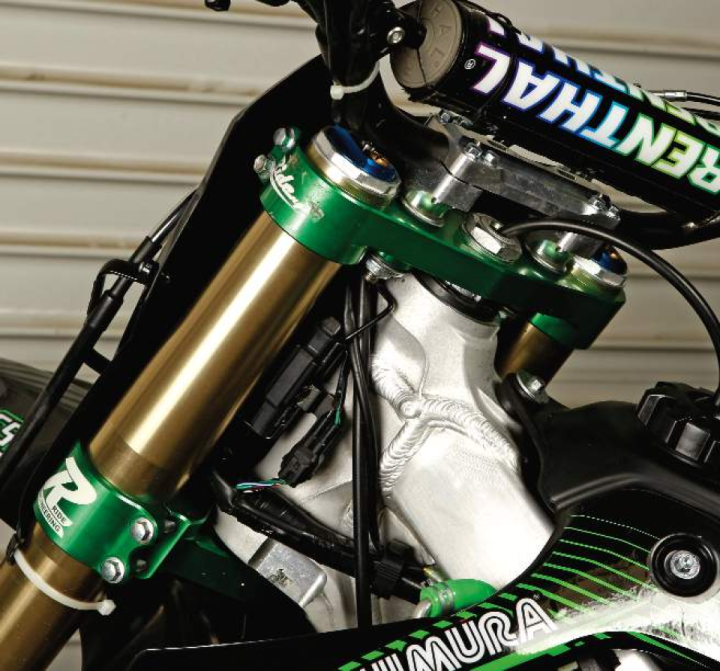 Power gains were most noticeable in the midrange. Bottom-end hit was explosive, but that's to be expected with the KX450F. I opted for the green coupler, but the white (aggressive) coupler could really make a ham-fisted rider think twice. In my experience, the Yoshimura RS-4 is one of the best exhaust systems for the KX450F, as it improves the entire spectrum of the powerband. Is it a National-caliber powerplant? Not exactly, but it wasn't meant to be. The powerband is potent, but faster riders yearned for more top-end speed. Intermediates and local Pros, however, preferred it to the stock settings.
Step two: To further boost power, I put in a call to Moto Tassinari and ordered their popular Air4orce air boot with varying velocity stacks ($298). This is the same air boot that Ryan Villopoto and Jake Weimer rely on. Moto Tassinari includes two velocity stacks: the longer stack improves throttle response as well as bottom-to-midrange power, while the shorter stack improves throttle response and mid-to-top power. I chose the shorter velocity stack since it is preferred for most motocross applications.
Step three:& The MXA wrecking crew has long held Boyesen Engineering in high regard. Founder Eyvind Boyesen was part engineer, part racer, part entrepreneur, and, most important, a problem-solver. Many of Boyesen's inventions have found their way onto production motocross bikes. Sadly, Eyvind passed away in 2010. His son, former AMA National Pro Dag Boyesen, shares his father's passion for the sport and for finding solutions to problems. One of Boyesen's great inventions is the Supercooler, which is a water-pump kit. A patented nautilus-style impeller improves hydrodynamic efficiency for increased coolant flow at all rpm ranges. It's a must-have item for engines that are constantly put under stress. The Supercooler costs $189.95.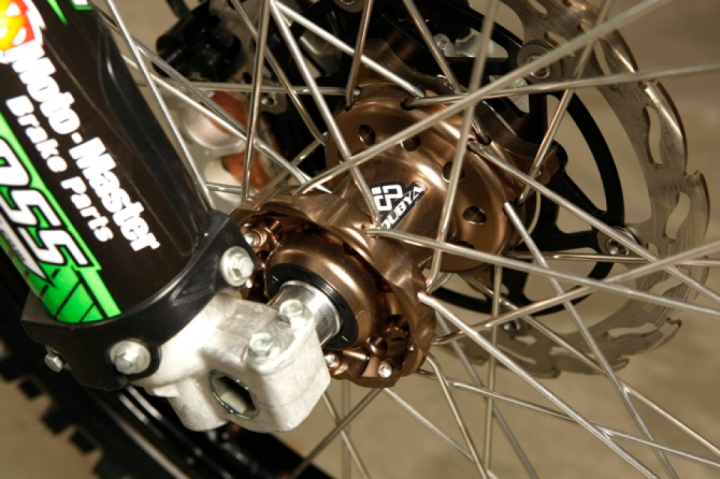 Step four:& It's hard to imagine a downside to the potent KX450F engine, but there is one: the clutch cannot handle the load and begins to slip in short order. Stiffer springs are only a temporary fix. The best solution is to replace the basket, pressure plate, springs and plates. Enter Hinson Racing. I've never had a problem with a Hinson clutch and have used Hinson products on many test bikes. True, at $1674.99, the Hinson clutch kit will lighten your wallet, but you won't have to worry about your clutch for a very long time. It's bulletproof.
Step five:& Adrian Ciomo, owner of Ride Engineering, must be a fan of Kawasaki, considering that Ride offers two offset options for the KX450F. The 20mm-offset option is too extreme for my tastes, but I love the 21.5mm clamp ($479.90). The Ride offset sharpens the handling at turn-in without sacrificing stability. The Ride Engineering clamps can be mounted with a Honda HPSD damper, but it's not entirely necessary with the 21.5mm clamps. The one-piece bar mount is a nice touch, however, as it prevents the handlebars from twisting in a crash ($89.95). Ciomo also included green-anodized axle blocks ($47.95) with defined hash marks to help make chain adjustment easier.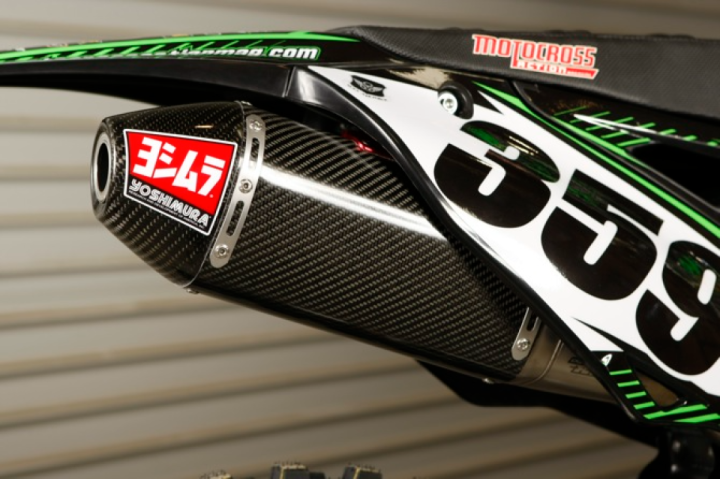 The handling can also be improved by swapping out the stock shock linkage. The Ride Engineering link ($209.95) lowers the rear end 5mm and changes the rising rate, thus the rear end stays up in its stroke, eliminating the dreaded wallowing under acceleration that the KX450F is famous for. A longer link is an excellent option for all KX450F owners.
Step six: Works Connection sent a large care package of KX450F parts that improved durability and enhanced performance. The front master-cylinder cover ($27.50), forged front-brake lever ($37.95) and RIMS skid plate ($84.95) helped durability. As for performance upgrades, I am quite fond of their Superlite titanium footpegs ($219.95), Peg Armor footpeg covers ($59.95) and Elite 1-2-3 EZ Build clutch perch ($79.95 for the perch, $37.95 with the adjuster and $37.95 for the lever). The Peg Armor covers, combined with the titanium footpegs, are a substantial improvement over the stock pegs.
Step seven: The 2013 Kawasaki KX450F is a fire-breathing bike with quality suspension and enough gizmos to make James Bond jealous. It is, however, seriously lacking in several areas. Need proof? The MXA wrecking crew has bent several rims in the past few months. The chain chews through the slider and chain block in five hours. The rear axle cotter pin is a nuisance. Aftermarket silicone radiator hoses aren't a bad idea, and we recommend a high-pressure radiator cap. Make sure you have a rotating supply of clean air filters on hand, and a fuel filter would be a wise investment, unless you relish facing the consequences of a clogged fuel pump.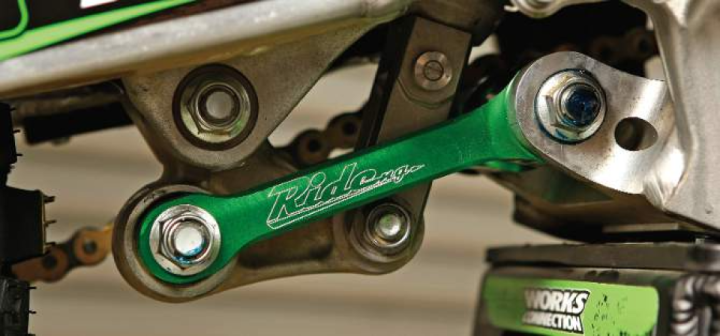 To combat these issues, I opted for incredibly strong D.I.D. DirtStar ST-X rims with Talon hubs and Bulldog spokes ($669.95 for the front and $769.95 for the rear). A T.M. Designworks Baja Rally Slide-N-Guide kit ($169.95) saved the swingarm from peril. I went with a Honda self-locking rear axle nut and a CV4 radiator cap ($22.73) and radiator hoses ($224.67). You might also want to invest in Twin Air air filters ($38.95 each) and a fuel filter ($34.95) that sits inside the gas tank.
Step eight: Beefy is the best way to describe the Kawasaki KX450F. At 239 pounds, it has made a few too many passes at the all-you-can-eat buffet. Those careless with money will support the titanium industry by purchasing Ti bolt kits and shock springs. Don't be foolish. Shaving a few pounds off the KX450F won't amount to a hill of beans. Instead, invest in an oversized front-brake rotor; it makes all the difference in the world. I like the Moto-Master Flame kit ($189.95). At 270mm, the rotor packs a punch and is super easy to install. If you're looking to go the extra mile, the Ride Engineering billet front-brake caliper ($374.95) is a good choice. I've found time and again that stock brake pads perform best.
Step nine: Finding comfort on a motocross bike is critical to success on the track. Sometimes it's as easy as changing the grips or handlebars. I am a fan of the stock Renthal 971-bend 7/8-inch handlebars, but I traded the grips for Renthal Kevlar grips ($19.95). I also replaced the standard drivetrain with a Renthal 50-tooth rear sprocket ($64.95), 13-tooth ultralight countershaft sprocket ($32.95) and Works R1 chain ($85.95). I scrapped the two-tone seat cover, which was ripped from my knee braces anyway, and installed a Guts ribbed seat cover ($59.90) to help me stay in place.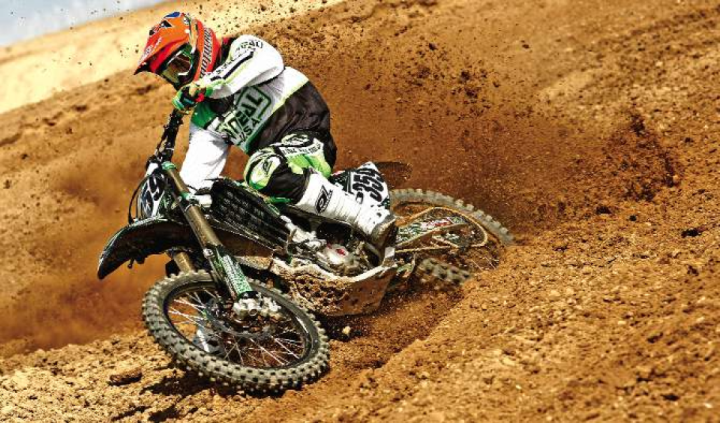 Step ten: Cycra Racing recently introduced their Powerflow body kit for the Kawasaki KX450F, and they offer it in a variety of colors. I was drawn to the all-black ensemble because I wanted my project bike to look intimidating. The PowerFlow kit ($169.95) includes fenders; one-piece, high-flow shrouds; number plates, and fork guards. DeCal Works did a masterful job of putting the finishing touches on the KX450F with a custom graphics kit ($199.00) and preprinted numbers ($69.95).
Step eleven: Where are the suspension mods? Sorry to disappoint, but my style of riding works with the stock suspension. The Kayaba PSF forks do have inferior fork seals, but, otherwise, I love the air fork. I can find comfort by adjusting the air pressure (I typically prefer 35 psi) or making minor clicker adjustments. The shock could benefit from a longer link, but if I were spending my own money, I'd focus on other areas.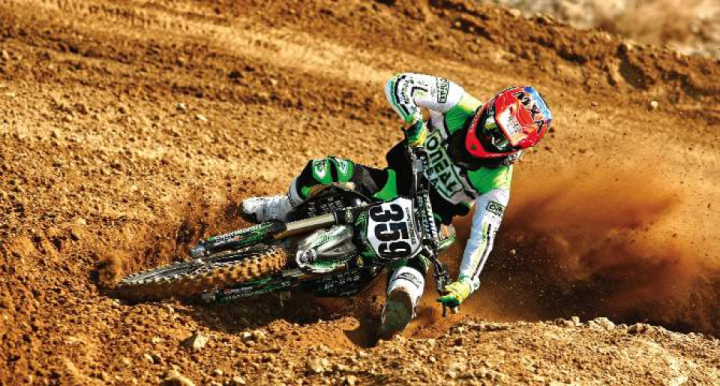 There you have it, a vastly improved version of an already-venerable race bike. Kawasaki has done a great job of creating a motorcycle with a number of upsides and very few downsides. Through the years my love for the KX450F has grown, and it's primarily because Kawasaki has been doing their homework. They have gained market share by offering a bike with a dynamite engine, space-age technology, decent handling and an improved suspension package. I'm happy to say that, six years ago, I saw the KX450F as a beautiful swan while everyone else saw it as an ugly duckling.
Credit: Motocrossactionmag