For many years, American talent seemed content to remain in America, racing in specifically American forms of motorcycle racing, from board track racing to the dirt tracks of the flat track racing series, while their European counterparts concentrated on road racing. But the American racers couldn't ignore the Grand Prix road racing scene forever and, slowly, riders started making their way across the Atlantic to race on some of the world's greatest road racing courses, including Monza in Italy, Spa-Francorchamps in Belgium and the Isle of Man.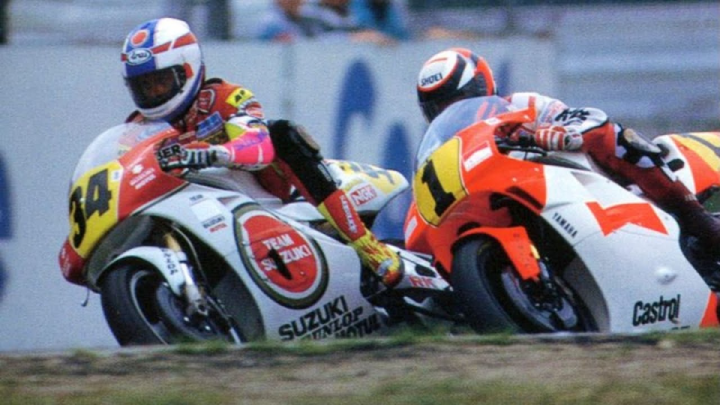 Not only did they race but they also came to dominate as the 1970s turned into the 1980s. For this list, we have concentrated mainly on those American racers who have excelled in both America and Europe, although we couldn't help adding in a few of our favorites who never consistently made it across the pond or who had particular significance for American motorcycling. Also, we've chosen to leave out the current crop of incredible talent from the MX and Supercross world: they can wait for a later list. No doubt we've left out someone particularly important, and we're sure you'll let us know in the comments section.
10. Glenn Curtiss
In the early years of the 20th century, when motorcycling was in its infancy, there were many individuals who left an indelible mark on the industry. Many faded from view while others prospered and still, others abandoned motorcycles for other pursuits. One of those was Glenn H. Curtiss, who played an important role in the birth of motorcycle racing in America. As early as 1902, a Curtiss motorcycle, ridden by Glenn Curtiss himself, won the New York Motorcycle Club's road race and, in 1903, he became the first American rider to win a hill climb race. Shortly after that, he set a new one-mile record of 63.8 mph on a 680cc single-cylinder machine of his own design. He then designed the first twist-grip controls to appear on a motorcycle, on a 1904 V-twin.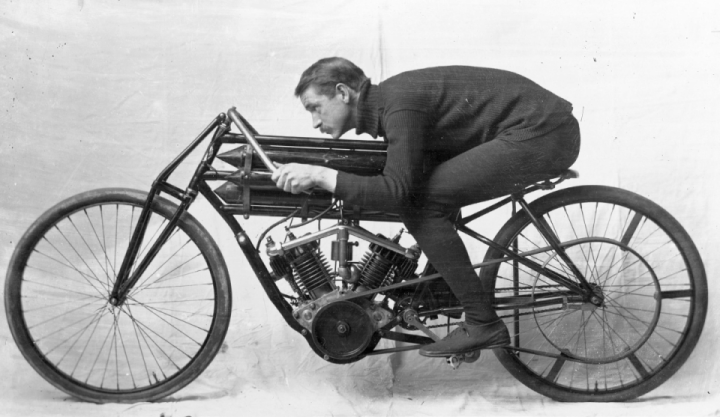 But, his most memorable feat was on an incredible motorcycle powered by a longitudinally-mounted V-8 engine, again of his own design and manufacture. In 1907, he achieved 136.3mph on this motorcycle at Ormond Beach in Miami. The record was not officially recognized over a technicality, but the speed was to remain unbeaten - on four wheels as well as two! - until 1930. Motorcycling was but one of Curtiss' interests, and he left motorcycling behind to concentrate on aviation, in its infancy at the time. He was the holder of U.S. Pilot's License No.1 and went on to create the Glenn H Curtiss airplane manufacturing company, which would go on to become one of the largest in the world in its own time.
9. Gene Romero
There are dozens of great American riders who made their names in AMA Grand National Championship racing, including many who won more races and championships than Gene Romero, but he was one of the most famous characters in racing from the mid-1960s to his retirement in 1981. He was one of many riders who was tempted to abandon home-grown machinery to ride for Triumph and, later Yamaha, winning the 1970 championship on a Triumph and becoming the youngest AMA Grand National Champion at the age of 22. That season was immortalized in the great movie, On Any Sunday. The 1971 season was marked by a fierce battle between Romero and Dick Mann on his BSA. The championship went down to the last race, with Mann finishing ahead of Romero to clinch the title.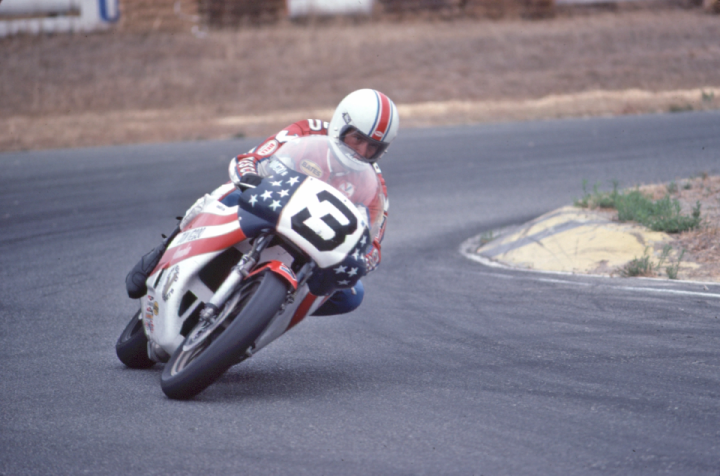 Romero was a pioneer in that he was one of the first riders to seek sponsorship from outside the motorcycle industry, attracting such brands as Busch beer. After retiring in 1981, he was manager for the Honda factory dirt track team from 1984 to 1987. During that period, he guided Honda riders Ricky Graham and Bubba Shobert to four consecutive Grand National Championships. In the 1980s when the sport of motorcycle flat-track racing was in a period of decline, Romero stepped in and became a race promoter, helping to keep the sport alive.
8. Dave Aldana
Maybe not one of the most successful racers in the history of AMA Grand National racing, but he is certainly one of the most colorful and memorable. Dave Aldana's riding style was flamboyant and characterized by do-or-die maneuvers, and in his first season, 1970, he challenged for the title before a crash at the Sacramento Mile put him out of the running, although he still finished third in the championship. He will be most fondly remembered for his 'skeleton' leathers, which comprised an all-black leather race suit with a white human skeleton stitched onto the front of the torso and legs and arms.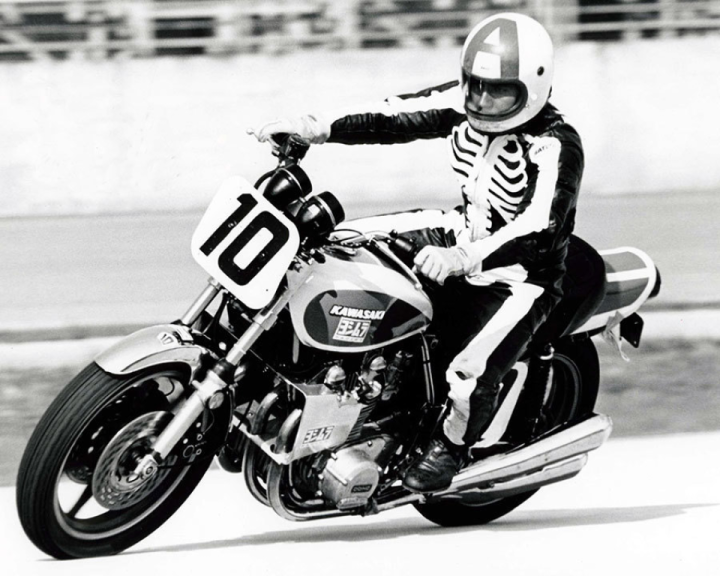 Officials threatened to ban him if he continued racing with them. He did and they didn't! His career spanned all forms of motorcycle racing, from dirt track, to road racing, to road racing, to endurance racing, speedway, and he was successful in all of them.
7. Kenny Roberts
Kenny Roberts was the first American to win the 500cc world championship and, at the same time, he changed Grand Prix racing forever. Roberts grew up racing dirt track in the U.S., winning the AMA Grand National Championship twice. He is one of only four riders to complete the AMA Grand Slam, representing Grand National wins at a mile, half-mile, short-track, TT Steeplechase, and road race events. In 1978, he went to Europe to compete in the 500cc Grand Prix World Championship and took the title in 1978, '79, and '80, each time battling arch-rival (but a good friend), Barry Sheene.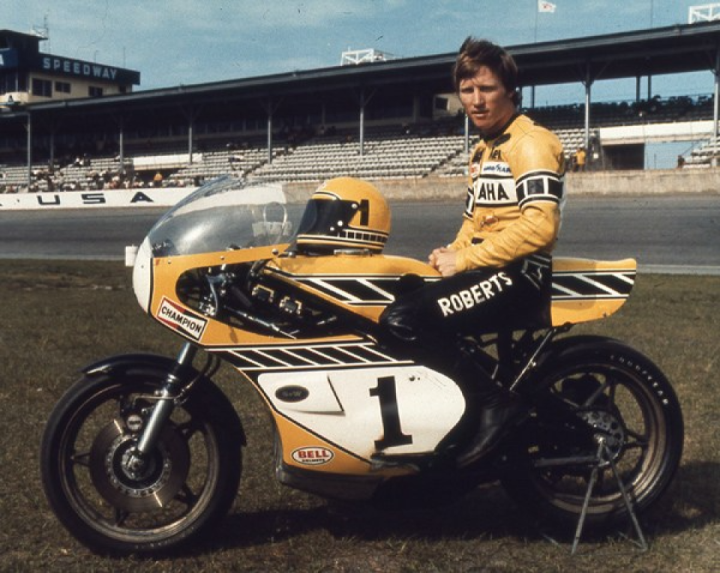 But, it was his riding style that made everyone sit up and take notice. His dirt track experience made him familiar with a sliding motorcycle, and he took that skill to the road racing tracks of Europe, sliding the bike around corners using the power to break rear wheel traction. He also hung off the bike in corners, which had never been seen before. He was vociferous about track safety at a time when the dangers were simply accepted and many riders would lose their lives each year. If this brought him into conflict with the sport's organizers, then he showed he wasn't afraid to carry on racing at these circuits and, more often than not, win. It only strengthened his hand.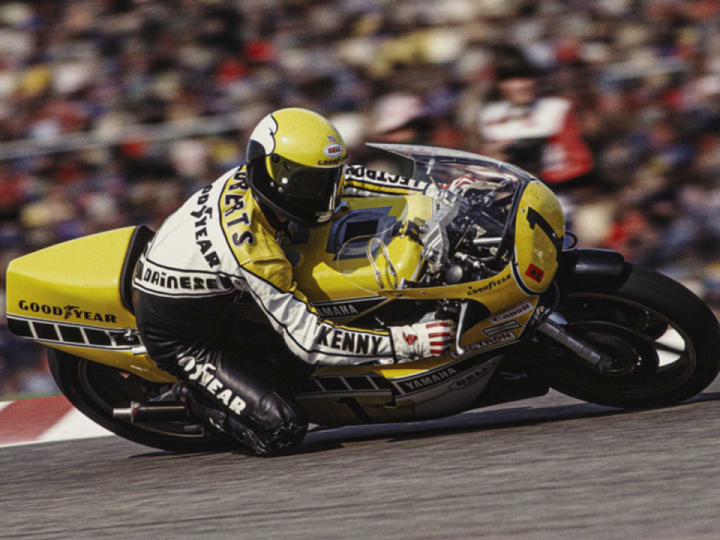 After he retired, he went on to become a successful team owner and manager, taking three 500cc titles with rider Wayne Rainey when running the official Yamaha racing team. He then went on to run his own team, building the bikes and engines without much success, for 10 years between 1997 and 2007. Perhaps his greatest race was at the 1975 Indy Mile Grand National race. In order to beat his rivals, he shoe-horned a 125 horsepower Yamaha 750cc two-stroke, three-cylinder engine into a flat track chassis and somehow tamed it to win by a bike's length from Jay Springsteen and Corky Keener. It is a race that has gone down in Indy Mile and U.S. flat track folklore.
6. Freddie Spencer
There are many American riders who could be on this list - Eddie Lawson, Kevin Schwantz, Wayne Rainey - but we have chosen Freddie Spencer. Spencer burst onto the scene in the early 1980s and achieved what no rider before him had done: win the 500cc world championship on a Honda. Not even the great Mike Hailwood had managed that and neither had Jim Redman, who won six titles in the smaller classes on Hondas, also in the 1960s. Not only that, but Spencer became the last rider - and the only rider in the modern era - to win both the 250cc and 500cc championships in the same year - 1985. To watch Spencer in action was to watch a rider make his mount dance, skittering and sliding seemingly on the brink of disaster as he tried - and succeeded - to control the 185 horsepower, V4, two-stroke Honda.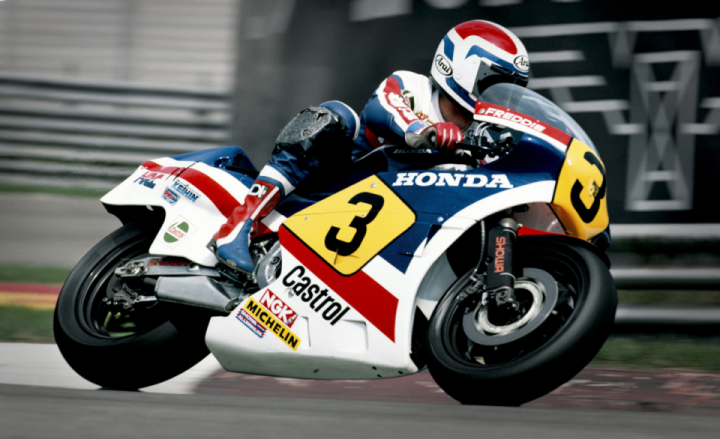 Another graduate of the U.S. dirt track racing scene, Spencer used his experience of ever-changing track conditions - often from lap to lap, let alone from morning to afternoon - to seize the lead at the start of a race, finding grip on cold tires that none of his rivals could and also using the rear wheel to steer the bike as much as the handlebars. Spencer's only problem was that he had started racing at an early age so that, by the time he was 23, he was just about burnt out and affected by injury. He attempted two misguided returns to racing but another crash halfway through the 1993 season was the end.
5. Eddie Lawson
Picking up the mantle from Kenny Roberts, Eddie Lawson won four 500cc Grand Prix World Championships in the 1980s, earning the nickname 'Steady Eddie' along the way for his devastating consistency and lack of crashes. Like so many American riders, Lawson started riding dirt track but switched to road racing in America alongside Freddie Spencer and others who would go on to make their names in Grand Prix racing.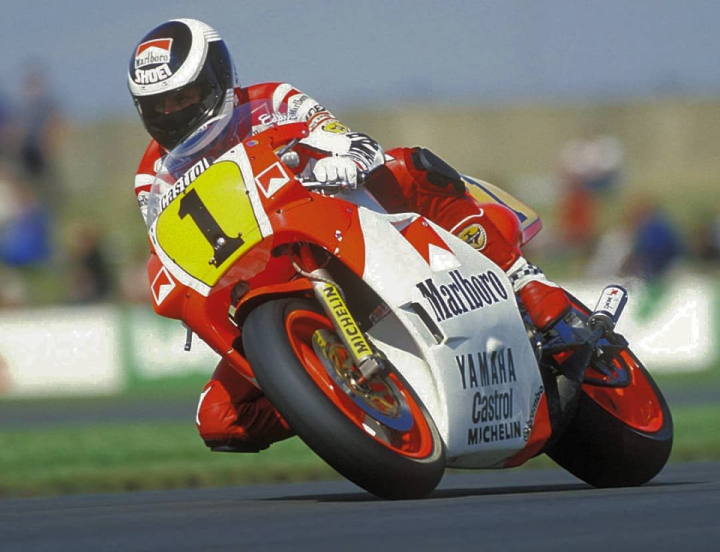 Yamaha then persuaded him to join Kenny Roberts in the factory GP team in 1983 and, the following year, he won the 500cc title. Two more titles in 1986 and 1988 followed for Yamaha before he controversially changed to Honda in 1989 and won his fourth and final title, becoming the first rider to win back-to-back titles for different manufacturers. A final switch to Cagiva netted a race win, putting him in a rarefied group of riders who have won Grands Prix on three different makes.
4. Wayne Rainey
The 1980s and early 1990s were good times for Americans in 500cc Grand Prix racing, with all but three of the 14 championship titles going to U.S. riders between 1980 and 1993 (three of 16 if you count Kenny Roberts' titles in '78 and '79). Wayne Rainey was yet another graduate of the dirt track racing school in 1984 who moved to road racing as a preferred discipline. He dipped a toe into the 250cc Grand Prix world at the request of Kenny Roberts, who by that time was team manager for Yamaha but returned to the U.S. dispirited, to continue his racing career there, where he first came into contact with his career-long rival Kevin Schwantz.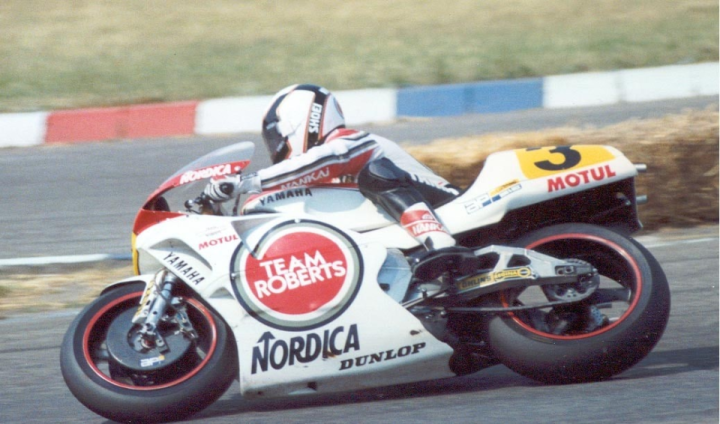 The two would head back to Europe together to continue the fight, Rainey joining Yamaha and Schwantz Suzuki. Rainey would take the 500cc title in 1990, 1991, and 1992, and was yet again fighting Schwantz for the title in 1993 when he crashed badly at Misano in Italy, breaking his spine and leaving him paralyzed from the chest down. Typical of the man, he refused to let his disability stop him and he became the team manager for the Yamaha team for several years. Since 2015, he has held the commercial rights to AMA-sanctioned racing, at which point the MotoAmerica era of U.S. road racing commenced.
3. Kevin Schwantz
Kevin Schwantz is Rainey's great rival, and since they both stopped racing, a great friend. Schwantz started racing in trials and motocross before moving to road racing in 1984 in U.S. Superbike racing with Yoshimura Suzuki. He would remain faithful to Suzuki for the rest of his career. 1987 saw the start of the career-long rivalry between Schwantz and Rainey that would only end with Rainey's accident in 1993. In 1988, he went to Europe to race in 500cc Grands Prix for Suzuki, winning his first race that same year, in Japan, which was the first race of the season.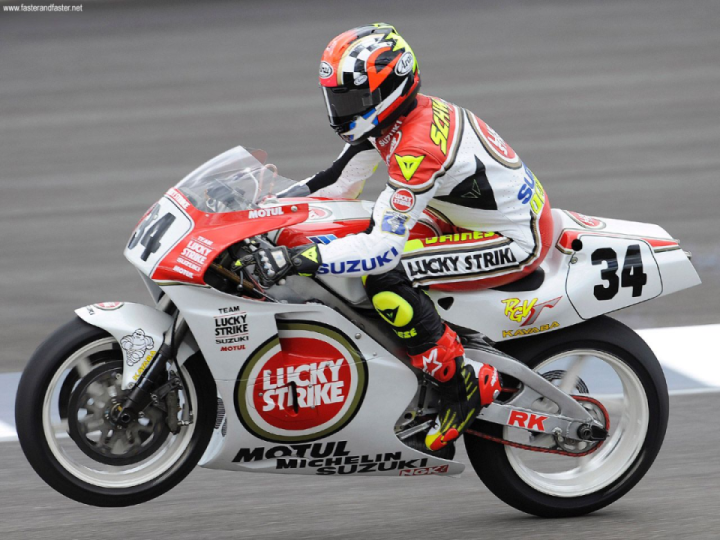 Prior to this, his only 500cc rides had been wild-card entries for seven GPs in 1986 and '87. Over the next six years, GP racing was at its fiercest, with Schwantz, Rainey, Doohan, Lawson, and Mamola all competing. He was often at a disadvantage in that his Suzukis never seemed to be as fast as those of his Yamaha- and Honda-mounted rivals. His determination to win at all costs meant that he seemed to crash as often as he won. This trait made him a popular favorite among race fans the world over. Schwantz won his only 500cc world title in 1993 and possibly only even then as arch-rival Rainey had crashed, ending his career. The rivalry with Rainey had defined his whole career - along with his bone-crunching crashes - and, after the 1995 season, Schwantz retired from the Grand Prix circuit, partly due to nagging injuries and partly because losing the one great rival that had fired his competitive intensity made him view his own mortality much more clearly.
2. Randy Mamola
The nearly man! Mamola raced in 500cc Grand Prix racing from 1979 to 1992, winning 13 races, taking 54 podiums, and finishing runner-up in the title race four times, in 1980, '81, '84, and '87. He was one of the most popular racers of his time, the crowds loving his flamboyant racing style and the way he reacted with them both on and off the track. For the first few years of his GP career, Mamola raced the aging Suzuki RG500 against the much newer machines from Honda and Yamaha. When he finally moved to Honda, he was up against Eddie Lawson, then at the height of his powers.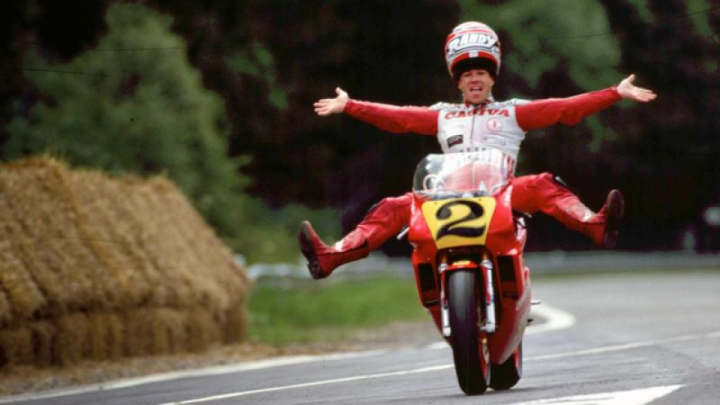 A further move to Yamaha, and he was still battling Lawson and Wayne Gardner, who would win championships while Mamola could only finish behind them on the racetrack. Spells with Cagiva and Yamaha rounded off his racing career, but a new career as a commentator commenced, and he again became a fan's favorite with his insightful and colorful delivery. His charity work has had far-reaching consequences, first by setting up the Riders For Health charity, which operates in Africa, and, later, the Two Wheels for Life organization. He is a tireless campaigner for charity, helping to raise hundreds of thousands of dollars for good causes.
1. Nicky Hayden
At the time of writing, Nicky Hayden is America's last MotoGP World Champion. Having raced for most of his early life on two wheels, alongside his brothers Roger Lee and Tommy, he won the AMA Superbike Championship in 2002 and, on the strength of that, was invited to become part of the Repsol Honda team in 2003, alongside Valentino Rossi, who was then at the height of his powers. He won his first MotoGP race in 2005 and a further two races in 2006 on his way to winning the World Championship, ending Rossi's streak of five consecutive titles.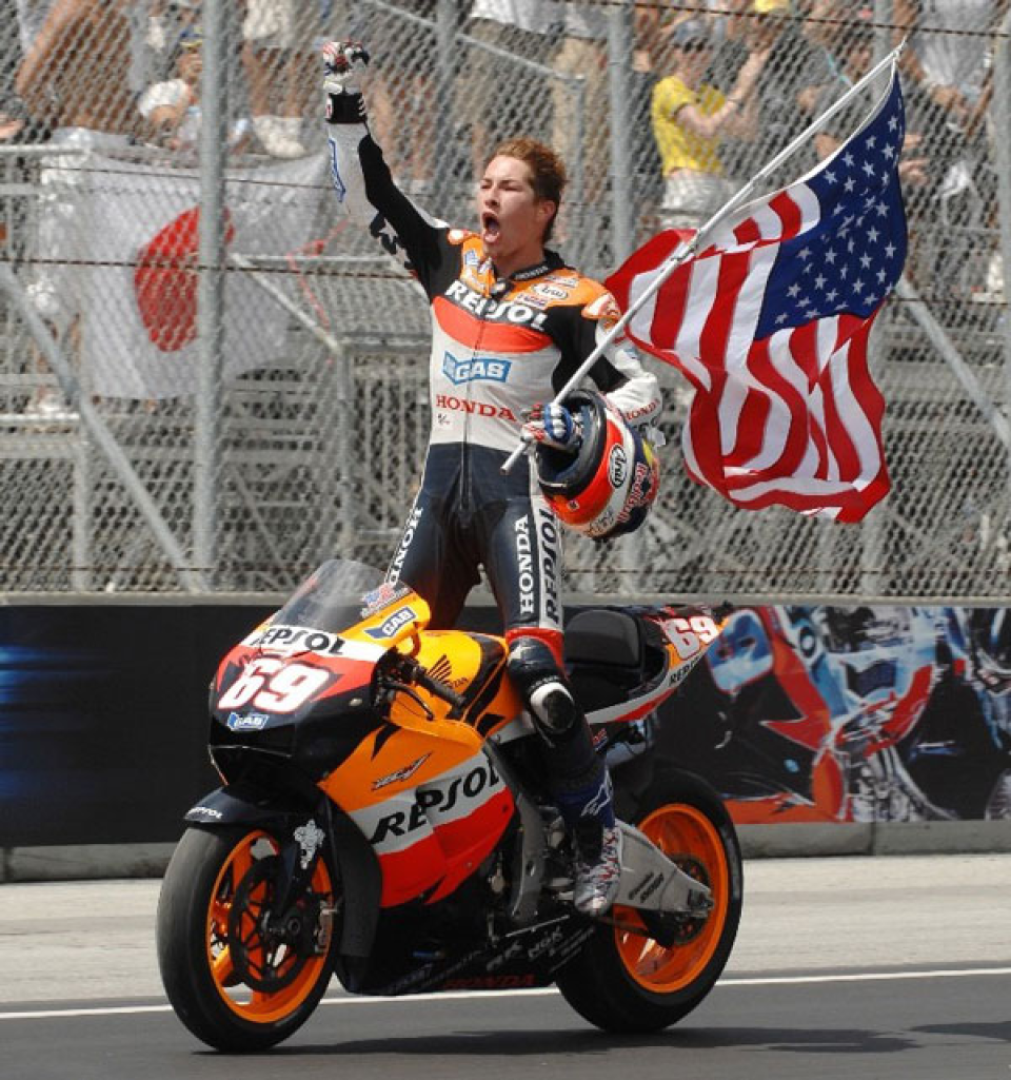 A move to Ducati after two more years at Honda proved difficult, although Hayden's work ethic never wavered, and he was acknowledged as the hardest-working rider in testing, putting in thousands of miles, trying to develop the difficult Ducati Desmosedici MotoGP bike. In 2016, he moved across to the World Superbike championship, racing a Honda CBR1000RR Fireblade. The Honda wasn't wildly competitive, however, and he won a single race in one and a half seasons. In 2017, this immensely likable and popular racer was involved in an accident while riding his bicycle in Italy. He died five days later from brain trauma.
Credit: topspeed
#MotoSport #Bike #Moto #Race #MotoGP