Based in the city of Hyderabad in India, Reza Hussain is an entrepreneur, avid car and motorcycle enthusiast, and the force behind RH Customs. An India Bike Week Build-Off winner, the custom moto shop has completed an enormous number of impressive one-off bikes, from dual-sports to scooters to bobbers to cafe racers to scramblers to street trackers. Even with its lengthy portfolio, RH Customs latest build is undoubtedly its most unique to date, as it's now transformed a turn-of-the-millennium-era cruiser into a two-wheeled Transformers tribute.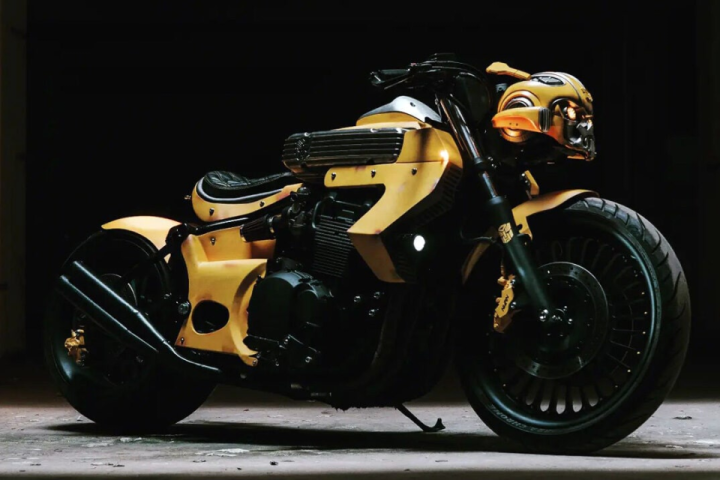 Based on a late 90s/early aughts Honda X4, the project has appropriately been dubbed "Bumblebee" and features a slew of impressive nods to the famed Autobot. Aside from its 1,284cc inline-four engine, very little of the stock cruiser bike remains in play, as RH has treated the Honda to a one-off chassis and a bespoke tubular swing-arm that now accommodates a significantly wider rear tire. A bobber-style rear fender now hugs the back tire, while a stacked set of blacked-out silencers flank both sides of the beefy back wheel. The build has also been gifted a diamond-stitched black leather tractor-style seat that rests on a truncated subframe and sports an LED strip taillight and micro-LED indicators.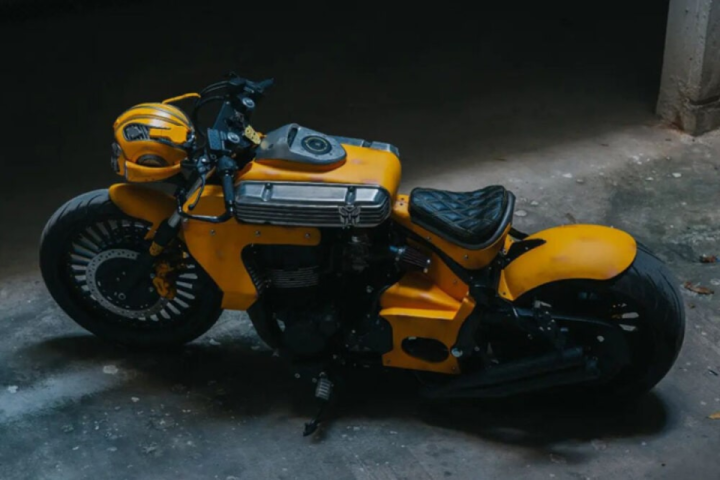 In place of the donor's headlight is now a movie-realistic replica Bumblebee head with amber LED backlit eyes. The project's piece de resistance, however, is unquestionably its tank, a one-off affair that's decorated in a pair of vintage Camaro SS valve covers that sport custom "Autobrand" insignias — logos that are also seen on the X4's fork lowers. A custom set of radiator shrouds also flow from the front of the bottom of the new tank and conceal a pair of auxiliary beams that now serve as the project's headlights. Other additions include a bank of pod filters, yellow-finished Nissin calipers front and aft, race-style lever guards, and 32-arm, multi-piece wheels. Rounding out the build is a faux-weathered Bumblebee yellow livery that pays homage to the paint that the Bumblebee Camaro wears.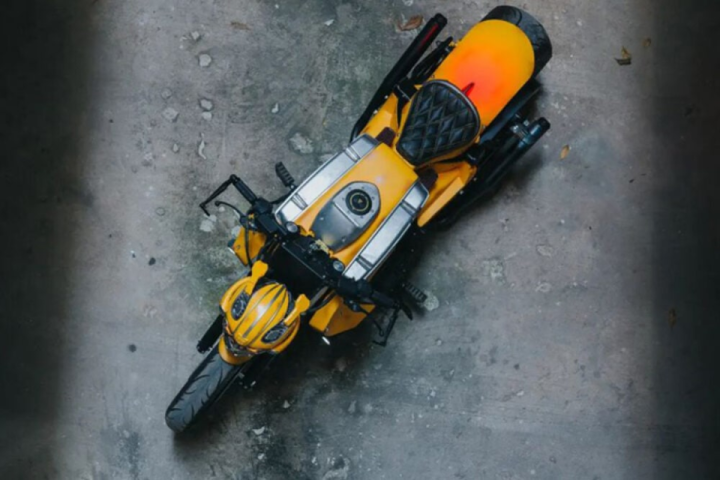 As kitschy as it may be, it's hard not to be blown away by not only the moto Bumblebee's design, but also its top-notch execution, with the inline-four-powered Autobot bike boasting what can only be described as a factory-level finish. As a one-off commission, RH Customs' Honda X4-based Bumblebee build isn't avilable for purchase, however, those interested in getting their own unique RH build can contact the shop via its website or social media channels.