The market for 400 cc-class sports bikes is turning into a raging battlefield in Asian markets, notably China, and Benelli is set to join the rivalry with a new 400RR model.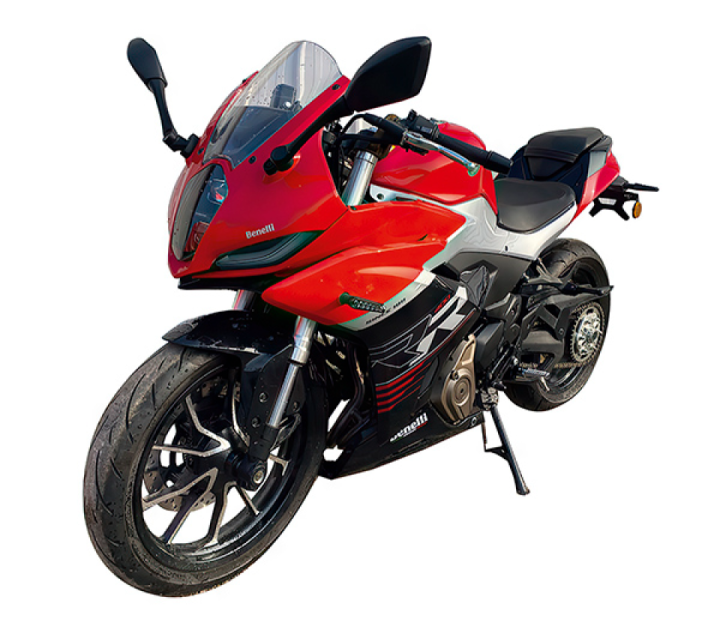 Although not officially announced yet, the 400RR has been put through the type-approval process in China and could well become a worldwide model once it's in production. The bike marks a step change for Benelli, with a completely new parallel twin engine rather than an evolution of the existing 300 cc or 500 cc twins that power several of the company's existing models.
The engine appears to share its overall dimensions with the Kawasaki Ninja 400 engine, using a 70 mm bore and 51.8 mm stroke, but its outward appearance and castings show it's not a copy of the Japanese design.
Two variations of the bike have been type-approved in China. Both have a relatively high specification, with a single-sided swingarm and an impressively light 172 kg weight. For both models, the power is rated at 47 hp (35 kW). That's a substantial increase compared to the other 400 cc sports bike manufactured by Benelli's parent company Qianjiang, the QJMotor SRK400RR, which can only achieve 40 hp (30 kW). The Benelli is also more compact with a 1,380 mm wheelbase compared to the QJMotor's 1,410 mm, and 19 kg lighter than the SRK400RR.
The two models differ in their cosmetics more than their mechanical makeup. The standard version has dual front discs and Nissin calipers, while the second model uses a single front brake and different wheels with black spokes and polished aluminium edges. The bodywork is cleanly styled, with a definite nod to the old Tornado Tre superbike in the vertically-stacked headlight design, flanked by air intakes, and the way the fairing merges into the section under the tank and then the seat unit.