About a decade back, Royal Enfield announced its intention to become the world's biggest seller of mid-displacement motorcycles, and most people ignored it, or laughed.
They aren't laughing now. Royal Enfield might not be the biggest player in the 350-650 segment, but the brand is spreading all over the world and is proving particularly popular with riders at the both the youngest and oldest ends of the spectrum, for the same reason: The machines are simple, and they look like motorcycles used to look like.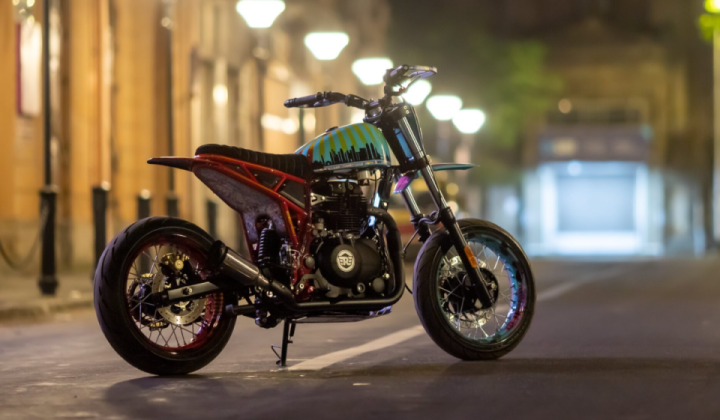 To hipsters, who want to recall the days of middle-class splendors, that's just as important as it is to the aging Boomers who were the middle class who had it so good through the middle of the 20th century.
But it's not just an interest in retro styling; there's another reason Royal Enfield sells well. It's because the bikes are easy to customize.
Consider the machine pictured above, from Bombay Custom Works. It's a cool little supermoto, built on the Scram 411 platform.
It's not a complicated build-up; a peanut tank, 17-inch wheels with street tires, some hacking to the rear subframe, a new seat, a raised front fender. But when the job is done, you've got a motorcycle that looks a lot different from the stock machine. And yet, unlike so many awful customs we've seen over the years, this machine should actually function very well, especially because it still has a decent rear suspension.
You don't have to spend very long searching the Internet to find countless shops like this in India, specializing in customizing Royal Enfields. You can opt for a shop-built machine, with any level of hand-built work, or you can buy bolt-on parts from those shops to do the work yourself.
Now, look at competing small-bore machines like the KTM 390 Adventure, or Honda CB500X. To be fair, both of those machines offer a lot more performance than the Scram 411, but that comes at the cost of ease of personalization. You can bolt on handguards, engine guards, etc., but ultimately most modern ADV bikes are covered in so much carefully-sculpted bodywork (to hide radiators and other ugly bits) that riders won't even try to change the look of the machine.
Maybe that's not an entirely bad—for decades, motorcyclists have been horribly hacking up bikes to personalize them, but in reality, they're just making them more ugly. I would know, I did it myself in my 20s.
The idea of Making A Bike In Your Own Image, so to speak, will always appeal to many riders, though. Some other OEMs get the idea, somewhat; Honda's made-in-India CB350 series (still unavailable in North America, alas!) is made to be easily user-customizeable. The new CB750 Hornet also comes with a wide range of factory accessories which won't change the machine radically, but might scratch the itch for some self-professed builders.
In coming months, as family budgets tighten and the COVID sales boom enters our rear-view mirror, I expect a return of the great industry self-examination: "How do we Make Motorcycling Great Again?" and so on. And while I have plenty of suggestions on this topic, OEMs could start by following Royal Enfield's example, and building bikes that are easy (and affordable) to customize. It's the single industry trend that has survived since the dawn of motorcycle mass production.