Garmin has just announced three new handheld GPS units for 2023. The eTrex SE now joins the lineup, along with the GPSMAP 67 and the GPSMAP 67i.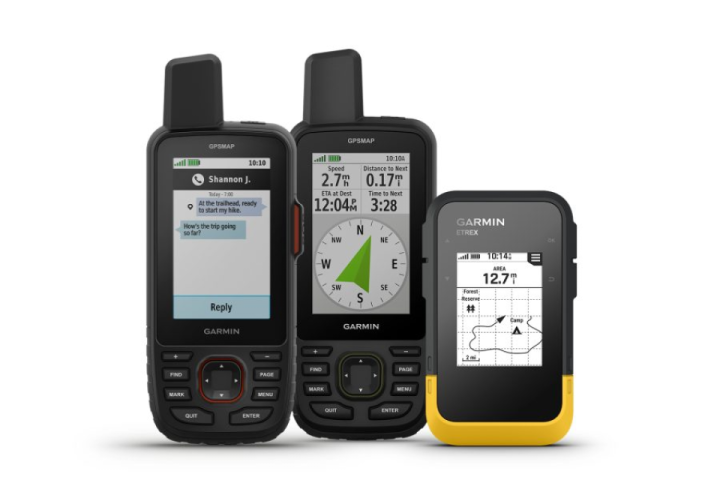 eTrex SE ($149.99 MSRP)
This entry into the budget-priced line is a major move forward from the older eTrex designs, with connectivity to the Garmin Explore app, for "wireless software updates, cloud storage, trip planning, smart notifications and additional mapping." It's still powered by AA batteries, with a claimed life of up to 168 hours in standard mode, and 1800 hours in expedition mode. Along with GPS satellites, it also interfaces with GLONASS, Galileo, BeiDou and QZSS satellites.
The eTrex SE has a 2.2-inch monochrome screen, and is IPX7 weatherproof. Finally, Garmin has ditched those awful Mini USB cords; this unit uses a USB-C cord.&
This handheld ships with a cities basemap, and can store 1000 waypoints/favorites/location points. It handles tracks and navigation routes, and if paired to your phone, can deliver weather notifications.
See more specs at Garmin's website here.
GPSMAP 67 ($499.99 MSRP)
A significant jump in pricing and capability for the GPSMAP 67. This unit comes with a 3-inch color screen, and comes with preloaded TopoActive maps for the US, Canada and Mexico. If you pay for an Outdoor Maps+ subscription, you can get "public land information, landowner names, state plat maps, hunting management unit boundaries, BLM boundaries and more." That could be a very useful thing if you're riding in an area with issues around trespassing and property rights.
The GPSMAP 67 also supports satellite map imagery download over wi-fi. Like the eTRex SE, it runs off GPS, GLONASS, Galileo and QZSS satellite connections. It comes with built-in altimeter, barometer and tilt-compensated compass sensors, and offers up to 180 hours of battery life in trail mode, 840 hours in expedition mode. However, unlike the eTRex SE, the GPSMAP 67 uses a rechargeable, internal li-ion battery.
This handheld also offers turn-by-turn routing with as many as 250 points, searchable POI, the ability to save as many as 250 tracks, and capacity for 10,000 saved waypoints/locations/favorites.
Of course it also connect to Garmin's Explore app which will deliver weather updates and more. Find more details and specs at Garmin's website here.
GPSMAP 67i ($599.99 MSRP)
This is pretty much the same as the GPSMAP 67, but with inReach satellite communication tech built-in. This includes two-way text messaging as well as emergency rescue communications, real-time satellite weather updates and location sharing with other inReach devices, as well as MapShare capability. Battery life drops to 165 hours, or 425 hours in expedition mode. There are obviously huge advantages to a device that can do this, if you're traveling in a group—and if you don't mind the expense.
See more details at Garmin's website here.