2023 is your year to learn to ride. Here are more of the coolest entry-level bikes in the U.S. from Honda, KTM, Yamaha, Kawasaki and an EV motorcycle from Zero.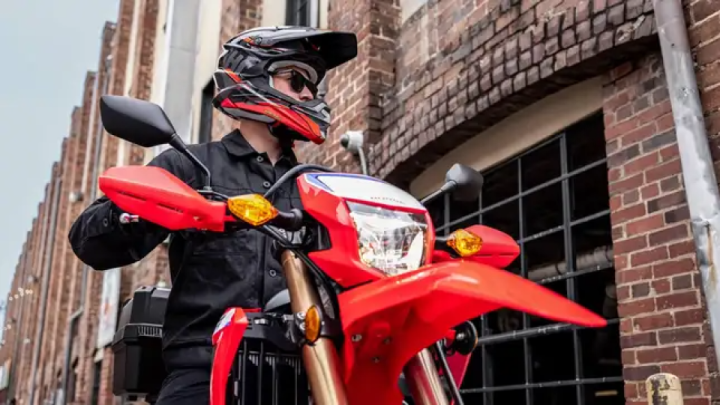 It truly seems like there's never been a better time to learn to ride a motorcycle than now. As we've already seen, there are a lot of options for riders fresh off the range at their local MSF course. But there are also so many great beginner bikes now in the U.S. that we left dual-sports, minimotos and supermotos out of our last roundup.
We'll be looking at these motorcycles this time around, and maybe one or two outliers. Dual-sports are just bikes that are designed to be ridden both on- and off-road. Their light weight makes them easy to handle, although their high saddles are a bit more difficult to master. Being able to plant both feet on the ground inspires confidence for new riders, but dual-sports are less intimidating than you may think. Take it from me, an objectively short person.
Supermotos are more or less what happens when you take a dual-sport bike and put street tires on those spoked wheels. I struggle to call them beginner bikes, but there are enough small displacement models now that the name can apply. And minimotos are, err, mini. It's all in the name! We'll also take a look at one EV, and discuss why that's the case in this bike roundup, which takes a look at even more of the best new motorcycles for beginners on the U.S. market.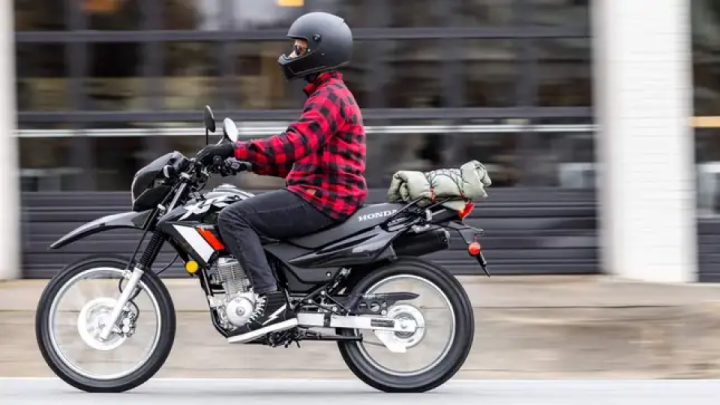 2023 Honda XR150L
The Honda XR150L is a moonshot machine — to me, at least. It's a dual-sport bike with the heart of a minimoto. That is, it has the same appeal of the Grom and its ilk that uses simple, reliable components, such as a 149cc single-cylinder engine (carbureted, thank you), but it's a dual-sport with good suspension travel and an upright rider triangle.
The XR150L is a small-displacement bike with big ambitions: to turn you into a motorcyclist. It also happens to be incredibly fuel efficient, reportedly getting up to 124 miles per gallon. Efficiency isn't the only reason to be a biker, but it's a welcome benefit.
Starting at $2,971 excluding dealer prep, delivery)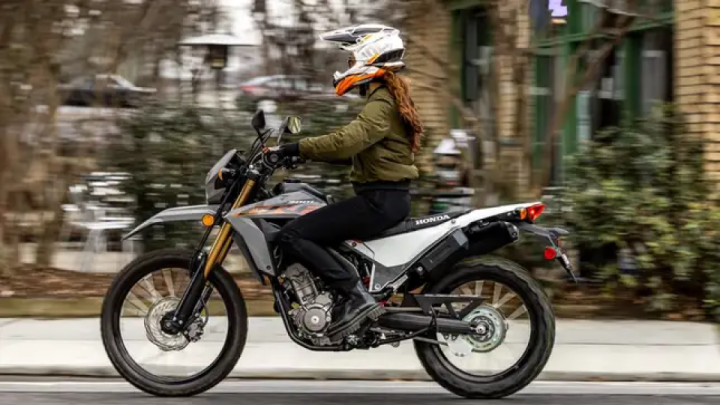 2023 Honda CRF300L and Honda CRF300LS
The 2023 Honda CRF300L is the Honda Africa Twin for people who are my height (5"3') or for those who are just starting to ride. Last month, I swore I'd buy a big ADV motorcycle and just get out there. I went through the usual progression of budding ADV riders: I started by wanting a Yamaha Ténéré 700, then wanted a Kawasaki KLR650, then& thought I ought to splurge and get a BMW GS1200. I realized the error of my ways and ended up at a local dealer to look at Honda Africa Twins, which was another error.
As you might have guessed, I learned that the venerable Africa Twin is too much bike for me — especially since I only want something to ride on fire roads. The dealer suggested I try something smaller since I wasn't planning to go touring. I threw a leg over the saddle of a CRF300L and promptly fell in love. The bike is light at 306 pounds; it's easily maneuverable and even with its high 34.7-inch saddle and my 29" inseam it would have been a good fit. I think.
The only reason I didn't buy it right then and there is that I prefer the styling of the CRF300L Rally. But new rider beware: the regular CRF300L is lighter than the rally version and also slightly shorter. Now I come to find that Honda has released a shorter version of the same bike, called the Honda CRF300LS, which has a 32.7-inch seat height, and weighs just a few pounds more than the standard bike at 311 pounds. I love the CRF300L Rally, but the CRF300LS is calling my name.
Starting at $5,399 and $5,699 (excluding dealer prep, delivery)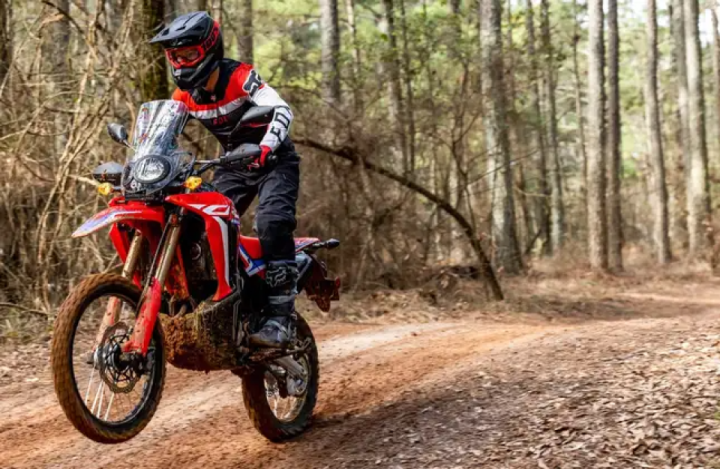 2023 Honda CRF300L Rally
Dakar bikes, which is to say some of the most capable machines in the world, aren't built to cut through the air as much as their siblings destined for the track. Dakar motorcycles are therefore styled differently, built around the needs of their riders, which is why these two-wheel off-roaders are brute force incarnate, tall and upright rather than aerodynamic. Dakar bikes have always struck me as vaguely similar to speeders — point being that these bikes look awesome. The Honda CRF300L does a pretty great impression of these machines; that's why I would love to own one and hit the trails.
Starting at $6,149 (excluding dealer prep, delivery)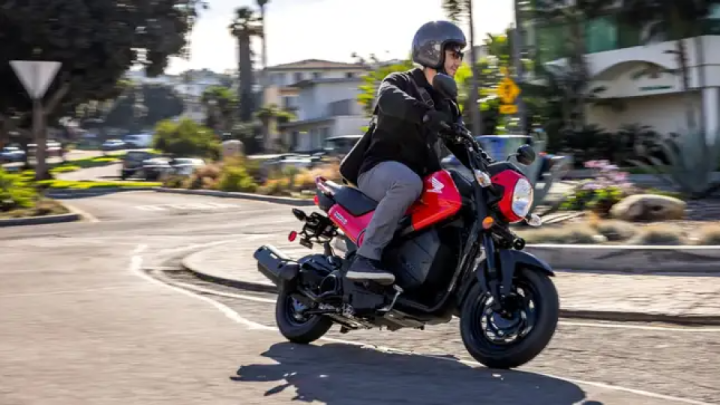 2023 Honda Navi
The Honda Navi is an oddity that I never thought Honda would sell in the United States due to its size and displacement. The Navi has a tiny 109cc single-cylinder engine that's air-cooled and still uses a carburetor to sip fuel from a tiny one-gallon gas tank. The saddle is not as low as you would imagine at 30 inches, which is either good or a bad depending on the rider, but the Navi itself itself is a capable two-wheeler insofar as it was conceived to be a cheap, dead simple means of transportation. And since the Navi gets an estimated 110 miles per gallon, a full tank should yield roughly 100 miles of use for whatever the cost of gas is in the U.S. at any given time.
Starting at $1,807 (excluding dealer prep, delivery)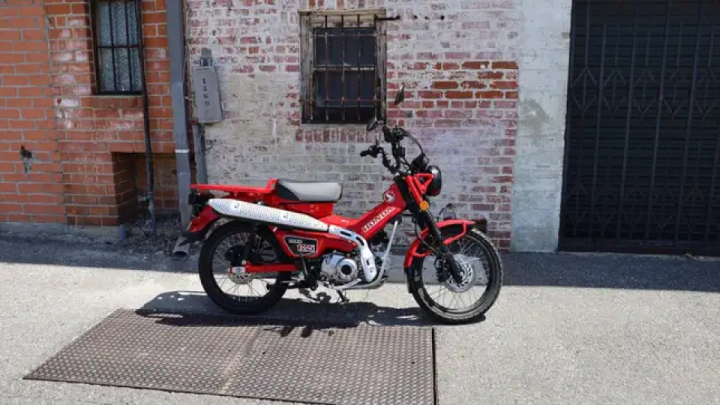 2022 Honda Trail 125
The Honda Trail125 is very much like the Honda Super Cub, it's just closer to the actual "cub" designation as a machine that's meant for use in the wild. No, you (probably) can't keep up with the CRF300L listed above on a Trail125, but the bike seems like a good machine to take to a trailhead or to bomb around a state park between campgrounds. The Trail125 uses the same 125cc single-cyl of the Super Cub but it has a slightly higher saddle height of 31.5 inches and is heavier at 259 pounds. The extra weight partially comes from the bigger gas tank, which fits 1.4 gallons of gas. The Trail125 gets an estimated 158 miles per gallon.
Starting at $3,999 (excluding dealer prep, delivery)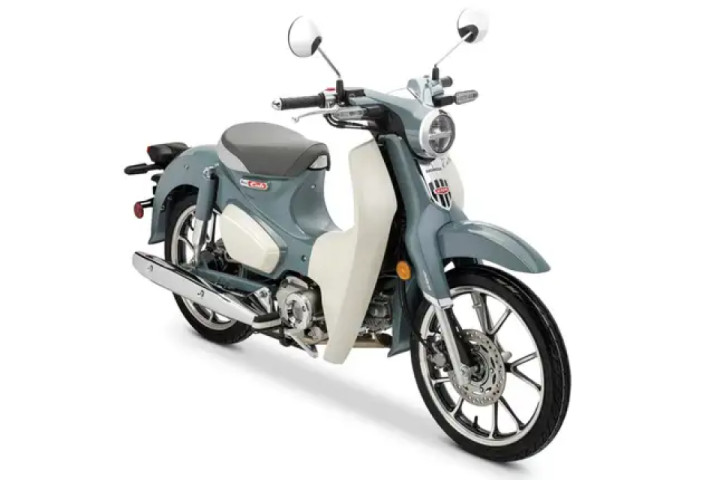 2023 Honda Suber Cub C125
The Honda Super Cub is an icon for Honda and for the automotive industry as a whole. Volkswagen has the Beetle, Jeep has the, well, Jeep. And Honda has the original Super Cub, which has been made since the late 1950s, and sold in various iterations. The Super Cub is reportedly most produced vehicle in history. In 2023, the Super Cub is still here and while it looks more like a scooter to modern riders, it's still a two-wheeler that Honda now considers a minimoto. The Super Cub uses a 125cc single-cylinder engine, and it has a relatively low saddle height of 30.7 inches. It weighs just 238 pounds and gets somewhere around 156 miles per gallon.
Starting at $3,849 (excluding dealer prep, delivery)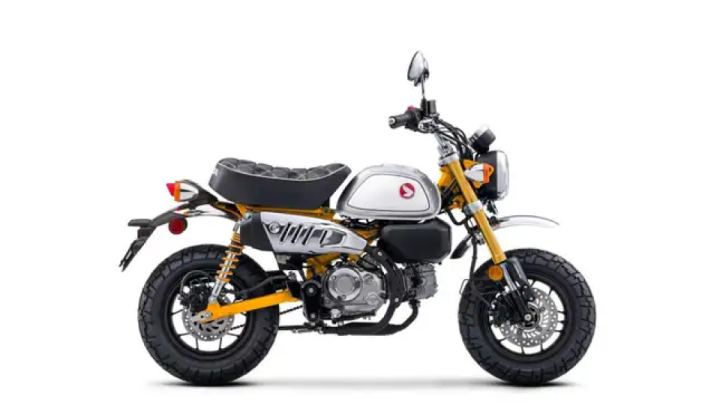 2023 Honda Monkey
The current Honda Monkey was released as a follow up to the Honda Grom, after the modern minimoto proved to be popular in the U.S. Despite the Monkey being based on the Grom, its history goes much further back as one of Honda's Z bikes from the 1960s. The Monkey we know today is kind of like the Grom's rowdier cousin. Not in terms of performance — these are still 124cc single-cylinder bikes, after all — but more in terms of style and attitude. I'm a fan of the Monkey, which is friendlier in person than its vague Honda Fat Cat appearance suggests.
Starting at $4,249 (excluding dealer prep, delivery)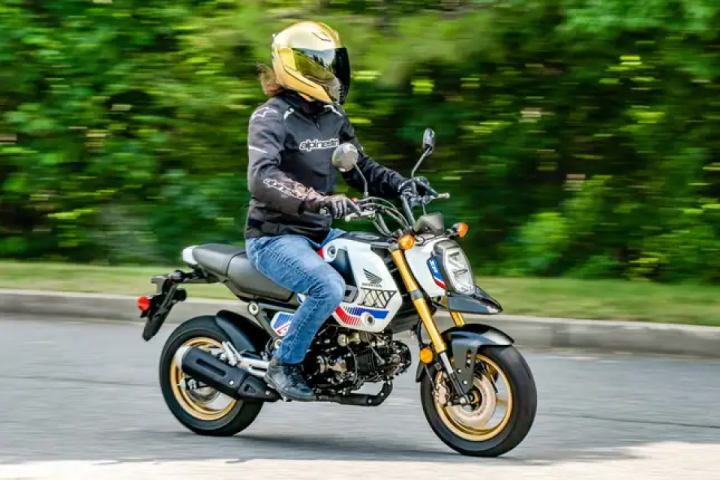 2023 Honda Grom
And here is the Honda Grom, which started the resurgance of Honda's minimotos in the U.S. When the Grom first appeared, some doubted it would find an audience among American riders, but it has. My suggestion for new riders is always don't knock it 'til you try it. The Grom's low saddle and low weight — 30 inches and 223 pounds, respectively — make it a joy to flick around a parking lot and to run errands on. There's little power to be wrung out from the 124cc engine, but in return the Grom gets an estimated 166 miles per gallon. Talk about eco-friendly.
Starting at $3,499 (excluding dealer prep, delivery)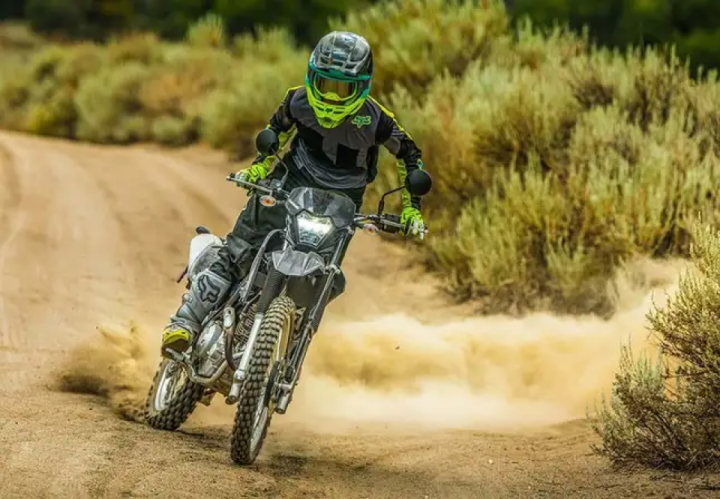 2023 Kawasaki KLX 230
The Kawasaki KLX 230 is another "baby" dual-sport bike but has a bigger 233cc single-cylinder engine than the Honda XR150L. That may not be saying much as far as displacement, but the bike is a dual-sport through and through complete with a 21-inch front wheel and 18-inch rear to roll over obstacles, and 8.7 inches of ground clearance at the front fork. The saddle is nearly 35 inches tall, but Kawasaki sells a shorter version that comes in at 32.7 inches.
Starting at $4,999 (excluding dealer prep, delivery)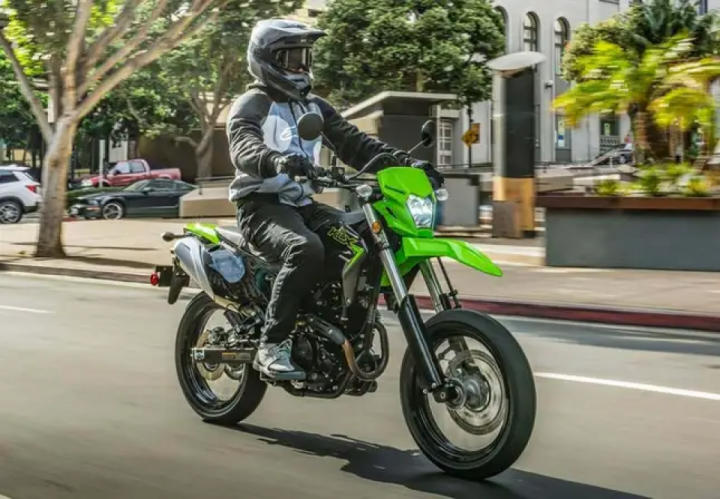 2023 Kawasaki KLX 230SM
If a small-displacement dual-sport bike isn't your speed, there's always the KLX 230SM, which is a supermoto bike. I wouldn't normally call supermotos beginner bikes because they tend to be rowdy and make lots of torque early in the powerband. They are raucous and playful machines that demand a bit of respect from their rider, but the 233cc single-cylinder engine of the KLX230 lends itself to beginners more so than other supermotos.
Starting at $5,299 (excluding dealer prep, delivery)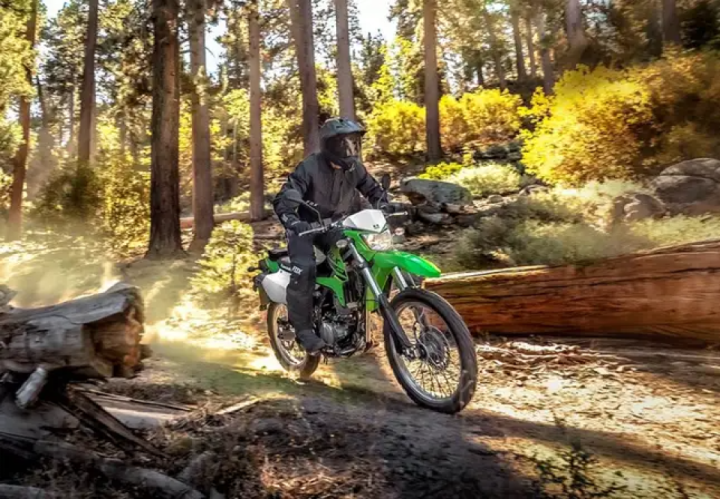 2023 Kawasaki KLX 300
The KLX300 is Kawasaki's answer to the Honda CRF300L. The KLX300 features a 292cc single-cylinder engine and a six-speed manual transmission. It has a high saddle at 35.2 inches, but it's light enough to wrest control from even for beginners at 302 pounds, wet. If the mighty KLR650 seems like a bit too much for now, beginners would be well served by the KLX300.
Starting at $5,899 (excluding dealer prep, delivery)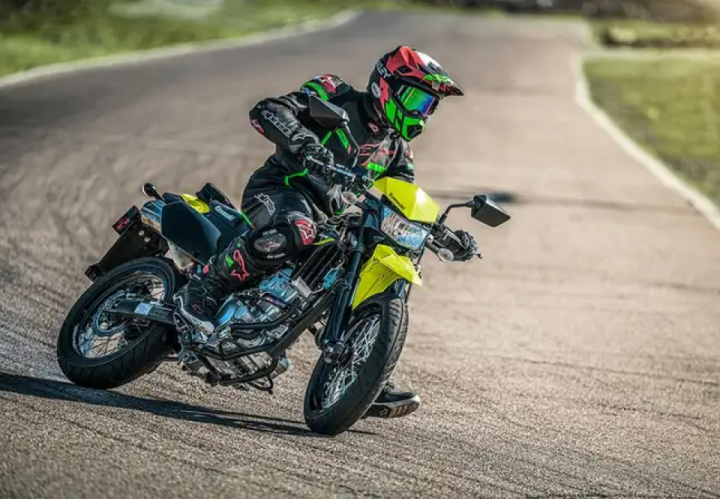 2023 Kawasaki KLX 300SM
The Kawasaki KLX300SM is bumps up the displacement of the other previous Kawasakis which makes it less appropriate for beginners who are, well, just beginning. The KLX300 supermoto is a pretty good bike, however, for beginners who may have learned on a small cruiser or naked and want something with different ergonomics. Supermotos are just dual-sports that prefer to stick to the street, so the same upright seating applies. The XXXcc engine and commanding seating position make the KLX300SM a great commuter that like a bit of mischief.
Starting at $6,299 (excluding dealer prep, delivery)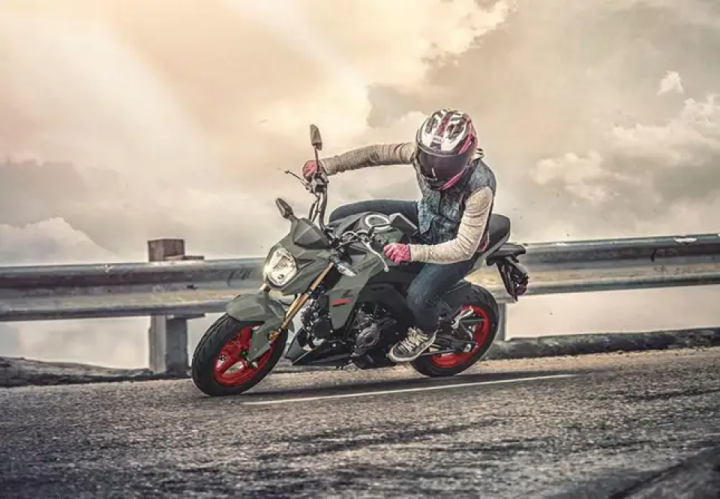 2023 Kawasaki Z125 Pro
The Kawasaki Z125 Pro borrows an engine from a small-displacement Ninja sports bike that Kawasaki sells abroad, but the Z125 Pro's styling seems borrowed from the Honda Grom. It makes sense that Kawasaki would make an effort to pry some of the Grom's market share with its own version of the minimoto. Both the Grom and Z125 Pro have the same size tires at 12 inches but the Z125 has a slightly higher saddle at 31.7 inches. That's almost two inches which is a lot when talking saddles, but the Z125 weighs just 225 pounds. That makes it a breeze for the bike's 125cc single-cylinder engine to get it moving, and it's also eminently easy to control. Great beginner bike.
Starting at $3,399 (excluding dealer prep, delivery)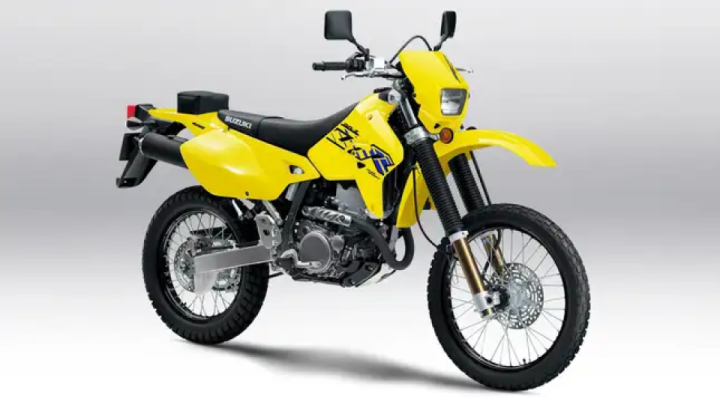 2023 Suzuki DR-Z400S
The Suzuki DR-Z400S, or DRZ for short, is better suited to intermediate riders than beginners. It's not just tall for a "small-displacement bike" with its 398cc single-cylinder engine: the DRZ's 36.8-inch saddle is tall by any standard. Its imposing dimensions are mostly down to the generous suspension travel and the bike's 21-inch front tire (18-inch rear). This is still a dual-sport motorcycle, so it's relatively light at 317 pounds, wet, in order to stay nimble on the trail.
Starting at $7,099 (excluding dealer prep, delivery)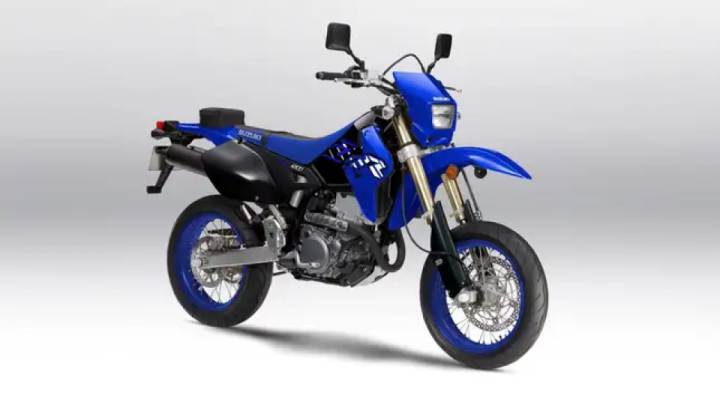 2023 Suzuki DR-Z400SM
First things first: The DRZ-400SM is expensive. Other than the only EV on this list, the supermoto version of the DRZ is the priciest motorcycle here. But it's a supremely capable bike that has more manageable dimensions and smaller 17-inch tires than its dual-sport sibling. Still, the super DRZ is not as new-rider friendly as many of the bikes mentioned here. The DR-Z400SM saddle is 35 inches tall and the bike weighs 322 pounds, wet. Basically, the DRZ supermoto is about 300 pounds of nothing but fast-twitch muscle.
Starting at $7,799 (excluding dealer prep, delivery)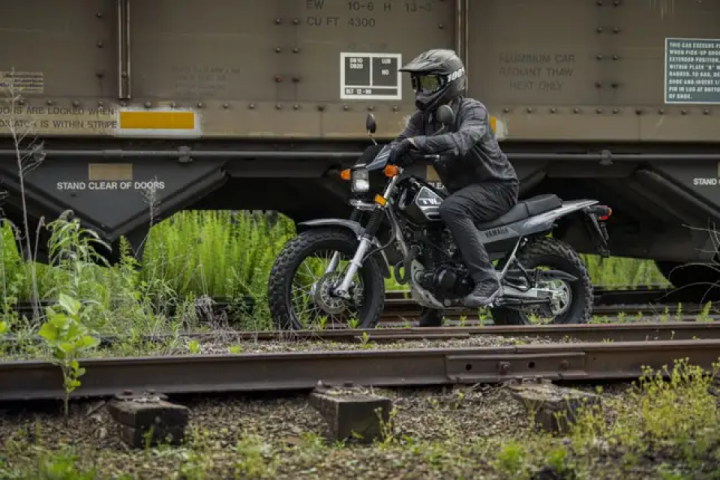 2023 Yamaha TW200
Compared to Suzuki's dual-sports, Yamaha's are tame — some would say downright boring. But some would be wrong, because the TW200 is just a great all-rounder well-suited for riders regardless of experience level. Or maybe I'm just biased, but the TW200 was the first dual-sport bike that I wasn't afraid of riding, all due to its friendly size.
The TW200's tires are knobby, but they're not skinny and tall like other dual-sport rubber. That means the TW200 is less capable than other models, but it features a 31-inch saddle and weighs a measly 278 pounds. Combine that with a tried and true 196cc single-cylinder engine and a gas tank that can hold almost two gallons of gas, and you have an eminently practical machine. Indeed, the TW200 is not just a gateway drug to dual-sports, but to motorcycles in general.
Starting at $4,899 (excluding dealer prep, delivery)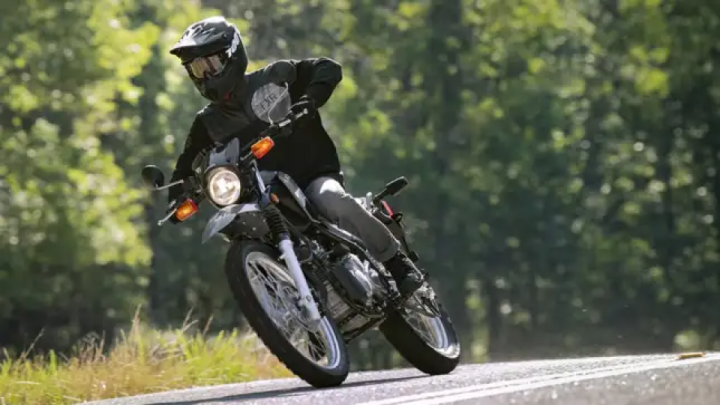 2023 Yamaha XT250
The Yamaha XT250 is more akin to a true dual-sport machine given its setup and ergonomics but it's still not as intimidating as a lot of other bikes in the segment. The XT250's saddle is 32.7 inches high, but the narrow build and low 234-pound wet weight make it easy to maneuver. The XT250 also bumps the displacement up compared to the Yamaha listed above with the skinnier bike having a 249cc single-cylinder engine.
Starting at $5,299 (excluding dealer prep, delivery)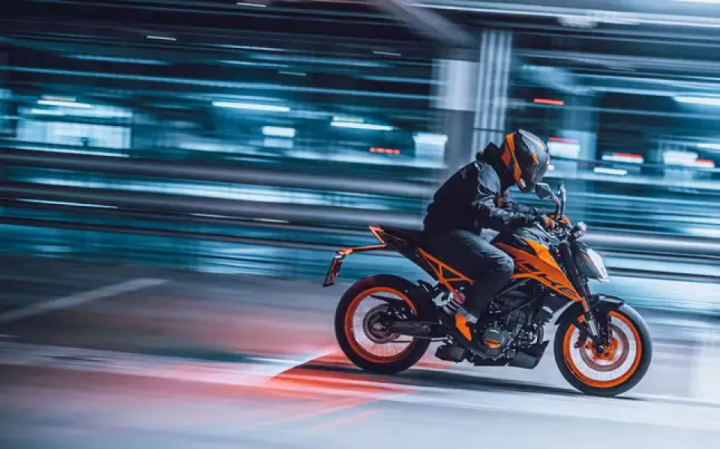 2023 KTM 200 Duke
While the KTM 200 Duke isn't a dual-sport, minimoto or EV, I listed it here because it's a beginner bike sold in the U.S., akin to its bigger brother, the 390 Duke. The greatest difference between the two bikes is obviously the displacement; the smallest "hypernaked" from KTM sold in the U.S. comes with a 200cc single-cylinder engine but boasts "big bike" components, including a generous 3.5 gallon gas tank, a six-speed transmission, Bosch ABS, and upside down forks at the front — all for a low price that makes the sport accessible to budding riders.
Starting at $4,199 (excluding dealer prep, delivery)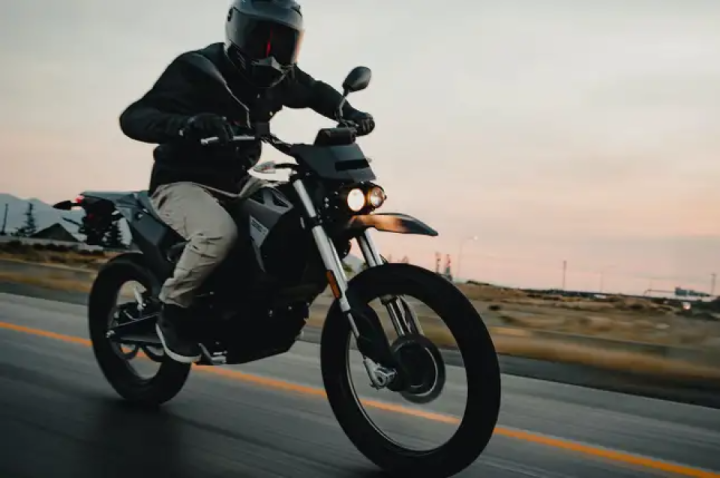 2023 Zero FX
I can't ignore the advent of EVs, so I'm including just one of the many currently available electric motorcycles on the U.S. market. The issue with fully-electric motorcycles is the same as that of fully-electric cars: they cost too much. Whereas the Zero FX, which is one of Zero's most affordable models, costs about $13,000 (before any incentives) most of the other bikes listed here are priced around $4,000 to $6,000. The Zero FX, therefore, costs double what these other bikes cost and that makes it harder to recommend to beginners; it would be a shame to invest so much money and realize the sport isn't for you.
But, I'm still grateful that EV bikes exist in the U.S. and am fully behind their growth. The Zero FX is a decent bike for riders who want to go electric: the FX has a range of about 91 miles, it makes 46 horsepower and 78 lb-ft of torque.
It's also pretty light at 289lbs — not wet, but fully charged, I suppose. The saddle is nearly 35 inches tall, which is on the higher side, but the bike itself is narrow, and its low weight will make it feel less intimidating. The only fly in the ointment (other than the price) is that the Zero FX takes almost 10 hours to fully-charge with on a standard charger. You can cut that down to about 3.6 hours using one quick charger, and even less by using more than one, but a quick charger adds another $775 dollars to the cost. That's a lot of dough.
Starting at $12,995 (excluding dealer prep, delivery and EV incentives)