Ducati has started manufacturing its first electric motorcycles for the FIM MotoE Championship. The company's V21L electric bike might not have an evocative name like 'Panigale' or 'Desmosedici', but since appearing a year ago as a one-off prototype, it's been developed into a standardised race machine that will replace the Energica Ego as the only model allowed to compete in the MotoE series from 2023 to 2026.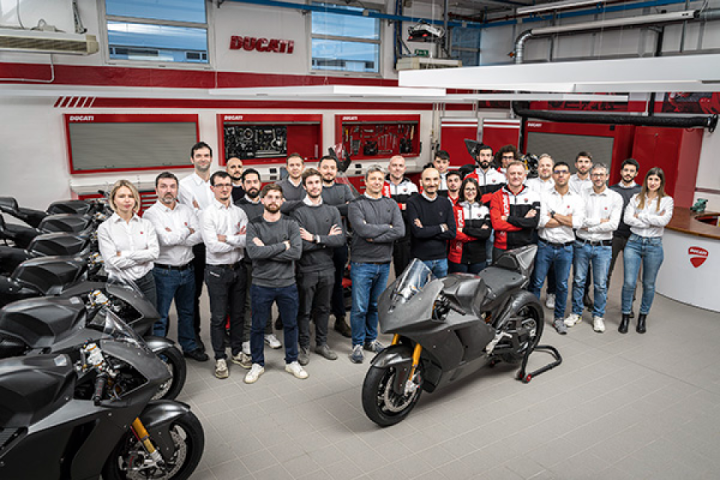 That competition is intended to give Ducati valuable lessons in building and running high-performance electric motorcycles in the heat of competition, providing the company with the knowledge needed to create its first road-going electric models.
Initially, 23 of the V21L machines have been made. Of those, 18 will be raced and the other five will act as backup bikes. All have been assembled by hand in a dedicated MotoE section of Ducati's race department.
Ducati CEO Claudio Domenicali said: "The start of production of the Ducati MotoE is a historic moment for our company. With this project we will be able to study and develop the technologies that will be needed in the future. It is an important area of experimentation, in which we are investing in build know-how, so that we will be ready when battery technology allows the creation of an exciting electric road bike with the weight, performance and range that enthusiasts expect from a Ducati.
"We are therefore embarking on this new adventure with the aim of developing the people and skills within the company to shape what the character of a future Ducati electric road bike might be. The MotoE project represents a decisive step for Ducati to contribute to the reduction of CO2 emissions on the product side, alongside research into synthetic fuels (eFuel) that can reduce the total CO2 emissions of internal combustion engines to zero."
The new bikes will be put through their paces at two three-day tests with the MotoE riders and teams in March and April before the 2023 championship starts at the French GP on 13 May.
#Ducati #Moto #Bike #Motorcycle