Adventure bikes and dual-sports are all the rage at the moment, and not only have they caused electronic rider aids to improve, but they have also inspired great advancements in tire technology.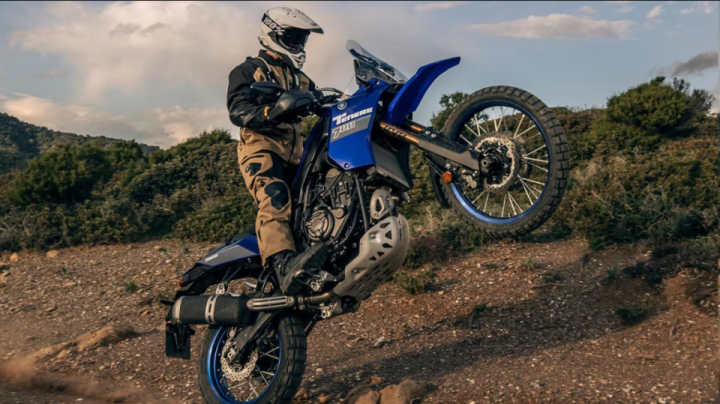 Just as every manufacturer must have an adventure bike in their catalog, so must every tire manufacturer have a dual-sport or adventure bike tire available. The tricky part, of course, is developing tires that seemingly do the impossible, by working well both on and off-road. Modern manufacturers are savvy enough to know that here's a wide variety of adventure riders out in the world. Some choose to ride exclusively on dirt, while others sticking primarily to pavement. So tire makers constantly have to ask themselves the same question: how do you accommodate this wide spectrum of rider needs? The simple answer is, you give ADV riders plenty of choices.
Pirelli Scorpion Trail II Dual Sport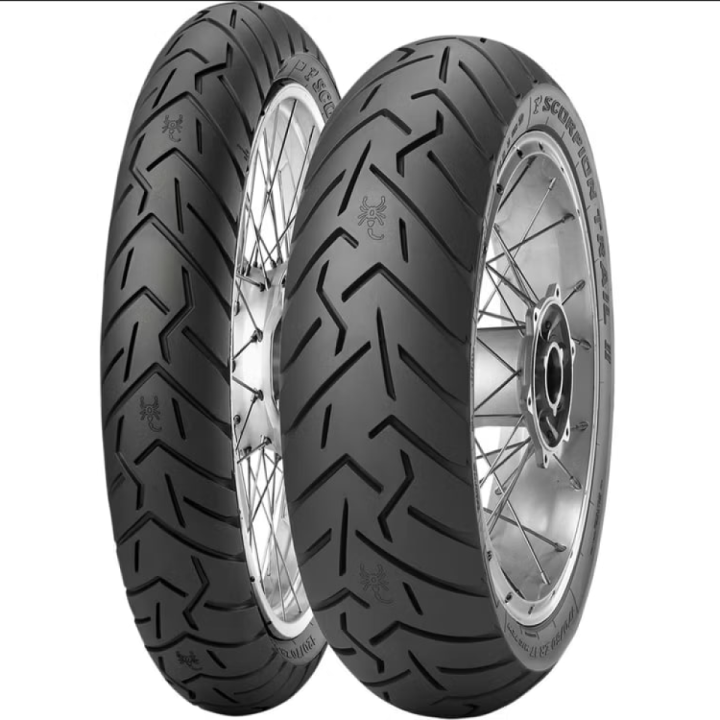 When you first look at these tires, they don't particularly scream "off-road" to anyone. Where are all the knobbies, you may ask? But Pirelli knows what they're doing, and they billed the Scorpion Trail II tires as sport touring with dirt-road capabilities. Since most motorcycle riders will use their adventure bikes on paved, gravel and packed dirt roads, these less aggressive tires will do the trick nicely. They have plenty of water evacuation channels, crisscross grooves for dirt traction and optimized contact patch area so that you may feel safe in any corner.
Continental Trail Attack 3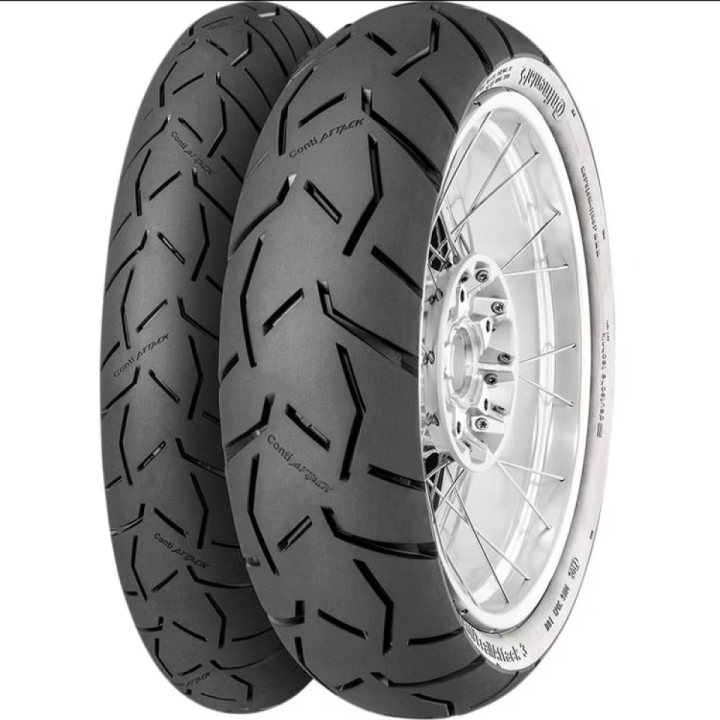 Similarly to the Scorpion Trail IIs from Perilli, these Conti Trail Attack 3 tires were build as a road-biased compromise for larger adventure motorcycles. Again we see a less aggressive off-road pattern, but Continental outfitted these with their MultiGrip compound, that is manufactured for high grip in dry and wet conditions. There's also the TractionSkin, which is their micro-rough tread surface, basked into the tire. They are primarily made for adventure riders that prefer to push their bikes in the sport-touring direction, but they won't feel intimidated on these, when the pavement finally runs out, and the dirt road begins.
Shinko 705 Dual Sport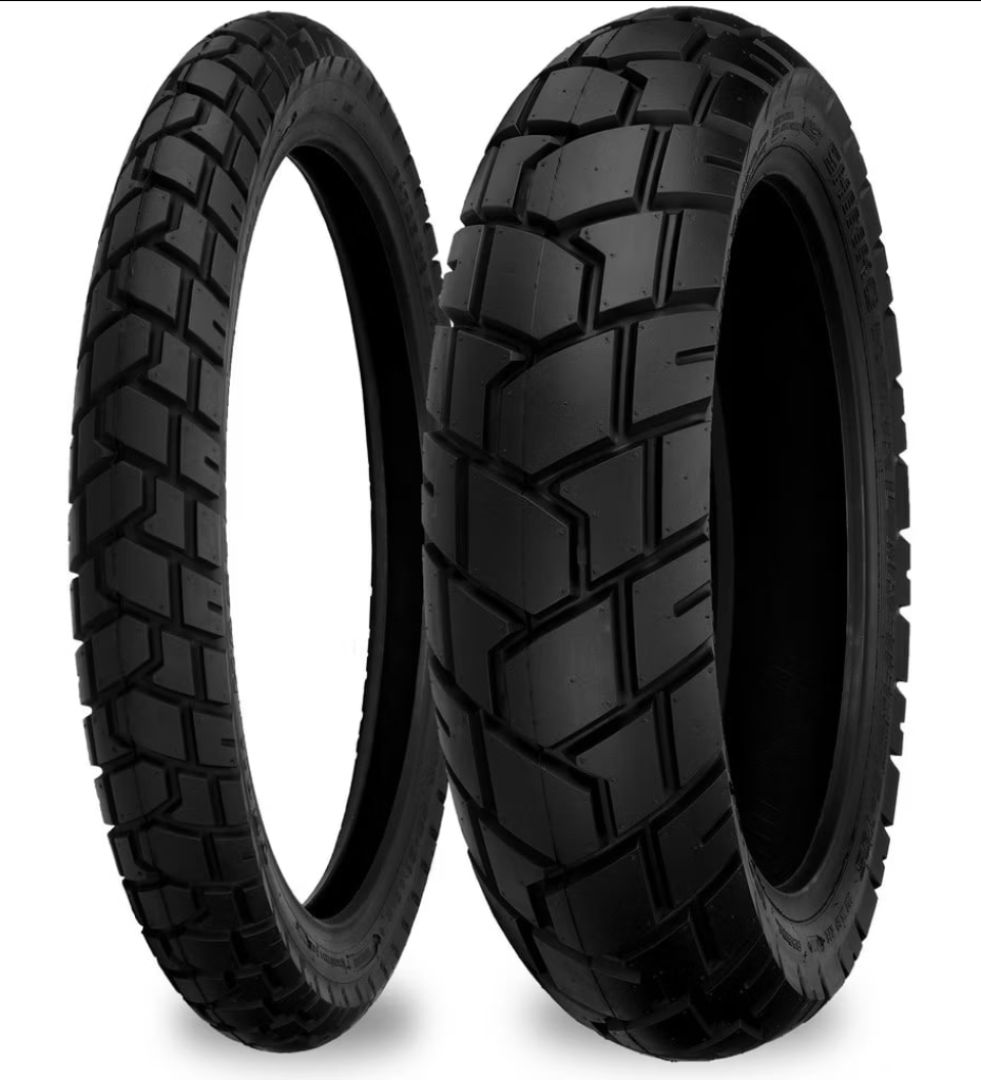 With an 80/20 road/off-road tread pattern, the Shinko 705 is the perfect tire for those who will spend the majority of their time on-road but want to be able to head into the forests and wild trails when the mood takes them. The large-block tread pattern gives excellent grip on wet or dry roads, and while it might lack the ultimate grip of more aggressive designs off-road, it will still work well if you are content to not push the performance envelope too much off-road. It is a great tire if you are riding a middleweight adventure bike and the tread should last for at least 5,000 miles. Lastly, the price is very attractive, but that doesn't mean that quality has been sacrificed. DOT-approved.
Dunlop Trailmax Mission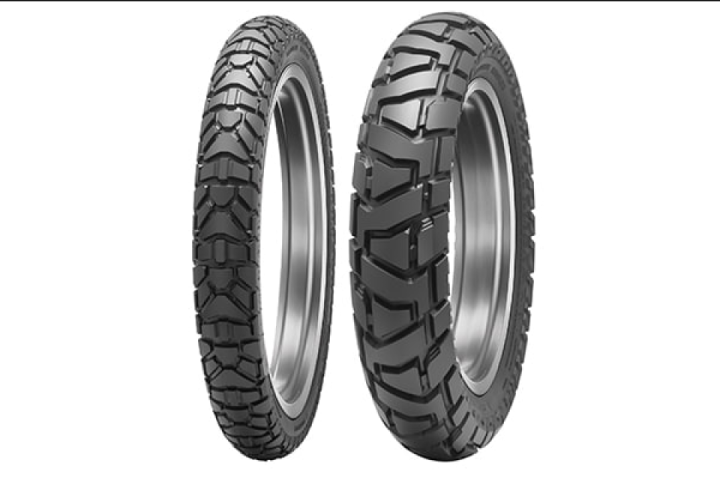 Dunlop has been in the tire business for a long time. Perhaps as long as there have been motorcycles. So when they put their industrial might into developing an adventure tire, you may just get something special as the end result. The Trailmax Mission tires are rated as 50/50 on- and off-road tire, and may be, subjectively, the perfect all-rounder tire.
The tread blocks are rugged and staggered across the face of the tire to give excellent stability and stiffness. The wraparound tread pattern helps protect the tire from punctures when riding through rocky sections, and the tire's compound has been perfected to give the best compromise between grip and mileage performance. They also, conveniently fit the proverbial who's who of adventure bikes. They can be equipped on Honda's Africa Twin, BMW's GS models, KTM's Adventure bikes, Yamaha's Super Ténéré and Triumph's Tiger models, as well as many others.
Mitas E-07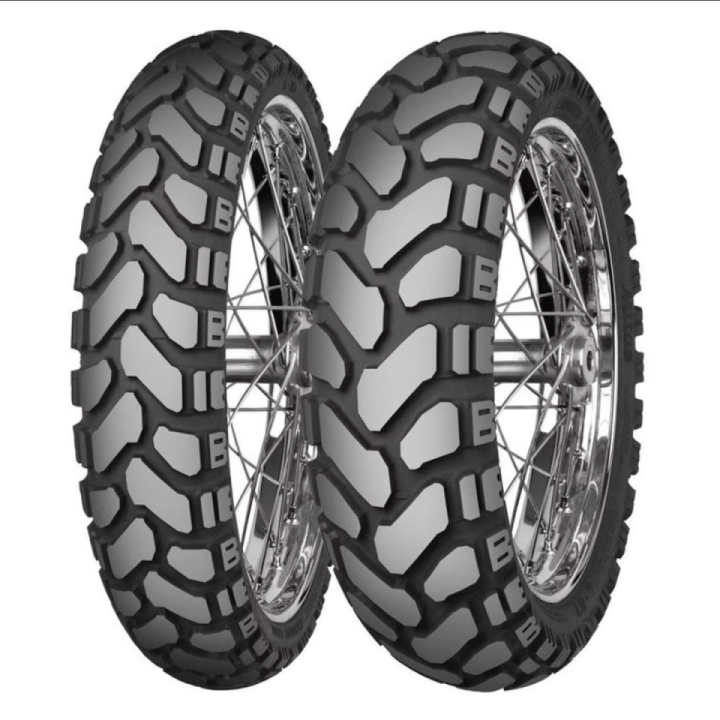 The Mitas E-07 is a bit of an oddity on this list, as it's almost a 50/50 tire. Mitas calls it a 60/40 but just look at those chunky treads! If your goal was to hop on the highway just so that you can get to the dirt as fast as possible, then the E-07 were developed with you in mind. It is specifically designed to cope with the weight and power of the larger adventure bikes. Aside from its good on-and off-road performance, the bias-ply construction ensures incredible tire life, which makes it perfect for this planning longer trips, where budget and practical constraints mean that changing tires often just isn't feasible. A chevron tread pattern works well on the road and the wide spacing of the blocks give good traction off-road. The other benefit of having these tires is that they're rated M+S, or Mud + Snow. That's not something many other tires on this list can boast.
Pirelli Scorpion Rally STR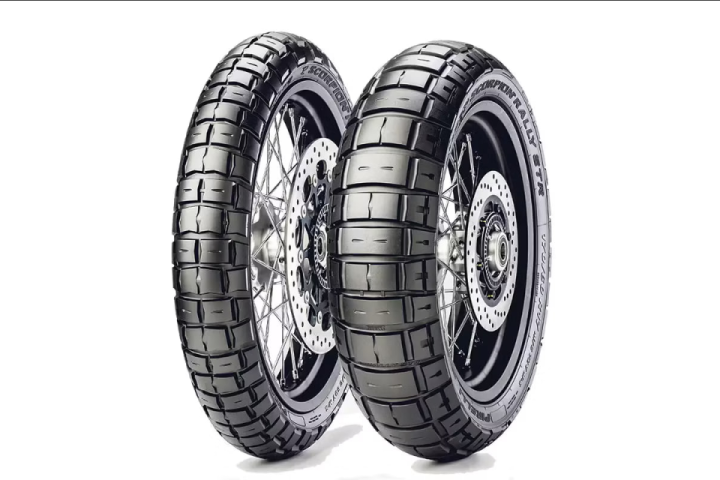 Pirelli is one of the great tire companies, with their sports tires being held in extremely high regard. The same goes for their dual-sport tires which, though may be on the expensive end of the scale, do what they are designed to do very well. It is described as an 80/20 on-/off-road tire, which is surprising given the aggressive tread pattern, but it works surprisingly well on-road as well as offering good stability and consistent, predictable handling off-road.
So if you were going to choose a specific road-biased tire to vigorously tackle some local dirt routes, you may as well choose the Rally STRs. The innovative knob design will allow for greater traction while ascending hills, riding over obstacles and making your jumps. And at the end of the day, they'll take you home in a quiet, stable and civilized manner.
Continental TKC70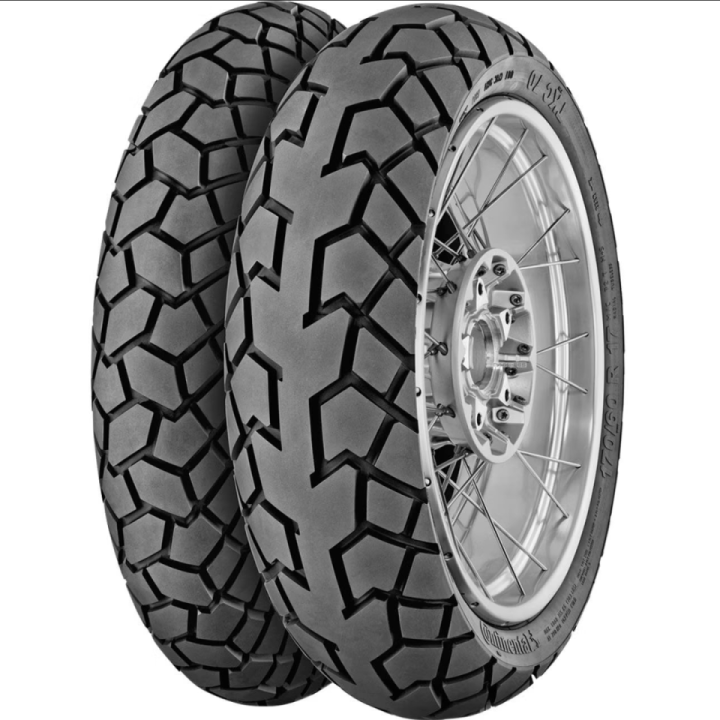 There's a reason why the TKC70 tires come as standard equipment on the KTM 390 Adventure motorcycle. They're made to make you feel safe on any surface. They're positioned to be light-medium off-road use, according to Continental, with extraordinary street performance. They'll feel just as safe on dirt as they would on a racetrack. They come equipped with Continental's MultiGrip and RainGrip compound technology and have a uniquely constructed tread pattern for quiet stability on pavement.
Bridgestone Battlax ADV Trail AT41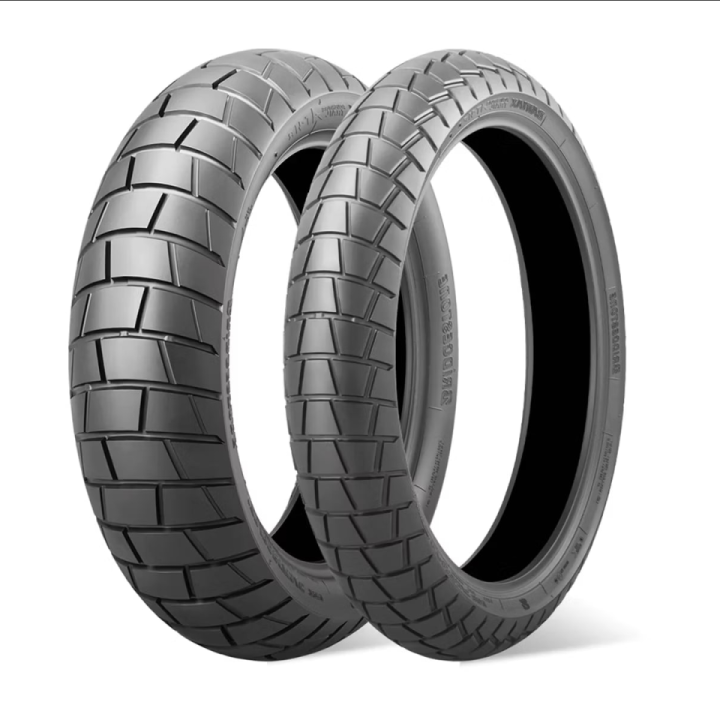 Bridgestone have also thrown their hat into the ring, by designing the Battlax ADV Trail AT41 adventure tires. These 80/20 tires have a semi-aggresive tread for that off-road look and feel, but the overall tire is still made primarily for on-road touring, according to Bridgestone. These tires provide enhanced traction and breaking on dry and wet roads, and were designed with stability in mind.
Bridgestone had created these tires for their clients that were seeking something a little more off-road oriented than the A41, which certainly didn't look the part. And with the knob pattern designed the way it is, you call tell immediately that you'll be able to have the traction you need, if you happen to catch yourself in an off-road situation.
Michelin Anakee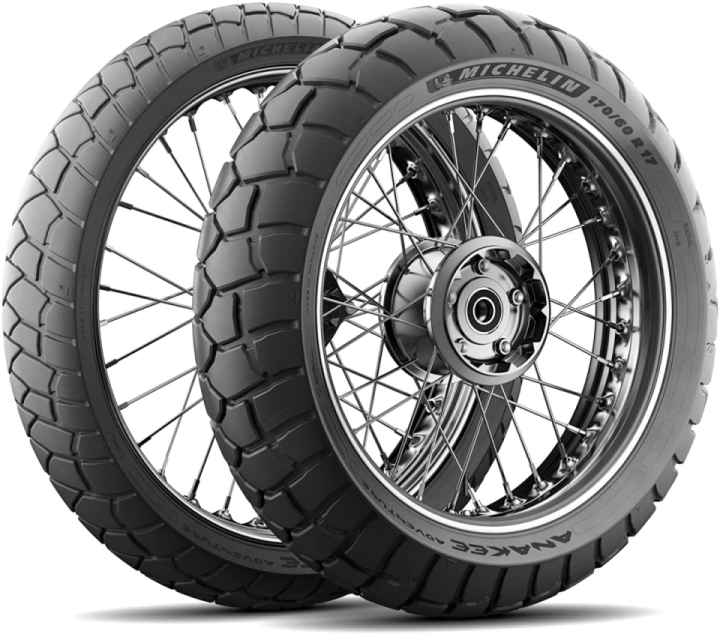 This is an exceptional 80/20 adventure tire from French manufacturer Michelin. These Anakee tires were originally outfitted on the 2019 BMW R 1250 GS motorcycles. And BMW doesn't choose their partners blindly from a party hat. But what really sets these tires apart from others is that each tire has four separate compounds. These compounds give both good wear in the middle of the tire and progressively more grip in the corners, with the hardest compound reserved for the central strip of the rear tire.
With its large-blocked, smooth appearance, the Anakee is excellent on-road, tracking straight and true and not being diverted by grooves or seams. There is a huge amount of grip on-road, even in the wet. It is also an extremely quiet tire, which is great for longer journeys. Off-road, these tires reward smooth throttle operation, and maintaining momentum is essential if the going gets particularly steep or gnarly. Because of that, perhaps a tire for the more experienced rider.
Metzeler Tourance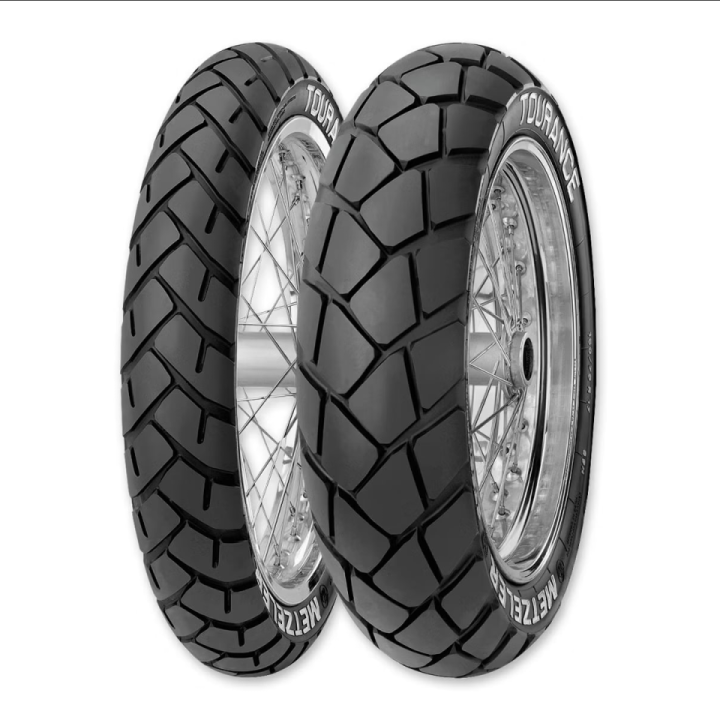 The Metzeler Tourance seemingly have it all. They are durable, with Metzeler guaranteeing a high level of mileage in wet and dry conditions. Their high-tech level of construction promotes stability in any environment. They're tailor-made for dual-sport and adventure motorcycles, as their main purpose is to be able to handle all weather conditions, regardless of whether you're on the street or on dirt. And the aggressive profile of the tread belies the tires' steady on-pavement capabilities, and because of the wide contact patches, the rolling noise of these tires is kept to a minimum.
There's also a slightly wider choice of sizes that you don't normally see with dual-sport tires like these. In additional to the typical ADV 21-inch options, you'll also have 13, 14 and 15-inch sizes available to you. But the ones that will benefit the most from a greater variety will be those that ride motorcycles with 17 and 19-inch rims.
#Adventure #Tire #Accessories #Moto #Motorcycle #Bike #Enduro #Offroad