1926 Isle of Man TT. Race #15 "Guzzi Incident".
Further changes occurred in the 1926 Isle of Man Tourist Trophy with the scrapping of the Ultra-Lightweight TT Races from the lack of entries and Side-Car TT, because the manufacturers still unhappy about the image of sidecar racing.
The long-running format of Senior, Junior and Lightweight races was thus established, all three events being run over a distance of seven laps (264.11 miles). Most of the TT Course had now been tarmacked, including the Snaefell Mountain Section. Another change in 1926 was the ban on alcohol based fuels, forcing competitors to use road petrol.
The fame of the TT races had spread throughout Europe by this time, enhancing the reputation of the British factories. Therefore, the Italian manufacturers decided that it was time for them to share the glory and such companies as Bianchi, Garelli и Moto Guzzi joined the races on the island. Garelli, in particular, raised a few eyebrows among the British factory personnel with their 250 cc two-stroke Lightweight machine, ridden by Ermino Visoli, which featured four carburettors on its twin-piston single-cylinder motor.
🏁Junior TT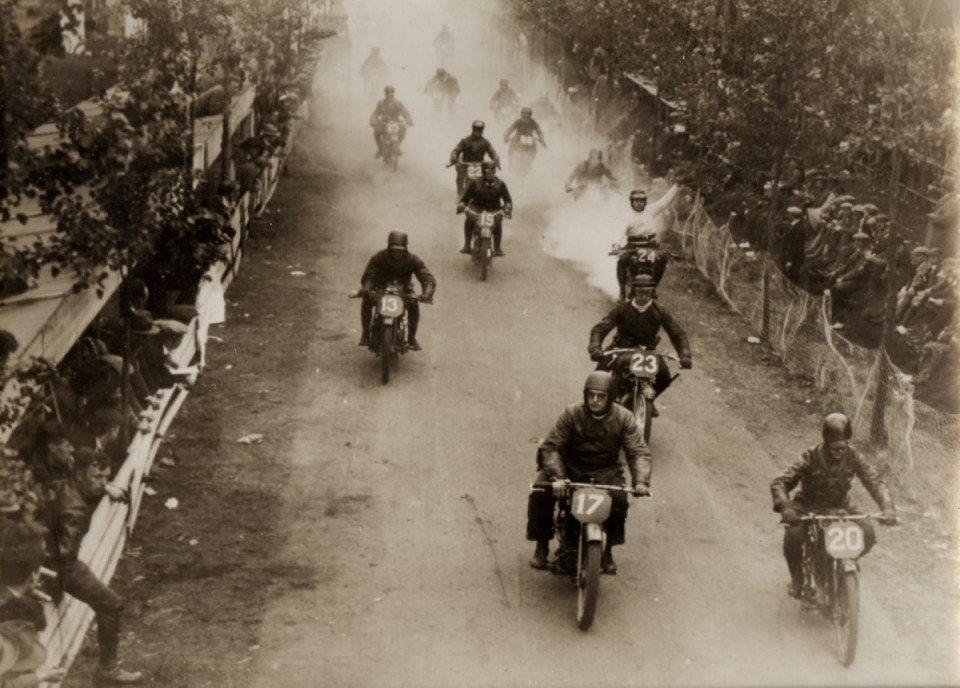 Start of the Junior TT 350cc race
The 7 lap (264.11 miles) 1926 Junior TT race was won by Alec Bennett riding a 350 cc overhead-camshaft Velocette motor-cycle, in 3 hours, 57 minutes and 37 seconds, at an average speed of 66.70 mph. Wal Handley finished in third position on a 350cc Rex Acme Blackburne. He led the first lap, but had to stop – not once, but twice – to change a choked main jet. As if he hadn't been unlucky enough, his brake shoe return spring broke on the third lap and jammed on the front brake. Then his bike's gear change quadrant came adrift. Finishing third looked a remarkable achievement.
#1 Alec Bennett
#2 Jimmie Simpson
#3 Wal Handley
🏁Lightweight TT
The 1926 Lightweight TT Race produced one of the most notorious events in the history of the Isle of Man TT Races - "Guzzi Incident." The Italian rider Pietro Ghersi was excluded from second place, a few hours after the end of the race, for using a different spark-plug than specified on his entry form, but bizarrely not strip him of his fastest lap accolade (63.12 mph), the official explanation being he was excluded from the final results, not disqualified outright, hence the lap time could stand. It was all rather strange and the announcement was met with hissing and booing when it was made during the prize giving. The Italian contingent was decidedly less than impressed too, vowing to not return to the Isle of Man.
Despite the competition from the Italian marques the 1926 Lightweight TT Race was won by CW 'Paddy' Johnston, the well-known Dublin-born Brooklands exponent, who raced his Blackburne-powered Cotton to victory. In truth, Johnston had no answer for the speed of the brilliant red Guzzi and its black-shirted rider (Ghersi was an 'enthusiastic fascist', reported The Motor Cycle, hence his choice of attire) but the Italian machine had too great a thirst to last the full seven laps without more juice, so a stop for petrol at the end of lap six meant Johnston was able to move ahead, Ghersi having led at the end of every other lap.
There had been 21 starters in the race, which ran to an energy sapping, machine breaking 264.11 miles, a full lap (37 and a bit miles) more than the quarter litres had been asked to cover before. Ghersi and the Moto Guzzi, the only non-British or Irish competitors, looked the class of the field in practice, so started favourite. Wal Handley (Rex Acme-Blackburne) appeared the most likely to challenge, while Jock Porter (New Gerrard), the Cotton-Blackburne trio of Johnston, Colgan and Morgan and the Levis of Edwards showed some pace too.
But Ghersi put a marker down early – his first lap was a minute under Handley's lap record. Wal retired on lap three, Porter earlier, leaving the Cottons, headed by Johnston, to take the fight to Ghersi. But the Italian's smaller fuel tank meant he had to stop and despite a brave attempt he finished 20 seconds behind Johnston – though his effort was to prove for nothing anyway.
Despite the competition from the Italian marques the 1926 Lightweight TT Race was won by 'Paddy' Johnston riding a Cotton motor-cycle, in 4 hours, 23 minutes and 16 seconds, at an average speed of 60.24 mph for the 7 lap race.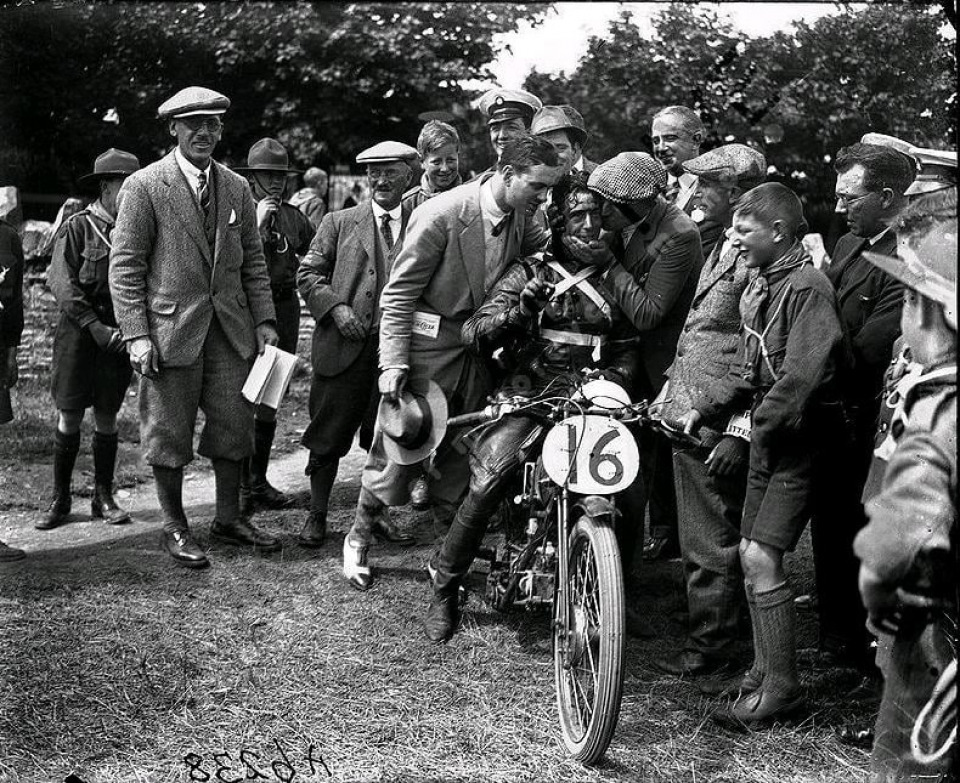 Ghersi receives congratulations.
#1 Paddy Johnston
#2 F.G. Morgan
#3 United Kingdom Billy Colgan
🏁Senior TT
The 1926 Senior TT Race was less controversial from the get-go Wal Handley, Stanley Woods and Jimmy Simpson broke away from the rest of the pack. Disaster struck for Wal Handley when, on the second lap, the rear plug on his Blackburne V-twin cut out. It took seven minutes for his team to fix the bike and return to action, re-joining in 22nd place. Also, at the start line Wal's engineer Sammy Jones noticed a three-inch deep cut to the front tyre. It was never discovered whether it was an accident or sabotage. It certainly wasn't the first time it had happened in motorcycle racing, however, Wal still managed to finish second. This race was won by Stanley Woods riding for Norton. The 1926 Senior TT Race produced the first 70 mph (113 km/h) lap and was again set by Jimmie Simpson on an AJS motorcycle in 32 minutes and 9 seconds an average speed of 70.43 mph.
Wal Handley rests a hand on the shoulder of race winner Stanley Woods
#1 Stanley Woods
#2 Wal Handley
#3 Frank Longman
More pics: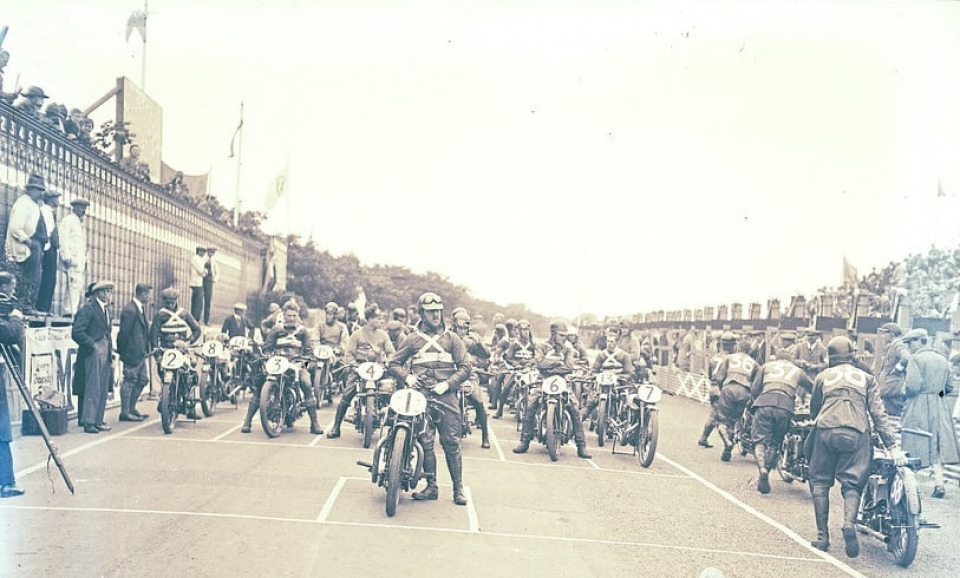 Howard Davies (HRD) at the front of the pack - Senior TT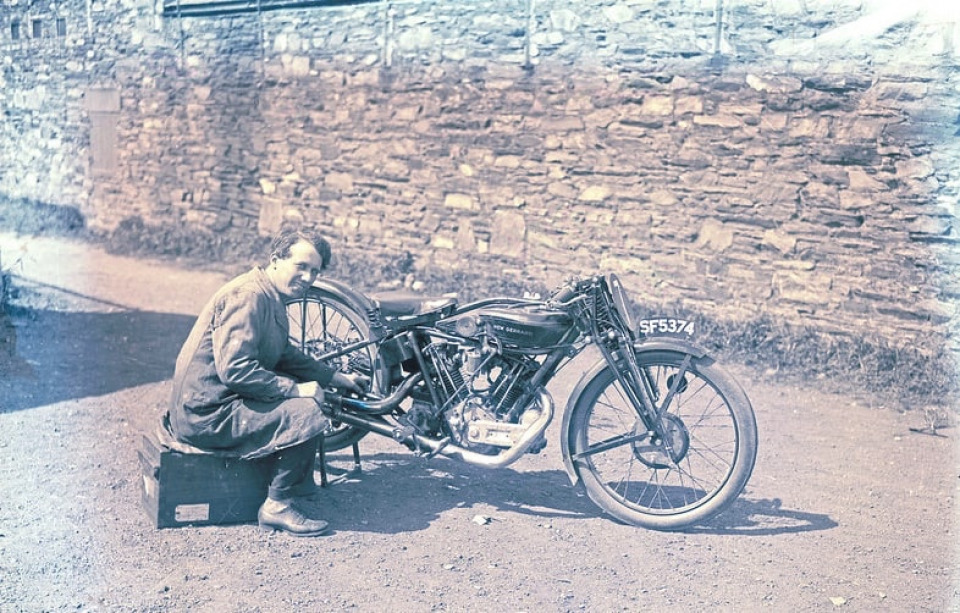 Jock Porter has a tinker with his v-twin New Gerrard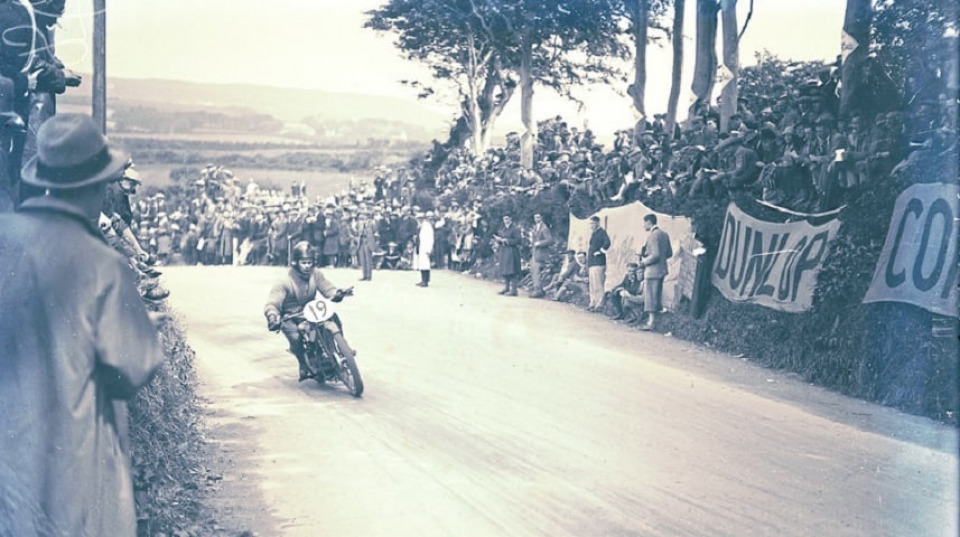 Douglas mounted Vic Anstice at speed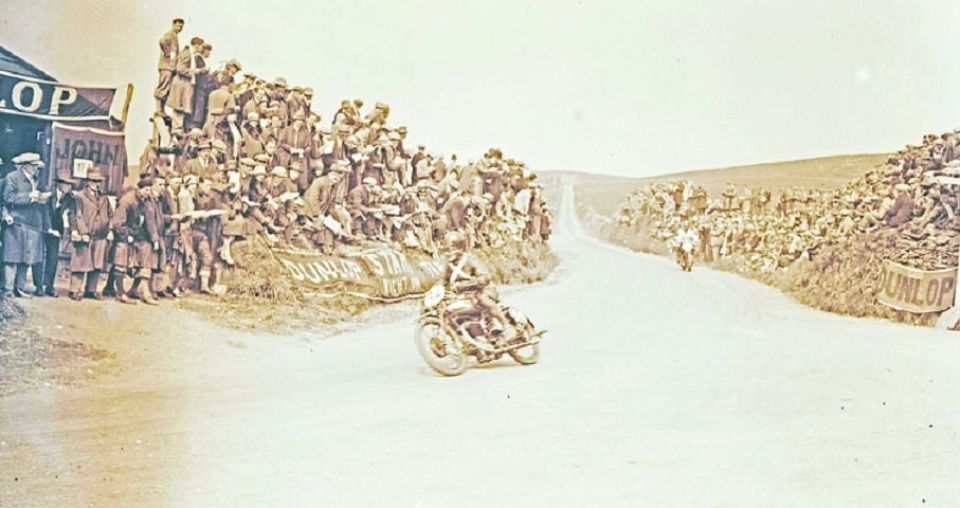 H H Moller (Norton) managed four laps before retiring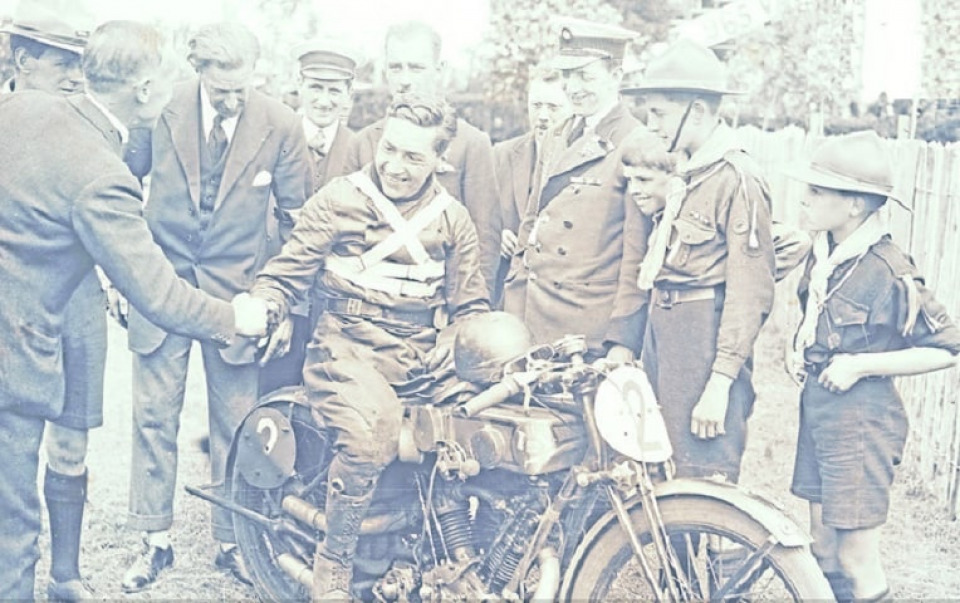 Wal Handley sits astride his intriguing Blackburne-engined Rex-Acme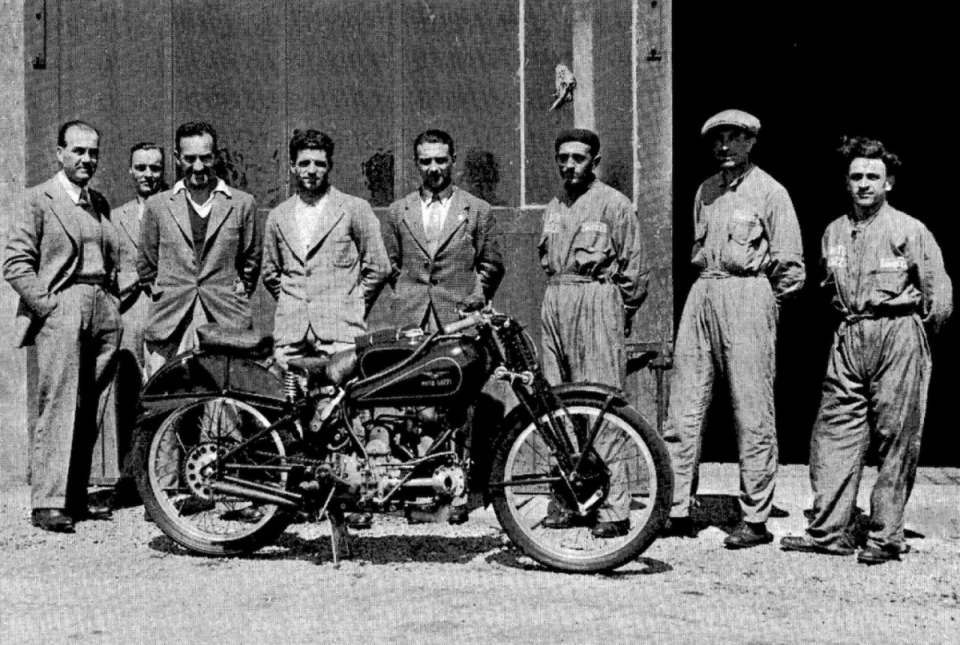 Racer Pietro Ghersi and his Moto Guzzi team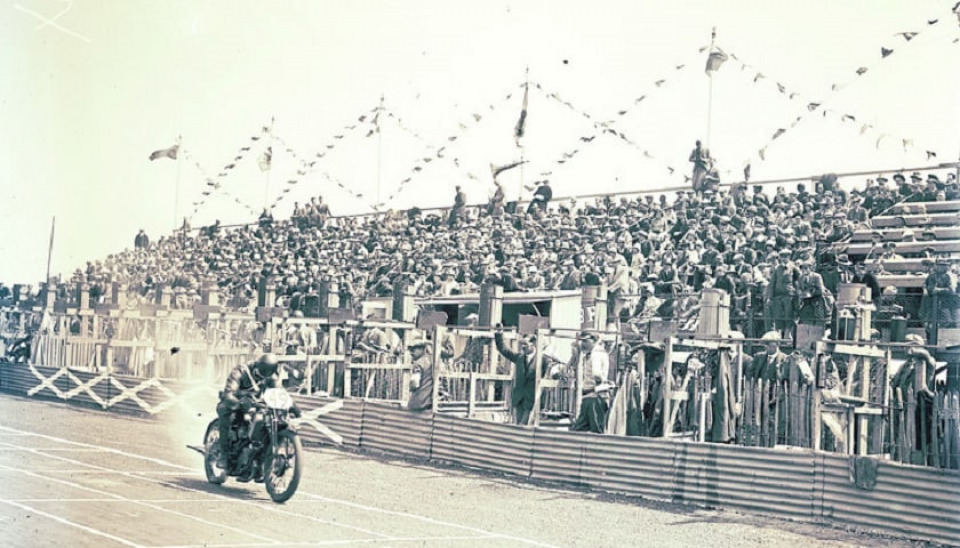 Frank Longman with admiring Boy Scouts in the 1926 Isle of Man TT, in which he finished 3rd on an AJS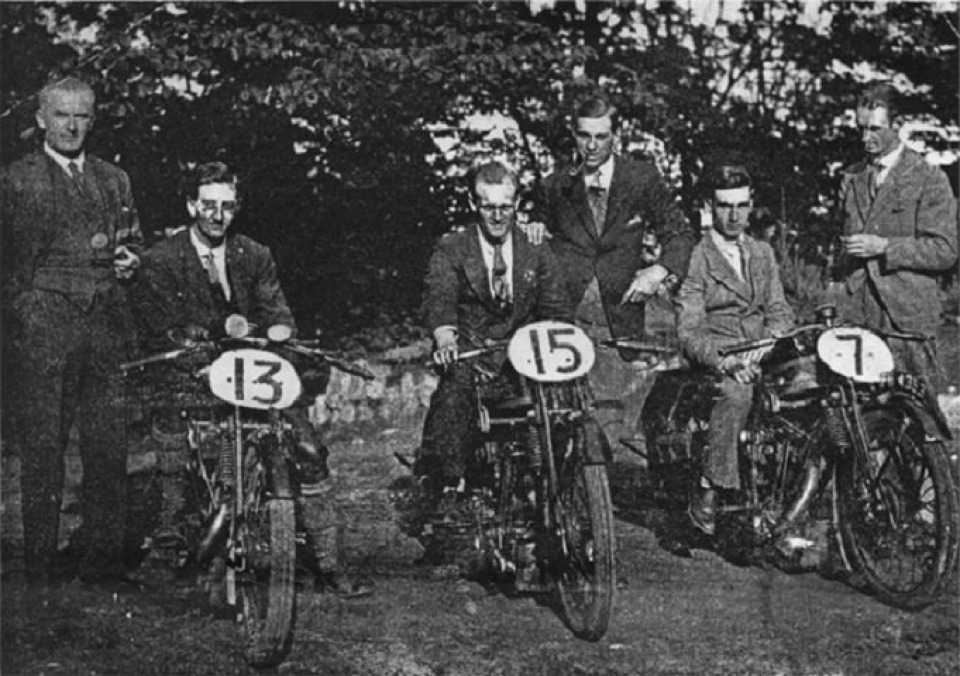 The 1926 team: Freddy Morgan, Paddy Johnson and Bill Colgan (right of the photo).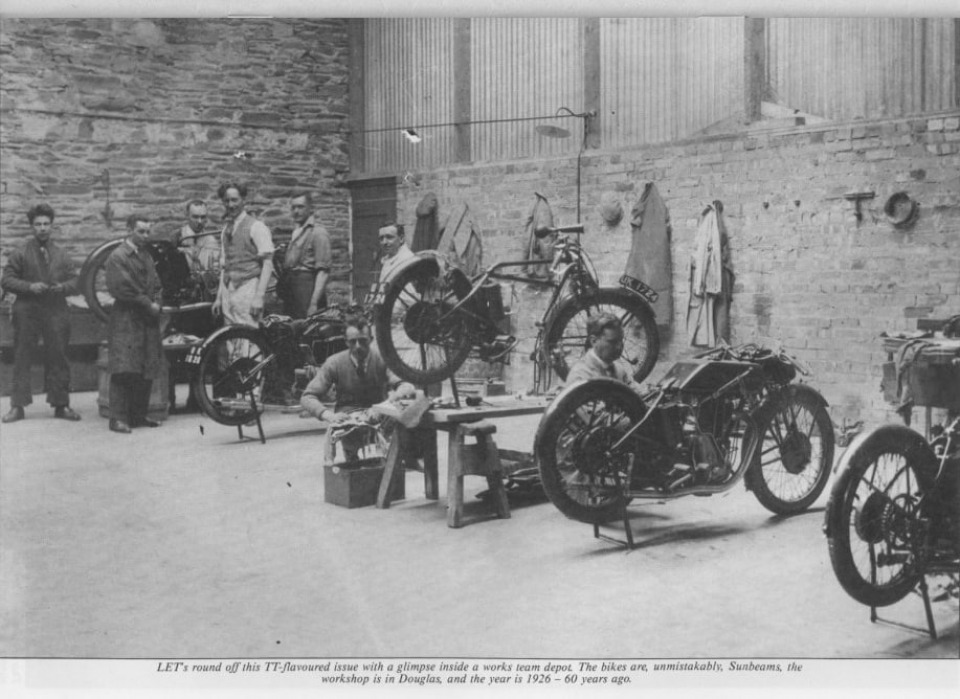 Sunbeam team at their workshop.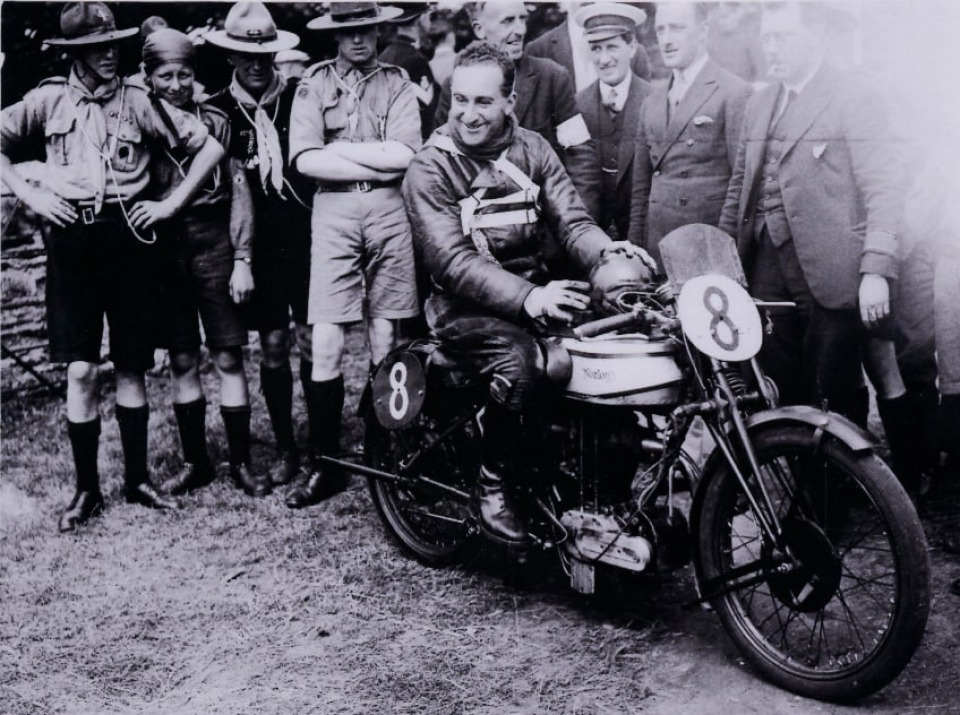 Stanley Woods aboard machine no 8, Norton, after race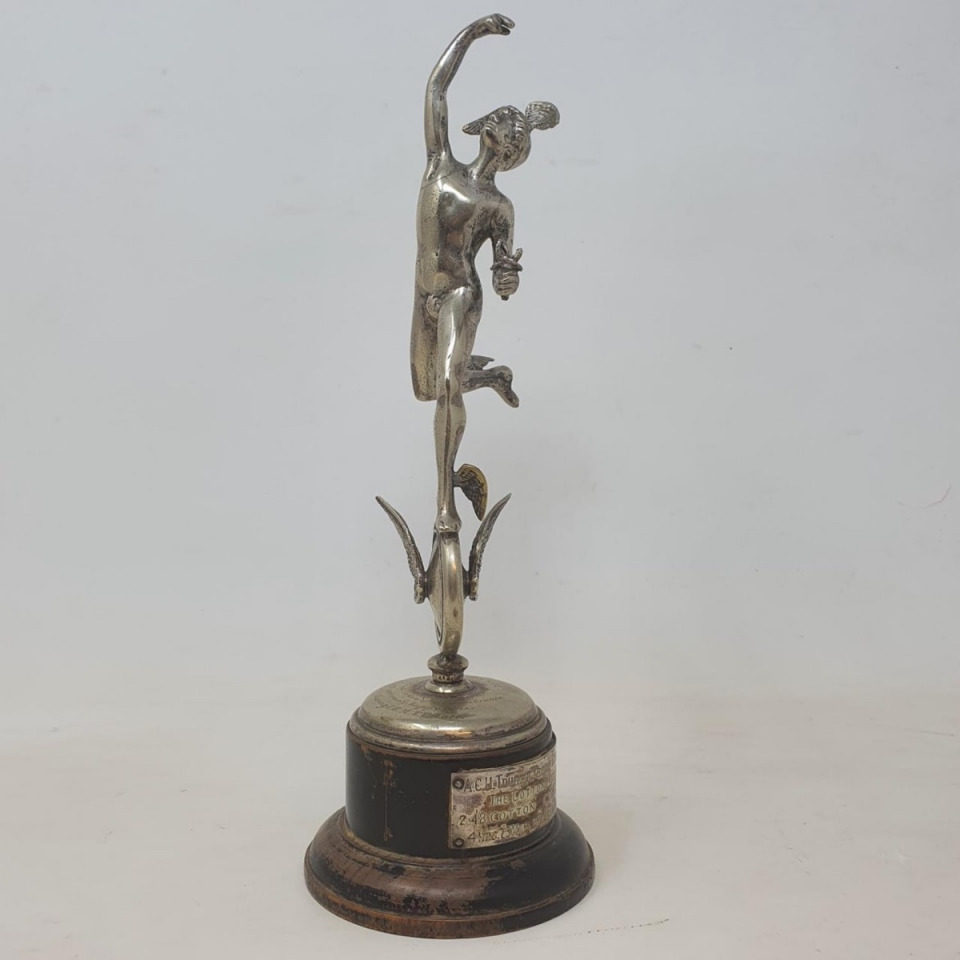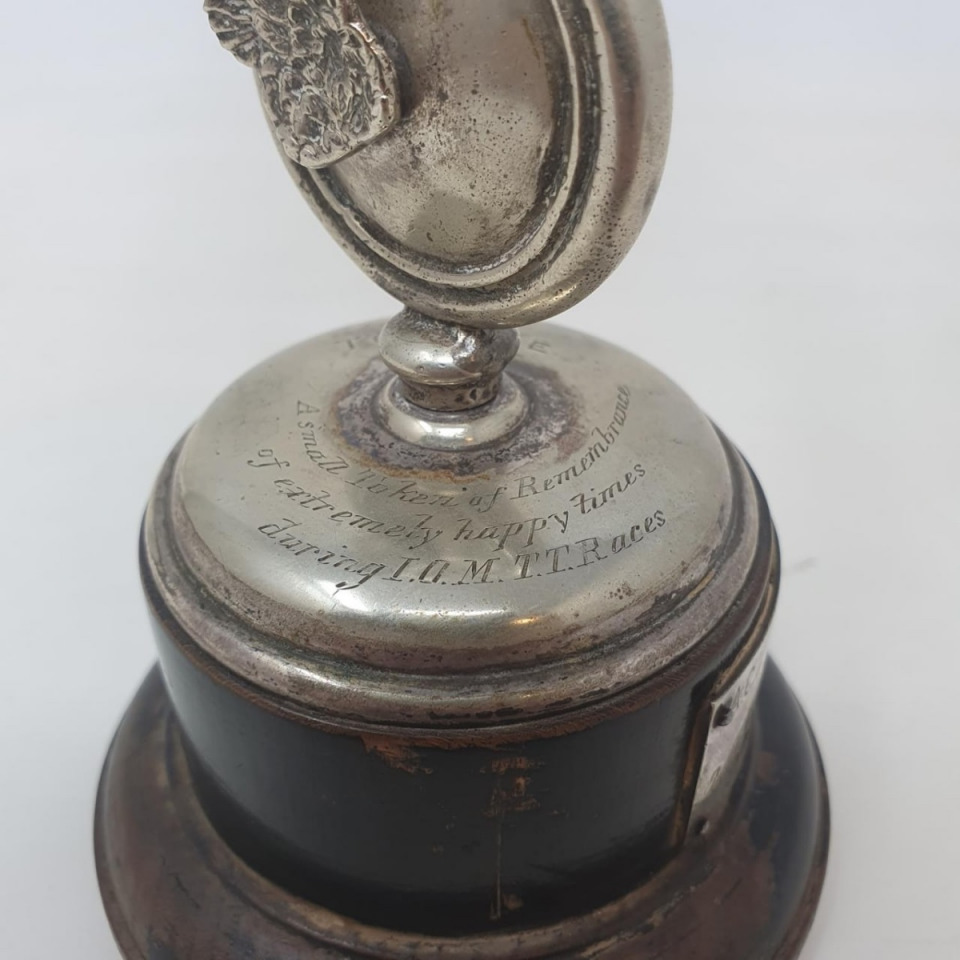 An Isle of Man TT silver replica trophy, 1926 Senior TT, mounted on a wooden base, with applied plaque inscribed A.C.U. Tourist Trophy Races 1926 The Cotton Motor Co 248C CW Johnston 4 HRS. 23 Mins 16½ Secs.60.20 MPH
Video from the race:
Stanley Woods wins Senior Tourist Trophy and completes Triple Crown for Ireland
#race #tt #iomtt #tt1926
Credit: imuseum, wikipedia, mortonsarchive, iomtt, classicmotorcycle.
0


Follow
3K