1927 Isle of Man TT. Race #16
The 1927 Isle of Man Tourist Trophy saw more changes occur with a fatal accident during practice to Archie Birkin, a brother to Tim Birkin of the Bentley Boys fame. The corner in Kirk Michael where the accident occurred was renamed Birkins Bend and from 1928 practice sessions were held on closed-roads.
🏁Senior TT (500cc)
Norton arrived in the Island for the 1927 races with a powerful line-up: Stanley Woods, Alec Bennett and Joe Craig, all armed with the brand new overhead-camshaft, single-cylinder engine that was to prove the backbone of racing for many years to come.
Woods was a favourite to repeat his Senior success of the previous year and looked well set after four laps. He led, establishing a new lap record of 70.90 mph, but then slowed with a slipping clutch, allowing his teammate Bennett to move ahead after being four minutes adrift. He went on to win from Jimmy Guthrie, riding the New Hudson at an average speed of 68.41 mph (110.10 km/h). The Scotsman had made his debut four years earlier and later became one of the most popular riders of all time.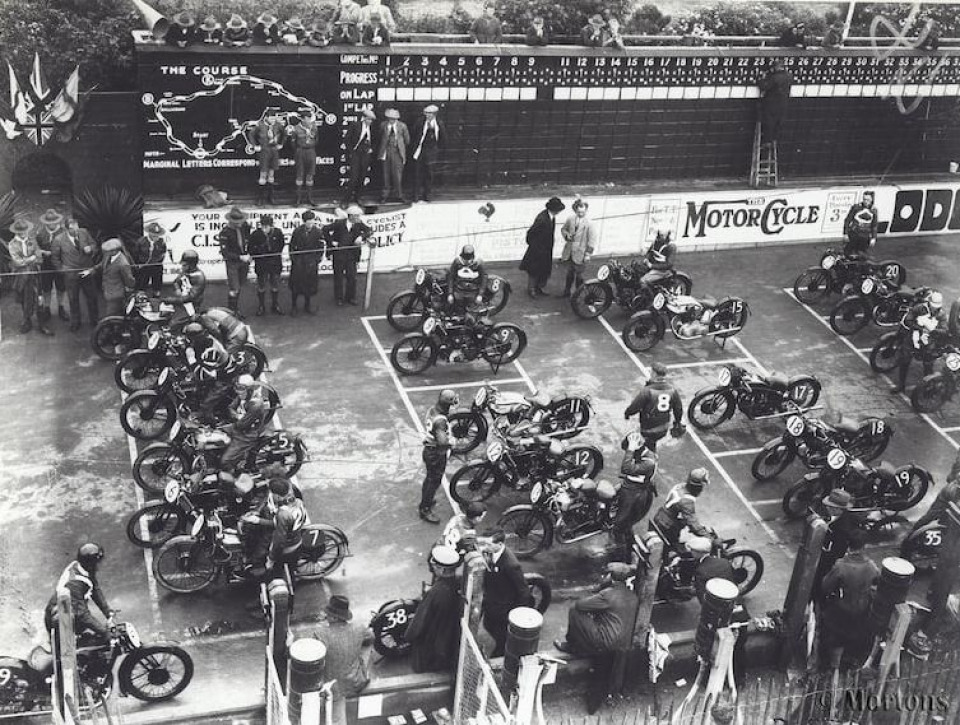 Start line of the 1927 Senior TT
Alec Bennett after he won the 1927 TT with Stanley Woods to his left.
#1 Alec Bennett
#2 Jimmie Guthrie
#3 Tom Simister
🏁Junior TT (350cc)
In the 1927 Junior TT Race Wal Handley was leading until halfway round the last lap, when his Blackburne-engined Rex-Acme broke down. Freddie Dixon grabbed his chance, winning at an average speed of 67.19 mph (108.13 km/h) on an HRD from Harold Willis (Velocette) and the AJS of Jimmy Simpson.
#1 Freddie Dixon
#2 H J Willis
#3 Jimmie Simpson
🏁Lightweight TT (250cc)
Handley had a great scrap with Alec Bennett and his OK-Supreme in the Lightweight. On the fourth lap Bennett established a new record, but he then slowed with mechanical problems and L Archangeli became the first Italian to figure in the TT results, finishing second on his horizontal-engined Moto Guzzi single, Wal Handley won the 7 lap race in 4 hours 10 minutes and 23 seconds, at an average speed of 63.30 mph (101.87 km/h).
#1 Wal Handley
#2 Luigi Arcangeli
#3 Cecil Ashby
More pics: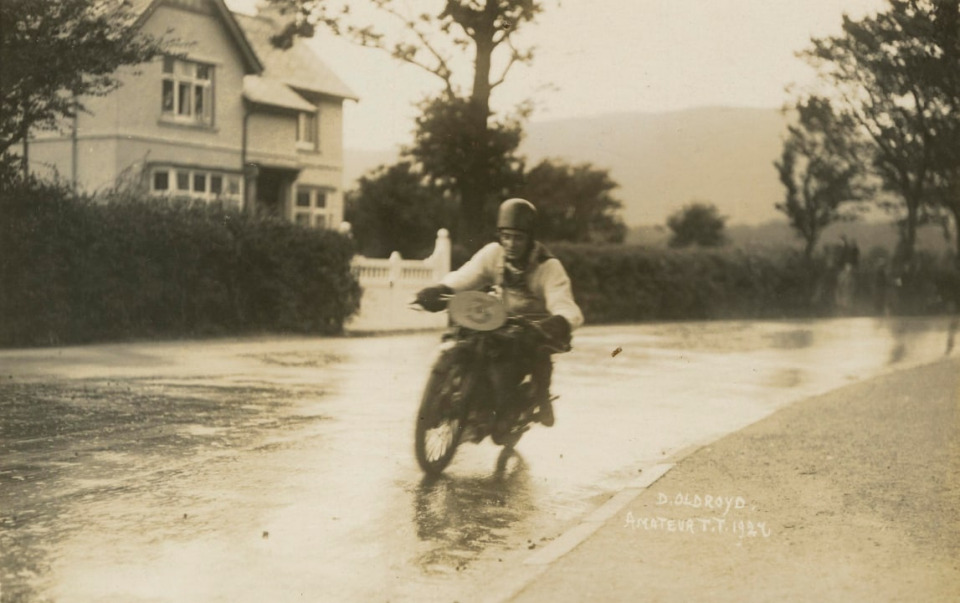 D. Oldroyd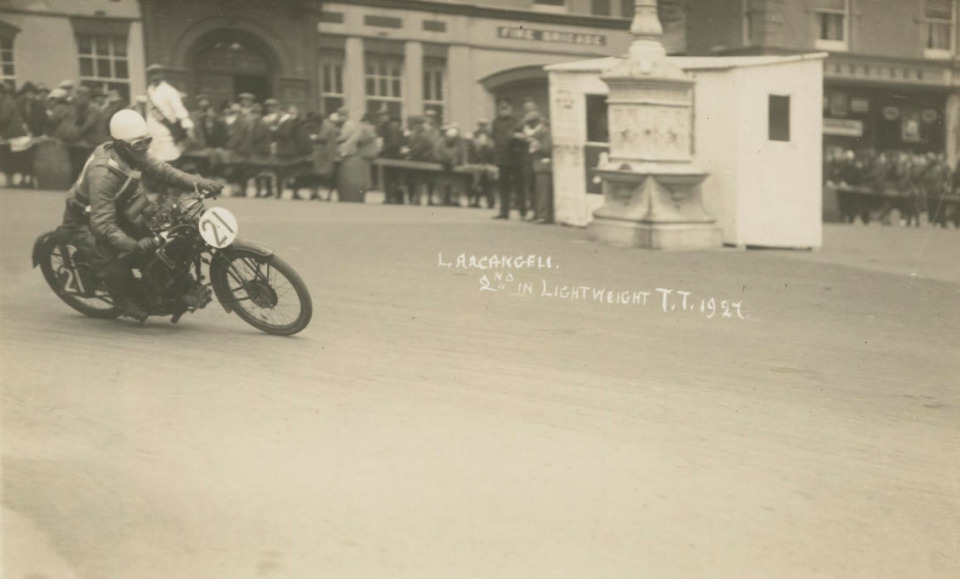 Luigi Archangeli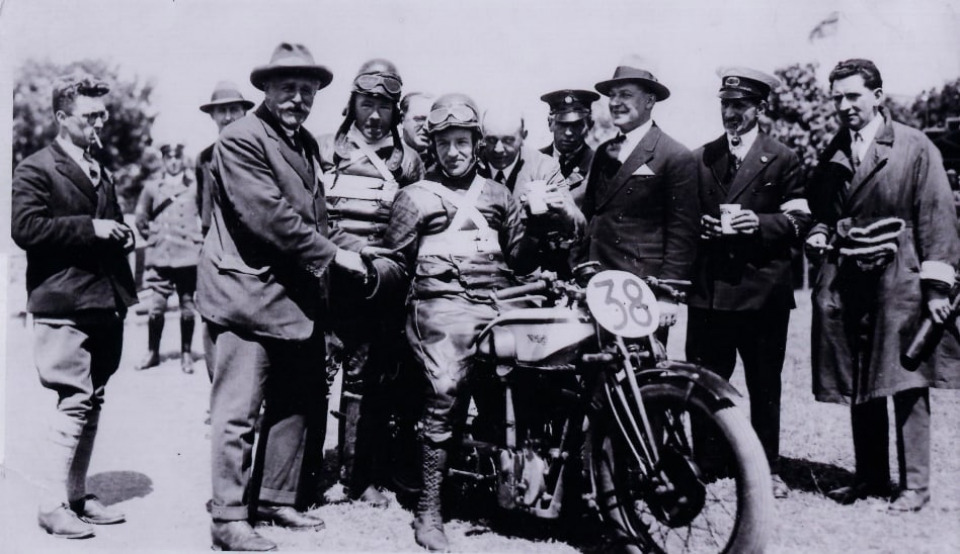 'Pa' Norton with Alec Bennett, aboard Norton number 38 after 1st place in 1927 Senior TT
Video from the Light Weight Race:
#race #tt #iomtt #tt1927
Credit: imuseum, wikipedia, iomtt, vintagenorton.
0


Follow
1.7K