1931 Isle of Man TT. Race #20
Interest in the races was intense, with the entry of 153 machines including 22 different makes. Eight foreign factories entered, but Britain still ruled the roost, albeit for the time being. The 1931 IOMTT was again dominated by the battle between Rudge, Sunbeam and Norton motor-cycles.
🏁Junior TT
The 1931 Junior TT Race was run at a very fast pace by Jimmie Simpson riding for Norton who completed the first lap in 30 minutes and 49 seconds and was 6 second ahead of fellow Norton teammate Stanley Woods in 2nd place and 18 seconds ahead of Freddie Hicks in 3rd place riding an AJS motor-cycle. Although, Jimmie Simpson was able to hold on to the lead for the next 5 lap, he was slowed by having to refuel every two laps because of carburetor problems.
Fellow, Norton teammate, Tim Hunt recovered from a slow first lap with a loose plug-lead to set the fastest lap on lap 4 of 30 minutes and 5 seconds an average race speed of 75.27 mph (121.14 km/h) and steadily moves-up the leaderboard. Further, carburetor problems causes Jimmie Simpson to drops off the leaderboard and eventually finishes in 8th place.
This allows the 1931 Junior TT Race to be won by Tim Hunt riding for Norton, in 3 hours 34 minutes and 21 seconds, at an average race speed of 73.94 mph (118.99 km/h), from Norton teammates Jimmie Guthrie, and Ernie Nott riding a Rudge motor-cycle.
The photo below shows Hunt again, the winner of the '31 Junior on his Model 40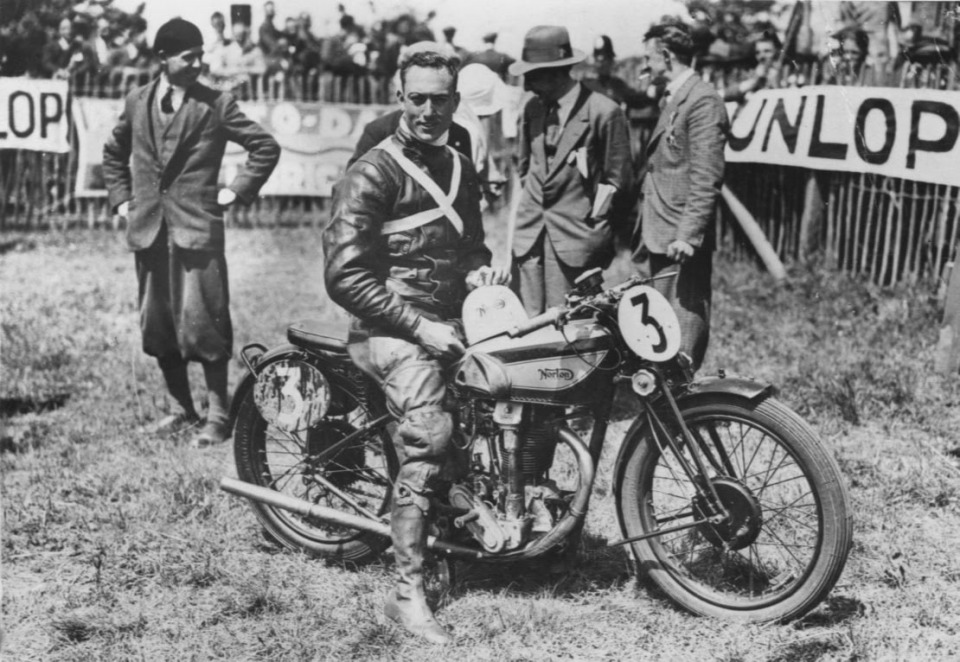 🏁Lightweight TT
The 1931 Lightweight TT was dominated by the works Rudge motor-cycles and the race was lap 1 by Ernie Nott by 45 seconds from Rudge teammates, H. G. Tyrell Smith and Graham Walker in 3rd place. By lap 6, Ernie Nott had a lead of 4 minutes over the rest of the field, until on the last lap he slid of just below the Mountain Mile and finished in 4th place steadying a damaged push-rod with his hand. This provided a first and only TT Race win for Graham Walker riding a Rudge at an average race speed of 68.98 mph (111.01 km/h).
The highly anticipated 1931 Senior TT Race which was again set to be dominated by Rudge and Norton motor-cycles. However, it proved to dominated again by Norton and Jimmie Simpson and Jimmie Guthrie, this time Guthrie led on lap 1 by 1 second from Jimmie Simpson and Norton teammate Stanley Woods by 17 seconds in 3rd place.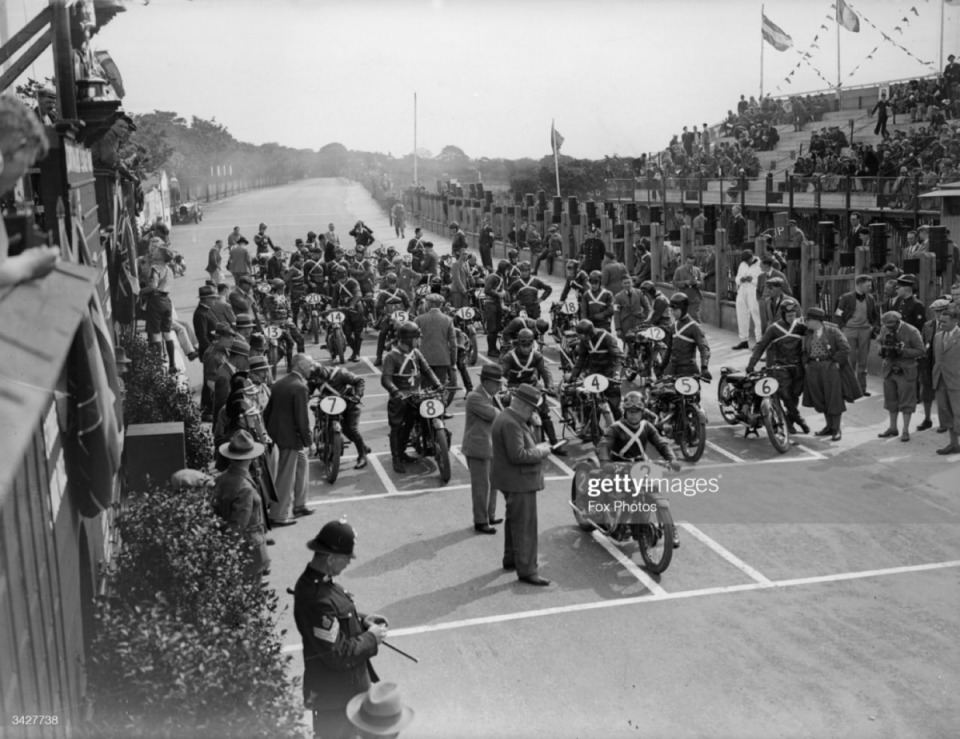 17th June 1931: I Ghersi on pole at the start of the TT Lightweight motorcycle race.
🏁Senior TT
On lap 3, the 1931 Senior TT Race produced the first 80 mph (130 km/h) lap by Jimmie Simpson on a Norton motor-cycle in 28 minutes and 1 seconds an average speed of 80.82 mph (130.07 km/h). Despite taking over the lead from Guthrie, Jimmie Simpson crashed on lap 4 at Ballaugh Bridge and the bike ending-up in the river. Despite re-taking the lead, Jimmie Guthrie slips-off at the Governor's Bridge on lap 5, but continues to finish in 2nd place at an average speed of 77.34 mph (124.47 km/h). Fellow Norton teammate Stanley Woods finishes in 3rd place with a glove in the petrol-tank filler.
The fast-paced and incident packed 1931 Senior TT Race provided Tim Hunt with a popular Junior/Senior double win in 3 hours, 23 minutes and 28 seconds for the 7 lap (264.11 mile) race at an average race speed of 77.90 mph (125.37 km/h). The winner of the 1929 Junior Race, Freddie Hicks crashed on lap 5 at Union Mills and was killed.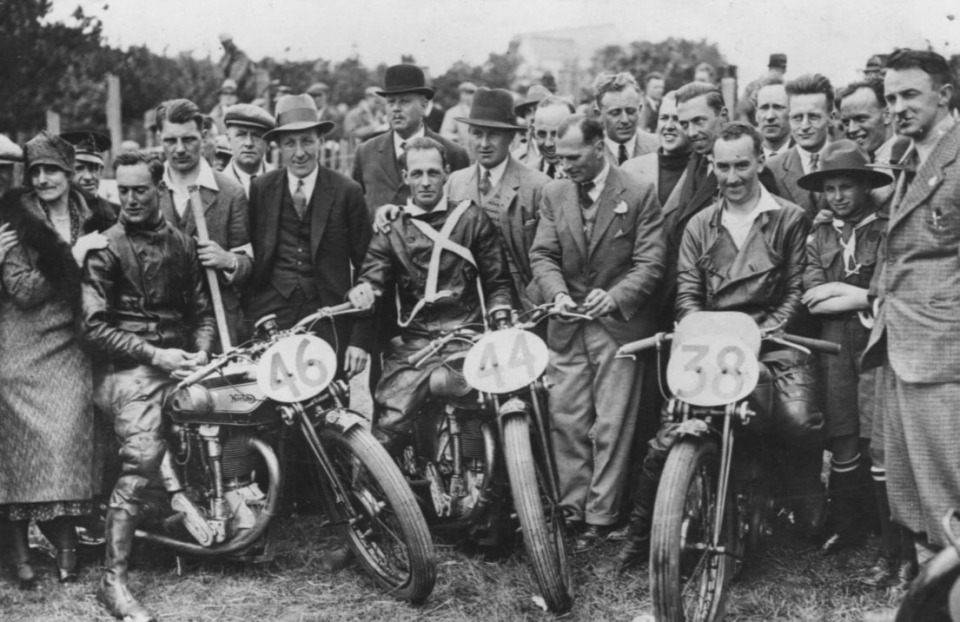 The winners of the 1931 Senior TT; Tim Hunt (number 46, who came 1st at 77.90 mph), Jimmy Guthrie (number 44, 2nd at 77.34 mph), Stanley Woods (number 38, 3rd at 76.35 mph); all riding Model 30 International Nortons.
The woman with her hand on Tim's shoulder most probably is his mother. The man with his hand on Jimmy's shoulder, wearing the hat, on his right is Nigel Spring who entered him for the race. Arthur Carroll is behind Woods, his head is above his right shoulder.
More photos and video: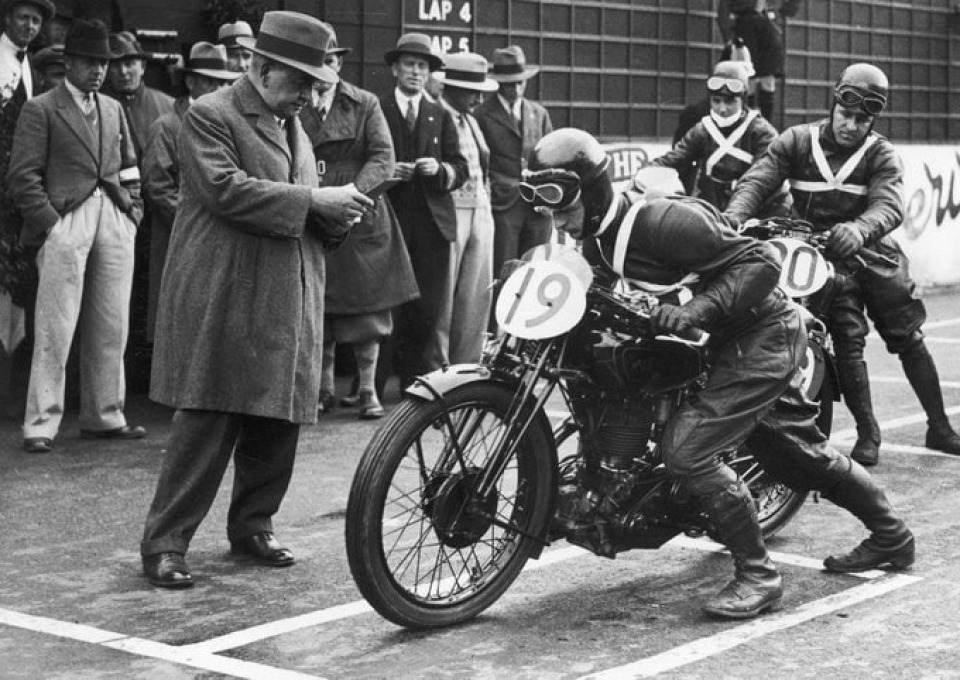 1931 Freddie Hicks just before his fatal last race on Isle of Man TT. The winner of the 1929 Junior Race, he crashed on lap 5 at Union Mills and was killed.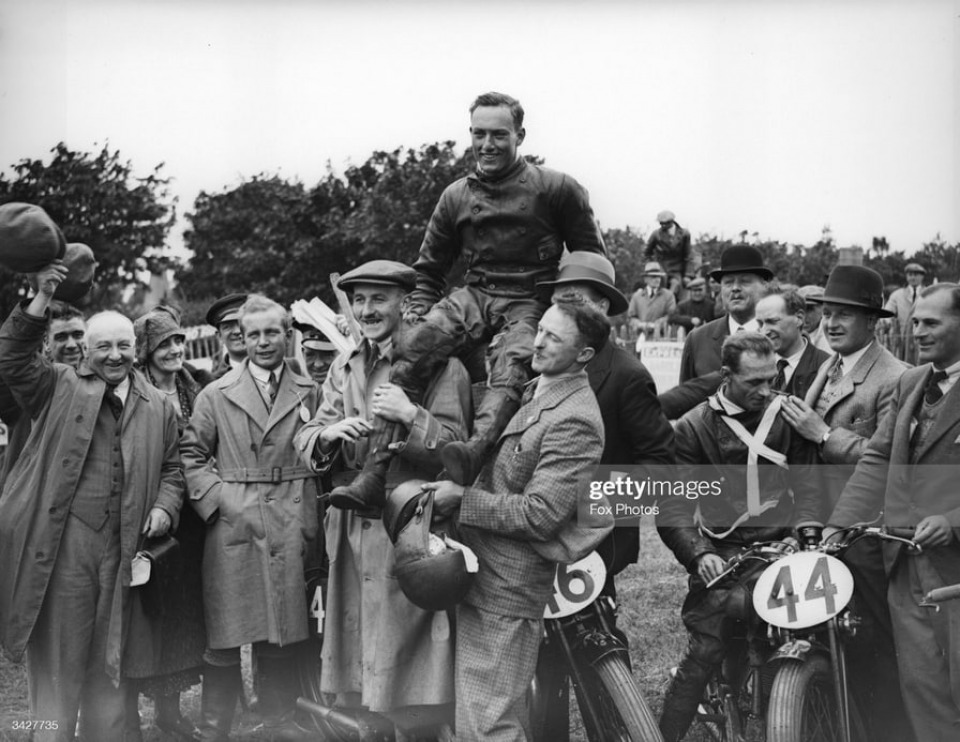 19th June 1931: P Hunt wins the Senior TT motorcycle race at the Isle of Man.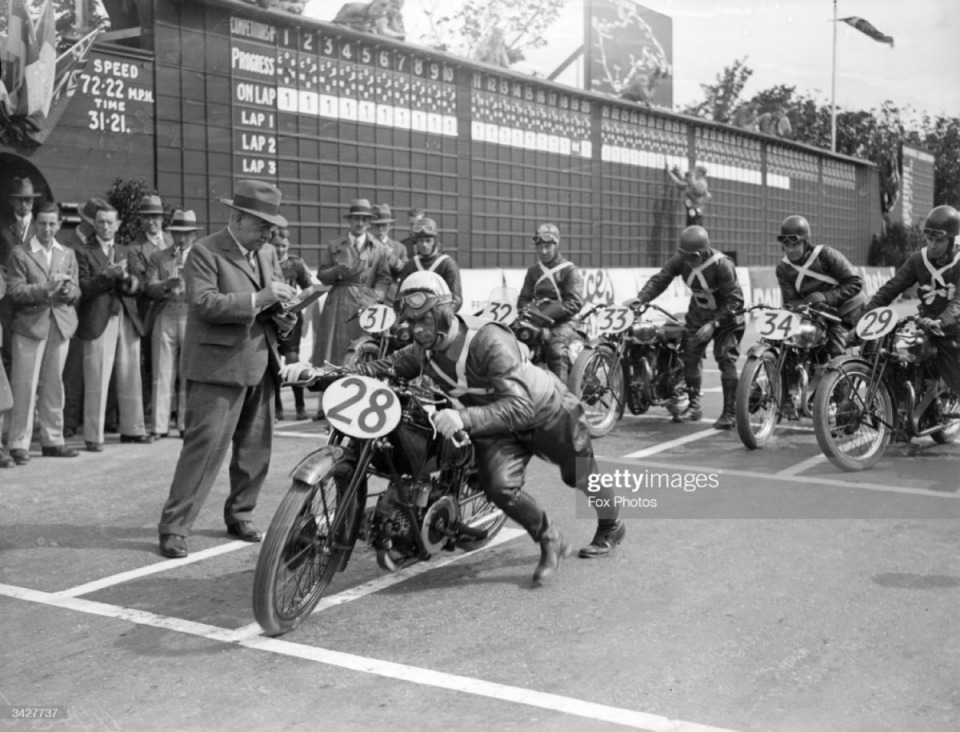 17th June 1931: H Lester on pole at the start of the TT Lightweight motorcycle race.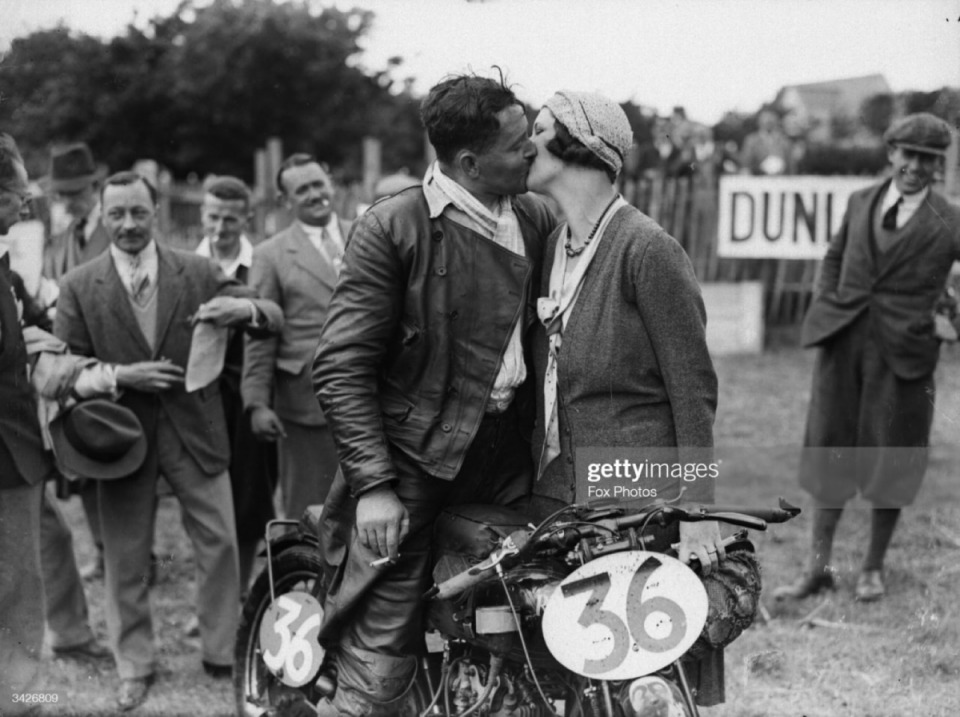 17th June 1931: G W Walker kisses his wife after winning the Lightweight TT race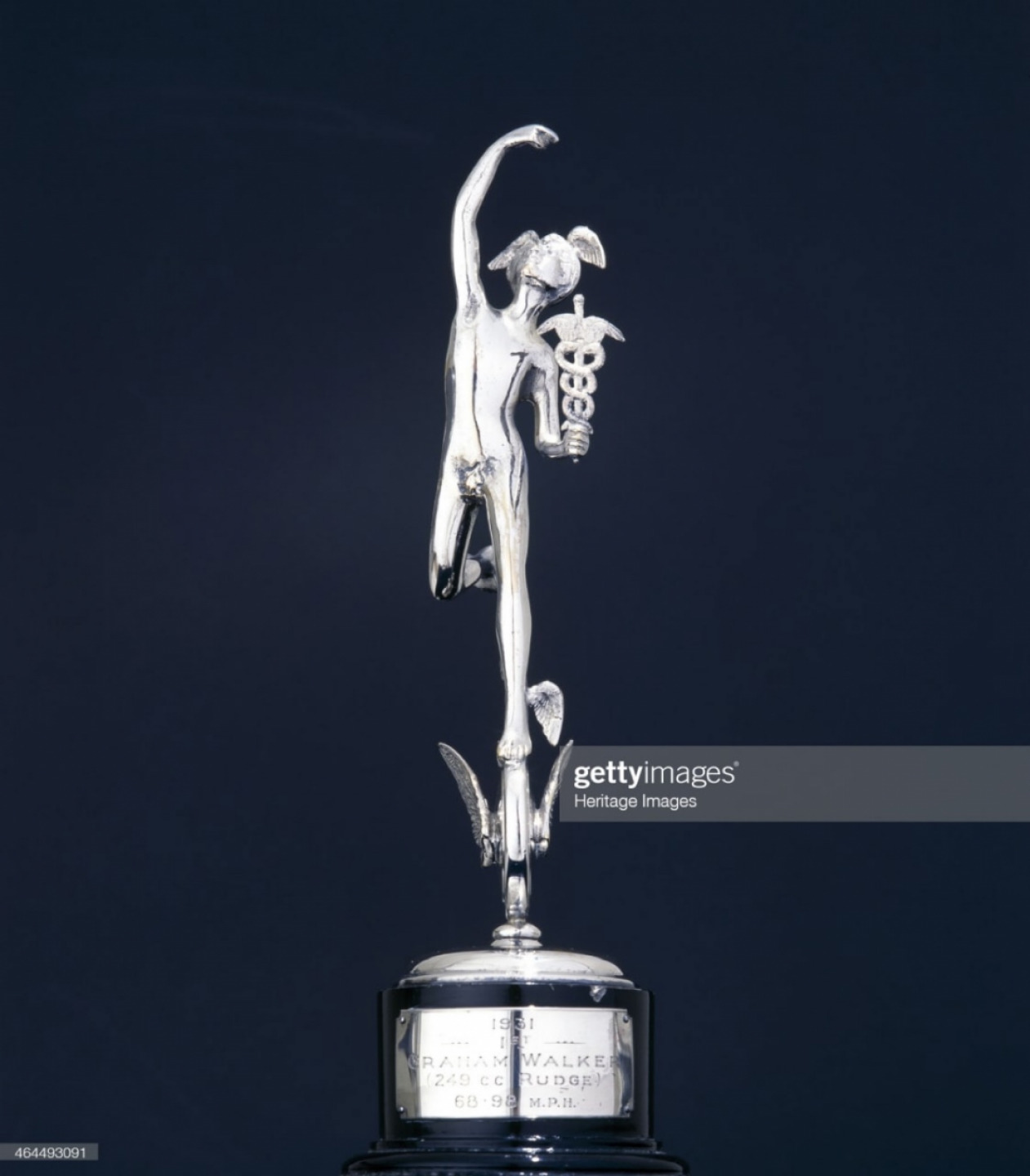 Junior TT winner's trophy for 1931. The trophy depicts Mercury, God of speed, wearing a winged hat and winged shoes. He holds a rod entwined with two serpents and wings, called the caduceus. This trophy was won by Graham Walker.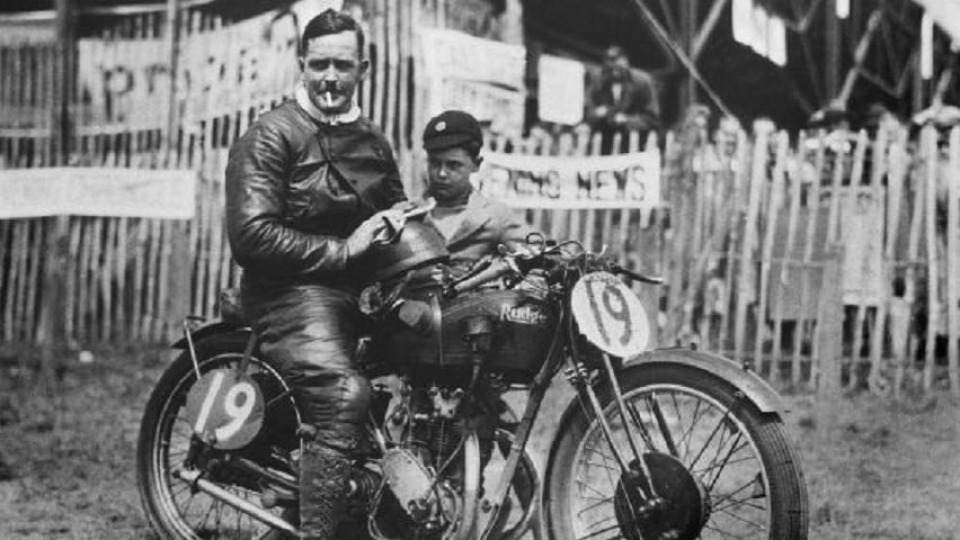 Graham Walker pictured at the 1931 TT with a young Murray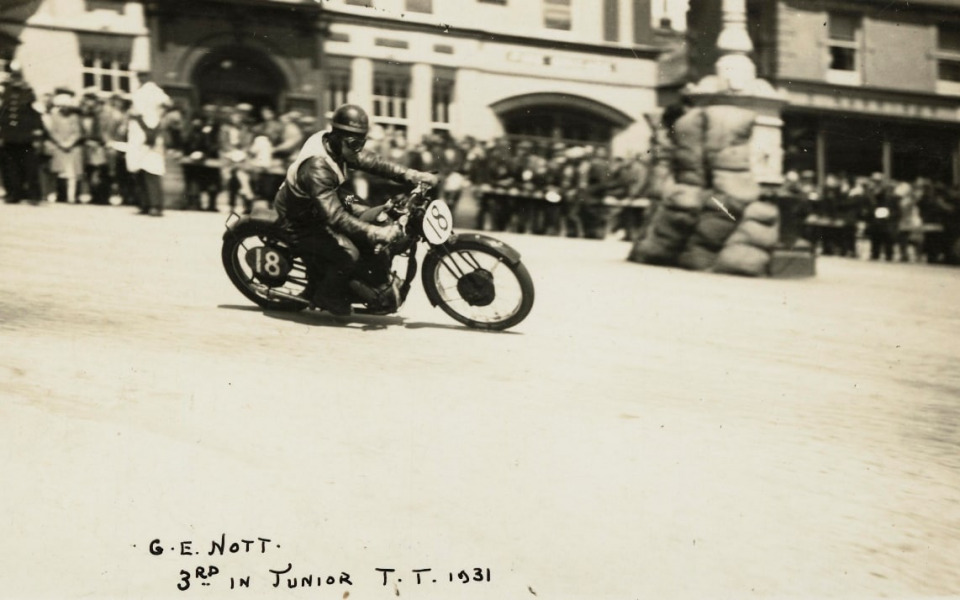 G.E. Nott riding machine number 18, 1931 Junior TT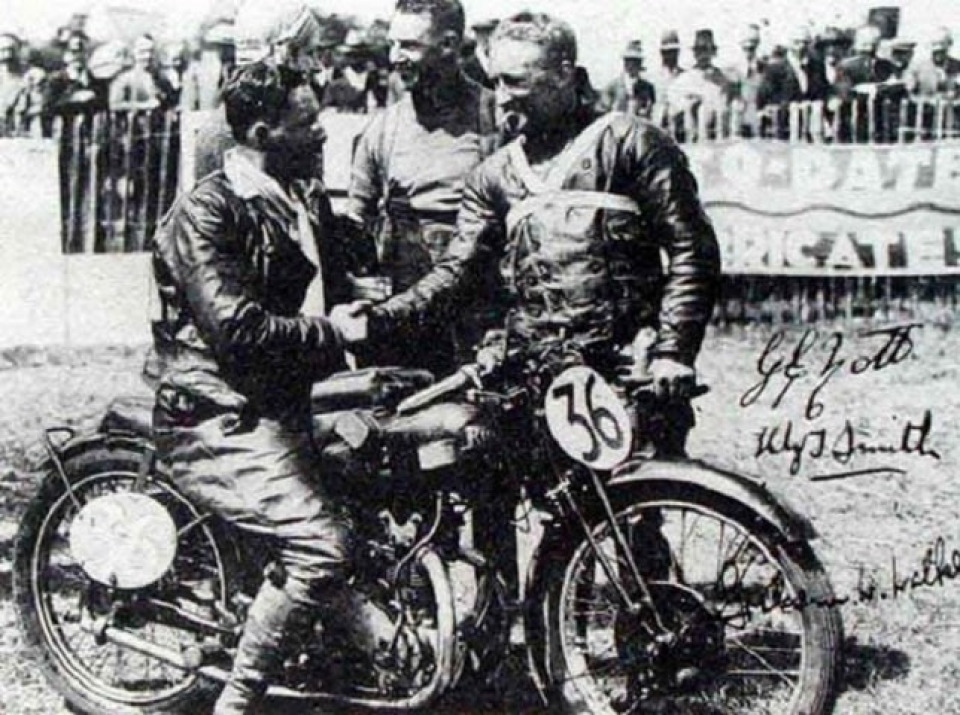 Graham Walker - Winner Lightweight TT 1931
Isle of Man. Senior Tourist Trophy. Percy Hunt - on a Norton - 'rides like a demon
#race #tt #iomtt #tt1931 #trophy #Rudge #norton #sunbeam
Credit: Photo by Fox Photos/Getty Images, imuseum, Howard.
0


Follow
1.2K