Reconstruction 78 GS1000 (#2)
Realizing the tank I had was just too far gone for a ratrod look, I started the search for another 78 tank....
Soon I realized there were non to be found.... :(
On one occasion I had found a complete C model, that was about the same condition as the one I was restoring on craigslist....Except this one had a much better tank
He wouldn't sell just the tank, but would take $350 for the whole bike....so that weekend I drove almost 2 hours after arranging to pick it up.
I got there and the bike was gone (his story was someone stole it the night before....)Soooo.....
After about 5 months a nice clean (externally) 78 C model tank popped up on Eblag....I didn't care where the bid would go, I was going to get that tank, because I was not going to try and buy a whole bike to get one.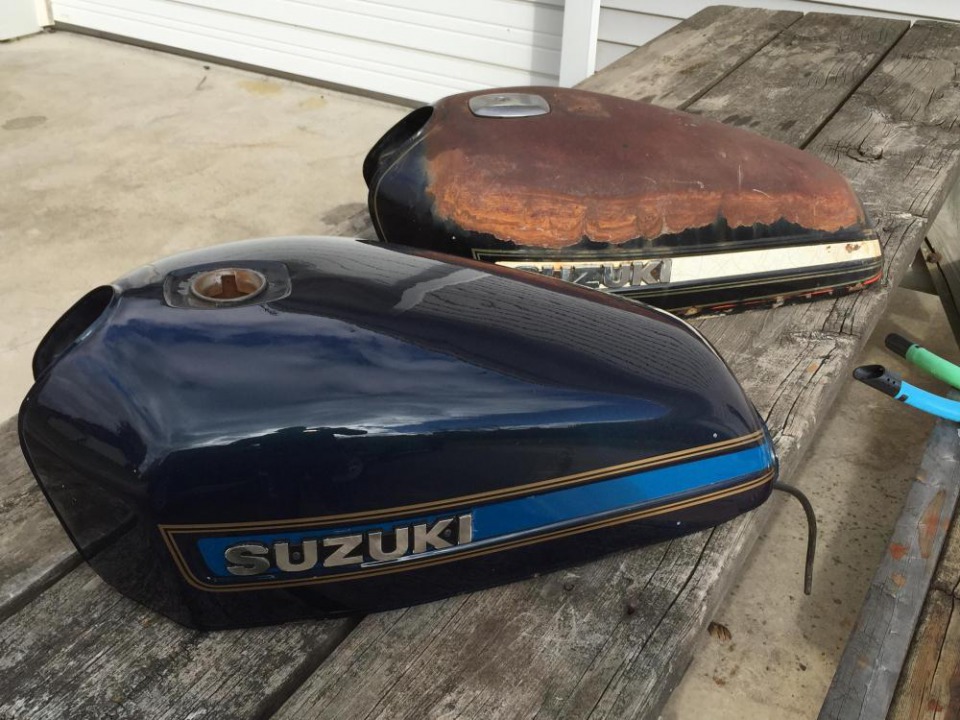 After getting the engine cleaned up and ready, I started thinking I am at a point where I need to decide how deep I really want to get into this.
I couldn't put that engine back into the frame and just bolt it back together.....I had gone to far....
It had to be a COMPLETE nut and bolt restomod.....a direction I had never gone before with a bike.
So after I got the tank, I became motivated again to get back onto the project and soda blasted my exhaust.
No rust anywhere (all those years in a desert) but was scraped up in a few spots and a few small dents....
It looked good....but....not good enough. That was the last straw. This was not going to be a nice quiet stock looking bike, it had to have a header.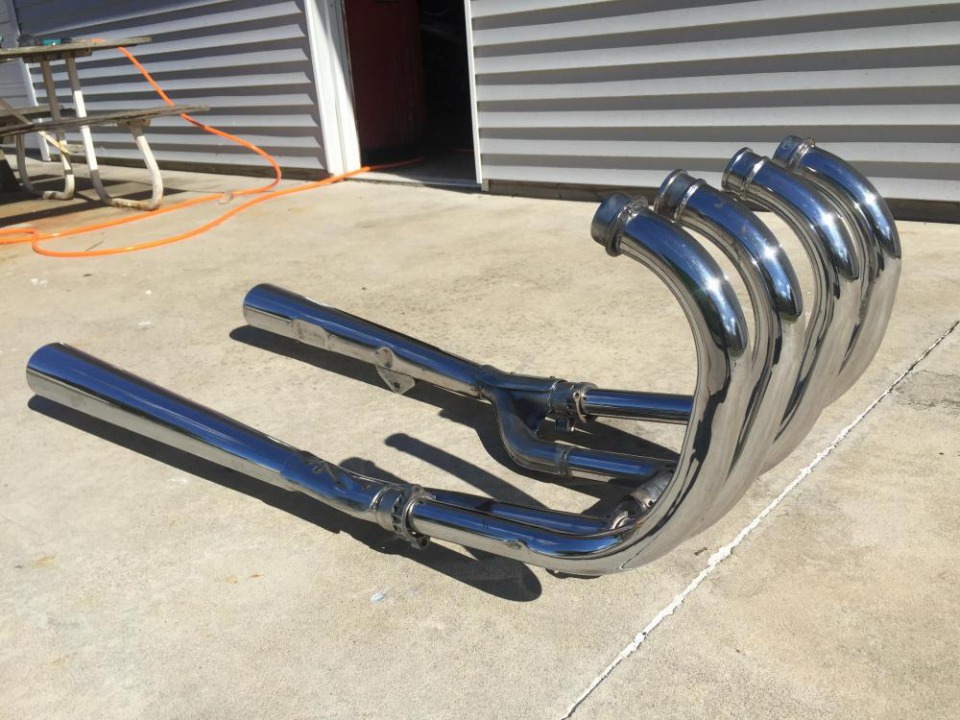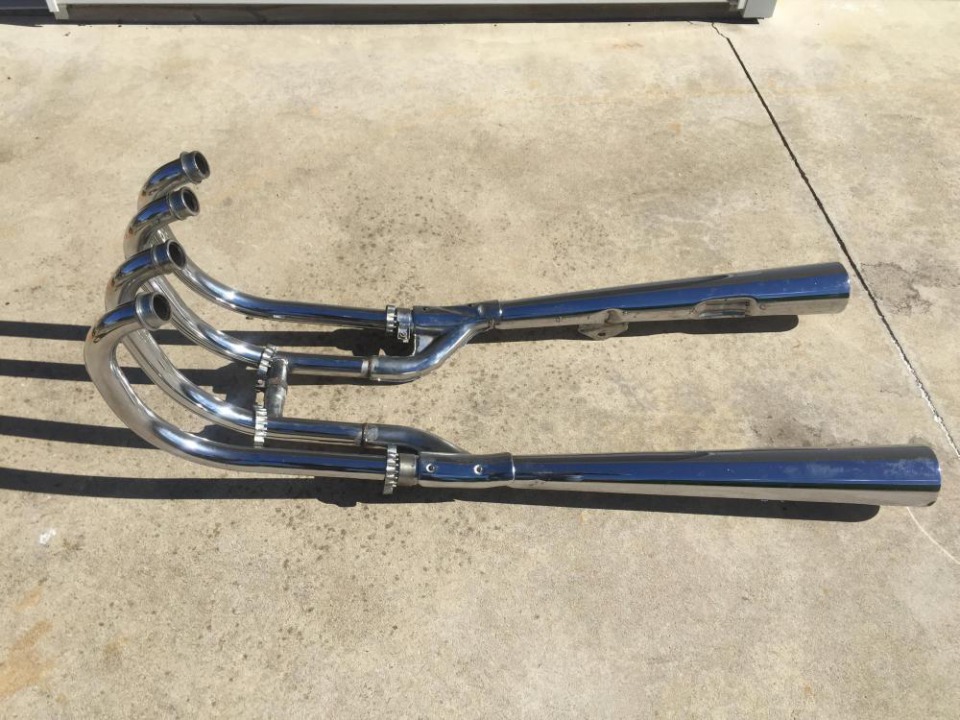 I'll probably just hang onto the tank as decoration in garage.... It really is rusted BAD....holes even in the top, it's still full of scale inside, and any more rust removal will probably turn it to dust.
With the renewed interest after getting the blue tank, I thought I'd play around with it a bit to visualize my next move.
I had a front end and rear wheel from a 86 GSXR1100, that I wanted to test out on the GS....just to make sure I was going to go with the wire wheels (and decide what to get for tires for the wires)
I really liked the GSXR look on the GS, but I needed a bike with wire wheels.....so the GSXR parts went to my GT750 project.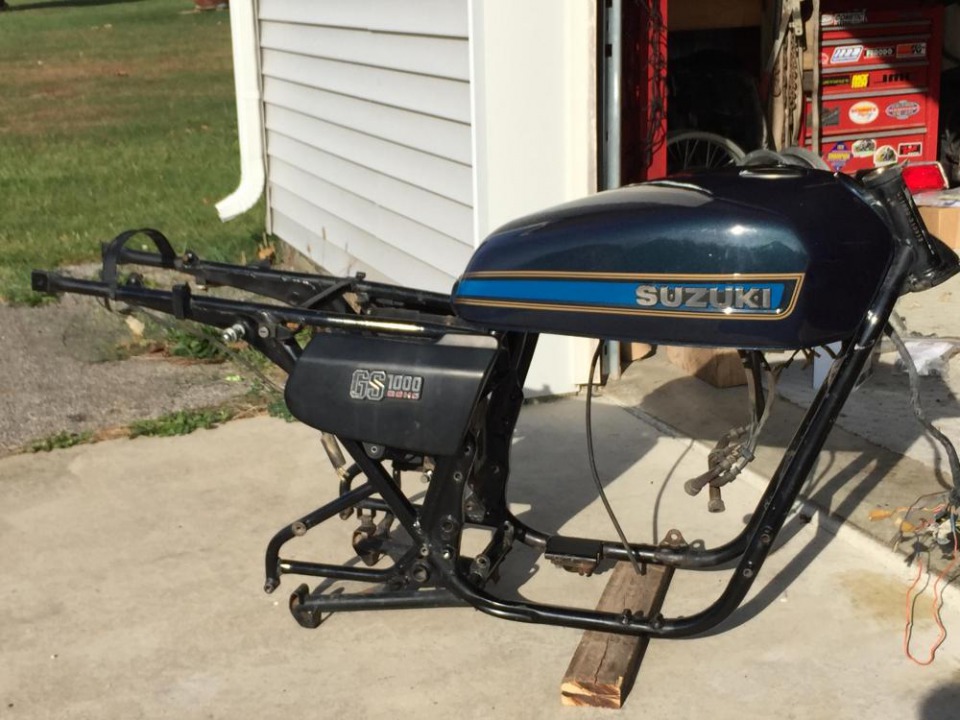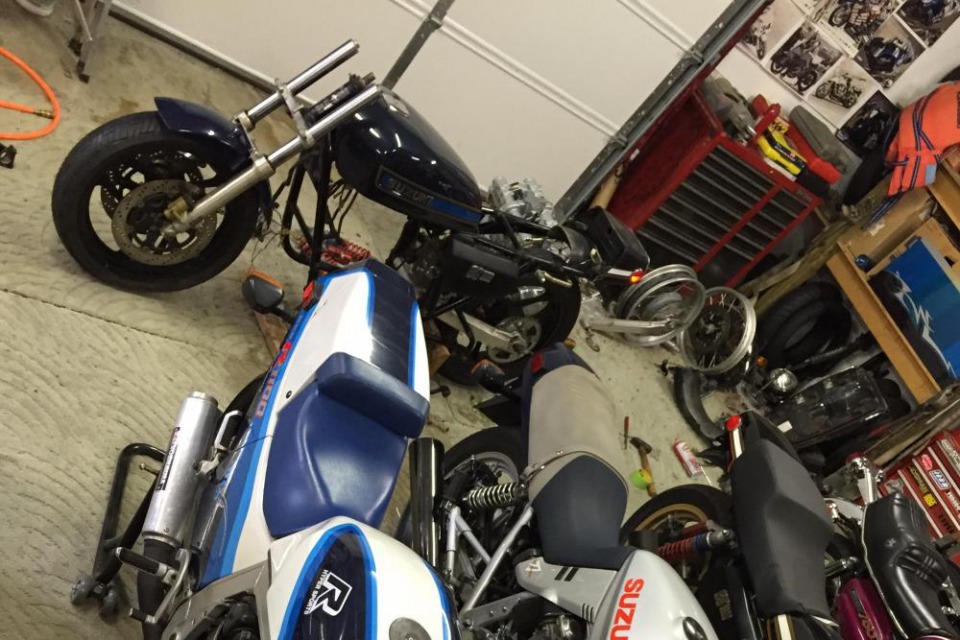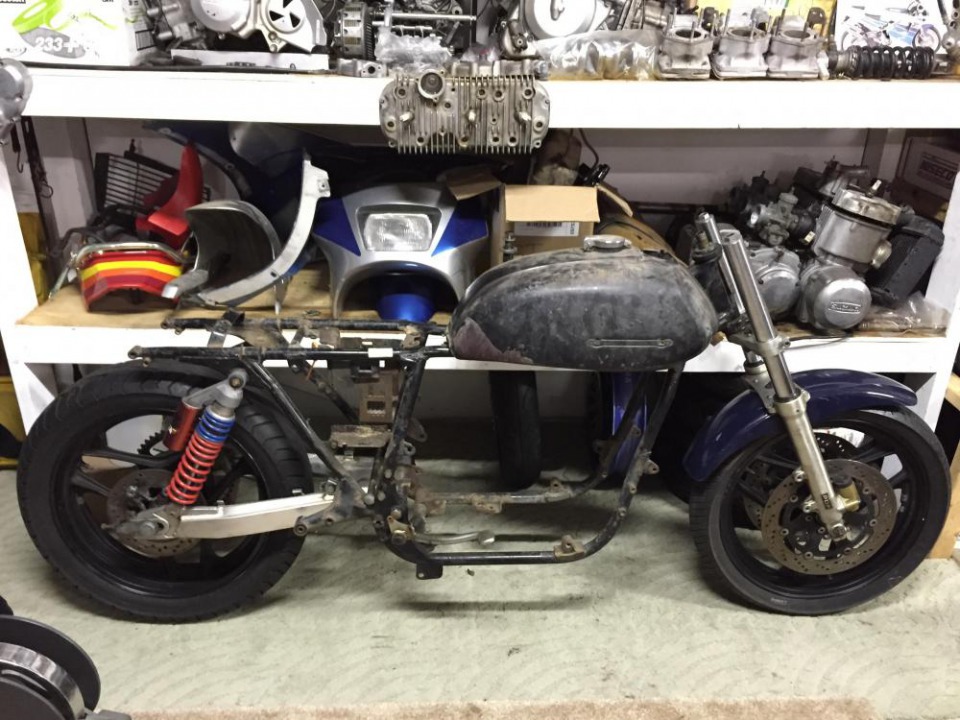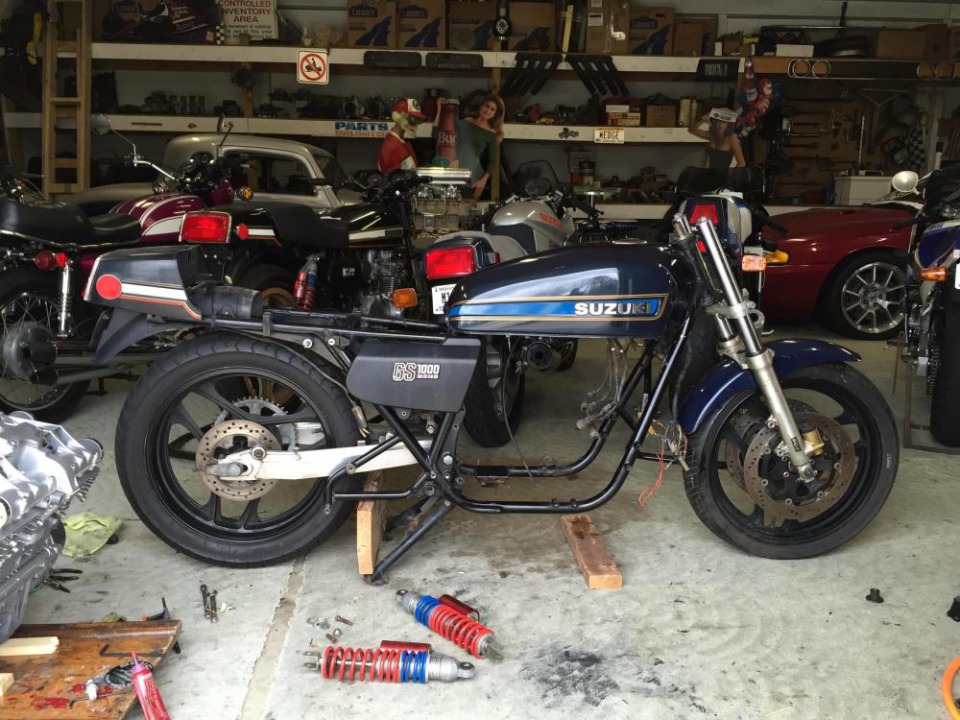 Collecting more parts for the project
A pair of Japanese home market 1994 final edition GSX1100S shocks
And a Yoshimura oil cooler from Japanese auction site also...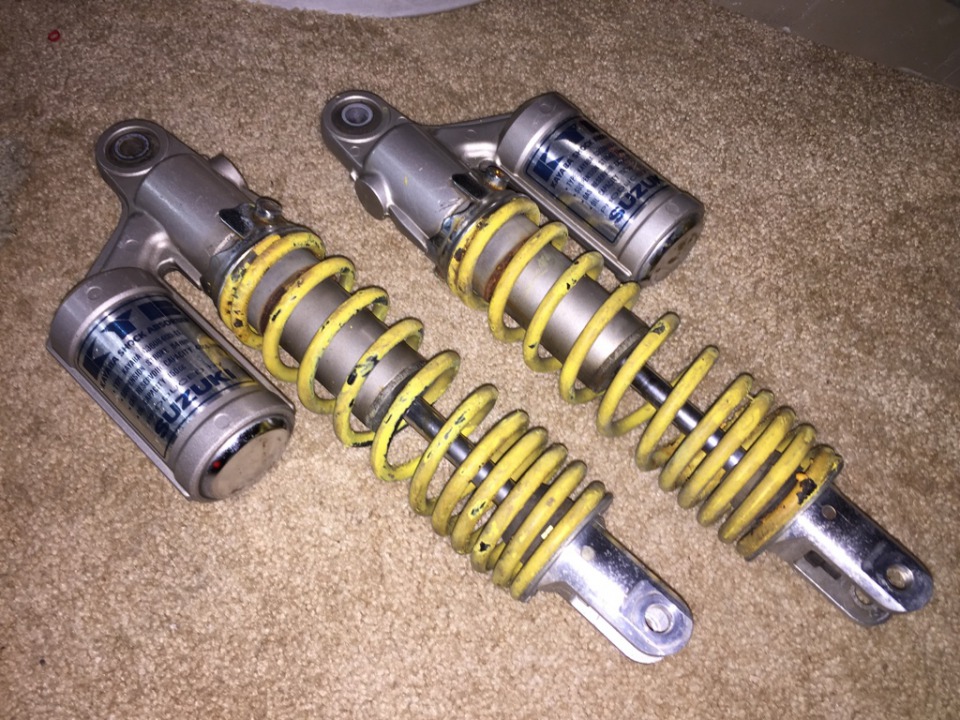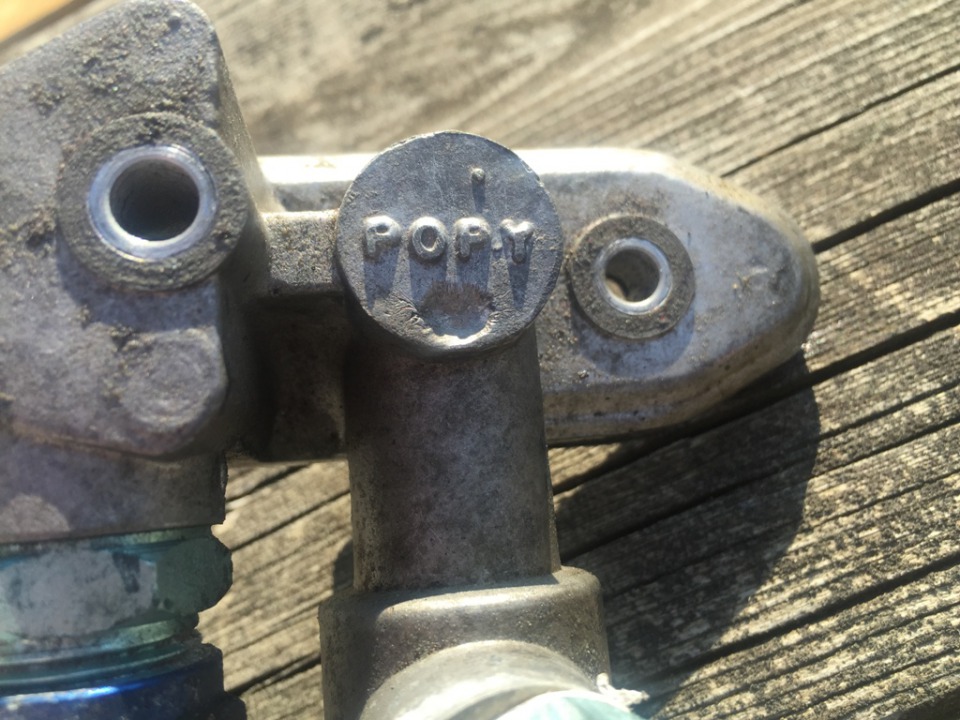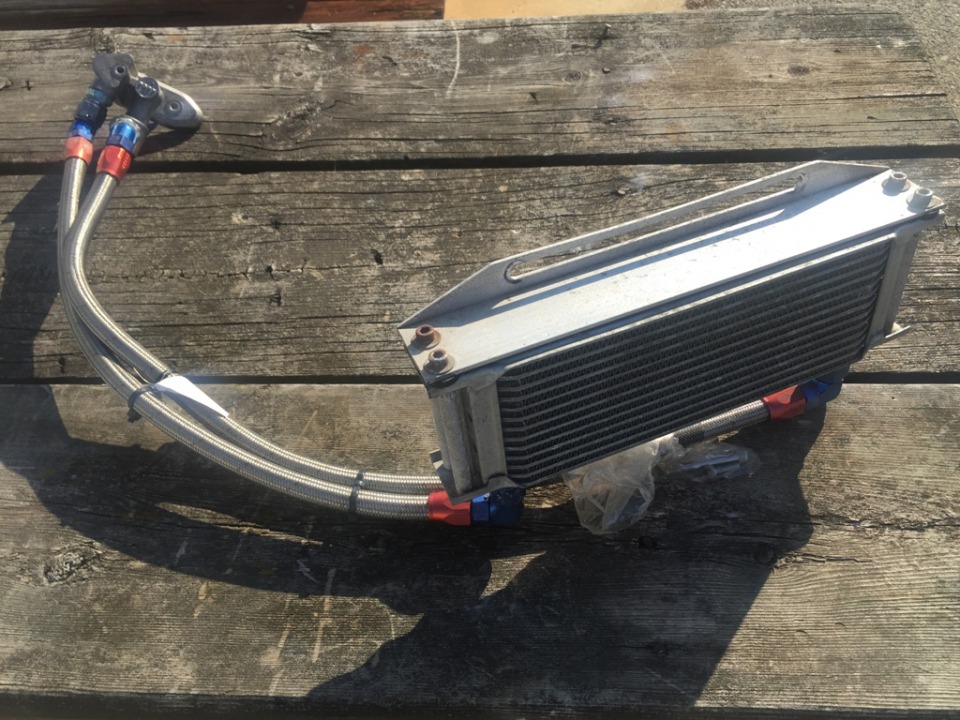 New tires for the wheels....I made a commitment to the spokes.
Avon 150x70x18 and 110x80x18, much better than original sizes .....a bit modern yet oldskool....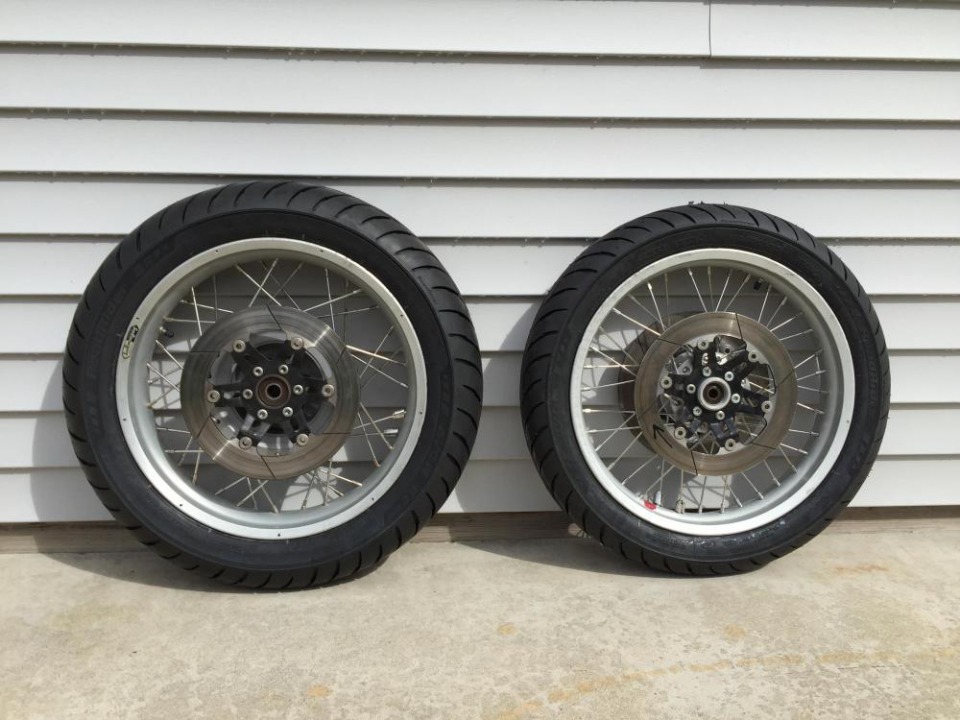 I picked up a set of 1983 GS1100E forks and a steering damper off a drag bike for the project....
And I lucked out and found an original paint matching blue tail piece, so it was time for a dry build to see if I was going in the right direction.
I also had to put the front end together to figure out how to set up the steering damper.
The paint on the frame was OK....but I decided after I welded up the mount the frame needed to be blasted and powdercoated next.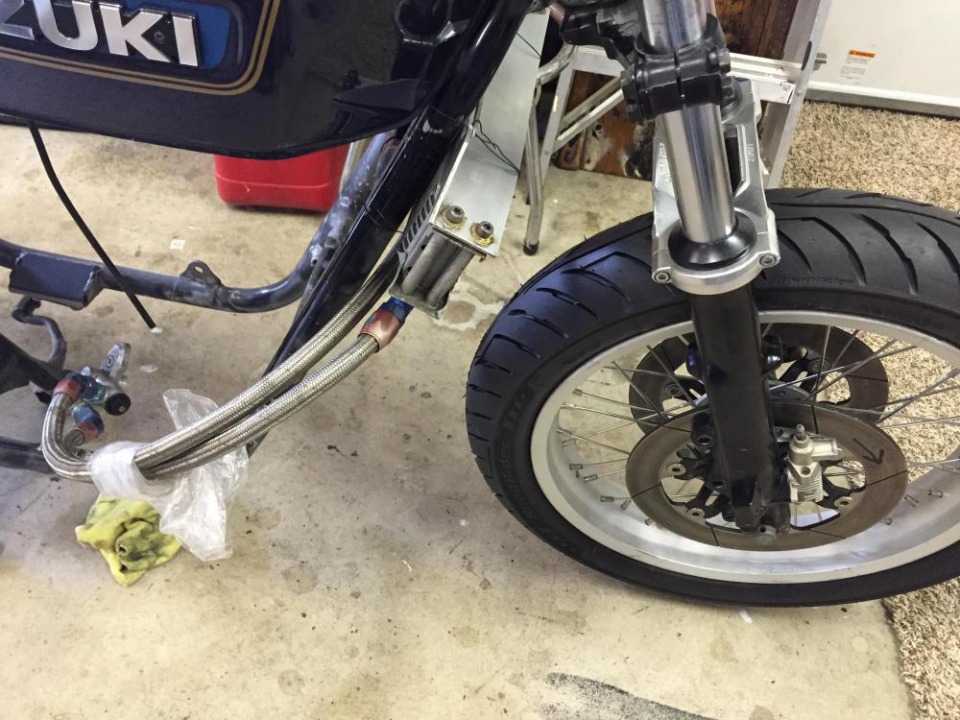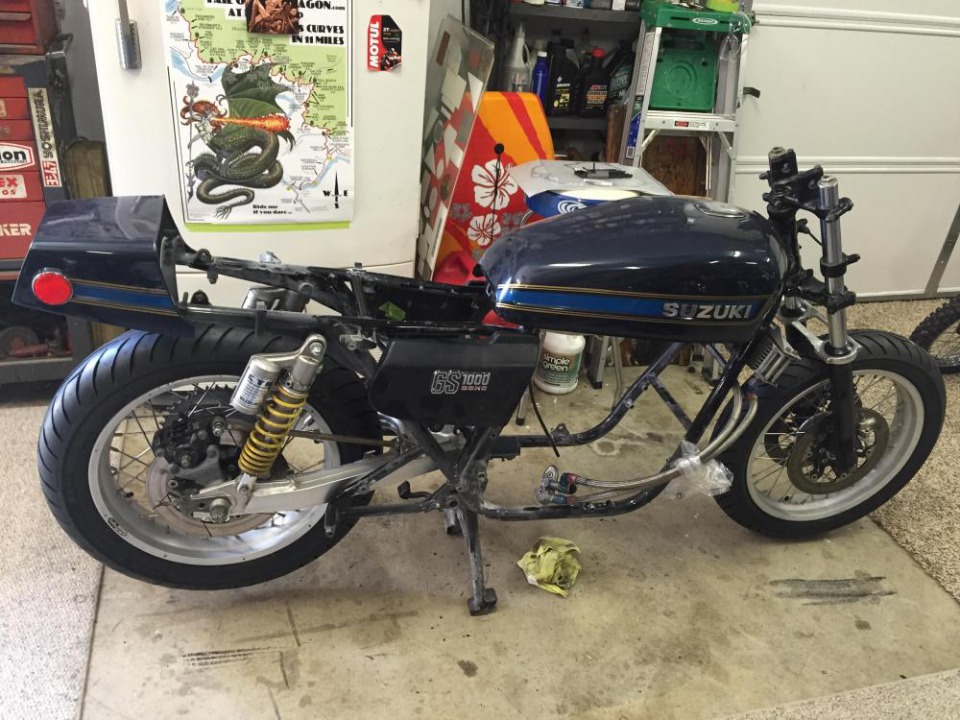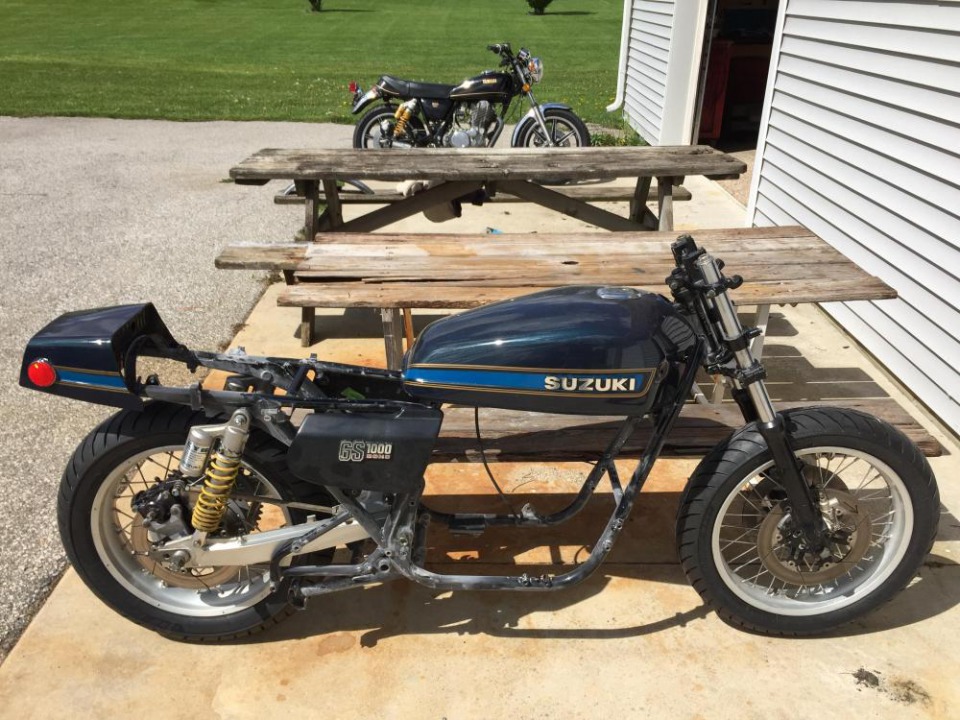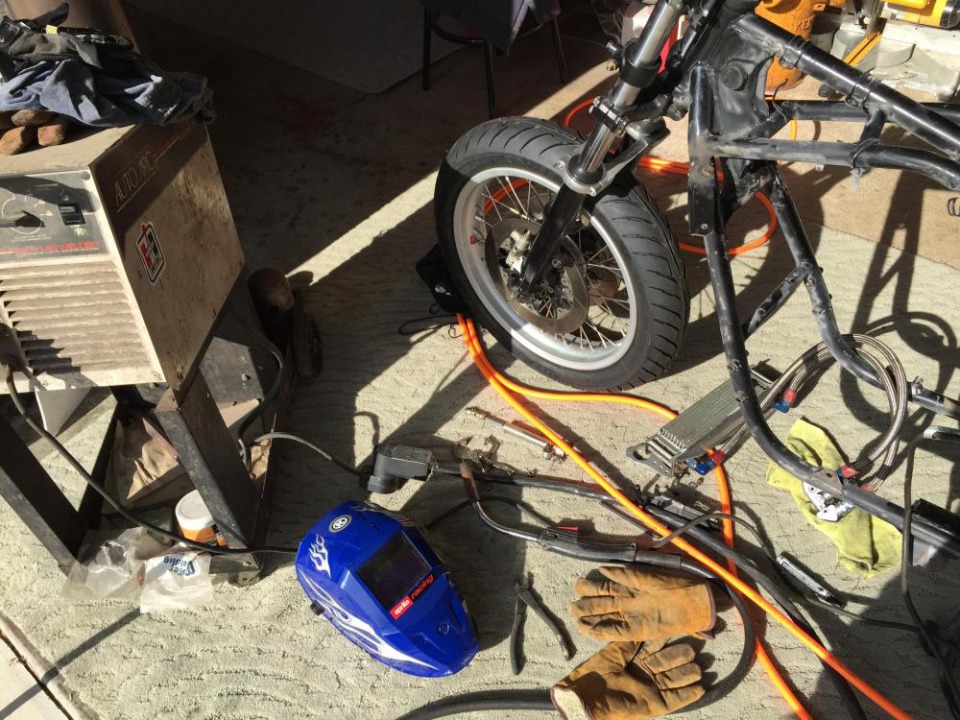 Stripped the bike back down after I welded up the damper bracket, and took it to get sandblasted and powdercoated.
Made up a table to work on it, and now I am almost ready to start bolting things back together.....almost....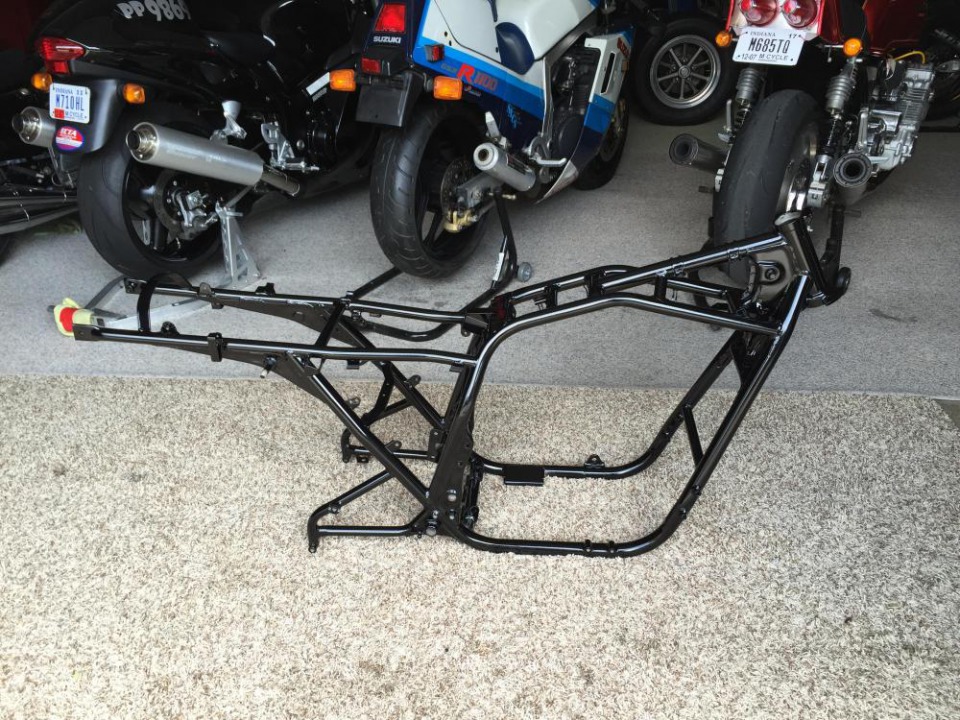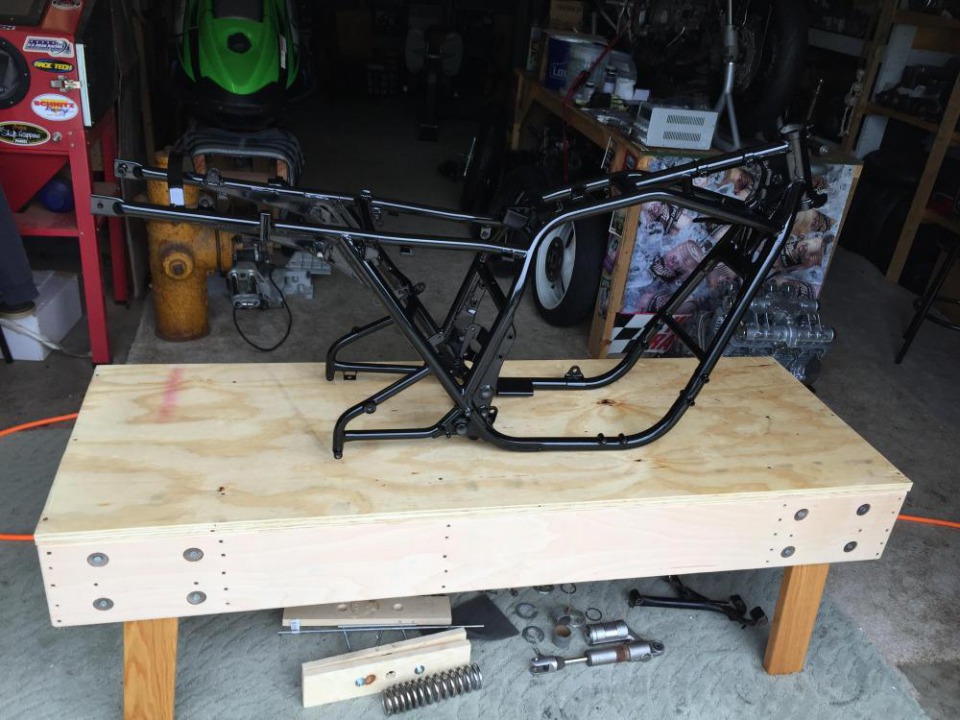 I did say NUT and BOLT restoration....
Something I have seen on fully restored show only bikes.....and wished my bikes could look as fresh
But I ride my bikes and have always thought it to be too much work to do every bolt, just to let them degrade with time/use....Until now...
I couldn't bolt the clean new looking engine, into a spotless frame with the bolts looking 38 years old.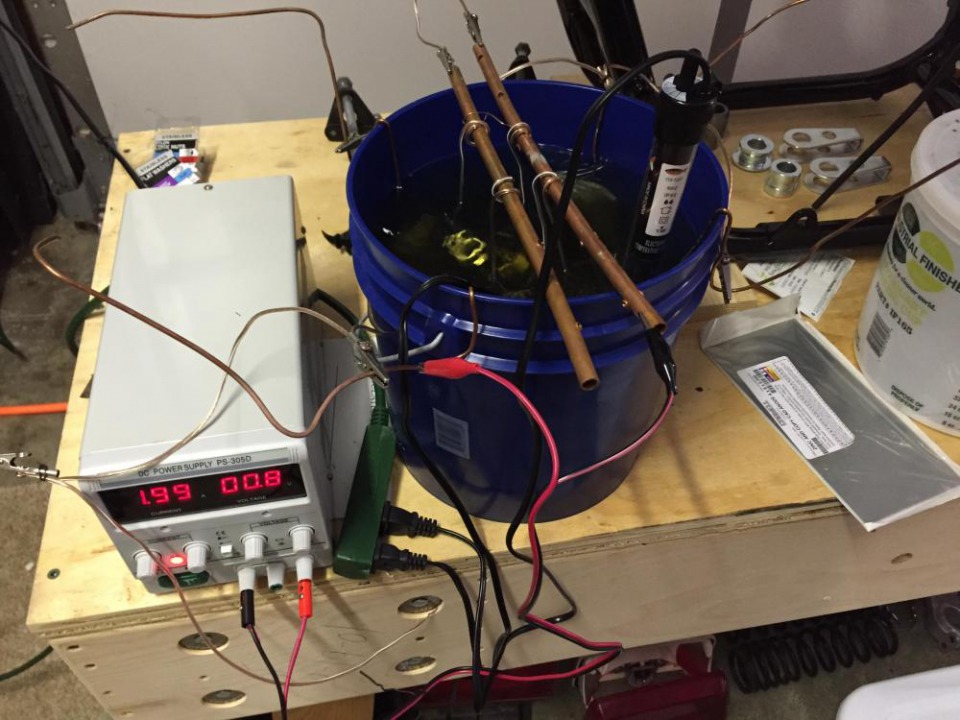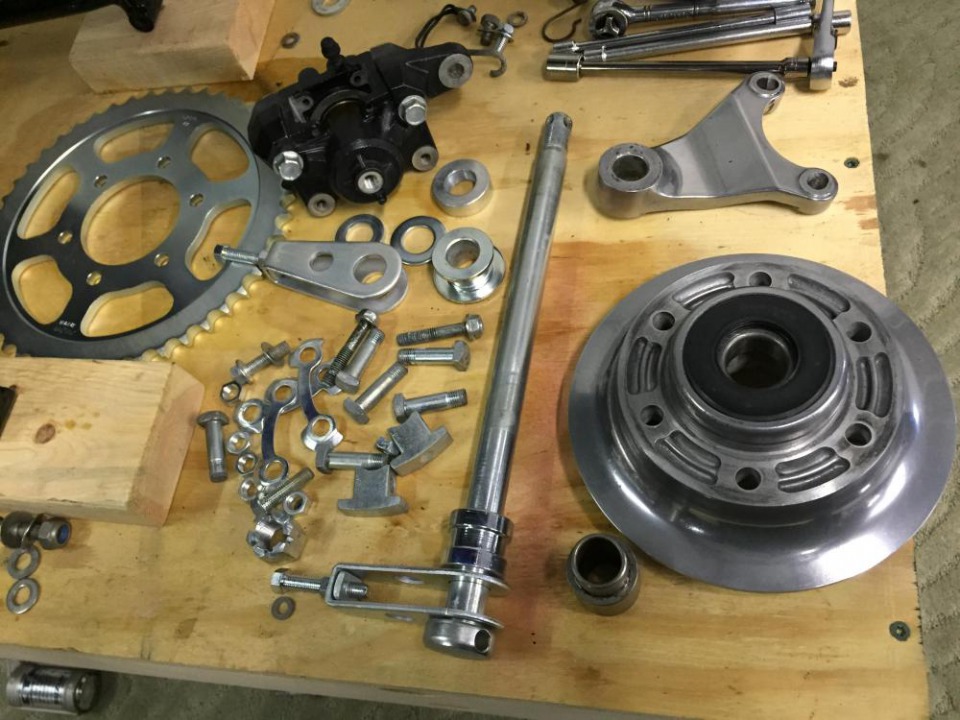 0


Follow
4K